While some people try to get by doing as little work as possible, others possess a dedication that leads them to give it their all every day.
People who possess a strong work ethic embody certain principles that guide their work behaviour, leading them to produce high-quality work consistently and without the prodding that some individuals require to stay on track.
Maintaining a healthy work ethic will not only ensure you have a long-term online career, but it will also keep you sane when you face challenges.
Know Your Goal by Mind and Heart
Did you want to be an online worker for a reason, right?
In most cases, people who want an online career have a very clear reason for choosing this path. It might be because you have a small family and want to be able to work from home. Or perhaps you have health issues that stop you from working a 9-5 day in a high-stress corporate environment. Or perhaps you simply can't afford to commute into a city every single day.
There are many reasons why you have decided to be an online worker, but it will be highly personal to each individual as to what that reason is exactly.
Knowing your goal, and having it clear in your mind, will help you maintain a healthy approach to work, especially when things get tough.
Having your task or goal deeply embedded in your mind and heart will make it easier to stay focused and overcome anything that may hinder you from being successful in your online career.
Stay Focused
This comes after the 'knowing' part.
Once you have your mind and heart set on the goal, it is now your duty to keep it there.
On the same note, being focused will help you have a strategy for finishing what needs to be done or achieving the goal that you set earlier.
Push yourself and work hard to always be the best.
Your employer and colleagues will notice your ability to stay focused and you'll more likely be the person who is promoted and receives salary increases.
Allow Yourself to Be Weak
While it is important to always look on the bright side of your pursuits, there are going to be challenges that will come your way. Some may even drag your spirits down so low and push you to the brink of quitting. It's okay.
Bad things do happen and facing difficult challenges is a normal part of working online. Allow yourself to be weak and pause for a breath or two. What's important is that you keep going.
Setbacks are an integral part of learning and will keep you balanced in maintaining a healthy and hardworking outlook.
Stay Inspired
Being inspired gives you a renewed and fresh outlook on things. We all have different ways to stay inspired but make sure that this inspiration brings out the passion that you need to have a happy, healthy, and hardworking ethic.
Your inspiration should similarly help you look on the bright side.
Ask For Help
Achieving something may require the assistance of others – your family, friends, colleagues, schoolmates, gym buddies.
It is okay to ask for help.
Keep in mind that your strengths and weaknesses can be well complemented by that of others. Doing things on your own can take its toll on your outlook and attitude. Acknowledging and accepting this is part of the process of "getting there". Working with others may also be happier, more convenient, and fun.
Bad Attitude Triggers (Avoid Like a Plague)
Negative Language
If you don't control what you think and say then you might be in for a bad attitude towards your online work, colleagues, or boss.
Small doses of negative language trickled throughout your day will result in resentment. Either you see the day as filled with opportunities or filled with tasks.
And if you choose to feel that your day is task laden then you'll feel trapped in a daily grind. But if you choose to see your work as an opportunity to make a difference in the world then you will experience exciting potential.
Find a positive way of looking at things and people.
No One Owes You Anything
Are you the kind of person who walks around thinking people owe you? News flash: no one owes you anything. Is life fair? No. Not really.
If you chose to believe people owe you, then you will be filled with negativity and your days will be full of anger, joylessness, constant blaming, feeling victimised and passive- aggressiveness.
But the good news is that you can counter this by dropping your attitude of entitlement. Thinks this way:
It is up to you to make things happen
Hard work will bring you good tidings
Adapt to change quickly
Keep going even when things get tough
These four concepts will help you stop waiting for the world to do something for you and finally stop wallowing in negativity.
Constant Complaining
Complaining manifests when you are always seeing things from a negative perspective without seeking an explanation or reason for the cause. If you are a constant complainer then you are on a one-way road to unending dissatisfaction.
Here's a list of some things that may cause you as an online worker to complain:
Late pay
Burnout
Inconsistent cash flow
Colleagues not being polite to you
Insufficient instructions from your boss
Not earning more than your previous salary
The list is endless…Therefore, stop complaining and do something about it. Initiate a solution.
Useful Resources
We don't just stop there. We've scooped some useful resources just for you. Read further on this interesting topic of work ethics.
Inspiration
Watch this eye-opening video on the secret to better work and be inspired.
7 Spot on Work Quotes
1. Firstly, be positive…
2. But remember…
3. Lest you forget…
4. Here's the kicker…
5. You need this…
6. And know this too…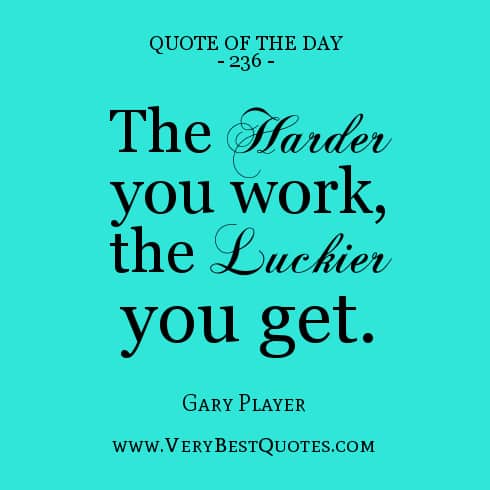 7. The bottom-line…
In Summary
Developing and maintaining a happy, healthy, and hardworking ethic is always an integral part of work and life.
It is something that will help you achieve your goal in the best possible way.
Remember that being the best requires you to be tough and no matter how challenging things might get, having a winning ethic will pave the way for success in any setting.
Shareable Images