The aim of this guide is to help you communicate effectively with a graphic designer. It is not as straightforward as you probably think. Instead, you need to give your graphic designer the best chance of converting your abstract thoughts into a useful, attractive and effective logo for your store.
A logo is a graphic, mark or emblem that represents your business. It is a symbol that, when done right, promotes instant public recognition and inspires confidence in those that see it.
Paul Rand, one of the world's greatest designers, and the man responsible for the iconic IBM logo, once said that,
a logo is a flag, a signature, an escutcheon, a street sign. A logo does not sell (directly), it identifies.
A logo keeps you from being faceless. In some cases, a logo is the first point of contact between a business and the public. It is the first thing they see and should be something that sets you apart from your competitors.
Step 1: Have A Professional Create Your Logo
There are five characteristics that an effective logo design should feature.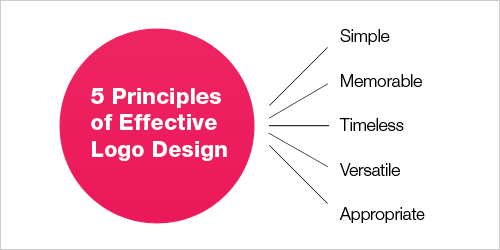 If an image is simple it is easy to recognize while still remaining distinctive.
A simple but distinctive logo is memorable; it remains in the viewer's subconscious.
A memorable logo is also timeless, it doesn't just leave a first impression, it leaves a lasting one.
A timeless logo will be used represent your company for a long time to come; but it is also versatile, easily reused in a variety of media applications and campaigns.
Lastly, a logo should be appropriate; it should be geared to catch the eye of its intended audience.
Even though a logo should be simple, the process of ensuring that it's effective can be complicated. A business needs to present itself as professional and, if your logo looks amateurish, so will your business.
Hiring a professional is the best way to ensure that your logo – and by extension your business – looks professional.
Take a look at the three logos pictured below: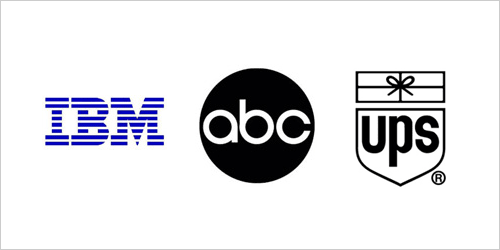 These logo designs by Paul Rand are examples of simple yet distinctive designs that have stood the test of time. They are easily recognizable and are still in use to this day with only a few modifications in company campaigns and materials.
Step 2: Know What To Expect From A Professional Design
Graphic designers have been specifically trained in the art of visually representing ideas. A trained graphic designer will know the effects that different symbols and colors have and they know how to use this to convey and evoke specific feelings.
A professionally designed logo ensures that the very first impression someone gets about your company is a professional one. A professionally done logo is especially designed for your company, as such, you can ensure that it is unique and that it reflects you company's values.
A professionally done logo reflects competence, not just on the part of the designer, but also on your part. It shows that you took time and care to think about putting on a professional appearance and implies that your business will take time and care to ensure that your customers get the best service possible.
The reverse is also true. If you are not a trained graphic designer and attempt to design your own logo this will be very apparent to your customers and peers. Your appearance will not be as professional as it could be.
Step 3: Budget The Logo Cost
British Design Experts recently did a survey on the average cost of a company logo.
According to their findings, the average cost of a company logo would be the equivalent of around $250 to $830. The actual price of logo design varies because of a number of variables, chief of which is that there is no real set rate to hire a graphic designer.
If your graphic designer is a freelancer, their rates tend to vary according to your freelancer's reputation as well as whether they charge by the hour or have a set price.
Even if you hire a graphic designer through an agency, the agency rate will also vary according to the agency's reputation, work load and whether they charge you for your logo design as part of a package, have a set price, or they may also charge by the hour.
According to British Design Experts, if you are a start-up, you should probably set a budget of around $250 to $415 for your logo design. If you're an established, small business you could spend around $830 to $1250.
Be wary of logo designers or design agencies that claim they will only charge less than the average. To offer you that rate, you might find they short change you in other ways.
To keep the rate low, you could find you're restricted on the number of revisions or on the amount of total design time. It could also mean that they would be handing you off to an inexperienced designer.
Make sure that you check out their work before hand – look at their logo design portfolio and customer reviews.
Step 4: Set A Time Budget For Your Logo
It's best to give a designer around 2-3 weeks to work on a logo. Most will need a week to come up with a few studies to present to you for comment and – depending on your comments – around 3 to five days to revise.
To break it down:
Conceptualization (2 to 3 days) Most designers will take a few days to conceptualize.
First Studies (3 to 5 days) After initial conceptualization, the designer will tinker with a couple of possible designs and come up with a few studies which they will then show you.
Revisions (3 to 5 days) Depending on your input the designer will modify the design before presenting it again.
Key to this entire process is a well written brief. The clearer you are about what you want, the easier it is for the graphic design to conceptualize what you require.
Also, if you and your graphic designer come to an understanding from the start, there will be less need for revisions and the final product can be presented earlier.
Step 5: Write A Comprehensive Logo Brief
A logo brief is how you can communicate what you want and need in your logo effectively to your graphic designer.
Keep in mind that the key word here is brief. A logo brief should stay brief. The information it conveys should be comprehensive, specific and precise.
Some graphic designers will present you with a form that you will need to fill out. Others will expect you to present them with a written or typed document. No matter how your graphic designer wants you to present your brief, it should contain the following information:
1. Who you are and what you do
Make sure your brief provides concise but specific answers to the questions
What is your industry?
What type of product or service do you offer?
What is your unique selling point? How do you differ from similar businesses?
Who is your closest competitor?
2. Who your market is
This is important to make sure that your logo is appropriate. For example, if your business caters to children, a graphic designer will choose their colors and images and even fonts to be attractive to children.
To help your graphic designer come up with an appropriate logo, make sure you answer the following questions in your brief:
Who is your target market?
Are you targeting men or women? Both?
Are you targeting a specific age group?
Are you targeting a particular income bracket?
Are you targeting a particular social class?
Are you targeting a specific geographic location?
Are you targeting a specific occupation or industry sector?
3. Who your competitors are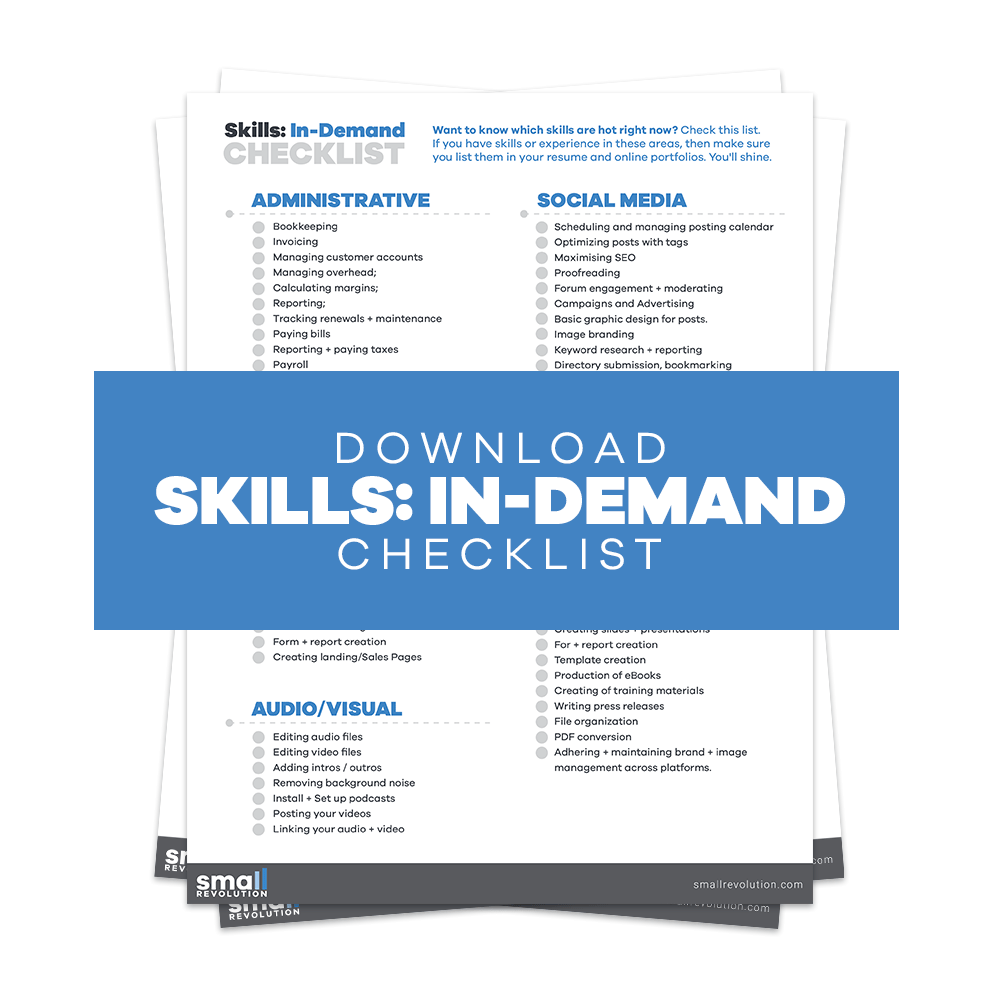 Remember, you want your logo to be uniquely identified with your business; as such you don't want people mistaking your logo for anyone else's.
Telling your designer who your competitors are will help them make sure that your logo stands out from the crowd. You can also include a sample of your competitor's logo, if they have one.
You should think of this section, where you talk about your business and your competitors, as a short business pitch. If you had 2-3 minutes to tell someone about your company, what would you say?
You should be able to convey those ideas to your graphic designer and they should be able to put those ideas into your logo.
Your logo brief should then get into more details about what you want from your logo. This will also help your graphic designer know what it is you want to see and – more importantly, what you want your customers to see and feel.
Step 6: Include The Details That You Want In Your Logo
1. Provide them with access to your other branding materials
Do you have a tagline? A good tagline should convey the core values of your company nicely to people who hear it – including your graphic artist. A good graphic artist can also use your tagline as a springboard to develop your logo design, enhancing your overall branding.
2. Give them exact examples of what kind of logos you like or dislike
Your first instinct here would be to give the graphic designer examples of big corporate logos but you should broaden your search to include less obvious examples.
Try going to an online logo design inspiration gallery, like the ones located here.   Most of these provide searchable galleries that you can access for free.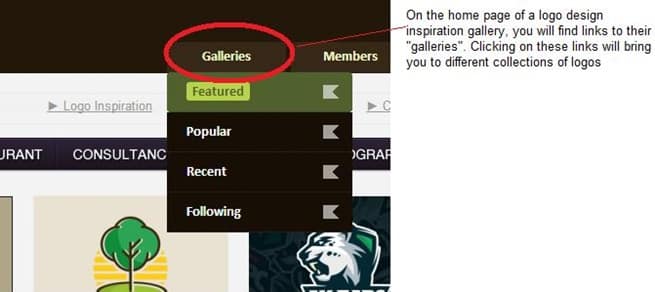 Many databases also allow you to run searches for specific examples of logos
Look through the appropriate database and search for logos you like or dislike. Then show them to your graphic designer.
3. Share your ideas with your graphic artist
Think about what you want your logo to convey. What do you want people to feel? Are there any specific images that you'd like to incorporate into the logo? That you feel convey the appropriate mood?
Think about the fonts you want to use.
There are online font libraries with different examples of typefaces that your graphic artist can use to ensure that your logo stands out. Try looking through them.
An example of a font library is MyFonts
Think about the fon alt="Myfont website" width="655″ height="423″ />
There are two ways that you can access MyFonts gallery of fonts.  By clicking on the general gallery descriptions or on the tags

Think about the fon alt="Gallery example from MyFonts" width="655″ height="218″ />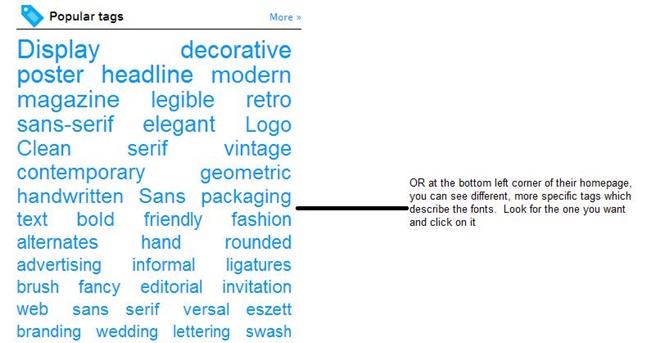 Think about the fon alt="Gallery of fonts from MyFonts" width="655″ height="343″ />
Font Examples from MyFonts.com
This article from Smashing Magazine has many examples of common and uncommon typefaces that you might also like to consider for use in your logo.
Keep in mind the five principles of a good logo design. Your font choice should also be simple, appropriate, timeless, versatile and appropriate.
Think about the specific colors you may want to use?
The colors you use in your logo are not just important because their "pretty", colors can evoke emotional responses in those that see them.
You might want to be specific when you tell your graphic artist what color you want or don't want to use. There are many different shades of colors, so just saying "I like red" or "I like yellow orange" might not be enough.
There are color picking tools available on-line, such as HTML Color Codes. You can use it to figure out the exact shade of color you want. You can then show the shade to your graphic designer.
There are two basic ways to use HTML Color Codes to find the shade of color you like. You can either use the HTML Color Chart or the HTML Color Picker.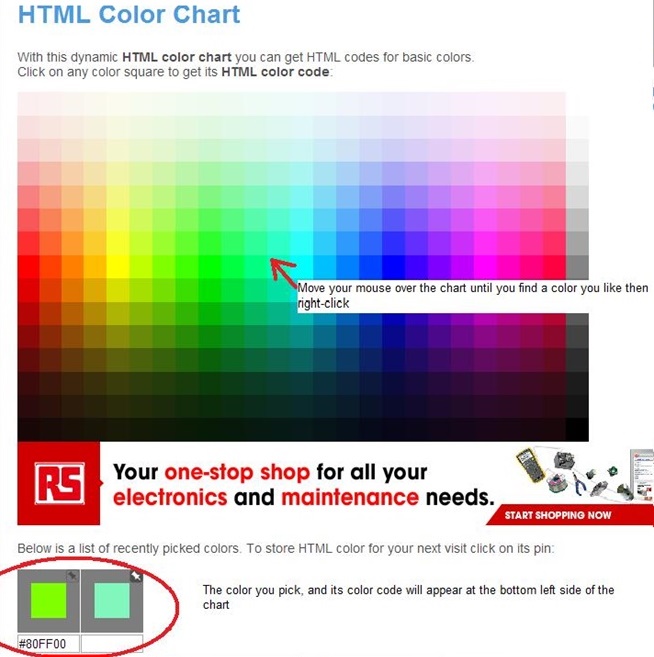 There are two ways you can chose the color shade you want using the color picker. By manipulating the vertical slide or by clicking on the color square on its left.
With a good brief, you establish a good rapport with your graphic artist and this will ensure that you get a new logo in good time.
Step 7: Check If Your Logo Is Original
Is your new logo entirely original? Is it entirely yours? How can you be sure?
Sometimes a graphic designer might find it tempting to just copy a logo from another company and place your store's name over the top. With the rise of freelance factories such as 99designs, Freelancer and oDesk this problem is becoming more prevalent.
A new Australian start-up, CeeQTM, offers an inexpensive solution. For AU$50 you can upload your logo and the CeeQTM engine will compare it against known images and marks. CeeQTM uses image recognition to find similar matches, and also gives suggestions on potential text descriptors.
Watch the video to see how it works.
Learn From Others
An index of online resources on logo design:  JustCreative
Final Checklist
Better communication means better output. Writing an effective and complete logo brief is one effective way to promote better communication. To make one, make sure to follow these steps:
Have a professional create your logo.
Know what to expect from them.
Budget the project's time and cost.
Write a comprehensive logo brief.
Include the details that you want in your logo.
And lastly, make sure that your logo is original.
Photo by Burst / CC BY