The aim of this guide is to teach you, step-by-step, how to write an About page that stands out and represents who you are and what your eCommerce store is all about.
The first and most visited page on your website is usually your homepage. This is your best chance to leave a good first impression to anyone who will visit your eCommerce store. But if you want to create a lasting impression of a business that is reliable and trustworthy, you need to have a good About page.
The About page is usually the second most visited page on a website and it is probably the first one a customer will specifically seek out to read. Customers will visit your About page to learn more about you, the owner, and your business and – more importantly – make a decision on whether you're store is a good place to buy from.
Your About page should answer three basic questions for your potential customer.
Who are you?
What do you do?
How can you fill my needs?
You don't necessarily have to answer these questions in this order, but it's crucial that you do it in such a way that captures the reader's attention. You need to be interesting, comprehensive, but brief.
Take a look at the About Us Page of Noodoll and you will see that they answer the three questions.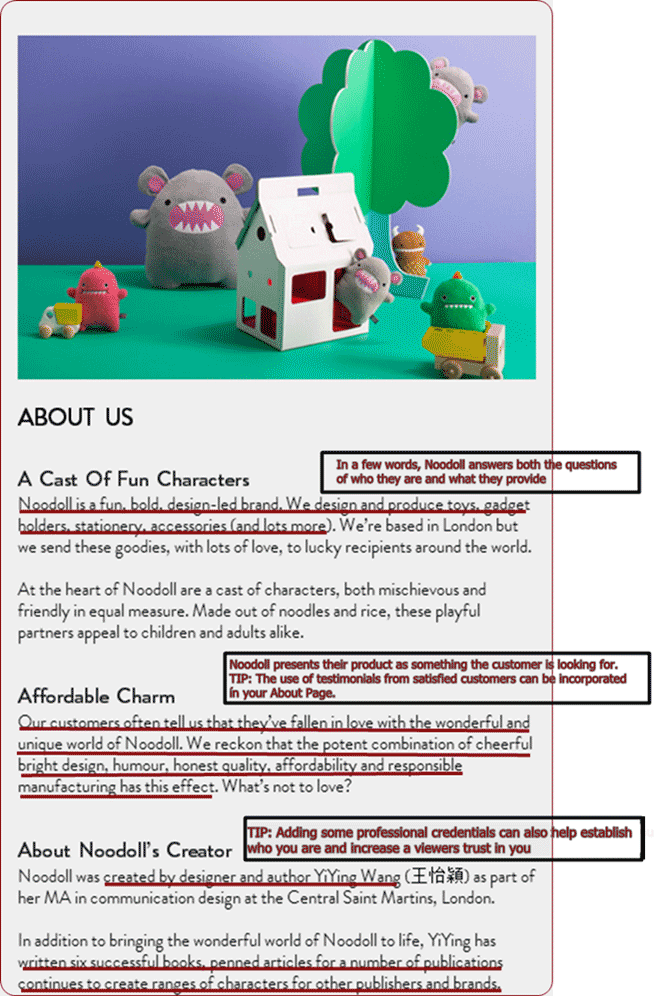 Keep in mind that it's not just the text of an About page that can tell your visitor about the company, but the entire page itself. Its layout and design should reflect what your business is about.
Through its use of images, fonts and language choice, this example (Noodoll) comes off as a quirky, cute and fun company.
Keep the three aforementioned questions in mind so you can answer them correctly in your About page.
Follow these steps in crafting your About page to appropriately represent your eCommerce business:
Step 1: Tell Your Unique Story
Tell the customer who you are and what your company can do for them. Be friendly, positive and interesting.
A good way to keep your customer reading and to establish a rapport is to tell them an interesting story about yourself and your eCommerce store. You can write an anecdote that shows a unique perspective of your company's history. Small personal touches such as these make you relatable to potential customers.
You can also list your professional credentials as the proprietor and the eCommerce business as a whole. Let them know your expertise in the business in order for you to gain your customers' trust.
Take a look at the About Us Page of restaurateur Marie Catribs. This is a good example of using a personal anecdote to establish a rapport with the customer so that they have a number of reasons why they should trust and buy from you.
In Chef Marie's case, she shares a personal anecdote on how her family considered her a disaster in the kitchen. Then she goes on to tell us that she took the necessary steps to learn about cooking in order to establish herself as a chef.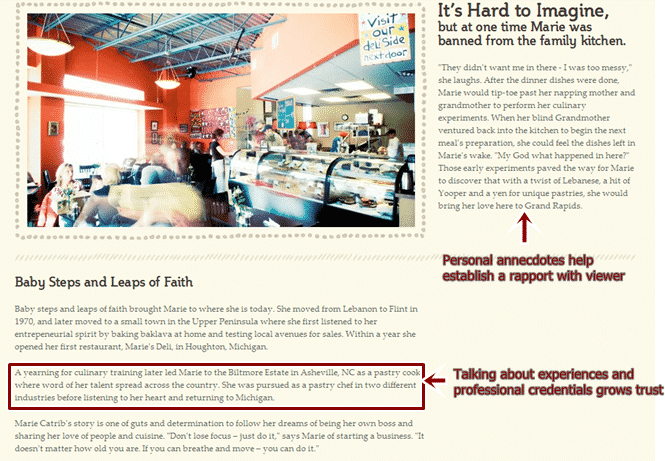 STEP 2: Find Your Voice, Use It Consistently
Finding your voice means establishing a distinct way of telling your customers about yourself and your products. Every eCommerce store owner is unique, so make sure your uniqueness and personality are reflected in all aspects of your business.
So, if you have a quirky store like Noodoll, you'll also need to reflect that quirkiness in your website's content, newsletters, blog posts, and other types of content your produce. The key is consistency, but you also need to be clear, distinct, and relevant.
Step 3: Mention Your Affiliations Or Associations With Worthy Third Parties
You can establish yourself as trustworthy by promoting your associations/affiliations with other companies, big names in your industry, or any worthy third party. Many customers look for these associations or affiliations of eCommerce store owners to bigger names because they help build trust and a good reputation.
Take a look at the About page for Sky's Guide Service. He tells us how he discovered sports fishing and how it inspired him to become a guide to share his passion. He then ends with listing his affiliations with several big associations in the sports fishing industry.
Step 4: Mention Your Team And Don't Forget To Add Photos
Always remember that your About page is meant to establish a rapport between yourself and your potential customers. Nothing builds a rapport better than making human connections.
By introducing your entire team and including pictures, you are putting a 'human face' behind your operations. The goal is to make you're your entire company relatable to your customers because as humans, they'd like to know the people they are dealing with.
The About page of custom signs maker Goodwin and Goodwin has a good candid photo of their staff.
You may also consider adding contact details and short intros of your staff like they do at Pure Fix Cycles.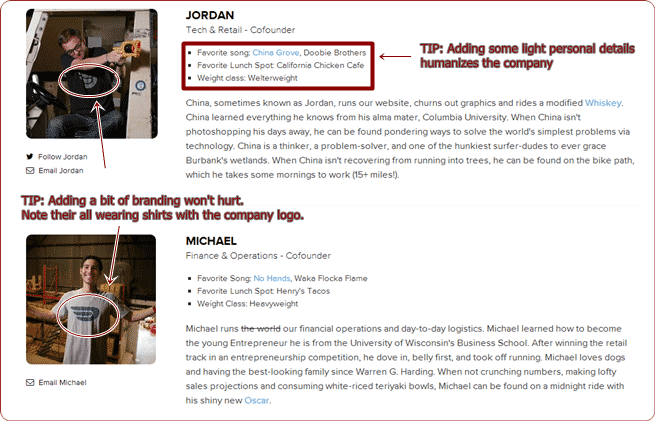 Here's a cool way to introduce your team – add photos of your team at work, in the workplace.
Adding photos of your premises gives customers a sense of physical space. It makes your company more credible and 'more human' in the eyes of your customers.
Let's go back to the About page of Goodwin and Goodwin for a good example of "premise" photos.
Step 5: Consider Adding Testimonials Or Reviews
Adding testimonials from satisfied customers or reviews of the products and services you offer to add credibility to your eCommerce store. It allows them to see for themselves that other people are happy and satisfied with your products.
A testimonial just needs to be a few sentences or so, like this example from Woolerina.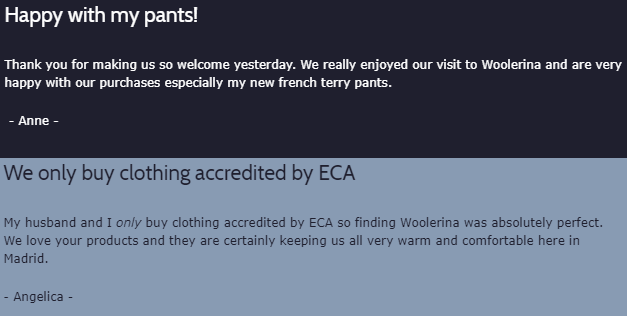 Be creative with your testimonials by adding photos of the customers and the products they bought in action. An example is CheapSheds which provides both pictures and videos of happy customers and their purchases.
Step 6: Consider Including A Map Of Live Sales
A live map of real-time sales shows customers that you are really there, alive and active. This also provides a live 'social proof' to both customers and prospects – giving your eCommerce store a bit more credibility as a result.
Step 7: Add Your Contact Information
Your eCommerce store's About page is the perfect place to include your contact information. Add your email, mobile and office telephone numbers, and physical address, so your customers and prospects will be able to contact you whenever necessary.
Below is the About page of Egyptian Cotton Shirts with email address, telephone number and physical address.
Step 8: Add Your Social Media Buttons
Social media is a powerful marketing tool for any eCommerce business. It enables customers to follow your social accounts and share their experiences with your site and/or products to their own social networks.
This means more exposure for you as social sharing also entails improvement in social traffic.
Specialty eCommerce store, Ellaskitchen, is pretty straightforward by simply adding social media buttons on their About page that follow the color scheme and theme of the site.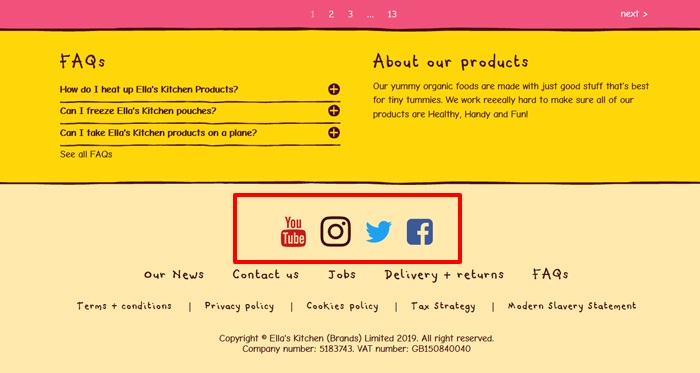 Learn From Others
If your About page does its job, it should not only hold the customer's attention but also spark their curiosity enough to check out the rest of your site.
Make it easy for them to go through other pages. Include links or buttons that encourage the reader to click somewhere else on the website.
Ugmonk gives its customers two options. Go to their blog to find out more about the company and its products, or go to their store to browse and shop.
Let's look at a few more examples of About pages and how effectively they convey their messages.
1. The About page on Minimals is an interesting example. While it tells the story of the company nicely, it's a bit visually sparse.
The site has some lovely and really cute designs and products, and their About page could have benefited from a few images of their designs.
By showing how attractive a company's products are, an About page can help create a sense of need or desire in the customer.
2. Rebel8 was created and run by graphic artists, and purports to cater to the "edgy" skateboard graffiti and tattoo culture. Their About page heavily features their creators in poses that make them look the part, interposed with blocks of text that tell us their actual credentials. While the stark black and white photos might not work for everyone, in this case it fits the feel of the line.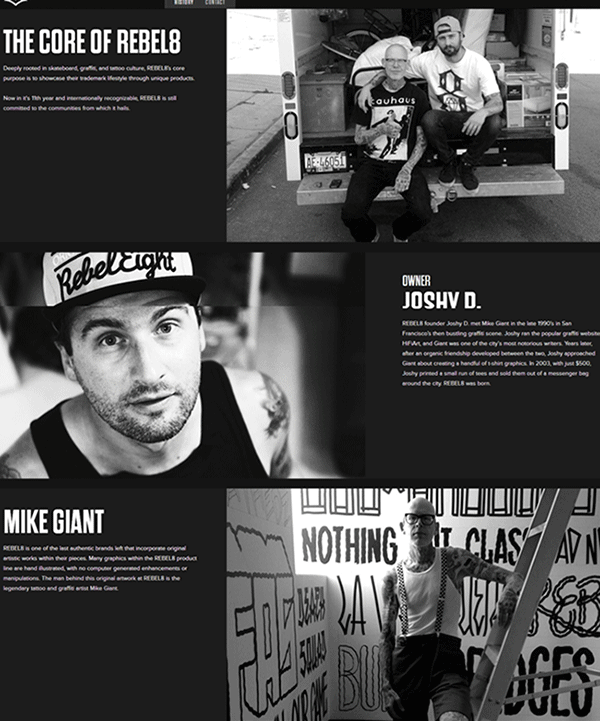 What this page seems to lack, though, is the answer to the question "how can I benefit from them" or "will they be able to fulfill my needs". It mostly talks about the company and creators.
3. The Horse is a family or generational business. Their About page states that fact from the start – telling the story of the founder and introducing us to the current proprietors.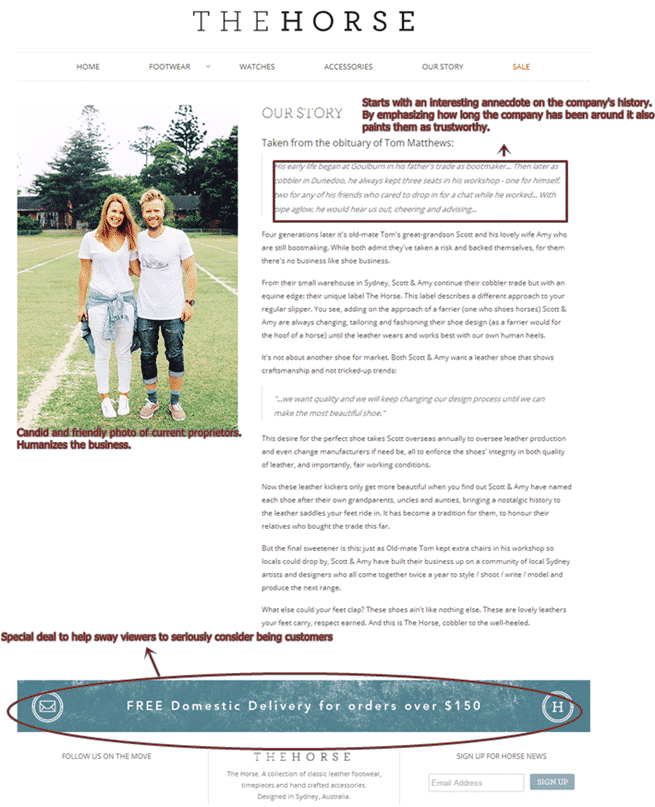 Below are some of the best practices you can apply on your About page to make it stand out, remarkable, and recommendable:
Always update your About page. If you have a new member in your team or you changed your office address, see to it that this page is up-to-date.
No two eCommerce stores are alike. Same goes with About pages. Your store should stand out, but you don't have to be generic. Implement customization on your About page's content to make it unique.
This page is where you shine, so make sure to add all pertinent info about your eCommerce business.
Honesty is the best policy. Don't use make-up stories to convince your customers to buy again or your prospects to immediately trust you. If you have little or no third party connections that make you a very credible business, then, you should earn one.
Final Checklist
Your About page should be able to tell prospects and customers why you exist as a business and how you can help them solve their problems or satisfy their needs.
This page is more than just your history and current offerings, but it should also be a complete page that they can come back to if they: need your help, want to share your page to their friends, or want to be sure of your expertise and credibility.
Tell people who you are and what you can do for them. Tell them your story sincerely, but provide professional background for credibility.
Find and use your unique voice consistently.
Mention your affiliations/associations.
Mention your team and introduce them using photos.
Add testimonials or reviews from satisfied customers.
Add a map of live sales for real-time social proof.
Add your contact details, so customers can get in touch without leaving your About page.
Add your social media buttons, so customers and prospects can follow you.