Do you remember a time not so long ago, when stay-at-home work seemed too fantastical to be real?
Taking breaks whenever I want?! No way! That's only possible for the lucky few.
You'll be happy to hear that working from home is now within your reach. No experience — no problem!
Maybe you're a busy parent. Or perhaps you work better in your own surroundings. Whatever your driving force, there are plenty of work-at-home opportunities available to you.
Below are 4 home jobs you can start immediately, no experience needed. Plus, you'll see how to build skills and find jobs, along with our top tips for applying.
So, are you ready to break the mold of traditional office work? And join the millions of people who already work from home?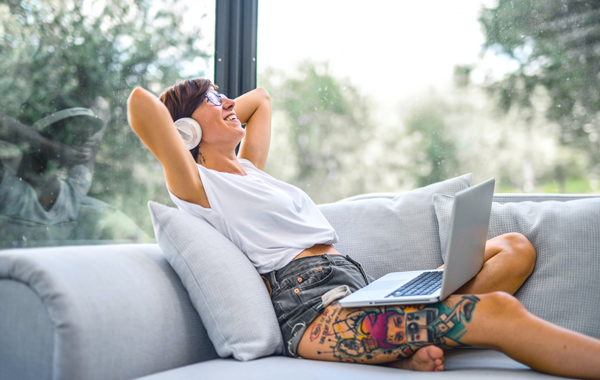 Data Entry Clerk
In this work from home position, you'll maintain information in a company's database. This is an entry-level position you can get started with immediately.
Throughout your day-to-day work, you'll handle a wide range of tasks. Duties may include storing customer information, processing invoices, and updating records — just to name a few.
You're also responsible for ensuring accuracy in the company's database by
editing and reporting errors.
Data entry clerks tend to be:
Highly organized
Detail-oriented
Quick learners
Comfortable with working under pressure
Able to meet deadlines
Training
Experience is gained hands-on. Meaning your employer will put you through a practice training process.
So, what does this training look like?
You'll learn to manage data entry systems, formulate spreadsheets, and work with word processors.
That said, the transition is smoother if you already have basic computer knowledge such as speedy typing abilities and Microsoft Office experience.
Pros
Work from home
Entry level
Start immediately
Skill-building
Plenty of opportunities
Cons
High-pressure work
Heavy workload
Generally low pay rate
How to Apply
Applying for this position is similar to the process for most job applications. There are two main requirements you're probably familiar with.
First, you'll need a well-written cover letter to make a strong first impression. Think about the unique skills that make you the best candidate.
The second requirement is your resume. It's especially helpful to list particular computer capabilities. For instance, you might mention if you've previously worked with Microsoft Excel.
Where to Find Jobs
For this position, you'll find several job advertisements online. Check out a few commonly-used platforms, like Indeed.
You can also check freelancing websites, such as Upwork. Setting up a profile on this platform is free. Although, there's a percentage-calculated fee involved for connecting workers to employers. This is simply deducted from the money earned.
Virtual Assistant
Tasks in this position can vary quite a lot, depending on what your employer needs assistance with.
Generally speaking, a virtual assistant usually handles administrative duties. This may include answering phone calls, responding to emails, and scheduling meetings.
Although, some virtual assistants also have specialized skills in marketing or content writing. In this case, their tasks may include writing email newsletters or managing social media accounts.
You'd be a great fit for this role if you're:
Reliable
An excellent multi-tasker
Organized
Time-efficient
Training
Although experience isn't necessary for this position, you'll still encounter hiring competition.
Employers tend to favor applicants with more impressive resumes.
It never hurts to beef up your resume a bit! Consider taking a course that teaches the fundamentals of working as a virtual assistant.
For straightforward and practical training, enroll in Small Revolution's Become a Virtual Assistant course to learn all you need to get started. It covers everything from internet basics, how to use online tools, file management, and more.
Pros
Work from home
Versatility in work tasks
Choose who you work with
Cons
Mundane tasks
High competition
How to Apply
As with the data entry clerk position, two components factor into your application. You guessed it! Your resume and cover letter.
When working on a virtual assistant catered resume, the skills and experience you list make all the difference.
Therefore, it's wise to customize your resume according to the specific tasks each employer needs help with.
For instance, if the job advertisement focuses on customer service, you should highlight relevant person-centric skills on your resume.
Where to Find Jobs
You'll find most virtual assistant openings and entry-level jobs posted on employment and freelancing platforms.
More specifically, check out VAnetworking — a platform specifically made for virtual assistants.
Customer Service Assistant
Are you a social butterfly? A natural problem solver? If so, this position might be perfect for you!
In this role, you're the first point of contact with a company's customers. You're answering phone calls, replying to emails, and handling customer complaints.
But there's more to this position; you should be able to work elegantly with customers from various backgrounds. Understanding cultural differences is a must.
Additional key skills for this home job:
Proper tone
Outstanding customer service
Strong communication
Positive attitude
Customer empathy
Training
Approaching this role with confidence and a feel for global etiquette will help you excel. These skills can be easily built through Small Revolution's Become a Customer Service Assistant course.
You'll also gain in-depth knowledge of Gmail, among other common tools. Plus, you'll be well equipped with templates and time-saving apps such as Boomerang.
Pros
Work from home
Human interaction
Skill-building
Cons
Dealing with unhappy customers
Potentially irregular shifts
How to Apply
Once again, companies that hire for this role will be looking at your resume and cover letter.
As there is no experience needed for this position, it's more important to list personal skills and work ethic. Employers want to see that you're patient enough to handle any customer interaction thrown your way.
Where to Find Jobs
Work from home jobs in customer service can be found using a couple of methods.
One way to find an open position is through FlexJobs. This database helps well-known companies connect with freelancers.
The second is to check online employment websites like Indeed.
Also, work at home jobs in customer service are easily found through Upwork and other freelancing platforms.
Copywriter
Copywriters are the wordsmiths of the internet. They combine psychology, creativity, and marketing tactics to formulate written magic.
Projects for a copywriter include writing web content, blogs, and social media content.
You won't need many resources to work from home as a copywriter. With just a computer and reliable internet, you're good to go!
That being said, certain skills make for a better writer:
Detail-oriented
Able to meet deadlines
Self-motivated
Thorough research ability
Training
Learning to be a copywriter can be done at home. It requires no experience; only willingness to learn and dedication.
Most copywriters complete online courses to learn the fundamentals. This also builds confidence and credibility for job searching.
Pros
Work from home
Creative work
Skill-building
Plenty of opportunities
Choose your niche
Cons
Takes time to build a reputation
Hard to find quality work
Competitive
Risk of getting scammed
How to Apply
Copywriters typically have a portfolio showing their best work. This, along with an impressive cover letter and resume is enough to complete your application.
Where to Find Jobs
Work can be found on employment platforms, freelancing sites, and copywriting job boards. For instance, Problogger is a popular job board for finding blog-specific work.
Many copywriters find work by using a combination of networking, blogging, and cold-pitching. Building authority in this field takes time but is certainly achievable with due dedication.
And on the plus side, you can access a wealth of resources to help navigate the experience.
Do you want access to expert insight? Check out Small Revolution's step-by-step guide on how to land copywriting jobs.