Quiet people have the loudest minds."- Stephen Hawking
Work from home jobs are getting more popular by the day. They provide career paths that allow for independent work. This presents an excellent opportunity for many careers for introverts.
Yet, what are some of the best jobs for introverts? Before we consider their independent work, the real question is, do you consider yourself an introvert?
Yes? No? Maybe?
A good number of introverts can pass for extroverts. You may even fail to realize that you're technically an introvert.
Confused? Here's a simpler explanation.
A common assumption is that introverts and extroverts are completely different people – one, a social butterfly and the other an antisocial loner.
However, the truth is that there's more to introversion and extroversion beyond the "shy" versus "life of the party" dichotomy.
Curious to know whether you are an introvert? Use these signs to check whether you fit the job description for introvert jobs.
And then keep reading to find out which jobs for introverts suit you.
Introverts Remote-Friendly Traits
Introverts make the best remote workers. Independent work allows them to mostly work on their own time. So the following traits in many introverts tend to thrive.
Here are some of their best traits.
1. Introverts are Self-Motivated
Self-motivation is a key trait for introverts to succeed in a home-based work environment.
Naturally, introverts are self-driven people.
They're able to work alone without any external motivation. This makes them the best at time management so no need to micromanage them. Many introverts hate that and it's not good for the job.
Introverted people are happy to take responsibility for their actions.
2. Introverts are Goal-Oriented
Give an introvert a task, set the timeline and rest assured they deliver promptly.
This tenacity to achieve set goals that help makes remote careers some of the best jobs for introverts.
3. Introverts are Trustworthy
Trust is a virtue that goes a long way when working in the virtual space. Introverts are people you can trust to get the job done.
Interestingly, introverts don't fancy dishonesty. Not many can empathise as introverts can.
The best jobs for introverts make them invested in the company's cause. So the prospect of lying makes them feel unfaithful to their jobs.
A very unsettling feeling that keeps them from jeopardizing their jobs. Even if it takes them a little longer to increase their average salary.
So naturally, introverts are terrible liars who generally convey the truth at all times.
4. Introverts are Knowledgeable
Introverts crave knowledge.
They are always learning new and innovative ways to become experts in their career. Remote work is an ever-evolving career so it's an added asset in introverts jobs.
Thanks to the internet, learning has never been easier. There are many online resources for anyone who cares to read and learn.
Could the wise words of Albert Einstein – "once you stop learning you start dying", be any truer?
Thus, to keep up and be a successful freelancer or employee, you'll need to be a lifelong learner. And introverts know that too well.
5. Introverts are Laser-Focused
Your home environment has many distractions compared to the traditional office job. We're talking about:
Television
The bed
Household duties
Noisy environment
Kids and other family members
Social media and web surfing
Naturally, such distractions waste time and make it difficult to maintain a productive job routine.
But not for jobs for introverts.
Unlike many others, they tune out everything else and perfectly concentrate on the tasks for the day.
It's this laser-focused ability that makes work from home opportunities some of the best jobs for introverts.
6. Introverts are Confident
Believe in yourself! Have faith in your abilities! Without humble but reasonable confidence in your own powers, you cannot be successful or happy."  — Norman Vincent Peale
Introverts believe in their set of skills and knowledge.
They have the confidence to competently perform their tasks and achieve the desired results in their job.
Furthermore, introverts are able to make quick decisions when in a tough position and are bear the consequences.
Still not sure? Here are 23 signs that you might be an introvert. Check this out.
Work From Home Jobs For Introverts
Now that we've gone through the traits that make introverts suitable candidates for online jobs, let's take a look at a typical career path for introverts.
Notably, these careers offer great solitude and a chance to work independently. Unlike the often extroverted, more public world.
1. Copywriter
And by the way, everything in life is writable about if you have the outgoing guts to do it, and the imagination to improvise. The worst enemy to creativity is self-doubt." ― Sylvia Plath
Introverts express themselves best in writing unlike orally. Their insatiable desire to learn, research, and tell stories from their point of view will help them tackle writing assignments and enjoy every part of the process.
There are plenty of niches to pursue as an introvert writer. Let's sample a few:
Subject Matter Specialist Writer
People with deep knowledge and understanding in a given industry are called Subject Matter Specialist Writers.
They are different from writers.
Therefore, a specialist writer is able to write with authority and tackle topics like Computer Science in-depth. All the while adding unique, insightful perspectives for the reader.
Here is a small selection of topics you can consider for your own subject matter specialist writing career:
Ebooks
Whitepapers
Executive briefs
Detailed how-to content
Link-generating content
Period special content series
And you don't need to have gone to school for a bachelor's degree to become an expert. You just need to spend time reading, thinking and writing on your desired subject. This added value boosts your average salary.
Brand Journalist
A brand journalist mainly writes long-form pieces like those found in newspapers and magazines. He finds and constructs narratives with unique angles that inspire human interest. This takes more time but is quite rewarding.
Take a look at this guide to brand journalism.
Generalist Copywriter
True to its name, the generalist copywriter is a jack-of-all-trades writer. Thus, such a writer can write content that doesn't call for a lot of expertise.
Fancy being a generalist copywriter? You can write:
Blog posts
Lists or listicles
Tip sheets
Product reviews
Checklists
Infographics
Opinion posts
SEO Copywriter
A Search Engine Optimised (SEO) copywriter is still a generalist level writer who is able to integrate targeted keywords and phrases into the content. And sometimes perform keyword research.
The SEO copy aims to improve a website's organic rank and ultimately get more traffic to the website.
Digital/ UX Writer
A digital writer writes core pages for websites to help people navigate their digital journeys with ease. In a nutshell, the digital writer's copy aims for improved user experience.
Lead Generation Writer
Also known as a conversion rate optimization writer. Writes copy focused at creating sales and generating leads in their job.
The lead generation writer's laser focus is aimed at creating conversions through:
Landing pages
Web banner ads
Calls to action
Sales letters
Online pay-per-click (PPC) ads
The writing journey is exciting and diverse. And you can get trained at eCommerce University and become a certified copywriter. It's a learning path that will make you the most sought-after writer.
And increase your average salary: check out the eCommerce salary guide.
2. Proofreader
Remember how we mentioned that introverts are laser-focused? That's a handy trait for proofreading.
Spotting mistakes in written text (some of which are hard to notice) requires plenty of quiet time and unparalleled concentration.
Take a look at some of the typical proofreading tasks that you can expect as a work from home proofreader:
Proofread written materials to fix spelling, grammar, punctuation, syntax, and brand voice. Written work may include brochures, flyers, emails, press releases, and website content
Crosscheck accuracy of content, cross-referenced materials, referenced facts such as dates, values, and pages, etc
Review content for consistency with the company-wide brand, campaigns, and products
Make suggestions to improve the editing process for increased efficiency
Critical skills you need for a proofreading role include:
Attention to detail
Ability to write and edit well
Resourceful especially in research
Computer proficiency especially with word processing software
Quick reading and editing while maintaining quality
Multitasker to meet deadlines with the perfect copy
3. Transcription
Transcription means you'll be listening to audios and typing out what you hear.
To excel as a transcriber, you need to have excellent listening skills, possessing a good command of the written and spoken English language. Let's not forget a fast typist.
Popular beginner transcription roles for many people are:
Data transcription involves transcribing information and checking that the data is usable by data processing systems. Computer Science expertise comes in handy here.
Medical transcription (billing and coding) whereby you work in the health care sector, translating handwritten patient forms and notes into computer data by typing.
Legal transcription involves working with legal records to listen and transcribe recorded data including:
Depositions
Court hearings
Interrogations
Witness interviews
Dictations from lawyers
Written notes and affidavits
Emergency call recordings e.g 911
Watch this video to learn how to get started with transcription.
4. Web Developer
If you are tech-savvy and writing code is child's play for you then web development could be an excellent job for you.
An introvert's self-motivation and ability to pay attention to detail will help bring websites to life. It also builds a lucrative career in the field of coding. And everyone loves a good increase in their average salary.
Check out this detailed breakdown of web developer tasks.
5. Social Media Manager
Perhaps you're surprised an introvert can take on this demanding role given their personality? Isn't that more of an extrovert's job?
But did you know social media managers don't do the actual socializing!
Instead, they focus on the business aspect of being social. And since introverts are naturally methodical, the low degree of involvement with followers is appealing.
Take a look at some of the ways to be a successful social media manager. And while at it, learn all the latest marketing skills, tools, and techniques at eCommerce University.
Some of the tasks that you as social media manager can expect on in a typical day include:
Social media content management
Community Management
Cultivation of leads and sales
Calculated planning and setting of goals
Developing brand awareness and online reputation
SEO (search engine optimization) and generation of inbound traffic
For a detailed breakdown of these tasks check out this post.
6. Virtual Bookkeeper
A bookkeeper must be trustworthy. Period.
In essence, a bookkeeper handles sensitive financial records pertaining to a business.
An introvert will keep such information strictly confidential. Plus, meticulously record all the financial transactions with amazing attention to detail.
Take a look at the virtual bookkeeper responsibilities associated with this career:
Accounts Payable Management
Accounts Receivable Management
Bank and Credit Card Reconciliation
Budgeting
Business financial advice
Cash Flow Projections
Data entry
Fixed Asset Management
Inventory analysis
Inventory control
Miscellaneous and administration
Monthly-end closing reports
Payroll
Preparing financial reports
Profit shares
Reconciling accounts
Tax records
Trial Balance
Year-End Reports
7. Graphic Designer/Artist
A keen introvert designer can still make a full-time income without necessarily marketing their art for sale.
How?
Websites such as RedBubble provide a useful platform for artists to display their designs. These platforms make it possible for creative introverts to supplement their average salary.
Obtain a Graphic Designer certification and become a highly sought after designer.
8. Chat Agent/Email Support
It may prove to be a daunting task for an introvert to answer an incoming call or make an outbound call.
But still, introverts can be very successful at providing customer service or technical support for many different industries.
Remember how introverts tend to be good listeners?
This makes an introvert a great asset to the customer service team. Thanks to your listening skills, you can offer email agent and chat support services which do not require answering the phone.
Start Your New Career Today!
Guess what? These work from home jobs for introverts are just a tip of the iceberg.
Still, there are plenty of work from home job options for you to pursue even if you're an introvert.
And there's no better time to get started than today.
Work from home. Increase your average salary. Have it all.
Shareable Images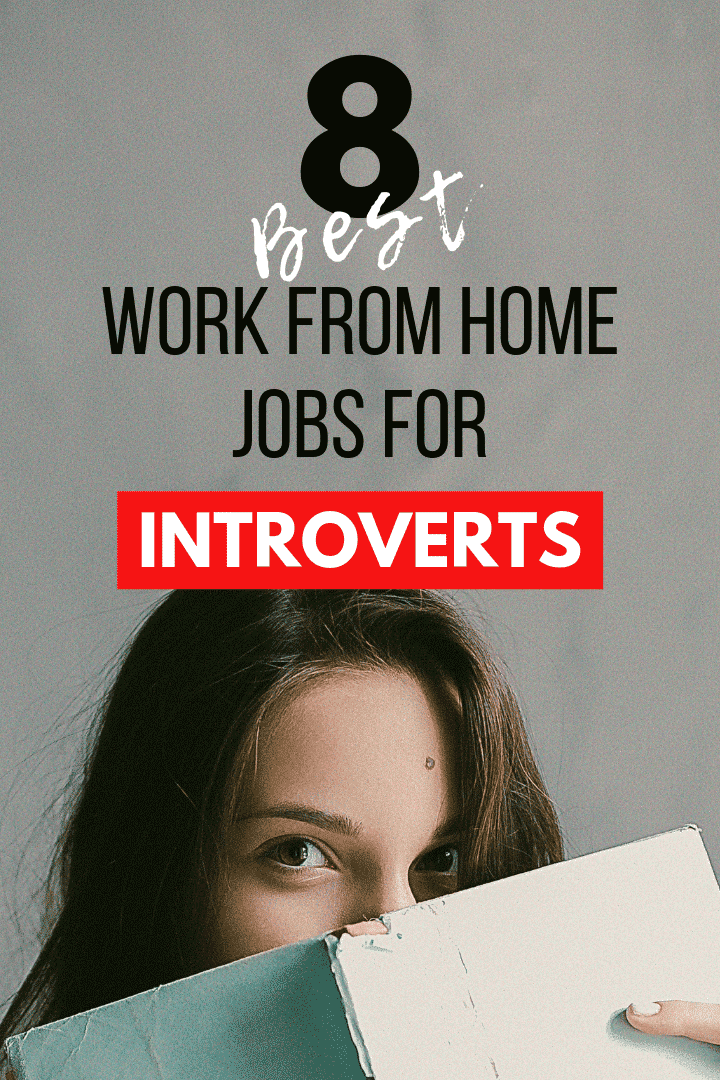 Photo by Rawpixel