LinkedIn Learning is an online professional development platform that is very popular among job seekers and hirers.
Really good platform to learn and master skills from professionals who are already implementing the skills they teach in real world

Pankaj Sharma on Quora
To get the most out of LinkedIn Learning we've created this guide to help you with:
Conducting a needs analysis to clarify your professional aspirations and goals
How to be an active learner to better acquire knowledge
Using the various subscription methods to achieve your goals
Taking the recommended classes to stay within a specific career track
Let's delve deeper into each strategy.
Analyze Your Skills Needs
This is an assessment of where you are right now relative to where you want to be.
For example, if you want to become a digital marketer, a simple Google search will return competencies such as writing and editing, SEO, social media marketing, and Google Ads.
Then, on LinkedIn Learning, search for specific courses that cover these skills to find your learning path. For instance, the Master Digital Marketing learning path covers everything you need to know about digital marketing.
Other ways of analyzing your skills and knowledge include:
Requesting a competence appraisal or talking with your immediate boss concerning the skills you need to become more efficient at your job
Conducting a SWOT (strength, weakness, opportunities, and threat) analysis to evaluate where you are now, available opportunities, and the gaps that need closing for a more rewarding career
Using the career wheel to identify your marketable assets and evaluate your options
Be an Active Learner
Active learning involves engaging with content in ways that drive analysis, synthesis, and application of knowledge.
In other words, it's learning while thinking about what you're learning, as indicated in the table below.
| | | | |
| --- | --- | --- | --- |
| Task | Excellent Active Learning Skills | Moderate Active Learning Skills | Weak Active Learning Skills |
| Listening and reading | Critiques and evaluates content and investigates related resources | Seeks to understand the message through critical analysis | Listens to and seeks facts and information |
| Discussing | Relates personal experiences with concepts; questions this knowledge, and monitors biases | Shares ideas and concepts in an encouraging way | Communicates facts |
| Writing | Critiques, assesses, and creates knowledge while monitoring and evaluating progress and quality | Explains and applies theory with a touch of personal perspective and additional research | Describes and defines concepts or ideas |
| Problem solving | Considers how a problem should be solved and monitors effort and progress | Identifies the structure of the problem | Solves the problem |
You can practice active learning on LinkedIn Learning by:
Evaluating the course details, learning objectives and skills covered by a course relative to your needs analysis
Taking notes while in class, pausing videos to contemplate the content, saving classes for future reference
Translating theory to practice by seeking independent projects, self-monitoring progress, and learning quality through honest self-reflection and feedback
Take Advantage of the Subscription Plans
LinkedIn Learning has three main subscriptions:
Free one-month trial. This gives you access to all of LinkedIn Learning for free. Use it to test whether LinkedIn Learning is for you.
Monthly plan. You can use this plan to complete any pending course from the free trial. You can also collect more data concerning your learning speed and accrued benefits.
Annual payment. This is a long-term investment. It's ideal if you want to specialize in a specific career track, such as digital marketing, data science, and project management.
If you're not ready to commit to any of these plans, consider investing in the many free courses offered by LinkedIn.
In 2020, Microsoft made ten of their learning paths on LinkedIn Learning free. Check them out and take advantage of this golden opportunity.
Utilize the Recommendation Engine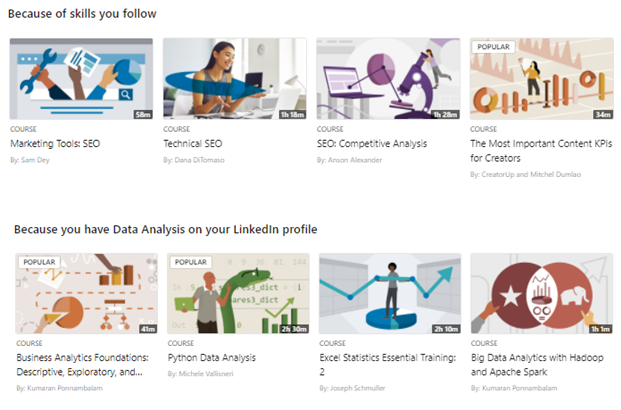 A recommendation engine is a machine-based learning system that helps identify patterns in your skills and online behaviors.
The purpose of a recommendation engine is to keep your learning within a specific career or professional track. LinkedIn Learning calls this track a learning path.
For example, if you want to be a business analyst, choose the Become a Business Analyst learning path which takes you through courses in:
Business analysis
Agile methodologies
Business benefits realization
Project management
Elicitation and analysis techniques
Business process modeling
Communications and negotiations
Data science
Leadership
You get a certificate for completing each course, then another one for completing the learning path.
LinkedIn Learning vs edX
LinkedIn Learning lacks instructor-led courses and graded assignments or projects.
If you want a more academic approach to learning, edX is a better option.
For example, if you want to become a data analyst, you can complete the 18-month Master's in Business Analytics from Syracuse University. This program will take you through:
Business, marketing, accounting, and financial analytics
Management science
Data analysis
Decision making
You'll get similar knowledge on the Become an Analyst learning path on LinkedIn Learning but you'll miss out on:
Graded assignments, exams, and capstone projects to gauge your ability to criticize, evaluate, and synthesize knowledge
Instructor-led learning to keep your learning goals and course objectives aligned
Printable and shareable certificates endorsed by major industry giants like Google and IBM
Frequently Asked Questions
Is LinkedIn Learning better than edX?
LinkedIn Learning is ideal if you want on-demand business skills from real-world leaders, while edX is the way to go if you want an academic approach.
See the table below for an overview of LinkedIn Learning versus edX.
| | | |
| --- | --- | --- |
| Feature | LinkedIn Learning | edX |
| Purpose | Professional development eLearning platform | Academic eLearning platform |
| Target market | Continuing learners, employees, and freelancers | Continuing learners, university students, and high school students |
| Learner experiences | Subjective, but expected to be high due to expert led courses | Subjective, but expected to be high due to the academic approach to learning |
| No. of courses | Over 16,000 | Over 3,500 |
| Free courses | Yes | Audit for free, pay for cert via the verified track option |
| College level courses | Some learning paths are endorsed by partner universities | Courses are provided and endorsed by many universities around the world |
| Certificates | Yes | Yes |
| Academic level certificates | For some learning paths | For all courses |
Does Harvard own edX?
No. Harvard (or MIT) doesn't own edX anymore.
In 2021, Harvard and MIT sold edX to 2U, an educational technology company. 2U works with not-for-profit colleges and universities to deliver high-quality degree programs.
Can you publish the edX certificate on LinkedIn?
Yes. edX certificates have a URL link that you copy and paste on your LinkedIn profile. All you have to do is:
Click on the add profile section on your LinkedIn profile
Select add education
Fill the form
Copy and paste the certificate URL into the media section
Click save
Share on Facebook: