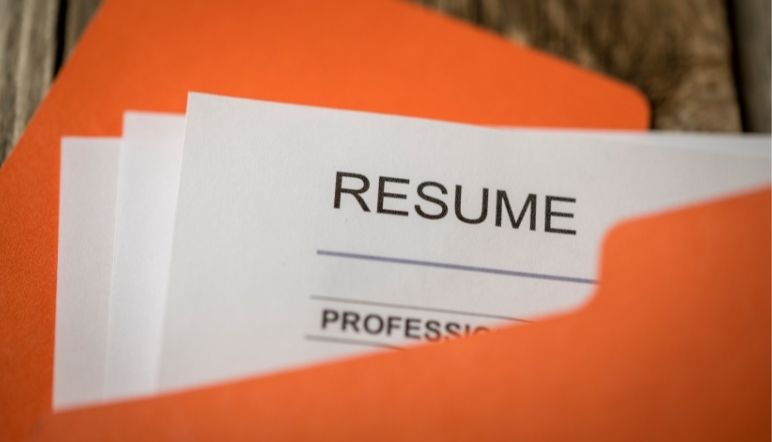 Avoid clichés in your introduction
Use strong words and key phrases instead of those omnipresent overused expressions. No idea which they are? Keep reading to find out.
Put yourself in your potential employer's shoes and think of words and phrases that will make a strong impact on you. You wouldn't want to read the same clichéd statements over and over again, would you?
This is why you need to get as far away as possible from the typical "I am a hardworking and goal-oriented professional with excellent communication skills." Everybody says that.
If you want to stand out and get hired, make sure you NEVER go down that road. Ever. Look at other freelancers' resumes and read their commonly used cliché introductions so that you know exactly what NOT to say.
Skip those too-good-to-be-true words and phrases such as "think outside of the box", "thought leadership", "results-driven team player", and "go-getter".
If you simply cannot avoid using some of the buzzwords like these we've just mentioned, at least you need to tie them to specific skills or examples to support those phrases.
Here are some powerful words to help you improve your resume:
Great! Now you know which words to use, let's see what NOT to do when writing your resume.
Resume DON'Ts
Here are some examples of cliché Resume introductions that you would like to avoid at all costs:
Example #1
I am an enthusiastic, self-motivated, reliable, responsible and hard working person. I am a mature team worker and adaptable to all challenging situations. I am able to work well both in a team environment as well as using own initiative. I am able to work well under pressure and adhere to strict deadlines. – source
Example #2
I am a dedicated, organized and methodical individual. I have good interpersonal skills, am an excellent team worker and am keen and very willing to learn and develop new skills. I am reliable and dependable and often seek new responsibilities within a wide range of employment areas. I have an active and dynamic approach to work and getting things done. I am determined and decisive. I identify and develop opportunities. – source
If you were an employer reading these resumes, would you get the information you're looking for in a VA from these introductions?
No, you wouldn't. Right?
These introductions would NOT help at all in giving you an idea which applicant can perform the tasks you need help with in your online business.
Here are more examples of painfully clichéd resume introductions:
Example #3
Example #4

Example #5

Don't do this on your resume.
Instead of using empty, flowery words of self-praise, present accomplishments that demonstrate your key competencies.
For example, explain how you have managed a team, improved or increased sales, liaised with different divisions, conceptualised or developed a campaign, won a pitch for a client, or participated in group projects. Got it?
This is exactly what will make any potential employer think that you just might be the hardworking, results-driven, detail-oriented, team player that thinks outside the box that they need for the team. And you know what the best part is? Those sweeping words didn't have to come from you.
So, make your personal statement pop with action words like: developed, managed, launched, created, resolved, improved, volunteered, trained, influenced, increased/decreased. These are action words.
Here's a handy resume cheat sheet with a summary of phrases to use:
OK. Now let's check out some good examples and learn from them.
Resume DOs
Here are a few examples of Resume introductions that nailed it:
Example #1

You don't need to be a Wharton graduate though. Employers are looking for someone who can accomplish tasks. Just think of the things you have done in your previous work that relates to online job.
You can say "I've managed inventories" or "I've processed orders for" or "I've handled customer service live chat ".
Example #2
Example #3
Example #4

Did you notice something missing from the examples provided above? Clichés.
These were taken from the profiles of freelancers that instead of praising themselves on their intro went straight to the point and talked about the things they can do. Always remember that from the second a potential employer opens your Resume, you only have a very short amount of time to make a powerful impression.
Maximise the only 30 seconds you have by choosing your words carefully and avoiding flowery adjectives. Give that Resume a punch that will get any employer not only engaged but also intrigued enough to want to keep reading.
Resume Introduction for Online Jobs
Writing a specifically targeted Resume introduction is not just a smart thing to do – it is a critical thing to do.
In fact, one of the most important rules of resume writing is that you need to make sure it is tailored for the job and position you are applying for.
This Small Revolution School lecture aims to help you get a job with the BEST online stores in the world. NO, we're not talking about all those usual employers from other freelance platforms like Upwork for instance.
We're talking about those employers who are NOT set to hire cheap labour that will slave away for them for pocket money. They are professionals – they want to hire professionals.
These are online businesses that make millions of dollars each year. These are online employers that are looking to hire the BEST people.
That is the reason why you need to put a LOT of work into the Why Hire Me/Summary/Overview whatever you call it section of your Resume. It may literally be just a small part of your entire Resume, but this is the part that's going to make or break an impression.
You don't want to be the one who says you are the best. You want those employers to believe you are the best because of the way you sell your suitability for employment in an online business. Got it?
So, how are you going to do this? Take note of the following tips:
Communicate only the most relevant points and that is your background – experience, skills, and accomplishments. Keep your Resume introduction focused on the things what will help you land a job in the online industry.
You do NOT have to include your many years of experience in other fields that are not related. Basically, just do away with statements that have little to absolutely nothing to do with the job you're applying for because it will not only bore the employer, but it might also prompt him to just skip to the next freelancer's profile.
Adjust your professional title into something that closely resembles the online job/position you are targeting. If you were an eCommerce Marketing Specialist two jobs ago, then that's what you want to mention in your intro because that's what your potential employer wants to see.
It doesn't necessarily have to be your most recent position, nor does it have to be an exact match to what they are looking for. It just has to be a position considered valuable to any online business.
Highlight your key qualifications and attributes that you believe are critical for any online job. Do your research and read as many online job descriptions as you can and observe. What are the top 3 qualifications or skills these employers look for? If you have it, flaunt it.
Use accomplishments from your past experiences that have made an impact in your previous company's business as a whole. Your Resume introduction is just the right place to show them off. Present facts along with your success stories.
Results that you have achieved before are good indicators that you are someone who delivers. No employer will snub someone who can actually bring something to the table.
If you have online specialised certifications , then make sure it's included in the first things your potential employer sees on your profile. Luckily, you already have or are about to gain some soon.