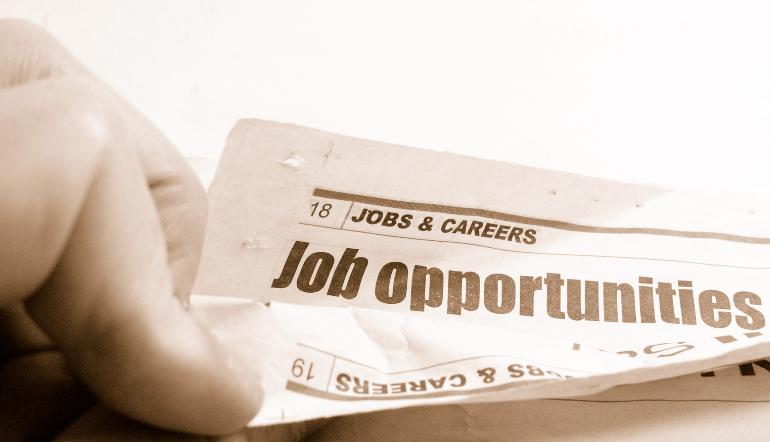 Which are the best online job boards for you?
Of course, your niche online job boards with a healthy amount of traffic!
How to know whether a job board has a healthy amount of traffic? Simply, check it.
Yes, but HOW?
By using the same tools you've used to find out whether an online job is trustworthy or a scam. As simple as that.
Perhaps you could compare 5-10 job boards to get an insight into who's got a good volume of traffic.
When you choose the best for yourself, focus on creating an excellent profile that matches your niche job board.
Remember – you do NOT want the biggest job boards because they're overcrowded.
For example, if you're an eCommerce copywriter, make an incredible profile on a copywriting job board.
This way, you're more likely to find employers who really appreciate those particular skills you possess.
To help you spot the best online marketplaces these days, and get you started SUCCESSFULLY, dive into the subsections to come.
Highly Recommended Online Job Boards Offering Genuine Work
Here are a few online job boards we'd like to recommend to you because they're way better than those cluttered popular marketplaces such as Upwork.
1: Problogger
You can expect to get very good writing jobs from this reputable platform. Watch the interview with the Problogger himself, Darren Rowse, as he gives you helpful tips on how you can get writing jobs fast and easy and what businesses are looking for in a writer.
2: Working Nomads
Working Nomads has a carefully chosen list of quality job offers that are updated every day. They only collaborate with reliable and well-known companies and choose only the highest quality job offers.
Aside from regular employment, you can also look for temporary projects. They also have specific job listings for specific skills that you can bookmark.
3: eCommerce Jobs
Founded by Harry Joiner, this job site lists mobile, social and web commerce jobs that you can search by region or title. You can add your resume to their confidential database and also sign up for email notifications for their latest hottest e-commerce jobs.
4: Shopify and eCommerce Job Board
Aside from being a platform that has been widely used by more than 500,000 retailers, it's also a place for skilled individuals and online business owners to meet.
They have a discussion forum where online store owners can post job opportunities. They also invite skilled professionals to join their team.
5: Belay Solutions
Formerly known as eaHELP, offers you both personal and professional success. Belay Solutions gives the best virtual opportunities to work 100% remotely. Some common VA jobs at Belay include travel planning, research, social media admin, and other project management for business support.
They have highly skilled executive professionals and administrative support that help match clients with the right Virtual Assistant. Watch the video to know more about their service.
You can find many more dedicated online marketplaces for:
Virtual Assistants
Copywriters
Graphic Designers
and other general job boards to help you find genuine online work that matches your expertise and needs listed in the article we've linked to.
So, don't hesitate to follow the link and choose the most suitable marketplace(s) for yourself.
…
Good, you did it!
You've picked a couple of best online marketplaces in your niche and presented yourself persuasively and effectively there.
What now? Are you just going to sit at home and hope for the best?
No way! Don't wait for that perfect online job to find YOU!
Take your online career into your own hands! Here's a suggestion how to do it.
Be Proactive and Directly Approach Your Potential Employer
Don't just create a winning Resume, a mind-blowing ePortfolio or a remarkable profile on your chosen niche job board and wait for the miracle to happen.
They serve NO point if no one can see them! So, go and grab that job!
Promote your work. Reach out to your prospective employers with your brilliant work samples.
You don't feel confident and haven't got a clue how to do it? Don't worry!
Of course, we're going to teach you how to reach out to them and offer your expert help. These are the steps to take.
Step 1: Search the Internet and find some legitimate online businesses in your field of expertise. Then, choose a few employers who need your skill set, you'd like to work for, and believe could also benefit from cooperating with you.
Note: We've explained how to recognise a trustworthy online company earlier in the lesson, remember?
Step2: Read through their website thoroughly to find and analyse their pain points. After that, think about how you could use your skills and knowledge to help them resolve their business problems and offer your solution.
That's a perfect opportunity for you to reach out to them and demonstrate your expertise, isn't it?
Sounds difficult? Don't worry, it's NOT that difficult, and it's highly effective.
Let us give you a couple of examples to better illustrate how you can do that…
Example #1
Let's say you're a trained eCommerce copywriter in search of a full-time job, and you've found an excellent online store you'd like to work for.
They're running a wonderful blog, but their product descriptions could be much better crafted in your opinion.
Here's what you can write to them:
"I'm a specialised eCommerce copywriter looking for steady full-time employment in a successful company such as yours. I think your website and products are great, and you're running a fabulous blog. However, I believe your product descriptions can be far better. Since I'm an expert in writing product descriptions, I've refined a couple for you. Here's how I'd suggest to you to improve them to get more conversions." Then, attach your fantastic suggestions and sample work.
Similarly, you might write a different second part of the message after introducing yourself:
"You're running a great blog, but I believe your listicles can be written far better. Here's an example to show how I can help you improve your blog articles." And attach your brilliant sample work again.
You see? It's not that scary or difficult!
Here's another example to help you find your way and showcase your expertise.
Example #2
Now, imagine you have the necessary skills but not much experience and would like to find a decent online job as an Customer Service Representative (CSR).
What could you do?
For instance, you could find an online store which doesn't have a Live Chat option and offer that service to them since you're trained to do so.
You could introduce yourself and approach an online store owner with a message like this:
"I'm a trained CSR looking for a steady online job, and I can offer my expertise to help you improve your customer service. Although I think you're running an excellent online business, I believe you can improve it by offering your customers a Live Chat option. If you're interested in the idea, here's how I could offer my expertise to help you…" (Preferably add a more detailed explanation of how you can help the company and attach your sample work at this point. Describe, for example, how you would or did skilfully handle a truly difficult customer – abusive, racist, troll etc.)
The same goes for any other job role.
Similarly, Web Developers could offer a potential employer some expert help if they've noticed e.g. that the online store's important pages have quite a long load time, which negatively affects conversions, bounce rates, their search engine rankings and the overall business.
They could reach out to a prospective employer offering to improve the load speed of their website key page(s) and explain how this would make it better for SEO and possibly solve a problem that the employer might not have been able to solve so far.
You see? This straightforward approach works for almost anyone who has something valuable to offer. And you DO.
Remember – never mind if you don't have much experience. Explain to them how you WOULD do it. That's where you make the best possible use of your industry-specific sample work.
It's essential that you are confident enough and really know how to do the job.
We're sure you do know your beans because you've almost completed your training.
Your knowledge, passion, and confidence matter! Experience comes after that. So, don't worry because/if you haven't worked for an online store owner before.
NO way you go unnoticed if you flatter an employer with attention by taking some time to find and analyse their problem, and then use your expert knowledge to offer them a good solution.
This is far more effective than wasting your valuable time and energy chasing the bids on the popular overcrowded platforms or just creating a profile there and waiting for the employers to find you.
Don't you agree?
If you'd like a steady, full-time online job, this approach could help you cultivate a relationship with one employer.
On the other hand, online job boards can help you diversify your income and offer a funnel of employers coming to you.
All the approaches have their pros and cons. It's totally up to you to set your priorities and act accordingly.
And remember – there's NO shortcut to success!
Before taking any action and starting your online job search, you have wisely set a firm foundation for your prosperous online career – honed the highly sought-after online job skills.
Being a jack-of-all-trades and master of none is NOT wise.
You're aware that the best-paid jobs usually require specialised training to be able to do the work professionally and efficiently and to get a steady online job and generate a regular high income at the same time.
That's the way to go!
Now you're equipped with all the necessary knowledge and tips to start a successful online career in the profitable field.
Fortunately, you've chosen to specialise in the massively growing online industry, so the sky is your limit now!
Here's the State of e-commerce: global outlook 2016-21 infographic with the cross-border forecast by 2021.
The stats prove the fact you're on the right path to success.
So, fear NO more! Just do it!
Before you take the steps we've advised you above, let's just briefly summarise what you should pay special attention to, shall we?
In Summary
As you've probably noticed, the Internet is a jungle nowadays, and you can quickly lose your way.
Luckily, in this lesson you've learnt which direction to take to find a lucrative, legitimate online job and to pursue a promising online career.
In short, you're finally ready for the big game and SUCCESSFULLY employ yourself online.
Make sure you always bear in mind the following tips:
Make smart use of job boards. Focus on your specific niche ones and avoid the most popular overcrowded ones because newbies cannot benefit much from promoting themselves on those large marketplaces for the reasons discussed at the beginning of the lesson.
Use some simple, free online tools to double-check every single job offer as we've explained in this lesson to easily recognise and avoid scams and traps.
Don't just sit at home and wait for the perfect opportunity to come to you. Be proactive, reach out to your prospective employers and figure out how your expertise can help improve their online business.
By taking the steps and approaches explained in this lesson, your chances to land a genuine, well-paid, long-term online job even with little or no experience are improving significantly.
The time has come for you to reach your goal!
Remember – we watch your back, so you can always rely on us if you need help.
As far as your training is concerned, it's only left to do the quiz and quickly show us that you've understood what we wanted to teach you in this lesson.
Then, add your resume to your chosen job board(s), showcase your expertise, promote yourself, and go and get that dream job!
Good luck with your new online career in a trustworthy company and happy earning!
Frequently Asked Questions
1. After finishing your training, the best and fastest way to find a genuine, well-paid online job is to upload your Resume on the largest freelancing job boards such as Upwork or Fiverr.
a. True
b. False
2. If you're a beginner who wants to stand out from the crowd in online marketplaces, it's best to lower your hourly rates as much as possible and you'll certainly get plenty of job offers.
a. No
b. Yes
3. Which is the best method to check whether an online company you've never heard of is genuine and trustworthy before you decide to accept their job offer?
a. Check whether other people and real businesses link to their website.
b. Check whether there are any trust certificates (icons and links) displayed on the company's website.
c. Check their social media presence and their web footprint, i.e. how highly they're ranked in the search engines, how many visitors their website has, what their traffic sources are, find out how many people search for the company on the web, all that by using some simple and free online tools.
d. All of the above
4. It's enough that you create a fabulous Resume and a remarkable profile on as many job boards as you can, and then just wait for the employers to notice you and offer you a good online job.
a. Absolutely! You've done your part completing the training and creating that mind-blowing profile. Now you can only hope for the best possible outcome.
b. No way! That's just a starting point. It's advisable to be proactive and reach out to your prospective employers offering your expert knowledge to help them improve their online business. That's how you'll get noticed.