Congratulations! You're almost there!
You've played smart from the start of your journey.
As a result, you have:
mastered some highly sought-after online job skills and tools,
polished up your online Resume, and
boosted your ePortfolio with some outstanding work samples to prove your knowledge and skills.
Great work!
In case you don't have your resume and ePortfolio ready, it's the right time to do it.
Now, everything's ready for you to land that dream job, right?
Do you know where and how to get started with your job search?
That's right, you can go to Google and try to find jobs on online job boards.
However, the marketplace for finding home-based jobs on the Internet can be rather overwhelming, especially if you're an inexperienced newbie to online job search.
How do you know if a job offer is genuine? What do you have to do to become visible on the overcrowded job boards? How come you've created a fabulous profile but you cannot get a job? Are you doing something wrong?
Huh, this may be really frustrating…
So, do you feel well-prepared to take that first step you've been waiting for so long?
Hopefully, you do.
There are various ways to search for jobs online. The big question is – what is the most effective one?
Don't worry! We're going to show you how to do it right way.
We're always here to help you succeed, so this lesson will also show you a few more critical points before you take the final leap.
We won't let you go out and compete in the online marketplace jungle without teaching you the basic rules of the big game:
the dark side of the most popular job boards people rarely talk about,
how to recognise and avoid scams,
how to choose the most suitable job board(s) to promote yourself to prospective employers, as well as
how you can showcase your expertise and actively search for your dream online job.
Thus, let's start with the essentials you should keep in mind when searching for online jobs and take a peek at the darker side of the process.
Fasten your seatbelts…
Discover Little-Known Disadvantages of the Most Popular Online Job Boards
There are so many intelligent, hard-working, highly skilled and deserving people in search of online jobs nowadays.
That's why it's NOT easy anymore. The Internet is saturated with lots of brilliant people looking for online jobs. So, forget about effortlessly finding a truly good online job on the Internet.
It's also incredibly hard for employers to find you because the job boards are just not designed that way.
Online job boards, the middle ground between you and the employer, are overflowing with applicants.
As a result, they have started to favour candidates who:
are educated in a specialised, in-demand area (which is a plus for you as a trained worker),
have higher rates which can furnish more commission,
are able to independently promote themselves in a competitive landscape.
So, let's dig a bit deeper here…
If you've ever tried to get a job via any popular job board like Upwork, Freelancer or Fiverr, you're probably already aware how difficult it is to get noticed there, especially if you're a beginner. Almost impossible!
Even a perfectly crafted resume is of little help because these platforms are simply overcrowded.
Yet, many people often recommend them probably because they can see NO alternative ways or they don't know how these platforms actually function, although it's far from the best way to seek a job on the Internet.
On the other hand, it's true that EVERYONE who is hardworking and dedicated to lifelong learning CAN get a great online job. Not just a single job, but such a person can become an expert and pursue a serious online career.
But, it's NOT that simple. There's a catch…
OK. OK. You've noticed that recently it has become tremendously difficult for a beginner to get noticed on the popular online job boards and get the desired job. But WHY?
Why is it so tough for a beginner there?
Job boards make money from placing you with employers.
Because they are saturated with brilliant applicants bidding for the same job as you, and they mostly favour the candidates with higher rates so that they can get higher commissions.
Exactly what we mentioned at the beginning of this subsection…
Since they generally try to take a percentage of your ongoing employment, it makes perfect sense that they give preference in the listings to candidates with higher hourly rates. Don't you think so?
To illustrate this issue further, here's what happened at one of the most popular job boards – Upwork. They put in a minimum of $3 per hour.
That happened because they basically couldn't sustain all those low-level workers who desperately need a job good and intelligent people but without enough skills or experience.
They pushed the rates higher so that all the people with lower hourly rates could NOT use the platform anymore.
You'd probably want to avoid a similar scenario, right?
So, you need to think about earning more. And the ability to do that comes with specialising and gaining more knowledge.
Gone are the days of being guaranteed an online job because you are able to use a computer or have basic programming skills. You need to have more employable digital skills if you want a decent online job.
You've set a solid foundation with this course so far, but also make sure you're dedicated to lifelong learning if you want to pursue a serious online career in the future.
So, since all those huge job boards like Upwork are overcrowded and it's nearly impossible to stand out especially if you're beginning, do you think it's worth your time and energy to compete in such a jungle?
Not to mention plenty of online job scams on such platforms! We're going to talk about this issue in the next subsection.
Too much bother with NO guaranteed success?
You decide.
Also, there isn't a single best place to start your online career.
There are numerous options available, and it's up to you to choose one or a few that best suit your needs and preferences.
But, you've probably already realised that.
Based on what you know now, how would you get to the top of the Upwork listings or any other online job board if you're inexperienced? By raising your hourly rate?
That wouldn't work because, as a newbie, you're NOT equipped with the necessary experience and expertise to backup such a decision.
Just extremely clever and trained people who are very self-promotional can get to the top by providing testimonials from their customers or asking them for things like 5-star ratings.
So, what is the easiest way out for YOU?
Now when you're certain you can give employers solid reasons to hire you among thousands of other applicants, just phrase it all skilfully to present yourself in the best possible light.
But, our advice is to AVOID the largest and most popular marketplaces.
There are plenty of niche job boards out there.
Note: We're going to talk about this in great detail later in this lesson.
For instance, if you're a copywriter, find a copywriting job board. Or if you're a graphic designer, there are many job boards just for graphic designers.
Got the point?
Thus, master the self-promotion and focus on improving your profile in the job boards that best match YOUR specialised online skills.
Moreover, there are some other ways to help a newbie stand out and land a well-paid, legitimate online job. They may not be easy, but they're definitely worth it.
So, why not take it a step further and directly contact potential employers offering your services?
Note: We're going to show you exactly HOW a bit later in the lesson.
Remember – your focus is NOT getting any random low-paid gigs and working for peanuts, but gaining a steady high income by landing a legitimate job, in other words building a prosperous online career!
We're going to guide you through different step-by-step approaches and solutions to this problem down in the lesson, and it's up to you to decide what works best for you.
However, before showing you the alternatives to the biggest overcrowded job boards and suggesting to you where to look for decent online work, we have to teach you how to recognise and check whether an online business or job offer is real or fake, so that you can protect yourself.
Here we go…
Beware of Scams and Double-Check Every Job Offer
As stated in the article How to Find a Real Online Job and Avoid the Scams!, the benefits to having a remote job are endless. From saving time on a dreadful commute, having greater control of your schedule, and saving money on an office wardrobe and all the other miscellaneous costs associated with an in-office job — working from home sounds like a dream!
The challenge, however, can lie in finding a real online job amidst the many remote work scams.
Savvy scammers know how much people desire to work from home. They impersonate potential bosses, real professional recruiters, and hiring managers in order to scam job seekers out of personal financial information — and in the worst case scenario, their life savings.
And when you consider that for every one legitimate work-from-home job, there are approximately 60-70 job scams, it can make you want to give up your job search even before you've gotten started.
Take heart, job seekers. There are ways to find a real online job and avoid the scams.
Since you've invested so much energy and time in this online training, your goal is to find a trustworthy online company to work for, right?
Our task is to teach you HOW.
So, you've searched and found a job opportunity which sounds too good to be true. Should you accept the offer or not? How do you know it's legitimate?
No idea? Luckily, we're here to help you!
"Imagine: you roll out of bed, make some coffee in your PJs, plop down at your computer. 30 hours a week, for seventy-thousand a year.
Sounds great, right? Not always.
If you've been on the hunt for a new job recently, you know there's nothing worse than getting excited over a potential gig only to find out it's a scam.
Even worse, you could be putting your identity on the line by giving up important personal information.
If you're looking for a new job, here are some signs that a 'great opportunity' is probably a scam:
As explained in the article 8 Ways To Spot & Avoid Fake Job Scams On The Internet, there are sharks out there lurking and ready to take advantage of you, whether it's extorting "training fees" out of you, getting your personal details for identity theft purposes, or simply getting as much work as possible out of you and not paying for it.
So, let's dig a bit deeper and learn more, shall we?
Check out a video about 15 Signs of Online Job Scams and make sure you read the linked article to get the full grasp of the idea.
Here's another helpful article on the topic: 10 Work From Home Scams You Should Avoid. For those who prefer watching videos to reading, here's one on the same topic and from the same author:
Do you understand what job scams are and how to spot them?
Furthermore, if you've been job hunting for a while, you must have created an Upwork account by now. This large popular online job board has over 87,000 job posts and nearly every freelancer has heard about it.
However, there have been a lot of recurring scam and fake jobs on Upwork that applicants often fall victim to.
Has Upwork done something to prevent these scams? Christina G, an active member on Upwork, has cited a few incidents and reported some scams.
Here are some tips from Jason Dulay, a blogger and freelancer, on how to avoid Upwork scams in case you have or want to create a profile on that massive platform.
Also, here's a helpful video on the topic he's created:
Note: Luckily, there are certain job sites out there we've filtered for you that are much better than Upwork. You can submit your resumes and online portfolios there to find legitimate online work, but we're going to talk about them in detail in the following subsection.
Just in case, here's also an extensive list of relevant articles about detecting and avoiding online job scams for you to explore fully:
OK. Now you definitely know what scam online jobs look like and how to AVOID them.
By securing your computer, verifying whether job postings are authentic, safeguarding your private information and trusting your instincts, you can successfully navigate through the wilds of the Internet to land a great new job. Source: 5 Steps to Avoid Online Job Scams
But, is that all you can do to prevent damage and protect yourself?
Certainly NOT.
Let us show you how to take this a step further!
You've just started exploring the world of online work, so it's vital to learn how to CHECK whether your potential employer can be trusted.
You definitely do NOT want to waste your precious time, knowledge and resources working for someone who won't pay or respect you!
When the brand name's well-known, you may think: "Well, they've built up trust with that brand, haven't they?"
But WHAT IF the company's NOT renowned?
Here are several handy tools and helpful methods you can use to find out whether an online business is dependable before engaging with it.
Method 1: Confirm That the Business Has a Web Footprint
There's a handy tool called Similar Web. It can help you infer trust by confirming the fact that the company has a web footprint.
For instance, imagine you got a job offer from the Gap online store. You've never heard of it before and you want to make sure it's safe to accept the job.
How can you check the company using the Similar Web tool?
Just go to their website, type the company URL in the search bar and hit Enter. There you have it! A whole bunch of helpful information. Follow the link to check out the search results at the moment of our search if you please.
Here's what each result section tells you about the company.
This tool shows you the Global Rank which indicates that the store is highly ranked.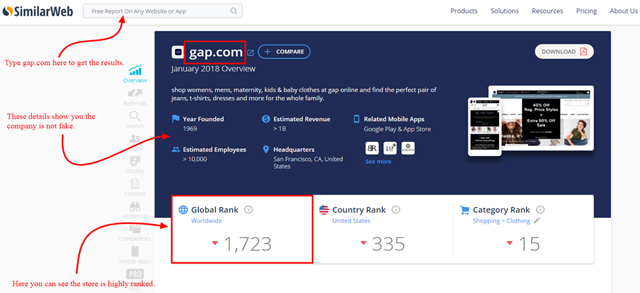 Then, you can see their website's got lots of visitors.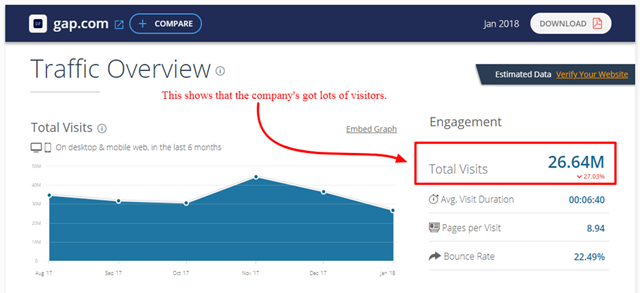 You can check their traffic sources, too. Take a closer look at the screenshot below and the results linked above to figure out what these details mean.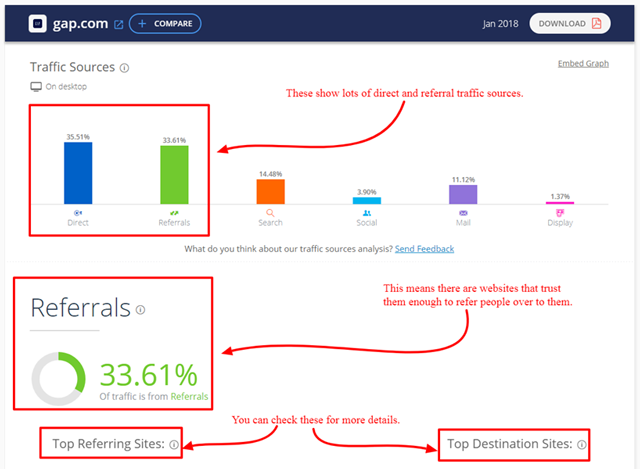 You can also find out how many people search for the company on the web.
And you can check the traffic they get from various social networks.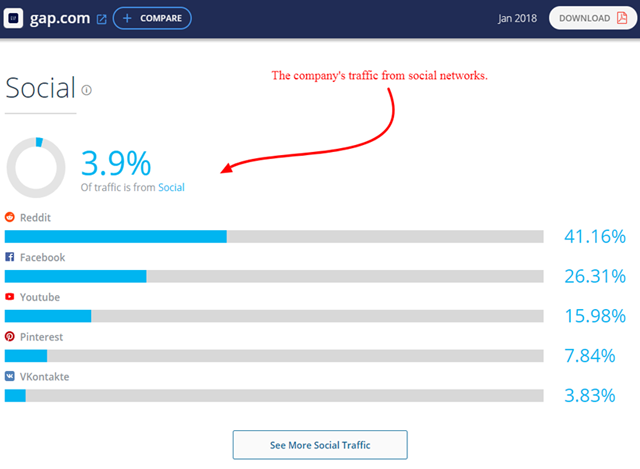 So, when you can see that they're found in the search engines and that they have a social media presence, you can infer trust by the fact that they have a web footprint.
Method 2: Check the Company's Backlink Profile
Another way of checking whether an online company is trustworthy is to check their backlink profile using some free tools like Moz Open Site Explorer or Monitor Backlinks.
Do real businesses link to them?
For example, here's what we got when we checked Titanium Buzz online store in the Monitor Backlinks tool: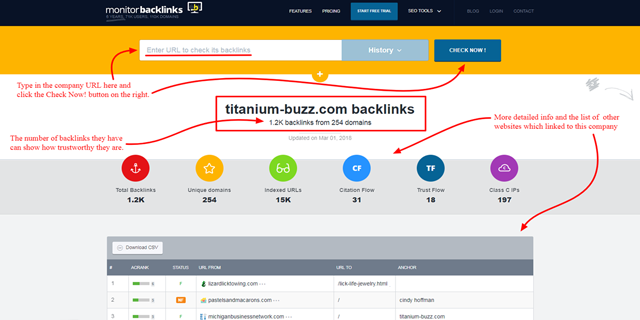 We also checked the Gap store using the Moz tool. The results look like this:
You can sometimes work out whether other people will link to a website and if lots of other websites link to that company's website, you can be assured that they're trustworthy.
It means that the company has been around for a while and that people are sort of voting by linking to them.
Imagine a link to a website as a popularity contest!
The fact that a certain online company has thousands or millions of backlinks means that it's a business that can be trusted. So, if you wanted, you could work for that business.
Method 3 – Check the Company's Trust Certificate
Another quick and easy way is to check their trust certificate.
Quite often, you'll see that online companies have certain icons in their footer. Those include links to show that they have endorsements from other companies. Those are called trust certificates.
Here's an example of one for better understanding. It's from the footer of Titanium Buzz online store.

So, if you click on the GeoTrust icon, it actually opens up a new window in the GeoTrust website that has the name of this business you're checking. It means that it's able to be trusted.
This is what you get when you click on that icon: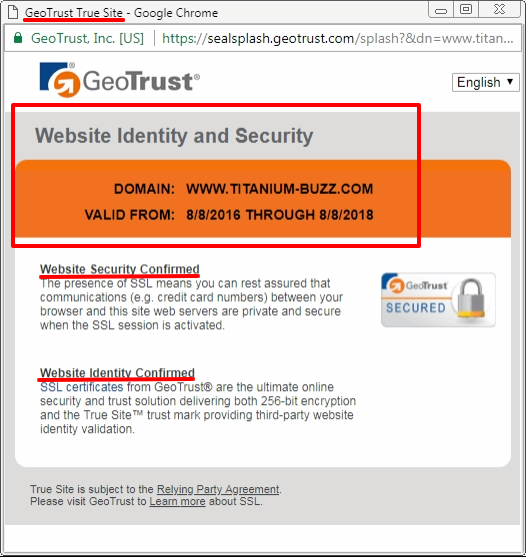 Usually, if a website or a business is NOT trustworthy, they will NOT have these icons displayed and linked.
Method 4: Reach Out to the Company and Pretend to Be a Customer
Another simple way to work out whether a company can be trusted is to reach out and just pretend to be a customer. Their response can tell you a lot about how they treat people.
For instance, you can contact them via phone, email or Live Chat and say you're interested in buying one of their products.
As we've said, the response you get will give you a lot of insight into how that company actually acts and works.
If they respond to you:
courteously
promptly
efficiently and
with great language skills, that is to say
if they treat you well
then you can see that they've got a good culture within their company.
If their customers are treated well, then perhaps they can be trusted to treat you as an employee really well.
So, these are some possible quick steps to take and free and easy tools to use to make sure you can trust an online company.
When a company is trustworthy, it can mean it might be a good online job because someone with a real trusted business is most likely going to last the distance, which gives you long-term job prospects.
These simple tools and examples also show you how to recognise a scam. When you do, just stay away from that job offer.
Got it?
Great! Now you know how to recognise a genuine online employer and protect yourself from scams.
It's time to learn a bit more about how to play smart, where to search for genuine online work in order to stand out from the crowd and finally get it.
Once you have a resume then you need to make sure you get found by employers who are looking for you on the Internet. So, let's move on to the next critical point in your job search.