According to a study by Fundera, the stress of working in a traditional office can be alleviated by working from home.
Statistics show that 82% of telecommuters reported lower stress levels, which in turn leads to happier, more energized employees. And 80% reported higher morale while 69% reported lower absenteeism.
They're supposed to be a reprieve from the often stringent nature of the typical 9-to-5 work environment – but even online jobs can feel daunting at first.
Hello? Motivation, We're Hiring!
Let's keep it real; it takes a while before your mind really registers that this is regular, important work. That you actually have to show up and put in the time. Not a mere hour or two but possibly up to five to eight hours minimum depending on whether it's part-time or full time.
I remember the thrill and excitement of getting my first online copywriting job. Oh, how I made plans (in my head) to work for hours and hours!
It didn't turn out quite as I'd hoped and I quickly learnt that whether in an office or at home, any new kind of work takes plenty of practice and even more patience (with yourself).
You have to be willing to stumble around as you grasp the new formats and writing styles, bearing in mind that the struggle doesn't reflect on your capability as a writer.
I think that's every writer's greatest fear; the thought that perhaps you're not as good as you thought you were.
Solutions
Enrol in an online training course. Luckily there are seasoned individuals who, through trial and error, have fortified knowledge on the dos and don'ts of an online career. Small Revolution's Katrina McKinnon is one such fairy godmother who has developed a step-by-step guide called "7 Habits for Online Success". In this course, you learn which 'truths' will build a successful career and income from a freelance lifestyle.
Shift your perspective. Repeat after me, "I am getting better every day so I will not be hard on myself. Every mistake is an opportunity to perfect or learn a new skill." You are your biggest cheerleader. Imagine you have the power to grasp all these new tools that make you more marketable down the line!
Pace yourself. Remember quality trumps quantity. You could be making money from writing a lot of gibberish for a whole year or choose to acquire lucrative skills that can establish you as an expert in your niche and save you time in the long run. Your writing will be much better and you'll earn more from it! This could mean that you make arrangements with your manager to assign you a lighter load during your "adjustment period", which is what I personally did.
Do I Really Need To "Report To Work" Every Day?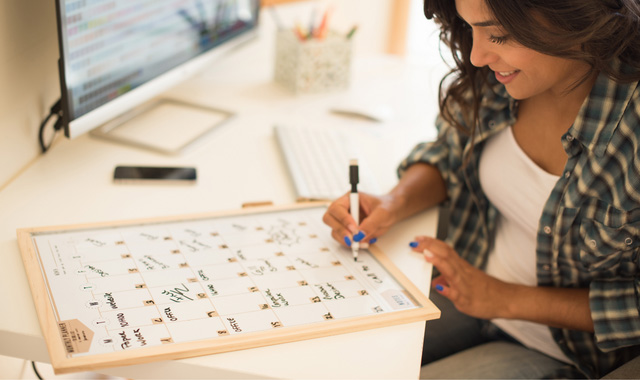 Yes. Yes, you do. More than ever, your manager needs to know that you're alive and active even if you're faithfully working on your tasks.
Now, this has been a really tough one for me. I naturally gravitate towards freelance work because it gives me more freedom and less pressure because there's no one constantly looking over my shoulder.
However, I must admit that struggling through the adjustment period made me feel rather inadequate as I compared myself to fellow writers whose journeys I was unfamiliar with.
So I'd spend a couple of days mulling over the issue and striving to be better at this brand new writing format I previously knew nothing of. This is where overcommunication comes in.
Chances are, your manager is familiar with all the challenges you're facing and has personally experienced them. Those colleagues you're so intimidated by could also be going through the motions – so you have yourself a very personalized support group!
"Hi, my name is (insert your name here) and I'm struggling to come up with good outlines."
Paul Berry, who manages a global engineering team at Rebel Mouse, insists that asking questions always helps.
I want people to always be inquisitive while also working on the little pieces of concrete stuff that we definitely know. If a question doesn't get answered because of email overload, I like people to ask again or bump up the thread so that we make sure everyone is on the same page.

Paul Berry
Solutions
Ask for help. You want to bombard your team leader with as many questions as you come up with. Remember, a virtual career doesn't provide you with the luxury of assumption. If you've got a wonderful team leader (like the awesome people at McKinnon Group) they're probably just waiting to guide and encourage you. The sooner you enquire, the faster you can begin to build some confidence because you know exactly what you're doing.
You're human. You're allowed to fall sick, attend parents' meetings, go on a family trip, take care of a family emergency and heck, even celebrate your birthday! Simply alert your team, nothing too detailed, just letting them know that life is happening to you. It creates touching points for your colleagues to deepen bonds beyond all the technical work, which builds camaraderie. I remember about a month in, two colleagues left the team but not before leaving such detailed emotional messages. The sense of loss and profound appreciation throughout the team was so tangible! So don't be afraid to jump in and build a virtual family of your own.
Keep showing up. Constantly posting a "Good morning, team" in the common chat room every single day feels mechanical until you're able to make a joke, ask a question or share pictures. The more you withdraw, the harder it is to feel at home. I know this because our bi-weekly Skype meetings always seem to remind me why I love working in the first place. I'm currently working on maintaining that same spirit throughout the time in between by talking to a colleague and my team manager.
Ever heard of taking a mental health day? Yes, one day can't solve all of your problems but it can create a conducive environment to solve a couple. Begin by reflecting on exactly what you need; a rest along with some good food, a fun activity or a change in your usual schedule then resume normal work when you're refuelled and ready! The weekends are perfect for this.
Grab Your Pens and Planners!
Do you remember all those tiny dainty pieces of stationery that took up space on your desk? Working from home will require you to actually put them to much more use.
Maybe you were used to the Human Resources Department determining your schedule, but welcome to the remote worker's world where you're the head of every department!
You're officially the boss; you decide your hours and make time for what matters. This requires plenty of efficient planning, which is a skill that often varies from person to person.
I'm a part-time copywriter; I have school at the start of the week then make time for work towards the end as my schoolwork dials down. Sometimes tests and projects spring up, so as a general rule, I work as much as I can whenever I can. My KPI (Key Performance Indicator) guides me. If you don't have a KPI or KPIs, ask your manager or employer to set some for you! They give you direction and clarity of purpose whenever you need it and serve as a basis for measuring your performance so you can ask for more responsibility and a better pay rate.
Nyre, an online worker who successfully completed the Small Revolution training, shares her experience,
'I can't do it!' That's always what I say when talking about online jobs. But when someone pushed me to try it, I told myself, 'Yes! Why not give it a try'. As I read the 7 Habits for Online Success Course it gave me a new realization in life, specifically having a healthy work, managing your time properly, and punctuality in attending to all your responsibilities whether in work or personal life.

Nyre
Solutions
Set boundaries. With most jobs, there will always be something that needs to get done. This requires you to be disciplined about setting a boundary between your work and personal life. I'm not going to lie, the expectation versus reality of discipline can be disheartening. One minute you're working (trying to), the next you've clicked on a link that sends you down a rabbit hole!
Use a time tracking device. In steps Rescue Time! ("Rescue" to the rescue?) It's a tool that keeps track of how many hours you spend on one application, e.g., Facebook. It also allows you to block websites that you're particularly susceptible to and even set alerts to remind yourself to get back to work. 
Televisions and Phones. Do you really need to watch that show or respond to that message? (Well yes, probably.) But you can schedule breaks when you can respond to messages. At the end of the day, reward yourself with an episode or two of a TV show you love. You made it through the day. You've earned it!
Even Working Adults Need Hobbies
Perhaps you've already established a positive attitude and are enjoying your online work. That's great! What about the glaring distractions? You've got those covered, too!
Just that sometimes you need to come up for air and what better way to do so than picking up a hobby for that cathartic effect?
As professionals around the world experience overwhelming time pressure, they're giving up on things that matter to them. A recent Harvard Business Review article noted that in surveys, most people "could name several activities, such as pursuing a hobby, that they'd like to have time for."
In an article for HBR, Gaetano Dinardi shares,
When people don't have time for hobbies, businesses pay a price. Hobbies can make workers substantially better at their jobs. I know this from personal experience.

I've always loved playing the guitar and composing. But just like workers everywhere, I can fall into the trap of feeling that I have no time to engage in it.

I can easily fall into the trap of the '72-hour work week', which takes into account time people spend connected to work on our phones outside of official work hours.
Solutions
Identify your hobby. This article by Janice Bear suggests a really fun approach of picking your hobby according to the type of worker you are. Woodworking and writing may suit someone who pays attention to detail, bodybuilding may interest someone who fancies long-term projects, renovation may suit someone who loves to improve on finished projects and astronomy may be the perfect fit for someone looking to venture beyond their field. Don't know what kind of online worker you are?. Find out here.
Integrate it into your lifestyle. As a remote virtual assistant, you get to pick your hours so you can schedule a long walk in the morning before work to kickstart your day or a workout at the end of the day to release stress.
Whatever your stumbling blocks are, just remember:
There are others who share your experience as an online worker – find them and talk to them.
You are only human – do your best and don't be too hard on yourself.
There are solutions to all your problems – just ask your manager/employer / colleagues for help – you might be surprised how the simple act of communicating is half the battle.
You'll get there. Believe in yourself.