The aim of this guide is to get you started with a store, before you procrastinate too much! Just get started. It will take weeks to build a full store, but you may as well have something you can use immediately.
Developing a BigCommerce template from scratch will take around 40 to 80 hours of design and development time, depending on the complexity of the project. In real time, this means around 2 to 3 weeks. Do you want to wait that long to get your store up and running when you could have it available now?
We use a temporary store template and logo when developing stores so we can get started very quickly. If you wait for your custom store design this can set you back weeks in development time. Using a temporary template enables you to get on with adding products and configuring your cart while you wait for design and template customizations. The search engines don't care what your store looks like, at least not for the first couple of weeks.
Learn how to become a successful Virtual Assistant. Get your free cheat sheet.
Use A Ready-Made Template
Each eCommerce store requires a template. A template, in this case, can be defined as a set of files that make your store look the way it does. It is the template controls where the logo sits on the screen, what colour the background is, what font is used for the headings, where the products are placed on the screen and more. Quite simply, a template governs the aesthetic layout of the store.
BigCommerce provides 101 templates as part of your account purchase, so finding one that matches your 'vision' of your store is not a problem. But there are more advantages to them than that. Having access to pre-built templates from BigCommerce means that you can be confident the template, when installed, will 'just work'. Also, BigCommerce are good at making templates for their own software, and this represents a considerable saving in time and money.
The fact is that sticking to a pre-designed template is the safe and reliable option, and is ideal for novices. BigCommerce will keep maintaining these templates, ensuring they are always compatible with the main BigCommerce engine. As soon as you deviate from the default template, some problems can occur. Layouts break up. Functionality breaks down. But, by using the default templates, you're almost guaranteed to have a trouble-free store, from a technical perspective at least.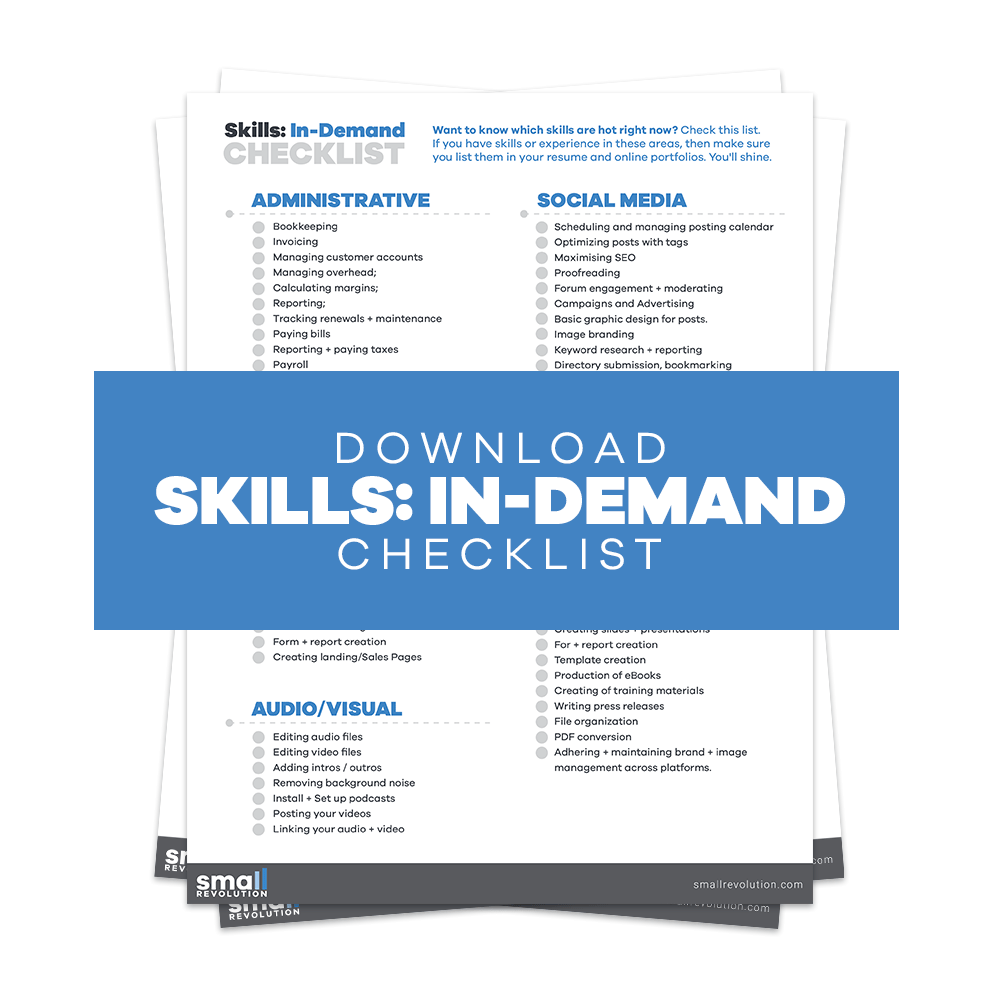 A disadvantage of using a BigCommerce template is the quality of the design. The templates are simple and functional, at best. None of them could be recommended as the ultimate example of eCommerce design, and perhaps none of the templates on offer truly represent the branding in your own business.
Either way, some simple customisation of the templates is required in order for you to integrate your logo, and possibly even branding colours. But, as a starting point for your own BigCommerce store, just choose one of the available templates that you feel best fits your store.
Step 1: Install A BigCommerce Template
1. Login to your BigCommerce account.
2. Click on the Design navigation in the top of the screen.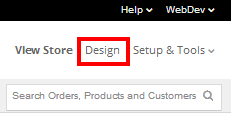 3. You'll now be looking at the Store Design page.
4. You'll notice the Default Blue store design set as 'Current Theme'. Beside it are four buttons – ignore them.
5. Scroll down through the 'Available Theme' section to find the design template you like. Click 'Apply This Template'.
6. A box will pop up clarifying the technical consequences of changing template. Just tick the boxes and press the large 'Apply' button.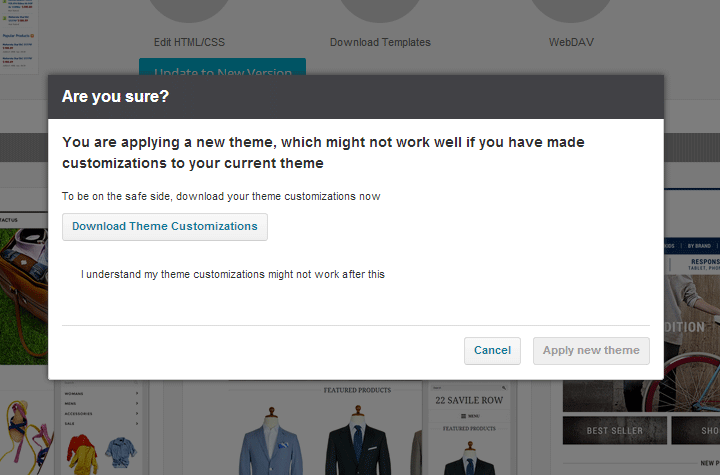 7. When this is done, click 'View Your Store' button at the top of the page to see your store up close.

All that is needed next it customize it – like choosing your own Logo.
Step 2. Upload Your Own Logo
1. Click 'Logo" on the Settings' section. Choose the Upload a logo image from my computer option.
2. At the bottom of the screen, click 'Choose file' under 'Logo Upload' and browse for the file you want to use.
3. When you've selected your file, click 'Upload Logo Image'.
4. Your logo will appear in the 'Current Site Logo' section.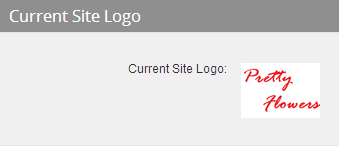 5. Click on 'View Store' at the top bar of the page, and your own logo heads your store.
Store Logo Design
Your logo is an important part of your store identity. Essentially, it is the image that customers will immediately associate with your store, so it needs to say in an instant what your store is about. For example, if your store is selling party supplies, like balloons, hats and streamers, your logo should be brightly coloured and reflect a sense of fun. Or if your store is selling fashion shoes, then a more sophisticated logo design is needed.
A professional looking store always has a professional looking logo, so it is worth looking at the options you've got on BigCommerce in designing one.
The whole process of designing your own logo for your store begins when you select your preferred store template. It should match what your vision is, not just in terms of layout, but also the general colour scheme and font style.
The good news is that BigCommerce does a pretty good job with the logo on their 101 design templates. And, tweaking them in small ways, to reflect your store's identity, is made simple and easy.
But like everything else, we would advise that you resist making too many changes because of the havoc they can play with the template. So, when you reach the Store Design page, ignore everything except the 'Store Design' and 'Logo' tabs.
Step 3. Create Your Logo
1. Click on the Logo navigation in the top of the Store Design screen.
2. To Create a Logo, click 'Create a New Logo Image' (2nd choice)

3. In the 'Logo Designer' section, write your store name in 'Text 1' and perhaps slogan in 'Text 2'.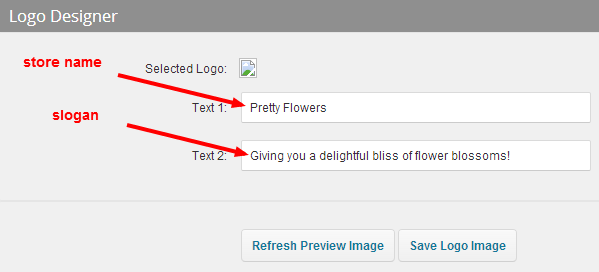 4. Click 'Refresh Preview Image' it check, then 'Save Logo Image' to apply to your store.
5. Click 'View Your Store' to see the finished look.
Final Checklist
You can use a BigCommerce template to get you started with your store in no time. Using a ready-made template will save you time and get you selling as soon as possible. Plus it has customised features for your advantage. To get started, simply do the following:
Install a BigCommerce template.
Upload your own logo.
Or create your own logo.
Click here to download your free Cheat Sheet on how to become a successful Freelance Virtual Assistant.
Photo by StartupStockPhotos / CC BY