It's difficult finding well-paying transcription jobs.
But, it's possible.
If you're willing to develop your skills and knowledge, you'll be able to contend for the best paying remote transcription jobs.
Yes. It's worth the time.
It's an excellent opportunity to work from home and get paid well.
How to Get the Best Paying Transcription Jobs
The secret is not in looking for the highest paying transcriptionists jobs on the internet — it's in understanding the employer's needs.
Every second person is looking to make a quick buck with an online job. Invest in yourself and stand out from the sea of virtual faces by building up a noteworthy resume.
Online employers need to find qualified remote transcribers they can trust to get the job done right the first time.
To transcribe audio well and offer a professional service is your priority. The well-paying jobs will follow.
According to Payscale, the most noted complementary skills needed to get a well-paying transcription job are typing, research, and proofreading. Completing these relevant courses from respected e-learning platforms is the first step to setting yourself apart from other applicants. 
What Is Transcription As a Job?
It's one of the frequently asked questions in online forums by novices looking for trendy and rewarding ways to work from home and get paid well.
Here's what you can expect to do if you work from home, transcribing:
Liaising with potential and existing clients about their needs and expectations.
Listening to recorded video or audio files of meetings, phone calls, Zoom calls, focus groups, research, or conversations.
Creating written versions of what you hear word for word.
Reviewing your drafts of the written transcriptions.
Making sure your last copy matches client specs.
Ensuring the client's satisfaction with the final product.
Invoicing for your work and ensuring the client makes payment.
What Do I Need to Become a Remote Transcriber?
Exceptional English comprehension and sharp listening skills are the first boxes to tick.
If you want the best-paying jobs, you'll do more than just transcribing audio files. Organizational and communication skills to keep a steady rhythm of work flowing across your desk is a win.
Taking an online virtual assistant course will give you the edge needed to complete tasks efficiently, professionally, and timeously — it'll show that you're serious about a professional online career.
You'll have to invest in equipment and services if you want to land the well-paying transcription jobs and keep them.
It will include:
Internet connection
Computer
Good quality headset
Transcription foot pedal
Transcription software
How Do I Become a Transcriber?
The good news is that you can start a career as a corporate transcriptionist without formal education or a degree. You can enter the workplace as a novice by completing an online transcription course from a reputable e-learning platform.
You need to invest in courses that'll hone your skills and bump up your resume.
Proofreading and virtual assistant training are two excellent certificates to do just that. It helps in getting your application to the top of the pile for well-paying transcription jobs.
If you want to progress to medical or legal transcribing, you'll need formal training.
Certain states will require licensure for medical and legal transcriptionists. To progress to this level, you'll need an associate college degree, or a certificate in:
Medical Transcription
Court Reporting
Legal Transcription
How Much Do You Make As a Transcriber?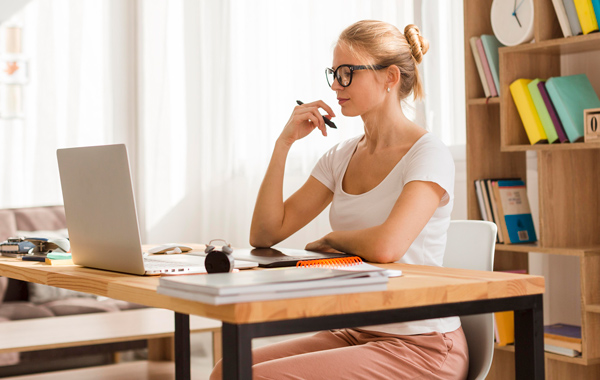 Your experience, skills, and training directly determine your potential income.
As a newbie, you can enter the market from around $3 per audio hour. As you develop your skills, you can eventually earn up to $28 per audio hour.
What's an audio hour you ask? Well, this is a rather important factor to understand in determining what you can earn.
According to the experts, it can take you up to four hours to transcribe one audio hour. And transcribers get paid according to audio hours — not per hour worked.
As you gain experience, you'll get faster and earn more. To gain this experience, you need to improve your skills by investing in training courses. If you're serious about earning a decent income from transcription there are no shortcuts.
As with all careers, your determination and commitment play a large role in your climb to the top of the pay scale. The more specialized services you add to your portfolio, the more you can charge for your expertise.
Here's a summary of the median salaries for transcription work available in the online market, according to Payscale.
General Transcription
Entry-level transcription: $10 per hour
Experienced transcriber: $28 per hour
Average median salary: $15.19 per hour
Annual income: $21K – $58K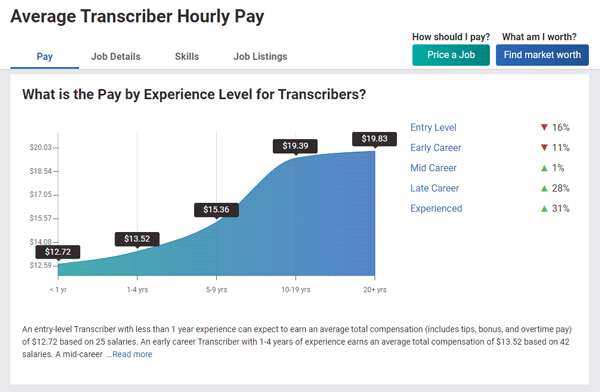 Medical Transcription
Entry level transcription: $12 per hour
Experienced transcriber: $22 per hour
Average median salary: $16.42 per hour
Annual income: $24K – $46K
Legal Transcription
Entry-level job transcription: $11 per hour
Experienced transcriber: $25 per hour
Average median salary: $16.68 per hour
Annual income: $21K – $54K
How to Find Well-Paying Transcription Jobs Online
If you have an excellent comprehension of the English language and a tuned-in ear, you're ready to jump in.
Remember what we discussed earlier — as a novice, your earning expectations should be in line with your certifications and experience. 
That said, you have to start somewhere. 
Let's look at a few great places to start your job hunt and kick-start your career.
SpeakWrite 
This is a great company to start your career with, as they accept novice transcribers. As such, you can't expect the best rate in the industry. 
On average, SpeakWrite pays $0.005 per typed word. But the experience you need and a foot in the door are well worth it.
Upwork 
Upwork is a trusted networking platform that matches employers with freelancers, novices and experts alike. 
You can submit a proposal to any of the contacts on the site. It's an excellent platform to get a better idea of the need in the market and hone your skills accordingly.
Speechpad
As soon as you've got the experience and a few courses to your name, Speechpad should be your next stop. The site is industry specific and connects freelancers to employers. 
The more experience and certifications you have, the higher you rank on the site. 
How to Find Better-Paying Transcription Jobs for Experts
TranscribeMe 
TranscribeMe is another industry-specific platform for transcription jobs. It pays between $15 and $22 per hour — higher if you're specialized. 
The average earnings for beginners here are $250 per month. TranscribeMe offers the best potential earnings for specialized freelancers.
Casting Words
The agency focuses on high-quality transcription jobs for experts. The standard of work you submit directly determines your rate.
Casting Words work on a grading system, ranging from five to nine. Nine is the best and can earn you up to $1 per word.
Go Transcript
You can earn up to $0.60 per minute at GoTranscript if your work is flawless — that's a whopping $36 per hour. 
The grading is strict, and your quality of work has to be consistent to reach these rates. 
What Next? 
If you've taken the first step towards a rewarding career working from home, transcription jobs come highly recommended. You can determine your success and income all from the comfort of your couch.
The flexible hours are only one of the many drawing cards.
Yes, it takes time to become the best at what you do. There is no glass ceiling here. 
It's what makes working remotely so attractive — not a single bit of your effort will go unseen or unrewarded. Potential clients will meet it with higher-paying jobs and great opportunities to excel in.
The most pressing requirement is fluency and comprehension of the English language.
The rest you can learn.
The next step to move you into the virtual sphere of top-earners is to evaluate your skills and knowledge. Sign up for courses at Small Revolution and let your peers recognize you as an expert. 
Gain the knowledge and skills, and the money will follow.
Photo by gpointstudio / CC BY