It's easier to work at home today, thanks to the internet and affordable personal computers.
Some time ago, transcriptionists commuted to work.
This has changed.
With today's tech disruption, transcription is one of the most outsourced jobs online.
Additionally, you can now work as a full-time transcriptionist from the comfort of your home.
Transcription can earn you around $3 an hour as a beginner, and as much as $40 an hour as an expert. To succeed and grow, you must embrace patience, passion, and hard work.
Also, you need to be fast and accurate.
Today, we'll share four main tips to help you get better at quality, speed, and increase your earnings as you gain experience.
Tip 1: Upgrade Your Typing Speed
The American Association of Electronic Reporters and Transcribers (AAERT) reports that the average typing speed for many transcribers is 40 words per minute.
…[the] typing speed is 40 words per minute, with above-average transcribers producing about 60 to 80 words per minute
If your speed falls behind these figures, you'll need to practice more.
Some professional transcriptionists have reported speeds of 100+ words per minute, with some practicing for live audiences.
Consider the following rules to improve your typing speed:
Assess your typing position. Assume a good posture, with elbows resting on the table.
Master proper hand and finger placement. Put your fingers on the home row keys every time you begin to type. Use all your fingers when typing.
Avoid looking at the keyboard when typing. Instead, focus on the screen. This way, you'll easily spot typing mistakes.
Practice often. Use typing software to assist you. We recommend the following (you could pick any other, though):
The video below will help guide you on how to best improve your typing acumen.
Tip 2: Use Professional Tools, Software, and Equipment
Professional tools and equipment go a long way in making your transcription work easy. Consider getting the following:
A Good Headset
Quality headphones are an essential transcriptionist's companion.
When you use a set of poor quality, you won't hear clearly. You'll therefore be forced to rewind many portions of the audio clip. Valuable time is wasted in this manner.
The type of headphone you need is determined by:
Your Environment
Your environment determines whether you'll choose open-back or closed-back headphones.
Open-backed headphones allow air to pass through the ear cups from the rear of the speaker driver. This makes it suitable for quiet environments, critical listening, and high-quality audio files.
However, they're more fragile, allowing dust and moisture into their sensitive parts. They're also a misfit for listening in public.
Closed-back headphones, on the other hand, cancel environmental noise and are the best for quality transcription. They are sealed at the back, ensuring isolation and sound amplification.
Comfort and Durability
While earphones are cheap, they normally don't last long.
Also, you can't have them on for hours on end.
Contrarily, consider a better option, like the popular Sony MDR7506 Professional Large Diaphragm Headphones which, though more expensive (at $99.99), serve their purpose well.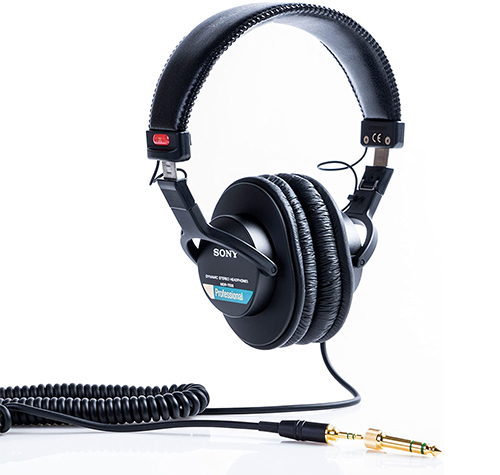 Good news: For $50 or less, you can get a good transcription headset from Amazon.
Go for wired headphones, whenever possible. Wireless headphones tend to delay, especially when pausing and restarting an audio clip. This worsens when you're working with transcription software.
A Foot Pedal
A foot pedal is a technological device placed under your desk. You step on it to pause, rewind or fast-forward an audio clip.
Foot pedals are time-savers. They replace the little seconds you'd waste with your mouse or touchpad. You can therefore free your fingers for better typing concentration.
However, ensure that your foot pedal is compatible with the transcription software you're using. Popular software includes Philips Speech Exec, NCH, and Express Scribe.
Please consult with your pedal vendor on compatibility before purchase.
There is a range of foot pedals you can choose from Amazon, for under $100.
Transcription Software
Transcription software helps you work smart. Instead of typing, say, a 2,000-word audio clip, letter by letter, it can autocomplete a sentence for you.
For instance, you can type "Ts by s gd t ftbl" and the software will automatically convert it to "This boy is good at football."
Technically, this is called text expansion. It works like shorthand or stenography.
Popular transcription software includes PhraseExpress and Express Scribe, which are available for non-commercial use.
Transcription software features include:
| | |
| --- | --- |
| Feature | Description |
| Playback speed control | Determine how fast/slow the speed of audio will be |
| Speech-to-text integration | You can quickly convert audible voice to text |
| Pedal control | Helps you go forward, back, or pause |
Audio Equalizer Browser Extension
An audio equalizer software helps you balance sound quality. For example, if your audio has high, boomy bass frequencies, you can cut out or reduce these to pave the way for clear, recognizable tones.
Popular Chrome extensions include:
Writing Assistant Tool
Investing in tools like Grammarly and Quilbolt will help in streamlining your grammar, punctuation and sound sentence structure as part of a good transcription job.
Antivirus Software
Install antivirus software like McAfee or Windows Defender on your computer. Otherwise, you risk losing your work if your computer is compromised. This especially applies if you're dealing with complex and sensitive work.
Also, only allow people you trust on your computer. When working at a public cafe or outside home, install a Virtual Private Network (VPN) to mask your identity.
Tip 3: Your Knowledge and Soft Skills Matter
Remember: transcription is a specialty. You need something more than fast typing, or great professional tools and software.
Adopt a Research Mindset
Strive at improving your grasp of English, especially around spelling, grammar, and punctuation. Also, it's good to understand terminology around your specialty.
For example, if transcribing for a medical firm, you'll want to know medical terms and expressions. You sign up for a course to help you with the basics.
Always verify what you're not sure about using search engines like Google. They have spelling suggestions to help you get the right answers.
Where possible, have a cheat sheet to help you spend less time looking up repetitive terms.
Always stay up to date with transcription industry news.
Research new industry concepts like speech recognition. Take some time to understand how this works and how it can benefit you.
Lastly, be ready to expand your transcription offering. If you're working in medical transcription, you could focus on other non-medical areas. This helps you understand other approaches to work, and expand your career.
Communicate and Verify With Your Client
Avoid guesswork. Your client depends on your transcript to make critical judgement or a business decision. A wrong guess could cause dire consequences.
Develop sensitive ears. When you receive the audio for the first time, listen to it first before starting, and get back to the client when you spot inaudible areas.
Read instructions thoroughly. Every client has his/her own preferences, which usually differ. If you don't follow instructions, you risk a poor rating, which can negatively impact your work.
Proofread before submission. Doing this shows sensitivity and professionalism. Also, feel free to suggest an improvement to the client if you spot a loophole.
Make it Enjoyable
Enjoy your work. Otherwise, you won't achieve quality performance.
When working, take regular breaks to refresh. You can't work well when stressed.
Take time out with friends and family. Pick up other extra activities to support your professional work. The more you relax, the more productive you'll become.
Tip 4: Get a Dedicated Workspace
Quality work is directly proportional to the workspace you mete out for it. That's definitely not the kitchen table or sofa.
Find space to support extended periods of work. Better yet, make sure it's quiet and without distraction.
You can be as creative as you can, and achieve optimal performance.
Be assured: transcription is a rewarding career.
Trends show that medical transcription accounts are more than half of all transcription services in the US.
According to Grand View Research projections, legal transcription will experience the largest Compound Annual Growth Rate (CAGR) in the period leading to 2027.
These statistics show positive growth in the transcription industry.
At Small Revolution, we provide an online learning platform where you can equip yourself with skills and specialities from the comfort of your home.
Some of these courses include:
SEO copywriting
Ecommerce copywriting
Customer service
A Virtual Assistant Course matches transcription. Consider it as an option to help you stay competitive.
Get in touch with us today for a limited-time offer that'll save you $49 for each course in the program.