Procreate is an iPad app created for all artists and creative professionals looking to tickle their imagination through drawing, painting, and editing images.
The app is loaded with exceptional highlights and innovative tools, like artistic brushes, pencils, charcoal, and inks that help you create mind-blowing artwork that seems real and accurate.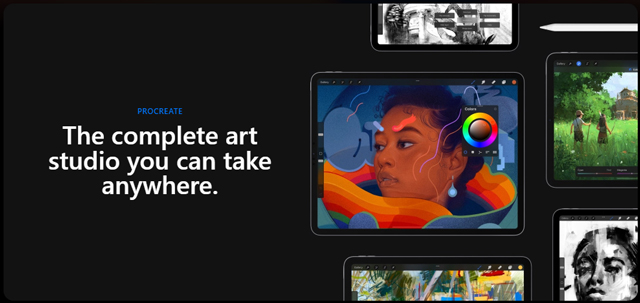 It's no doubt that art designers of all kinds love Procreate; from web designers to graphic and animation designers. Once Procreate blew up a few years after its launch in 2011, it consistently became one of the best-selling iPad apps on the App Store.
Procreate's increasing popularity is due to its endless wonderful features:
Over 130 artistic brushes, allowing you to create almost every art technique and produce different images
Several layer options, allowing for non-destructive editing
Easy importation and exportation of images across devices and platforms
Fast tweaking of images
To learn how to use Procreate, you don't need to spend months at the University. There are multiple online classes you can take from home that cover all you need to know within an hour or two.
Whether you're a professional illustrator working from home or a college student looking for a part-time job in the art industry, these 4 Procreate classes will help you improve your creative skillset.
1: Drawing and Painting on the iPad with Procreate (Udemy)
Udemy's course Drawing and Painting on the iPad with Procreate is a best-seller that suits absolute beginners as well as those familiar with Procreate.
The 5-hour course is tutored by Brad Colbow, a freelance graphic designer and illustrator deeply passionate about the tech industry. He takes you through the ins and outs of Procreate and shows you how to use the latest iteration of the software, Procreate 5.
All the 36 lessons are taught chronologically—Brad begins with the basic tools of Procreate like painting and erasing and then moves to advanced tools such as blend modes and layers. The last section of the course captures all Procreate updates and includes a final project that requires you to apply the skills you've learned from the course.
By the end of this course, you'll be able to:
Comfortably create Speedraw videos to post online
Create a comic strip
Use the fundamental Procreate tools
Handle a practical project where you'll reinforce your newly learned skills
Generally, Drawing and Painting on the iPad with Procreate is a great course with practical, in-depth, and easy to follow lessons. Despite its 5 hours of screen time, the class keeps you engaged throughout, making it ideal for first-time Procreate users.
Very good for a beginner like me. It's easy to follow with ample demonstration and easy guide from the trainer.

Lim Kok Seng
2: Digital Illustration: Learn to Use Procreate (Skillshare)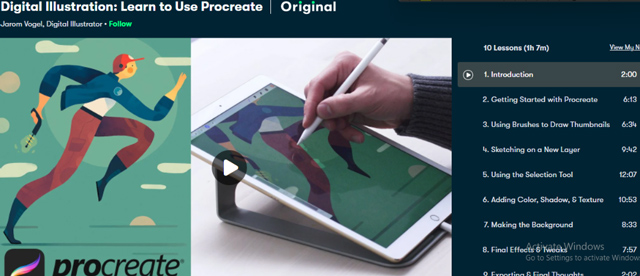 The Digital Illustration: Learn to Use Procreate course is a straight-forward, action-packed course that teaches you the app's fundamentals, from setting up your first canvas to using brushes and erasers.
The course's tutor, Jarom Vogel, is a freelance professional illustrator with a Bachelor of Fine Arts (BFA) in Illustration from Brigham Young University and 5+ years of experience in the industry.
Having worked with and created dynamic art pieces for companies like Procreate, Apple, and HarperCollins, you're assured of getting industry-standard classes from Jarom's course.
In just an hour, the digital illustration course covers the key essentials of Procreate—basic sketching skills, shading, coloring, and many others. Jarom shows you how to use the platform through his detailed work and thought processes. All you need to bring your illustrations to life is to follow his instructions.
This course is for you whether you're new to Procreate or have little knowledge but want to become a Procreate master or a digital illustrator. It's engaging, detailed, and well-organized, making it ideal for any learner seeking to learn about Procreate conveniently from their homes.
Related: 20 Best Online Jobs for Working from Home
3: The Beginner's Guide to Digital Art With Procreate on iPad! (Udemy)
The Beginner's Guide to Digital Art with Procreate on iPad! is an in-depth Udemy course that teaches all the fundamentals of Procreate and how to create digital art on your iPad.
Created mainly for beginners, this three-and-a-half-hour class doesn't focus solely on the app's major features. Instead, it teaches you how resourceful the application can be, regardless of the art piece you create.
The course's tutor, Kurt Russell, is a comic enthusiast, a freelance colorist, and an illustrator who's also been teaching digital coloring online since 2013. Thus, this course is well equipped with relevant techniques you need to establish a Procreate skill set.
Kurt uses a step-by-step mentoring approach to take you through his own illustration process in real-time, enabling you to observe a professional in action.
Inking, coloring, importing special tools, and brush customization are some of the skills you'll learn to apply in your digital artworks. By the end of this course, you will
Be familiar with Procreate's interface
Have created personalized tools for projects to come
Know how to use the app's built-in recording features to make fun drawings and paintings you can share on social media
Know tools that work for different types of art—cartoons, comic, and manga
Even better, Udemy gives you lifetime access to the course, allowing you to work at your own pace till the time you'll solidify all the knowledge acquired.
Expert Tip: While this Udemy course is for Procreate beginners, it mainly holds appeal to fans of digital art, graphic novels, and webcomics. Animating In Procreate for the iPad is another excellent Udemy class to consider if you're an animation fan.
4: Procreate Masterclass: How to Draw and Paint on iPad Course (Udemy)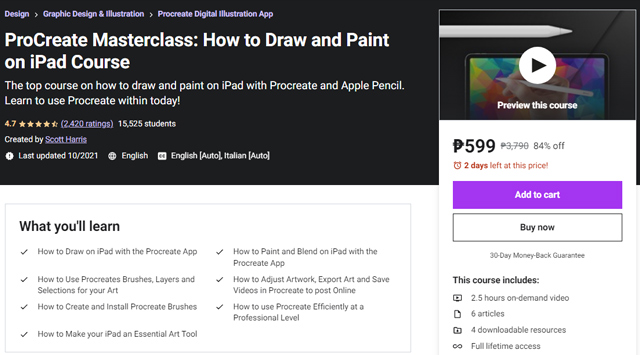 The Procreate Masterclass: How to Draw and Paint on iPad Course is a beginner-friendly Udemy course that teaches you how to paint and draw on iPad using Procreate and Apple Pencil.
The course's tutor, Scott Harris, is a painter, illustrator, art director, and artbook author who has helped over 400,000 students worldwide to grow their art skills fast and effectively.
In this course, Scott helps you learn the fundamentals of Procreate in a short time (2h 44m), emphasizing significant techniques like adjusting artwork and exporting art.
The course offers clear and structured lessons, from Procreate fundamentals to more advanced skills like transformation to help you utilize the app at a professional level.
To effectively handle this course, you'll need an Apple iPad or iPad Pro that supports Apple Pencil and Apple Pencil 2, and the Procreate app installed on your iPad.
The Procreate lessons in this course are ideal for:
Artists of any level looking to learn Procreate
Lovers of comics, character art, manga, and game art
Anyone seeking to learn how to draw and paint on an iPad either as a profession or hobby
Related: 4 Crafting Hobbies to Get Your Creative Juices Flowing
To enroll in this course, you'll pay a one-time fee that grants you full lifetime access to all the 55 lessons, 6 articles, and 4 downloadable resources. Udemy will also award you a certificate you can share on social media at no extra cost upon completion.
So far, 15,496 students have enrolled for this course, with an overall rating of 4.7. A student recently said this concerning the course:
The information provided is relevant and relatively easy to understand. I am learning a lot…

Stephanie C
Start Your Journey to Procreate Mastery Today
Whether you're a beginner at Procreate or looking to advance your Procreate skillset from home, these Procreate classes will significantly help you reach your goals.
Online platforms like Udemy offer Procreate classes conveniently and flexibly, bringing education right to your doorstep.
So, enroll today to begin your journey to Procreate mastery.
Read Also: Earn the Certificate You Always Wanted With These 6 Best Udemy Courses
The list of Udemy's procreate classes is endless.
Procreate Class
Brief Description
Enroll Here
Procreate: Draw, Sketch, Paint, and Design on Your iPad

16 hours of on-demand Procreate lessons
Ideal for anyone interested in painting, creating illustrations, and sketching
Provides real-world examples and easy to follow tutorials

The Digital Painting w/ Procreate Guide | Grayscale method

Easy-to-follow course with numerous shortcuts, tips, and little known tricks
Learn the common mistakes Procreate beginners make (e.g., using flat-looking colors) and how to avoid them

How to Draw Cartoon Characters in Procreate

Offers in-class practical exercises on drawing cartoon characters
Ideal for illustration beginners
Well-explained and easy to follow Procreate techniques
Share on Facebook: