Perhaps you've been browsing the Internet trying to find genuine freelance proofreading job opportunities. But have you ever thought of online proofreading as a career?
What's that? You doubt that it's a viable career?
Now, more than ever before, there's an even greater need for proofreaders.
The latest stats about the online world say that there are over 4 million blog posts published every single day on more than 1.94 billion websites on the Internet.
Do you know how much content that is, on blogs alone?
And what about other types of publications such as:
eBooks
Web pages
Essays
Dissertations
Theses
Academic articles and
many other online and offline written forms.
Starting to see the point?
No wonder an abundance of freelance proofreading job opportunities are available in online marketplaces lately.
There are so many legitimate proofreading jobs available online as both full-time and part-time roles. Most of them are remote, which means you can work from home, usually with a flexible schedule.
Sounds too good to be true?
Let's see where you can find these golden online proofreading job opportunities.
1: Reedsy
If you're an experienced and highly skilled proofreader or editor who would like to become a freelancer on the Reedsy online marketplace, here's what you should do to join their professional publishing community:
Sign up
Create a free Reedsy profile where you'll showcase your skills and previous work experience
When your application is accepted and your profile becomes available on the Reedsy marketplace, you can start bidding on projects
Basically how it works is that you'll get work requests from clients, who are mainly self-published authors.
Then, if you're interested in the work they've offered you, you'll typically respond with a quote. Once you've come to a mutual agreement, you'll start work on the project, typically using Reedsy's online collaboration toolkit.
For more details on your potential scope of duties and how to apply, follow the previous two links.
According to Reedsy's calculator, a freelancer can make $10 on average for proofreading 1,000 words.
If we take into account their estimate that an average manuscript consists of 64,000 words, it means that proofreaders can typically earn $640 per project.
However, these are just rough estimates and it's not that simple to calculate exactly how much money you can make.
How much you earn depends on you. You're the one who sets your rates, selects projects to work on and decides how much time you'd like to spend working.
It's important to point out that you keep 90% of each project you take (excluding payment fees), while Reedsy charges a 10% commission.
You can also create a payment schedule so your clients can pay for your work in regular installments.
And here's some more good news:
There's no need to chase clients for your money because the company automatically pays you on the due dates.
So, Reedsy is an excellent online platform for those in search of full-time jobs, freelancers who are looking to make a living online, and even for those who just want to make some money on the side.
Did we also mention that this company shares lost of inspiring resources to support their community members? Check them out.
2: Edit 24/7
Edit 24/7 is an online company focused on offering the fastest turnaround proofreading and light-editing service possible. Their professional proofreading services are affordable and range from $3.95 to $5.75 per page which typically has 250 words.
According to their calculator, the turnaround time for proofreading a 4-page document containing 1,000 words, would be 8 hours at the price of $42.
The proofreader's scope of work on such assignments would include checking and correcting:
Grammar
Spelling
Punctuation
Table of contents (numbering and accuracy)
Lists
Labeling
Cross-references
Bibliography
The style of the references and citations throughout the document according to the latest version of the academic style guide (APA, MLA, Chicago or Turabian)
If the same type of work had to be done without the requirement of checking style guides, the price would be $27 and the turnaround time would be 4 hours.
The above example and pricing details hopefully give you a clearer picture of how much you can expect to earn working for this company as a proofreader.
Freelance proofreaders for Edit 24/7 get a job if they're available for it as it appears.
If you're an aspiring proofreader or editor who would like to join their team and you'd like to find out more information on their work opportunities and conditions, get in touch in one of the two ways:
Email them at editors@edit247.com or
Phone them on weekdays from 9 a.m. to 5 p.m. (Pacific time) at (323) 366-0010.
If this is your pick of the companies, go for it!
3: Scribendi
Scribendi is a successful online proofreading and editing company that offers remote or in-house work to skilled and experienced language experts globally.
There's very little information available online about the amount this company pays its freelancers. However, Glassdoor has revealed a couple of Scribendi's editors get $25 an hour.
In order to join the Scribendi team as an independent contracting freelance proofreader or editor, you must have:
A university degree
Experience in editing, writing, document production, or language teaching (minimum three years)
Native English proficiency
Exceptional reading comprehension skills
The ability to proofread or edit at the average speed of 1,000 to 1,500 words per hour
In-depth knowledge of at least one style guide (APA, Chicago, Turabian)
Advanced level of computer literacy
Be Internet savvy
High-speed Internet access
A PC equipped with MS Word 2010 or later (the use of a Mac/Apple computer is NOT acceptable because of compatibility issues).
In case you've wondered:
'Why should I work as a freelance editor with Scribendi?'
Here's their answer: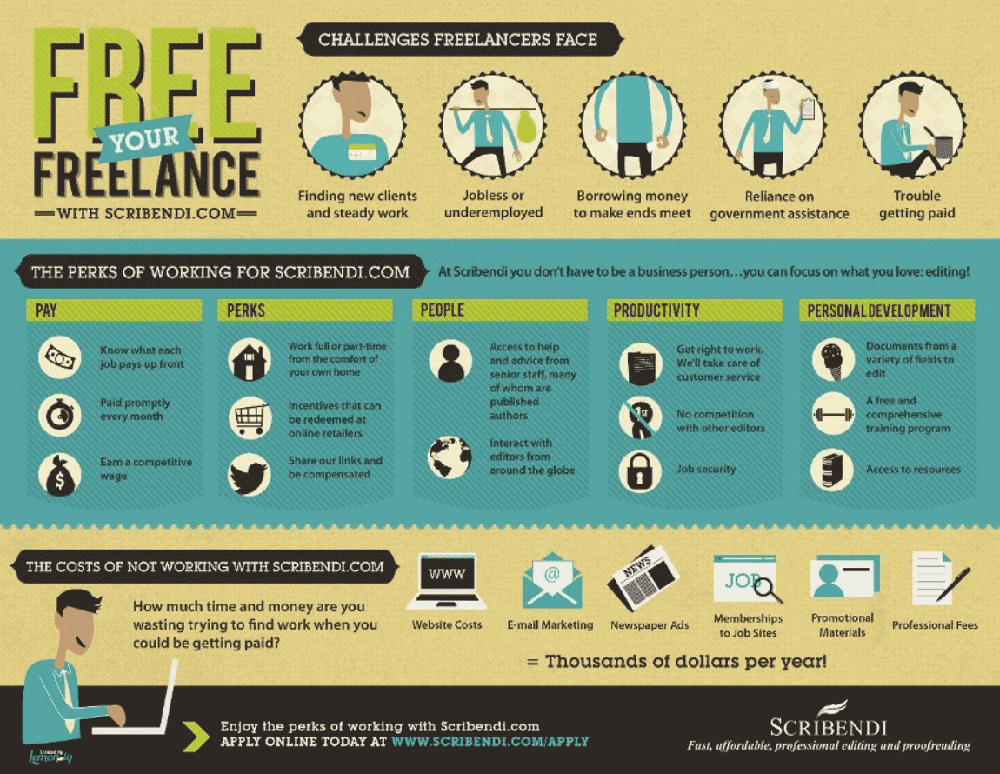 In short, they claim to offer their freelance proofreaders and editors:
The opportunity to work from home
The ability to choose assignments according to their expertize, interests, and timetables
Various types of documents to work on
Reliable and timely payment for the completed work
Handling all the hassles of a traditional freelance job (e.g. billing, customer service, advertising, marketing)
So, if everything you've just read suits you and you meet their requirements, don't hesitate to complete this questionnaire and apply for a proofreading or editing position.
But before you hit the magic button, make sure you've thoroughly read their freelance FAQs and instructions for sending your application provided on their Jobs page.
Seize Your Golden Proofreading Job Opportunity With Both Hands
Not only will these websites provide you with freelance proofreading job opportunities but you'll also get the flexibility to work from home. You'll get to set your own schedule and in most cases, be able to choose which projects you want to work.
Sounds like a dream come true?
When it comes to working, that's complete freedom!
And more so, remote proofreading can even open the door to other types of online work such as project management, virtual assistance, graphic design customer service and more.
You just need to make the decision and devote time to honing the necessary skills. With a positive attitude to online work, you're bound to land a perfect home-based job before you know it.
Happy learning and earning!
Shareable Image