Listverse has a large army of readers since it focuses on mysteries, unknown facts, or any fascinating topic that excites readers. Their popularity has also increased over the last 10 years.
You can earn well writing for Listverse while exposing your skills to the world.
That said, as with everything, every good side has a bad side as well.
In every seed of good there is always a piece of bad.

Marian Wright Edelman
We'll explore the good, the bad, and the ugly of Listverse reviews. That way, you'll be able to decide whether or not writing for Listverse is worth it.
Listverse Review: The Good
1: Listverse Pays Well for Every Article That Meets Their Standards
Listverse pays pretty well when they approve your article.
You don't have to be an expert to write for Listverse—you just need to have a native English-speaking level and an exciting topic (little-known facts, hidden truths, or any subject with a twist).
Here's how Listverse works:
Writing process
You should write a list of 10 items with at least one or two paragraphs per entry. Make sure your article complies with the Listverse Author's Guide to avoid getting disqualified.
That said, the following are the general rules when writing for Listverse:
Your topic should be unique, fascinating, or have a twist. Dazzle the readers with the unexpected or reveal hidden truths.
Write concisely in American English. Use short sentences and simple words to make your article easy to read.
Your content must be free from plagiarism.
The word count should range between 1500–2000 words. The article must be a list of 10 items.
Avoid profanity and content that supports crime.
Submission process
Submitting your list for review is easy.
Visit the Listverse submission page and follow the instructions on each entry tab on the submission form.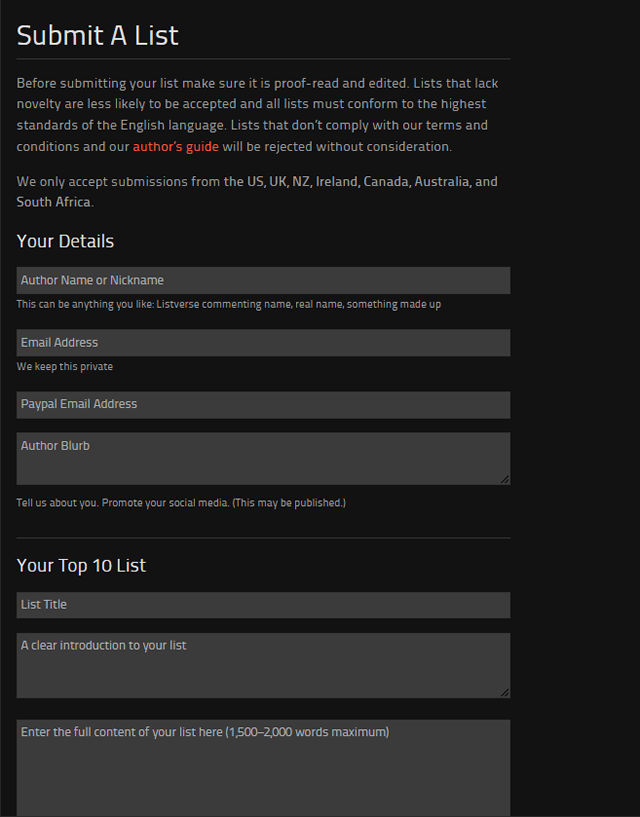 Do the following before clicking the Submit List button:
Thoroughly edit and proofread your work. It's better if you ask a friend to proofread the list. A fresh pair of eyes can spot errors you missed while editing.
Double-check that your list complies with the Listverse Author's Guide and ensure you meet all the required standards.

Note: Having images and videos in your article is not a must. Listverse editors will choose suitable pictures for your list.
After complying with all the guidelines, click Submit List.
Payment process
Within 30 days of submission, Listverse editors will inform you whether or not they have approved your article. If they accept your list, you'll receive your payment through PayPal.
2: Listverse Gives You Access to Thousands of Unique and Fascinating Articles
Listverse has dozens of articles you can read for pleasure or assess how other writers lay out their points.
With several article categories in Listverse, including mysteries, health, history, crime, and travel, you'll always have something to read to relax your mind after a busy day.
You can access mind-blowing stories like:
RMS Titanic's sinking
Hidden government conspiracies
Crazy discoveries of the ancient world
Surprising modern medical treatments
Reality-based mythical creatures (like unicorns and double-headed mutant snakes)
All Listverse articles are unique—you won't find them anywhere else on the internet.
Listverse content is also based on proven facts (no half-truths or rumors).
3: Listverse Will Publish the Article Under Your Name
On top of you earning a good amount per list, Listverse will publish the article under your name.
As a result, you can develop authority in the writing industry—the more articles Listverse publishes under your name, the more credibility you get.
You can give details about your social media channels, books, and blog in the submission form. Listverse will publish these details at the end of your article, which is an excellent way to market your writing skills.
Eventually, you can use that credibility to pitch potential clients.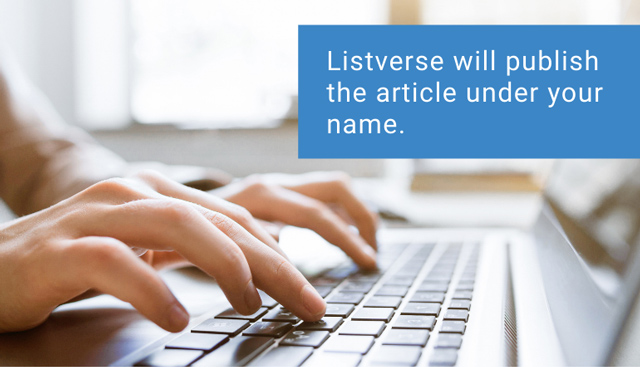 Listverse Review: The Bad
1: Listverse Articles Are Limited to Specific Topics
Listverse is very specific on the topics it accepts on its site. It only focuses on subjects with twists, hidden truths, and little-known facts. For instance, it wants articles that unravel a mystery or a list that explains an everyday occurrence in an unexpected way.
The table below highlights the most popular topic categories in Listverse:
| | |
| --- | --- |
| Popular Topic Category | Content Involved |
| Mysteries | Unsolved cases, unknown occurrences, and unique mysteries |
| Secrets | Hidden truths about governments, secret codes, or anything not meant for the public |
| History | Lesser-known stories and facts from the past |
| Misconceptions and facts | Proves wrong the common knowledge people think is true |
| The dark side of man | Proven facts about strange experiments, serial killers, or any other evil in the world |
Note: Topics with high rejection rates on Listverse are sports and gaming, while those rejected entirely are self-help topics, opinion lists, and personal stories.
2: Many Rules for Writing and Submitting Listicles
To write for Listverse, you must comply with many rules like topic choice, writing style, and research, which can be hectic for many writers. Failure to comply with Listverse's guidelines will disqualify your article.
However, following all the rules in the Listverse Author's Guide increases the chances of article approval.
Listverse Review: The Ugly
1: Basic Grammatical Errors Can Disqualify Your Article
Listverse editors are very keen on quality and presentation. For example, the Listverse Author's Guide states that articles with basic grammatical errors in the title and first paragraph are rejected immediately.
However, that doesn't mean Listverse is solely meant for perfect writers. The editors can make a few changes to your article, and you'll still get paid.
The less rewriting they need to do, the more likely your article will be accepted.
Note: To avoid your article getting rejected, revise it thoroughly to eliminate as many grammatical errors as you can.
2: Listverse Accepts Writers From Seven Countries Only
Listverse accepts submissions from the following countries:
USA
UK
New Zealand
Australia
South Africa
Ireland
Canada
Any submission from a country other than the ones mentioned above will be rejected.
3: Listverse Pays Through PayPal Only
PayPal is the only payment gateway in Listverse. If you don't have a PayPal account, you'll have to set up one for free.
Here's how to quickly open a PayPal account:
Visit paypal.com and click the Sign Up button.
Select Personal Account.
Enter your phone number. PayPal will send a verification code.
Fill out the necessary details (name, email address, country).
Accept PayPal's Terms and Conditions.
Link your debit or credit card.
Your account will be set up and ready to receive payment.
Note: PayPal services are available in all the seven countries Listverse supports.
Here's a quick overview to help you decide if writing for Listverse is worth pursuing.
Facts about Listverse:
Listverse is open to inexperienced writers, as long as you write in native English.
Articles that aren't horror or mysteries have a chance in Listverse—but have something unique and intriguing.
Editors can reject your list—with 10+ years of experience, Listverse knows what suits its audience.
Why Listverse editors can reject your list:
Plagiarism
Your article needs lots of editing
The topic is common or has already been covered in Listverse
Take Your Writing Skills to the Next Level With Small Revolution
With dozens of writers submitting their articles to Listverse, the competition to stand out is fierce. Only competent writers will stand a better chance to write for Listverse.
Small Revolution can help you sharpen your writing skills and crush the competition as a Listverse writer.
Enroll in our SEO Copywriting Course and take your writing skills to the next level.
Here's what one of our students said:

Check out our FAQ page to learn more about the course.
Share on Facebook: