The aim of this guide is to help store owners write a good Site Terms of Use that is fair, clear and personalized with the help of hand-picked examples and templates.
Site Terms of Use are a set of rules created by eCommerce store owners for visitors, customers or users. It's like an agreement that they need to accept before they can proceed in using services that the store is offering. It is also known as Terms of Service or Terms and Conditions.
Terms of Use should contain clear and comprehensive information about what visitors are allowed and are not allowed to do while they're using services from you. Terms of Use is not mandatory by law but it's highly recommended so you can avoid legal issues.
This is important so that people will be able to understand your intentions as well as promote transparency and mutual awareness.
This prevents possible abuses as well so it should also include penalties in case a visitor breaks the agreement. Just like the Privacy Policy, Terms of Use is also a legal document and is publicly available. Some stores might even provide checkboxes for Terms of Use and allow visitors/customers to proceed only after they have agreed to the Terms of Use.
How To Create Terms Of Use For Your Store
To create Terms of Use for your store, it is advisable to get as much information about your store in writing, know what you want to include and emphasize. This is not any more difficult as there are a lot of online Terms of Use generators or tools that are available to use so you can effortlessly create one for your store.
Although these tools are available, make sure that you personalize them and that they are tailored specifically for your store.
Since this is a legal document, consulting your lawyer about it is recommended so they can review it and make sure that your Terms of Use is acceptable, fair and correct without overlooking any thought or violating any law.
Make sure to consider the following when creating your Terms of Use:
It should be short and concise. Readers find it boring and tend to ignore lengthy Terms of Use. Instead, you can style it with anchor tags to make them appear short and organized. Readers can simply expand each section for easier reading.
It should include fair content that clearly states which activities are acceptable or not, information that explicitly says which are illegal or offensive.
It does not only protect your store but also to give informative ideas to customers about their rights and responsibilities while they use the services in your store.
You may discuss any the following in your Terms of Use depending on the nature of your eCommerce store:
Site Content – contains the information they can get on your site, what you do, what service you offer.
Use of Content – you can set the rules of what you allow and not allow on your site, rules on downloading, sharing and commenting on forums.
Conditions of Sale – informs readers about the methods of payment and the mediums used for sales and how these are processed.
Modification – state that possible updates or modifications on your Terms of Use are possible anytime.
Governing Law – provide information that both store owners and its customers must abide by Federal or State laws.
Online Conduct Issues – discuss what you expect from your visitors and customers and what proper conduct they should observe while they are on your store.
Purchase Errors – provide rules on typographical errors with purchases, whether its the product, prices, shipping address or quantity of purchase.
Third Party Request For Information – provide details of what information are allowed and not allowed to be shared to the third party.
Trademarks and Copyrights – provide information on the properties you own on your online store may this be photos, articles, logos, taglines, etc. Also, include details of your rights of ownership as well as the use of these protected materials.
Disclaimers/Limitation of Liabilities – give clauses of limitations to set visitors/customers expectation on what you can and cannot do for them regarding damages, risks, lost, etc.
Management of Accounts – provide information on how visitors/customers can manage their accounts as well as options on how they can end it if they no longer need your service.
Cancellation or Termination – you may include clauses to inform visitors/customers that abuses and misconduct may cause cancellation or termination of accounts or transactions.
Samples Of Terms Of Use
Zappos Terms of Use provides very useful information that guides every user and customers with transactions and use of services in their store. It explicitly says what not to upload, distribute or publish. It also includes rules on Reviews and Comments. If ever you have questions or complaints they also included contact information to where you can submit them.
Microsoft's Terms of Use provides detailed information about the use and sale of their products as well as discuss terms relating to Microsoft store as well as terms that are relevant to their visitors and customers. It also tackles about prices and payment, returns and claims, disputes and warranties.
Apple has an extensive Terms and Conditions, this already covers terms of sale and conditions for iTunes store, MAC App Store, iBooks. Though it may look lengthy, it includes specific links to which sections visitors may wish to read. This makes it more organized and readable.
DealsDirect gives us here a very good example of an organized Terms and Conditions with an outline of all sections. It even includes shipping terms, and tackles fraud cases like credit card fraud, fraud protection/prevention as well as delivery.
Terms Of Use Templates & Generators
There are a lot of Terms of Use generators that are available on the Internet. You can use any of these so you have something to follow as a model, BUT you need to personalize them to fit your store's specifications. Here's a list of Terms of Use generators that you can use:
1. TermsFeed

With TermsFeed's Generator, you can create Terms and Conditions, Terms of Use or Terms of Service for your store in minutes, it also comes with Adwords and Facebook Ads.
How to use: The TermsFeed creates a generic Terms and Conditions so you can customize it according to your preference.
Simply click on the Generate a Terms and Conditions – Free button.
Enter your details like website address and name as well as your company name. This is only optional if your store is operated by a registered business, e.g. LLC, Inc. etc. Click on Next Step.
Enter your country and state. Click on Next Step
Enter your email address and click on Next Step
Then review the generated Terms and Conditions before downloading.
Click on Generate My Terms and Conditions Agreement.
Here's your generic Terms and Conditions from TermsFeed, it already has HTML tags so you can simply copy all and no need for coding.
2. Shopify eCommerce University

eCommerce University provides a generic Terms of Service that you can personalize. By simply entering your store details and clicking the Generate Documents button, you'll have your Refunds Policy, Privacy Policy and Terms of Service in an instant. All you need to do is to copy them and personalize them to fit your store.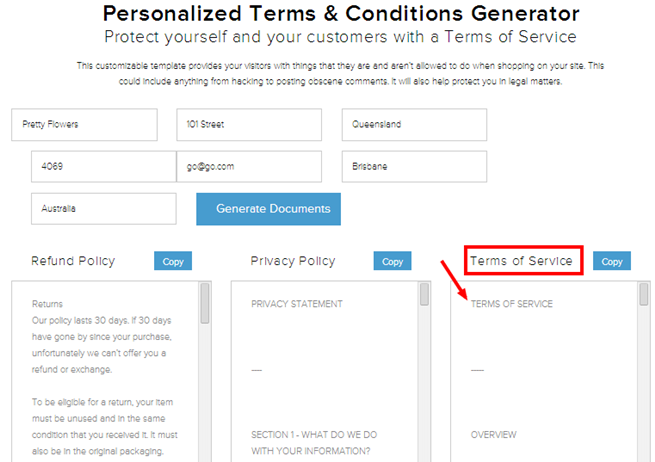 3. Ben Nadel
Ben Nadel is a chief technical officer at InVision App who created a generic Terms of Service that anybody can download for free. All you need to do is to enter your company name and the state of residence. Then click on the Generate Terms of Service Agreement button. It also provides the HTML tags for Terms of Service as well as its Privacy Policy for easy coding.
When using any of these generators, make sure to:
read it and check if it's not outdated
evaluate that it does not give too much favor on the store owner or the visitor, it should be fair
personalize them depending on the nature of the store
and have them reviewed by your lawyer
Photo by Pixabay