A famous Pinterest post defines the virtual assistant (VA) as a skilled asset who organizes your chaos.
Mike Maser, CEO of FitStars once made a comment that explains why startups need VAs.
When you're building a vision, a team, and a product all at once, time is your ultimate currency. Every day presents both the opportunity to break ground and the risk of losing ground.
Every day startup CEOs face questions about their business priorities.
There is always something that needs to be done, should be done, or should have been done better.
Startup teams do not have unlimited resources. This means they have to be more strategic than bigger corporations.
This is where virtual assistants step in.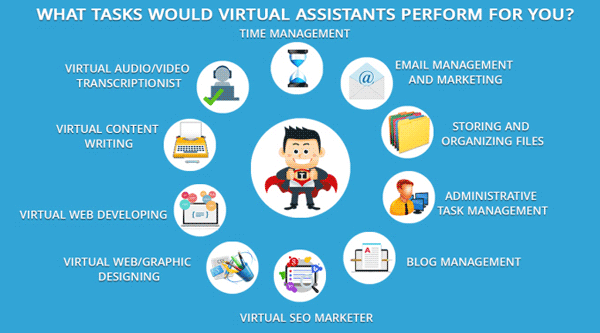 The popularity of remote working has grown in recent years. This has opened up a market to startups. They need to find exceptionally talented virtual employees – without breaking the bank.
A skilled virtual assistant can enhance your startup growth in immeasurable ways.
Learning the art of effective delegation is the key to giving your startup a leg up.
You should engage a VA before things get overwhelming in your business.
What Is a VA?
A VA is a self-employed independent contractor. They offer remote support services to one or more businesses. In some cases, they might be sub-contracted by a VA agency.
Given the rise in technology, the VA role has evolved beyond a personal assistant. Demand for VAs has risen from both entrepreneurs and online businesses.
VA duties are not limited to clerical work. Some of them specialize in one area, while others are capable of performing a variety of duties.
I've used virtual assistants to handle tasks that are not my strengths, allowing me to focus on what I'm good at and scale the rest

Tom Drake, President, Drake Media
Below are a few reasons why startups need VAs.
Maximize Your Full-Time Team's Skills
A good VA can help your team achieve more success in the following ways:
Networking: Since you cannot be everywhere at once, VAs use social media and other digital platforms to connect and follow up with potential partners and sponsors.
Inbox management: The risks of outsourcing this task are minimal, but the return is one of the most precious resources for a new startup, i.e., more time.
Lead generation: Your VA can bring in more business for your team. This saves a lot of exposition time. They can conduct in-depth market research, create curated lists of leads, send initial emails and ensure that the team follows up.
Virtual training: VAs can easily conduct training for incumbent or incoming employees on basic processes, leaving the rest of the team to handle sales and other projects.
Discover New Opportunities
VAs have something in common with entrepreneurs. They are also self-employed.
It is in their best interest to collaborate with business owners. A cross skilled VA could become an essential asset.
They are a brilliant way to foster growth in your business by reducing stress and time constraints.
If the VA has experience from an industry different from yours they can provide valuable insight. For example, a VA with web development or content creation skills could achieve amazing online visibility for a startup real estate firm.
Every business has trends. VAs are excellent at staying current. They can keep you in the loop for both in your industry and in the startup world at large.
Due to the nature of remote work, VAs are quite well informed on tech and digital trends.
They can introduce you to pertinent industry software, hardware, and SEO changes. This information is vital for a business with scalability in mind.
Having a VA located in a different country means they may speak another language, expanding the reach of your business.
Stay Connected With Customers
At the start of a business, a 10-hour day may not be enough. Working around the clock can maximize business productivity tenfold.
Offering your clients round the clock service and providing human customer support gives you a competitive edge.
If your VA is in a different part of the world, they are likely to be available on public holidays which are not celebrated in their home country.
VAs in different timezones work while you sleep. For example, during your nighttime, the VA might work on:
Reports and analytics
Documentation streamlining
Scheduling next day social media content
Setting up email or newspaper templates
Bookkeeping and accounting
Initiating responses to existing consumer queries
Organizing your calendar
These are just examples. Depending on your industry, you and the VA can create a work schedule that best suits your business requirements.
Hire a Talented VA
In many startups, there's no substitute for finding a human employee. You will need to find problem-solving skills, creativity, ambition, and drive.
The right virtual assistant embodies all these qualities.
When you hire a skilled VA, they will:
Make your future hiring processes relatively painless
Speed up your scaling plans
Create more leisure time for you
Improve the quality of service you provide
Hire a talented virtual assistant to enhance your startup business today.