These days a lot of people are looking for different ways to make some extra money. Not only that, many people are hoping to find something that gives them a little more satisfaction than their regular job.
They're looking for a side hustle.
Do you feel you could do with an additional income stream? And it would be even better if you could earn it by doing something you truly enjoy and find interesting?
Have you thought of home-based proofreading?
No? Well, how about it?
But you've got no idea what it takes to start and where to look for work, right?
No worries. Read on to find out why proofreading makes an excellent side hustle and where you can land a great job.
Why Should You Have a Side Hustle and Is Home-Based Proofreading for You?
First things first. Let's explain:
what a side hustle is,
what the benefits of having one are and
how you'll know if online proofreading is the right choice for you.
A side hustle is a business you do after your regular 9-to-5 job to make extra money, either in the evenings or on weekends. It can be selling products or offering services such as proofreading – whenever you have free time.
Just like your regular job, your side hustle requires dedication and determination if you want to succeed.
It can be anything you're passionate about and that you are, or aspire to be, skilled at.
Side hustles quite often turn into successful business ventures. Did you know that that's what happened with Apple?
Sounds amazing, doesn't it?
Well, anyone with the right attitude and skills can do it.
No, you don't need entrepreneurial experience. No need to quit your regular job, either.
But you don't have much expertize?
Never mind. You can still do it and learn along the way. No one says you must be a grammar expert who knows everything right away.
The Pocket Book of Proofreading: A guide to freelance proofreading & copy-editing may be a great resource for perfecting your proofreading skills.
What's that? You don't think you've got enough money?
Good news:
Some side hustles, such as home-based proofreading, require very little up-front investment. Just a decent computer and a reliable Internet connection can allow you to start working and learning from loads of free online sources.
Are you making excuses because it all looks a bit terrifying at first sight?
Chris Guillebeau has already been in your shoes and has written a book that teaches you how to create an additional stream of income quickly and easily without giving up the security of a full-time job.
We live in difficult times when many people can barely make ends meet by doing one job only. A side hustle makes all the difference in such cases as it enables you to cover all the basic costs of living such as food, rent, and household bills.
What's more, it provides you with enough earning to:
pay off your debts,
send your children to a better school,
go on holiday,
buy a new car, clothes, medications, toys or anything else you need and want but would struggle to afford without that extra income.
Not everything is about the money, of course.
Side hustles often provide people with a greater level of happiness that they may not be able to find in their current job.
So, not only can you boost your earnings, but you can feel more content and confident while learning to become an expert in your side job and connecting with people who share the same interests and values worldwide.
OK. Now that you realize how beneficial a side hustle can be, let's figure out why proofreading is a great option and whether freelance proofreading it the right choice for you.
Online proofreading makes a fantastic side hustle because:
you can do it from the comfort of your home or anywhere else of your choice
You can work flexible hours
you don't need expensive tools
no need for costly special education i.e. degrees or certificates (although relevant knowledge is required)
this lifelong skill is applicable to any industry and it can help you find work more easily.
You should consider remote proofreading as a side hustle if you:
love reading
have an excellent command of the English language
have an eagle-eye and can easily spot errors in everything you read
are the go-to person for checking what your family members and friends write as it comes easily and naturally to you
are a creative person but cannot express your creativity in your regular job.
If any of the above traits describe you, then you might be the perfect candidate for proofreading work.
Still not 100% sure that you have what it takes to become a proofreader?
Perhaps these resources can help you decide:
Do you want to become a proofreader? Take our free downloadable quiz and see if it suits your personality.
Test your English knowledge and skills. Take our free general proofreading quiz here.
Luckily, there are loads of scam-free websites paying people to proofread from home.
Read on to discover several legitimate websites where you can start a flexible, low-stress side hustle.
Ready?
(Note: Follow the links in each subsection to find out more detailed information about the companies and specific job requirements.)
1. Polished Paper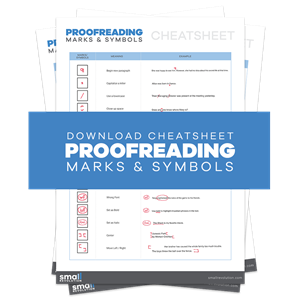 Prior to becoming a proofreader or editor at Polished Paper, you have to:
register for a user account
upload your resume onto the company website and
pass their test (which consists of 35 questions and you're allowed to use their resources related to the popular style guides such as APA, MLA, CSE, Chicago or others).
If you land a job for a work-at-home proofreader at Polished Paper, you'll proofread various materials such as eBooks, websites, manuscripts, essays, dissertations and other similar academic and business texts.
2. ProofreadNOW
From time to time, ProofreadNOW.com seeks remote proofreaders, copyeditors or translators specialized in medical, financial, legal, high-tech and other fields.
Besides regularly checking their employment page to find out when they're accepting new remote employees to their global team, you can also join their employment email list to get notifications for new job opportunities.
Meanwhile, you can benefit from their GrammarPhile blog which can help you to learn more about the company and sharpen your proofreading skills.
For instance, you can take their Advanced Syntax and Grammar Quiz to check your language knowledge or learn how to land a proofreading job in 2019 whether you're a beginner or a pro.
3. WordsRU
WordsRU is offering career opportunities to remote proofreaders and editors from around the globe.
If you have what it takes to land a home-based proofreading job at WordsRU, you can join their team as an independent contractor by emailing your CV or resume as well as your cover letter to jobs@wordsru.com.
4. ProofreadingPal
ProofreadingPal is always accepting job applications for home-based proofreaders. Just make sure you meet their selection criteria and then complete their application form.
Depending on how much time you can devote to this new side hustle, ProofreadingPal offers you the opportunity to earn an extra income of $500 to $3,000 every month, with their hourly rates ranging from $5 to more than $45.
5. Wordvice
Wordvice is a website offering specialized proofreading, editing and translating services 24/7 across fields such as business, scientific and medical research and more. This company often hires freelance proofreaders and editors.
The company shares plenty of valuable tools, online courses, webinars, writing help center, as well as academic and admission resources with its freelance contractors so that they can hone their skills.
Check out their website to learn more about the company and see whether you are qualified to join the global team of Wordvice Proofreaders.
6. Sibia Proofreading
Sibia Proofreading mostly deals with scientific and medical content. So, the company welcomes job applications from experienced science experts wherever they are.
Given this fact, it's as easy to become a Proofreading Editor at Sibia. But you still might meet their criteria and try applying for job openings with them.
(Note: At the moment of creating this article, this company wasn't accepting any job applications. If this seems like the right fit for you, we suggest that you regularly check their career page linked to above.)
7. Scribendi
In addition to offering in-house, full-time and freelance, home-based proofreading jobs with flexible working hours, Scribendi also provides free web-based training to its employees. Note that preference is usually given to candidates who are available full-time.
If you'd like to land a freelance job at this successful company and you meet their requirements, here's what to do:
Once you've done this you're ready to submit your application.
Best of luck!
REMINDER:
Make sure you've thoroughly explored the website, requirements and working conditions in every company you're interested in before you apply.
Some of them expect you to have a university degree, while others take your application into consideration only if you pass their tests, or, have a few years of previous proofreading experience.
Best advice – don't reach out to any of these prospective employers unprepared.
Instead, show how professional and serious you are.
Ready to start bringing in some extra side money?
Let's face it—life is expensive these days.
That's the main reason why many people choose to have a side hustle.
Another reason is that a side job provides you with a fantastic opportunity to 'test the waters' before you quit your regular job and start pursuing the new online career of your dreams.
Whatever your motivation and reasons are, home-based proofreading is an excellent way of making extra money on the side.
It's even easier to get started with the help of some of the trustworthy websites listed in this article.
So, what are you waiting for?
Photo courtesy of freepik.com by Freepik