Skillshare is the world's largest online educational platform where students learn skills like copywriting and proofreading from experienced educators.
Launched slightly over a decade ago in New York by two digital entrepreneurs, Michael Karnjanaprakorn and Malcolm Ong, Skillshare has gained massive popularity, which doesn't seem to be slowing down any time soon.
Today, the platform hosts 12+ million users with over 41,000 courses to choose from. Learners like Rocky are also loving the platform:
So much great content to choose from. Bite-sized videos with resources to help you learn many things casually or professionally.

Rocky Jacob
However, settling on Skillshare requires you to first determine its pricing and overall benefits to you as a new learner.
You may be wondering:
Is Skillshare worth it? How much will I pay for a course? Can I get a free trial? Are there free courses? Can I cancel my membership if I don't enjoy the course?
In this Skillshare guide, we'll cover these topics and many more. But let's first understand what Skillshare is and who it's best suited for.
What Makes Skillshare Unique?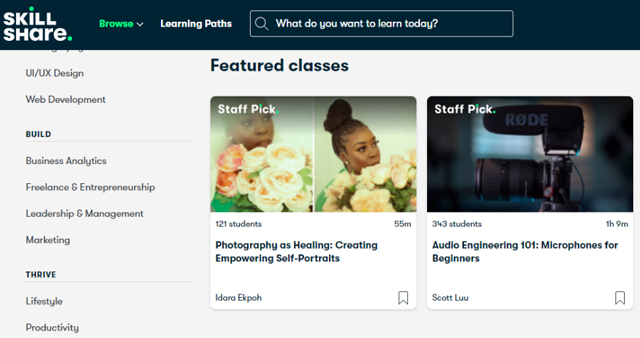 A key difference between Skillshare and other learning platforms is that every course is project-based and focuses on a particular task. At the end of each course, you'll be required to create an awesome project to share with your community. This promotes effective learning since you'll handle both the theoretical and practical aspects of each course.
Besides, most classes take an hour or less to complete, making Skillshare an ideal choice for busy parents, online job seekers, or college students looking to improve their skills in the shortest time.
Related: 5 Best Online Jobs for College Students for Career Building
Initially, Skillshare focused solely on creative disciplines (painting, animation, sketching) but later adopted more complex disciplines like entrepreneurship, engineering, business analytics and technology.
Did you know? Skillshare is created for both learners and educators:
As a learner, Skillshare allows you to take up a course for a skill you'd love to learn or advance in.
As an online tutor, Skillshare lets you create and publish a course on a skill you're knowledgeable about. (See: How to become a teacher)
Skillshare Pricing
As of 2022, a Skillshare Premium plan costs you $167.88 for an annual subscription ($13.99 a month). Prior to this, the platform also offered a monthly payment plan at $32 per month but later eliminated it, leaving only the Premium payment plan.
With premium membership, you get to enjoy the following:
Access more than 41,000 Skillshare courses
Interact with Skillshare's growing community and receive feedback for your projects
Download your Skillshare classes on your phone or tablet for offline viewing
Receive discounts on other services like Todoist and Creative Cloud
No interruptions as you watch the course videos since they're ad-free
Skillshare also has 3 pricing plans for teams and businesses—the Starter, Enterprise and Revive plans. These plans help creative teams build soft and hard skills, explore their creativity, and live more balanced and fulfilled lives for maximum productivity.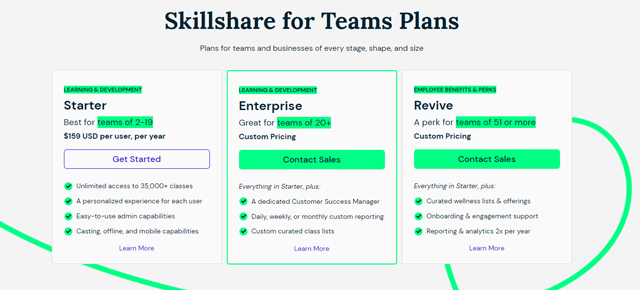 All three plans provide unlimited access to Skillshare's 35,000+ courses, Skillshare Original classes (Skillshare Originals), tech support, student and teacher feedback, and offline mobile viewing of the videos.
In the following table, we compare the Premium plan to the Teams plans to help you see the difference:
| | | |
| --- | --- | --- |
| | Premium Plan | Teams Plans |
| Classes | Unlimited access to all the 41,000 classes | Unlimited access to 35,000 classes |
| Offline viewing through phones and tablets | Yes | Yes |
| Support from the Skillshare | Yes | Yes |
| Refunds | Within 7 days | No |
| Free Trial | 1 Month | No |
Can You Access Skillshare for Free?
No, Skillshare no longer offers a free plan.
The learning platform used to offer free classes through a free plan called Skillshare Basic, but this changed in September 2021 when Skillshare announced that it would be "transitioning away from offering a free class experience."
To access the courses moving forward, learners "need an active free trial or paid membership, including classes that were previously available for free. " (Skillshare Help Center).
While the free classes are no longer available, Skillshare still provides sample lessons for some courses to watch without having to log in.
But if you'd like to experience Skillshare without paying upfront, take advantage of its generous free trial period. New members can access the platform and its courses at no cost for the first 7 days.
Skillshare also offers a one-month free trial once you sign up for a Premium membership, letting you experience all the platform's goodness before fully committing to the annual membership plan.
After signing up on Skillshare, you'll need to add your card details, but you won't incur any charges until the trial period ends. If you intend to discontinue the program, you're at liberty to do so within 7 days after registration, but beyond that, the annual subscriptions cannot be refunded.
Accepted Payment Methods & Currencies
You can purchase a Skillshare Premium membership using your credit or debit card (Mastercard, American Express, Visa, Discover), PayPal, Google Pay, SEPA, and Apple Pay.
Skillshare is also available in different countries, allowing you to pay your annual membership in your local currency. Below are the prices for the most popular currencies:
| | |
| --- | --- |
| Currency | Annual Premium Membership Cost |
| US Dollars ($) | $167.88 |
| Canadian Dollars (CA$) | CA$212.66 |
| Euros (€) | €151.88 |
| Pounds (£) | £125.66 |
Benefits of Skillshare for Beginners
With over 41,000 courses available on Skillshare, there is indeed something for everyone. As a beginner, you are spoilt for choice with the wide range of topics taught by different professionals across the world, unlike other high-end online learning platforms.
Skillshare courses are practical and easily accessible. They're presented in video lessons that are organized and displayed chronologically, making it easy to switch between lessons and quickly skim through the courses. This makes it easy for beginners to navigate the simple-to-use platform and begin their classes without struggle, just like Chetu says.
…The app is lightweight & extremely easy to use… Also has lots of qualities so that it's even watchable with less data.

Chetu Khaire
Below are other Skillshare benefits you'll enjoy while on the platform:
Skillshare pricing is affordable: For only $13.99 a month, you get to access over 41,000 courses regardless of your location.
It offers community-based learning: Learners can interact with other students and share ideas, respond to each others' questions, and show progress on their projects.
A constantly growing library: There's always new content being added to the platform, increasing diversity. You're guaranteed to find a course for you, no matter how unique your hobbies may be.
Unlimited access to all the 41,000+ courses: You won't have to choose the classes to learn and those to leave, making it ideal if you've got ample time to learn online.
Offers a one-month free trial: Enables you to try Skillshare before committing to an annual subscription.
Provides project-based learning: Courses include a project, making learning more interactive, fun, and practical.
Many experienced instructors: Most classes are taught by experts in different fields.
A diverse learning community: Skillshare hosts learners from beginner to advanced learning levels, allowing you to interact with people of varying expertise.
What Are Learners Saying About Skillshare?
Thinking of joining Skillshare but aren't sure if it's the right platform for you yet? These reviews from Skillshare learners might help you understand the platform better.
I love Skillshare! The classes are so easy to follow and they offer interesting creative topics that pique my interest.

Gianne Rabena
The amount of data here is mind-boggling. Would highly recommend it to everyone looking to upgrade or learn new skills.

Sukruth Ramesh
Worth every penny. Honestly as a student I find it extremely helpful…would definitely recommend it to other potential customers.

Benita Ziniewicz
Therefore, if you're looking for an affordable online platform to learn new skills related to a range of topics, then Skillshare is worth it.
Whether you're into soft skills like transcription or looking to improve your productivity, you'll get a Skillshare course that suits your needs. So sign up today for a one-month free trial to enjoy the platform before fully committing to a membership.
Frequently Asked Questions
Does Skillshare have language classes?
Yes. Skillshare offers hundreds of courses in various languages worldwide, including Japanese, Korean, Italian, French, and Spanish. Below are some of the language classes you'll find:
Can I stream Skillshare courses on my smart TV?
Yes. You can stream Skillshare courses directly on your TV using Airplay or Chromecast. Click here for more detailed instructions.
Can I download Skillshare videos?
Yes, Skillshare provides a download option for its videos, but only through the iOS and Android apps. Simply click on the class you'd like to download and press the "Download Class" button. Once the videos are downloaded, you can watch them during your free time.
Share on Facebook: