The aim of this guide is to help you create an interesting and remarkable cover photo for your Facebook Fan page that would market your product and capture the interest of your fans.
You sure want to create a great-looking Facebook Fan Page for your eCommerce store that would capture the interest of everyone. But how do we do this?
Add interesting contents, videos, photos and a lot of interactions. Yes! But first, we need to create an attractive cover photo.
You've probably noticed that Facebook pages have a Timeline layout just like what Facebook profiles have.
The good thing is that you can also add a cover photo at the top of your page. It might just be a photo but this photo will reflect what you have to offer on your page.
This gives you an opportunity to give a superb first impression to anyone who checks out your page.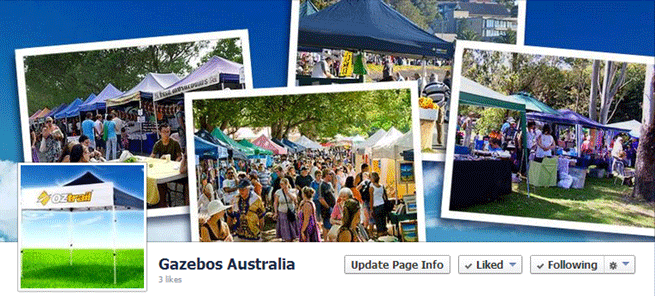 Although Facebook gives us options to simply choose an existing photo from your Photo Album, an ordinary photo may not look professional enough to make your eCommerce store page impressive.
An existing photo may not be able to fit perfectly on the nearly-screen-width banner size of the Facebook cover photo.
You will also miss out the opportunity to combine photos together and add significant texts. Instead of using simple photos from your album, it would be best then to create your own custom Cover Photo using high quality images and just enough texts to emphasize important thoughts.
This how-to guide will help you develop your Fan page that would market your product with the help of a professional and excellent-looking cover photo without violating the Facebook Pages Terms.
Step 1: Know The Facebook Pages Terms
Generally, Facebook aims to use Pages only for business purposes and not intended for personal profiles. This supports users to advertise and market their products as well as create a hub where the store owner and the customers can communicate without flooding their own private Facebook profiles.
It might be very tempting to use the cover photo to boldly advertise our products as it's the first thing people would notice on the page. But we need to be very careful with that.
When you first try to create a Cover Photo for your page, it will give you this notification:
"Note: This space is not meant for promotions, coupons or advertisements. Your cover photo should not be primarily text-based or infringe on anyone else's copyright."
In their Pages Terms, Facebook statement about the use of Covers is as follows: "All covers are public. This means that anyone who visits your Page will be able to see your cover. Covers can't be deceptive, misleading, or infringe on anyone else's copyright. You may not encourage people to upload your cover to their personal timelines."
Knowing these rules, you need to be very careful of using Cover Photos so do not violate any of these. To give you more details, your Cover photos should NOT:
Include prices, discounts, sale, purchase information or anything that intends to advertise or market your products.
Include your store's contact information like address, email or phone number as this information can be entered in the Page's About section.
Include any solicitations like "call to actions", "Like" or "Share" the page.
Encourage people to upload your cover to their personal timelines.
Violate any copyright laws.
Instead, your Cover Photo should:
Use original and authentic photos.
Only has 20% of text so it appears as a remarkable photograph and not a wordy advertisement.
Set the theme and mood for your store's page.
Step 2: Choose Quality Images
Now you know what to do and what not to do, you can proceed on choosing which images to use for your cover photo. You can use a beautiful large image or compile smaller and lively photos into a collage.
In choosing the best images for your Cover Photo, you need to consider the following factors:
Quality
Choose photos that are:
Sharp and in focus
Has a good balance of color
Good lighting
If necessary, you may use editing software to enhance the quality of your photo.
Content
Photo content ideas you can use:
Your best selling products used by models/customers.
Photos of your staffs or employees in action.
Icons or awards that you or your store have won.
Photos of your happy customers
Your workplace
Current events on your store
Profile Photo Integration
Facade photo of your store
An image of inspiration for your store (Vision or Mission)
Story
Your Cover Photo should be telling a story or a statement of:
Who you are.
What you do.
What makes you unique.
Why people should like your page.
Format
Use photos that are set with the same dimension as the official Facebook Cover Photo Size which is 851 x 315 pixels.
Photos that have a smaller size than this will not be ideal as a Cover Photo as it will be stretched and will look pixelated.

You may, however, compile smaller photos into a collage to the fill the Cover Photo size.

The minimum dimension of image you use must be at least 720 pixels wide.
When using larger photos, you can crop or resize it before uploading to make sure you get the best parts of the image included. Just make sure that it does not appear blurry or pixelated.
Ideal image formats for Cover Photos are sRGB JPG file and PNG for photos with texts and logos.
Step 3: Decide What Text To Include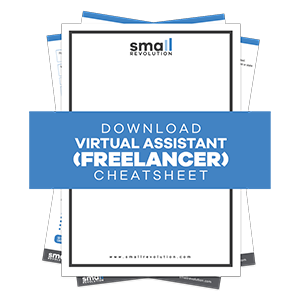 You must have a tag line or a logo that you want to include in your cover photo. Make sure that the text you will include is only 20% of the whole cover photo.
That means your cover photo shouldn't have text as the dominant component.
You can use fonts that your store usually use for its logos or tag lines, or use something creative for a unique and catchy text that blends well with the photo.
Make sure that you make use of this 20% of text strategically.
You can refer to the following guidelines so you can use texts on your Cover Photo effectively:
Texts should be easy to read and properly structured.
Focus on one idea per photo only. Conveying too many ideas at once might be overwhelming for your visitors.
Avoid selling words like "Buy Now" or "Get it here" or those that sound over sales-y. Instead, focus on a problem and offer a solution like "Flowers for events and the home, we got it all here".
Cover Photos for eCommerce
You can get inspirations from these great-looking Cover Photos examples so you can come up with a remarkable Cover Photo for your Facebook Fan Page.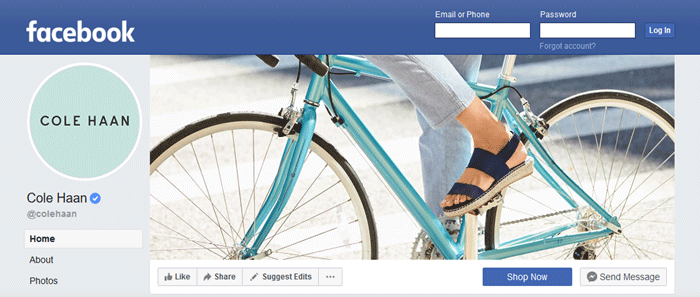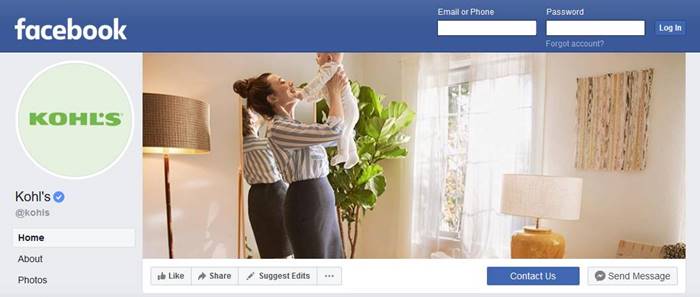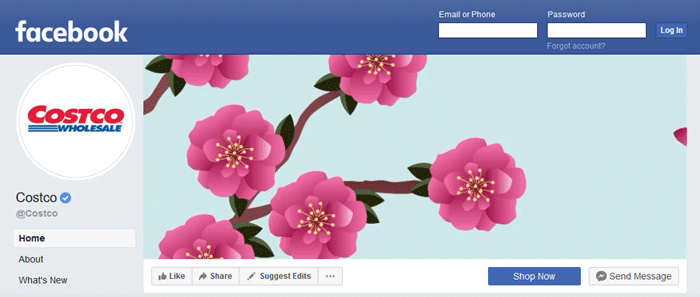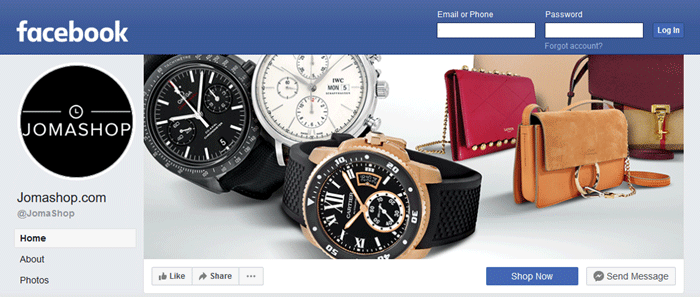 Step 4: Design Your Cover Photo
Once you have chosen which photo to use, and the text to include, you can design your Cover Photo. You can use editing software to integrate them together to create a special and effective Cover Photo. Simple and free software that you can use to design your Cover Photo is PicMonkey.
It also includes a preset Facebook cover size or you can also use the Collage option to compile photos into one larger photo.



PicMonkey features include:
Basic Editing such as cropping, rotating, adjusting colors and resizing.
Add Effects with more than 20 themes and effects that you can choose from.
Touch Up option to improve skin complexions and make them look even.
Adding Texts that are specially designed for photos and banners.
Add Overlays where you can add your logo, watermark or other pictures.
Use Frames, Textures and Themes.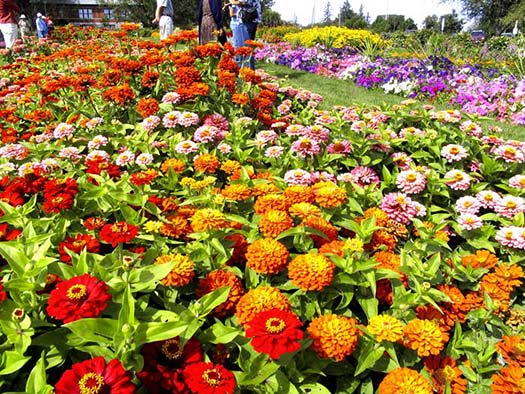 If in cases you need professional help, you may seek assistance from a talented graphic designer so you'll get the best cover photo for your store.
Step 5: Upload Your Cover Photo
This should be the easiest step. Simply follow these simple guide:
Make sure the photo is saved in your computer first.

Mouse over your current cover photo in your Facebook Fan Page.

Click on the option Change Cover.
Then select the option Upload Photo.

Go to the location where the photo is saved. Select it and click on Open.

After that Facebook will load it to preview your Cover Photo and give you an option to Drag to Reposition your cover. Drag the photo to get best position.
Once you're satisfied, click on Save Changes.
Final Checklist
In order for you to create an effective and remarkable Facebook Cover Photo for your Fan Page, here's a summary of what you need to do:
Learn and follow the Facebook Terms to avoid violations and future problem.
Choose interesting and compelling photos with good quality, content and story.
Follow Facebook's cover photo dimension and format.
Include only 20% of text into your Cover Photo.
Get ideas from other stores with extraordinary and remarkable cover photos.
And design your Cover Photo before uploading it.
Photo by rawpixel / CC BY