Work-from-home jobs are quickly gaining momentum. Results from a 2020 survey by Statista show that 16% of the respondents work completely remotely, while another 16% responded with "very often."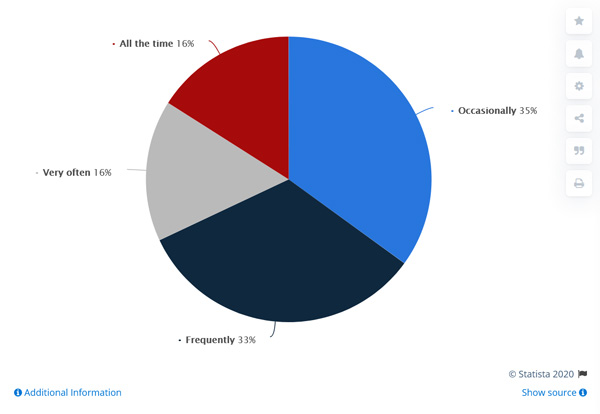 Remote jobs are more flexible compared to full-time jobs, and promote both focus and productivity for several reasons:
They save the hours spent on a daily commute, creating more time to make money.
The working space can be any place that encourages mental alertness.
They promote independence — without co-workers around, you learn to resolve problems on your own. For instance, resolving a tech problem at home by following the steps from a Google search.
If you add seasonality to the work-from-home setting, you get a flexible career.
Work-from-home seasonal jobs are available when a business has a high work-volume, as extra employees are needed during these times to keep things running smoothly.
If you are seeking remote seasonal jobs that you can do from home, you're in the right place.
We have rounded up five of the best seasonal jobs available in 2020 — and they don't just pay well. They're regular.
You're probably eager to know which jobs we're talking about. But, first things first.
Here are some more reasons that make taking a seasonal work-from-home job worth it.
Why Seasonal Work-From-Home Jobs Are An Excellent Choice
Seasonal work-from-home jobs come with two main benefits:
An Extra Source of Income
Budgets in most homes go over the roof during summer and holiday seasons, with most of the expenses residing in holiday gifts and dining — a survey by Deloitte shows that holiday retail sales will increase by 1% to 1.5% in 2020.
An advantage with most seasonal work-from-home jobs is that they are available during holidays. Statistics show that, every year, companies hire extra holiday staff.
You Get Flexibility
When you are a stay-at-home parent, free time is a luxury. A full-time career that keeps you committed could overwhelm and drain you.
However, the needs to supplement household income and boost savings remain. Statistics show that 25.4% of U.S. household incomes in 2019 fell below $35,000.
77% of low- to moderate-income American households also lack adequate financial assets. These households cannot maintain a poverty-level status for the three months following the loss of income.
Seasonal jobs provide an avenue to make money while still keeping your sanity. You also get a better work-life balance, as these jobs create time for family responsibilities, hobbies, and other interests.
Here are some awesome seasonal work-at-home jobs:
Top 5 Seasonal Work-From-Home Jobs Worth a Try
Seasonal employment is available for a variety of roles in almost every industry. Many of these can be done entirely at home using the internet, a computer, and a phone.
We have provided an estimate of earnings that you can make from these seasonal jobs, using one of the leading recruiting companies in the US.
1. Virtual Assistant
Most organizations will appreciate help with administrative tasks that are periodical. Some also hire virtual assistants during peak seasons, such as during the summer and over holidays.
If you want to be a marketable virtual assistant, you will need:
Basic computer skills
Great organizational skills
Communication skills
Flexibility in the number of administrative tasks you can perform
There are lots of companies that prefer to outsource their administrative tasks. Find these opportunities on websites such as Indeed, Upwork, FlexJobs, and ZipRecruiter.
Or you can network online, and join organizations like International Virtual Assistants Associations.
Most employers will pay between $15 and $48 per hour, but — depending on your level of expertise — you can earn up to $60 per hour.
Building your skills will help you increase your earning capability. Small Revolution's virtual assistant course is an excellent choice for online training — it equips you with marketable skills that will help you grow a profitable career.
2. Online SAT Tutor
There is always a big demand for tutors before summertime — this is when students prepare for their final exams.
You can teach the students remotely using a webcam and headset. All you need is a quiet home environment and a strong internet connection.
It is best to stick to the subjects you are skilled in. You will also need:
A bachelor's degree in your desired tutoring field
Great communication skills
There are lots of work-from-home tutoring jobs you can find online, with companies hiring like QKids, VIPKid, and K12.
Join platforms like iTutor Group and Chegg, and create a schedule that makes you comfortable. This flexibility makes it ideal for stay-at-home parents.
Online tutors earn an average of about $15 to $25 an hour. You can increase your earnings by building experience and credentials, and by getting certifications from professional bodies.
Some good examples are the National Tutoring Association and the American Tutoring Association.
Becoming a certified online tutor will also boost students' confidence in you and attract more signups for your classes.
3. Virtual Travel Agent
A travel agent is another well-paying seasonal working-at-home job. Most travel agencies are abuzz during the holiday seasons, and actively seeking help.
This work-from-home job involves a lot of consultation. You will need to remain in communication with customers.
Detailed communication is best done through email, while short messages work best with live chat tools.
Here are the skills needed:
Excellent communication skills
Marketing skills
Research skills to help with finding the best deals and with providing accurate advice about different destinations
You can find work-from-home jobs with travel agencies.
Reach out to cruises and companies hiring part-time staff. A few examples are Outside Agents, AirTreks, BCD Travel, Avoya, and Nexion. You can earn about $13 to $27 per hour.
4. Tax Preparer
The tax season comes with lots of job opportunities for accountants in need of work-from-home positions, and you have the chance to get seasonal employment as a tax preparer.
You can also work individually, and help small business owners with their end of year tax needs.
As a tax preparer, you will need to be registered with IRS and have:
Quantitative skills — the ability to analyze and make arguments based on numbers
Attention to detail
Training as an accountant and some knowledge with using tax software, such as TurboTax and H&R Block
A Preparer Tax Identification Number (PTIN)
Tax preparation companies are always hiring temporary work-from-home employees to help with:
Making tax calculations
Ensuring company taxes are correctly filed
Providing advice to their clients
There are other simpler jobs for those not confident with handling complex tasks. You can become a bookkeeper or help with maintaining databases for the company's clients.
Find work-from-home job postings on tax preparation companies' websites. You can also cold pitch your services and find individuals in your circle who need help with their taxes.
A tax preparer can earn between $15 and $25 per hour, depending on their skills. Increase your ability to negotiate a higher salary by researching tax matters.
Staying on top of industry news and joining the Association of Chartered Certified Accountants will aid with opportunities in this field.
You also need to refresh your accounting skills often with online courses, as this will ensure you remain relevant and up-to-date with changes in financial reporting.
Ensure that you have a CPA (Certified Public Accountant) qualification. You should also maintain your professional competence with CPE (Continuing Professional Education).
5. Virtual Customer Service Representative
Companies need help with providing customer support during busy seasons.
A work-from-home customer service representative job involves tasks such as:
Resolving customer issues and answering questions
Helping online customers make orders
Interpreting company policies and procedures to clients
This customer service position calls for:
Good communication skills
Decision-making and problem-solving skills
The ability to demonstrate empathy and patience when dealing with difficult situations or customers
There are plenty of employers looking for seasonal remote customer service representatives. Find them using job listing websites like ZipRecruiter, Indeed, and Upwork.
Applying for companies selling products and services you are passionate about — plus having in-depth knowledge about the companies you target — will aid in finding a job. Visit their website and social media pages.
You should also get the latest industry news on Google news, and research retail companies hiring seasonal customer service employees, like Amazon.
The best times to apply are during the holiday season, when there is an influx of customers.
Data from Shopify shows that support volume requests rise by 65% during the holiday season.
As a work-from-home customer service employee, you can expect a pay of between $13 and $19 per hour. Be sure to get the Small Revolution comprehensive Customer Service Assistant training. This course provides top-notch training in areas like building global customer relationships. It will improve your skills, build your career, and attract higher pay.
What Next?
There are numerous seasonal work-from-home jobs available for all professions, and the best place to begin your search is on job listing websites.
We recommend the virtual assistant position, due to the high availability of jobs. The position allows plenty of room for growth, and you can better your pay by acquiring new skills.
Whether you are a beginner seeking to launch a successful career as a virtual assistant or a veteran looking to refresh their skills, the Virtual Assistant course will provide solid training.
Small Revolution is the training platform you need to kick-start your work-from-home career. This platform provides comprehensive courses, and will equip you with the soft and hard skills needed to succeed in the online job market.