Everyone (and we mean everyone) has a story about being stuck in traffic while carpooling to work. Or a similar one on how the crammed subway made them balance it out on one foot only for the entire journey.
And if there's nothing you like less than wasting hours on the quotidian commute – well, your case is not hopeless. There are ways to make your commute work for you!
Pop on a witty, smart podcast and there you have an antidote to all the boredom and idleness of this world – put together.
The idea is to enter the subway in blissful ignorance and walk away a little smarter, more cheerful – and a tad bit more productive. Interesting new perspectives podcasts typically bring to the table will empower you to make better choices in life and work.
We left no stone unturned to find you the best podcasts out there on topics you'll find more than useful.
And gosh, will that ride fly by!
Get Inspired to Act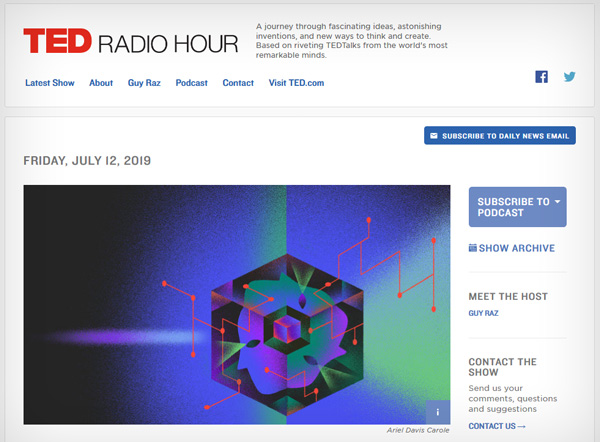 1. TED Radio Hour
Inspirational TED Talks have become a staple for anyone who needs inspiration every once in a while. And let's be honest – who doesn't?
The traditional 18-minute video format is now available in an extended radio format you can take anywhere with you.
So now you can inject a dose of fresh ideas whenever you need it. The podcast offers extended, deeper narratives interwoven around different TED talks on similar topics. Now, how neat is that?
2. Risk Show
Geared towards people who like it blunt, Risk Show misses no opportunity to call things by their name. It's a show where guests drop their act and recount things they thought they never would.
This bold, shocking, and hilarious podcast will ensure your day starts with a good laugh. As well as plenty valuable insights. The star of the show, Kevin Allison, goes all out so that you never stay indifferent.
3. Take Action Q&A
Rye Taylor interviews top experts in diverse fields, aiming to collect the best content out there that's also chock-full with actionable advice. Take Action Q&A is a makerspace for anyone who wants to get to the heart of success, so they can repeat it again and again.
For those who have a penchant for business – this is the channel for you. And did we say it comes in portion-controlled sizes?
4. Fresh Air: NPR
In the modern competitive world, nothing pays more than staying one step ahead of the game. Fresh Air: NPR takes you on a journey of interviews and interesting tidbits about the world around us. The show takes an honest perspective on pesky issues.
If you still catch yourself seeing the world through rose-tinted glasses – the show is going to put a definite end to it. It will entice you to think critically. To the bone.
After a while, it starts coming naturally.
Pump Up Your Workday
5. Back to Work
Nothing can quite match that feeling of unfitting weirdness when you're back to work. After a holiday, a weekend, or a day off. No worries, though. An award-winning Back to Work Podcast will help you ease into it.
The authors offer plenty of advice on how to play your cards right. How to increase your work productivity and get any work-related issues solved.
You'll sharpen your communication skills, learn hacks to help you deal with work barriers, and more.
6. Manager Tools
Want to brush up your leadership skills? Manager Tools is just the place for you. This podcast will help you push the envelope by abandoning a purely theoretical approach.
It's rife with helpful insights on how to boost employee performance, navigate office politics, and more.
The weekly format allows you to start small and segue to something big.
7. Beyond the To-Do List
This podcast draws heavily on the extensive experience of productivity experts. So if you're looking to reevaluate your performance – this podcast is just the ticket for you. Learn how to prioritise, manage, and nail it with your projects, tasks, and goals.
It's an exploration of trial and error – that's bound to bring gradual changes to your life. In no time – you're able to handle your agenda like a pro. While also enjoying the ride.
8. Kwik Brain with Jim Kwik
Your brainpower is not what it used to be, but you're not quite ready to admit this – even to yourself. Nothing to stress over about, though. Kwik Brain With Jim Kwik will help jog your memory and win back the glory of your old genius self.
The bite-sized podcast is designed to 'supercharge' your greatest wealth-building asset: your brain. And if you're sceptical about getting your focus back to shape – Jim Kwik is the right person to give the benefit of the doubt. After a childhood brain injury, this man has managed to become a memory trainer of the world's leading CEOs and celebrities.
Brighten Up Your Day With These Entertainment Podcasts
9. Good Job, Brain!
Good Job, Brain! is a medley of interesting tidbits, quiz show questions and offbeat bits of news. Just the right combo to cast away the morning blues and get your brain pumping. The show will launch you off into the day – with nothing less than a big Cheshire cat smile on your face.
10. Stuff You Should Know
Stuff You Should Know will help you to pull your socks up – but this time not in the boring 'strictly business' sense. The show will rather help you level up in the general knowledge department.
The podcast brings a whole raft of must-know facts, trivia and details that will brighten up your day. Next thing you know – you'll be the most interesting person in the break room.
11. WITS Radio
Want to cut yourself off from the frenetic world outside for a while? Then make WITS Radio podcast a staple. It's a treasure trove of witty, entertaining episodes brought to you by incredible comedians, musicians, and actors.
Just what you need on a dull looong commute.
12. I Was There Too
Are you one of those people drawn to visual media? If yes, then this podcast is definitely for you. And even if you're not much of a film buff, this podcast is bound to set you off into an alternative reality that's worth exploring.
I Was There Too is a series of interviews that offer an exciting sneak peek into how your favourite shows were made. And all that from a fly-on-the-wall perspective.
Sort Your Finances Out
13. Freakonomics
After the worldwide bestseller Freakonomics has reaped success, the authors have thrown themselves into this follow up podcast. They keep exploring the issues of the everyday economy through the lens of Nobel laureates, intellectuals, and entrepreneurs.
But they don't stop there. They tackle any questions worth answering. Especially those that have some serious real-life implications.
14. Money Girl's Quick and Dirty Tips for a Richer Life
Money Girl or finance simplified. Whether you're stuck wrapping your head around credit cards, taxes, retirement, or insurance – this podcast is here to help. To top it off, it also offers some excellent real estate and investing advice.
15. Smart Passive Income
This podcast unlocks the mystery of passive income for you. So if you're plotting out an online business or planning on creating your blog – Smart Passive Income can be immensely helpful.
Pat Flynn shares his own business strategies and tips on how to build multiple passive income streams. So you can finally live life on your own terms.
16. So Money
Farnoosh Torabi brings a host of inspiring stories on how to handle money on a day to day basis. The podcast features today's top business minds, authors and influencers who share their perspectives on various burning financial issues.
Grasp the Opportunity
The podcasts above will help save the day. Literally. When you think about it, your commute takes up a good chunk of your day.
So, don't miss out on giving your workday a little nudge. You'll end up more focused and fit to face your daily challenges. Whether you're after a morning boost, a piece of financial advice or just a good laugh – the wide-topic podcasts above will keep you covered.