So, you already do tons of reading. Why not get paid for sharing your thoughts on it, and even get the subject books for free?
It probably sounds like a fantasy.
But, thankfully, there are numerous paid book review jobs that you can do from the comfort of your own home.
Besides getting paid for your opinion, the only other difference review jobs have from your regular reading is a timeline — most employers will provide a few weeks to complete the book.
Though, this is a good thing; you get to spend more time doing what you love.
Let's get right into the sources of these awesome jobs.
6 Places You Can Make Money Reviewing Books
1. Online Book Club
Online Book Club is a free reading website that's been around for over 10 years. It pays its reviewers in cash.
For the first review, you only get a free book and no cash payment. The company will use this to assess your capabilities as a books reviewer. It qualifies you for the paid review opportunities.
The pay ranges from $5 to $60 per review, and is made through PayPal. The exact payment will depend on factors like the length of the book. Plus, you get to keep what you read.
The review does not have to be positive — only honest. It should come to at least 400 words, or 300 words for Children's books.
When working on a review, you are required to:
Confirm whether you have successfully downloaded the book within an hour of accepting to do the review.
Mark the book as read within 14 days of confirming you have downloaded it.
Submit the review seven days after reading the book.
You can become a member for free — get started by signing up on the Online Book Club website. You will then get access to the review team page.
2. Kirkus Media
Kirkus Media is a reputable review magazine, and it's one of the best places to get review jobs that pay in cash. There are plenty of jobs that are posted all year round on the career page.
Each review is around 350 words and should be detailed. They're due two weeks after the book has been assigned.
The subject books are free and come in different lengths, genres, and languages. They can be in digital, hardcover, or paperback format.
Kirkus media does not mention how much it pays, but book reviewers who have worked with the company claim — according to the reviews left on Glassdoor — that it pays more than most review publications. You will also get paid on time.
For consideration as a reviewer, you will need to submit the following to the email provided:
A resume.
Writing samples.
A list of your reviewing specialties.
3. Women's Review of Books
Here's a special one for the ladies — Women's Review of Books.
It's a publication that specifically reviews books about women or that were written by women. Women's Review of Books is based in "Wellesley Centers for Women" at Wellesley College.
You have to be exceptionally good to land a job with the Women's Review of Books — the publication expects its reviewers to have experience as a journalist, academic, or a strong background as a reviewer.
They expect thought-provoking reviews that appeal to a broad audience. The number of words and timeline is provided when the review is assigned, but it is usually 1500 words.
Payment is made upon publication of the review.
Make your application by sending the following to the editor:
Your resume.
Samples.
The genre you would like to focus on.
You can also pitch a review of a forthcoming book through the contact provided on the website.
4. The US Review of Books
Another place that you may get regular and paying review jobs at is the U.S. Review of Books. This website seeks to connect authors from different genres with professional book reviewers, like you.
The reviews should be 250 to 300 words, insightful, factual, and unemotional. They should be written according to the guidelines provided by the US Review of Books.
The timeline provided for each review is 2 to 3 weeks.
You may get hired as a freelance reviewer by sending an e-mail to the editor using the address provided on the website.
It should include:
A resume.
Two professional references.
Samples of your best work.
If hired, you get to choose your preferred book titles from the list of books published on the website. Then, you'll get assignments based on your preferences and qualifications.
The payment amount is not specified. According to reviews on Glassdoor, it is competitive with frequent raises.
Payment is on the 5th day of every month, and this is usually compensation for the reviews completed in the previous month.
5. Booklist Online
Booklist Online is a review magazine by the American Library Association that helps librarians select the best books. It publishes about 8,000 book reviews per year.
The magazine outsources some of the work to freelance reviewers.
The limit for each review is 175 words, but book reviewers may extend up to 225 words for exceptionally good books.
The reviews must stick to the magazine's writing style and provided guidelines.
Booklist Online pays $15 for each approved review. But even if it's rejected, the magazine will still appreciate your effort with $5 per review.
You may become one of Booklist Online book reviewers by sending in your samples. Choose a category that you would prefer to work in and make your application to the editor.
6. Freelancing Websites
Freelancing websites connect independent contractors with employers in need of book reviews.
These websites contain thousands of job listings for reviewers; a good example of a reputable freelancing website is Upwork.
Here are two examples of review jobs on the website:
PeoplePerHour is another reputable freelancing website where you may find remote book review jobs.
Here's an example of a job opportunity on their website: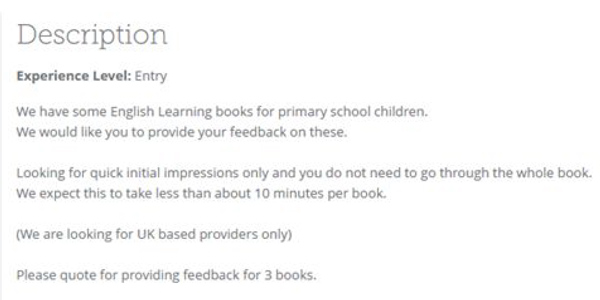 The pay varies across employers.
In the case of Upwork and PeoplePerHour, you will need to create an account on the website. You can then send a proposal to the employer, which should include the amount you will charge for the task.
There are commission fees that both Upwork and PeoplePerHour charge on freelancers' earnings.
You can also try freelancing websites like Guru and Fiverr.
How Can You Make Some Extra Money as a Book Reviewer?
As you apply for these paying book review jobs, work on creating your own book review blog. It should focus on one genre where you're the most well-read — such as music, children's books, or others.
Here are three ways a book review blog will help you:
It will establish you as an expert reviewer in a particular genre.
You can use it to showcase your book reviewing skills to potential employers.
You get to build relationships with authors and publishers, and they will help in reviewer job applications where professional references are needed.
In addition, you can earn from this blog through affiliate marketing. This is where you earn commissions by promoting other people's products. In this case — books.
Get started by signing up with an affiliate program, such as:
You will get an affiliate link from the program. Every time a user clicks on the link on your blog and makes a purchase, you get to earn a commission.
You can learn how to best optimize your website for search engines using the Small Revolution SEO Copywriting Course. 
Our SEO Copywriting Course is designed to nurture highly sought-after copywriters. And what could be better than becoming your own website's copywriter?
With this course, we will turn you into an expert in drawing traffic to your site. Plus, you'll also learn how to keep your followers interested in your site using great content.
Ready to Begin Your Book Reviewer Job?
You most certainly can earn a decent income from writing book reviews. But, like any other remote job, you have to learn the technical and behavioral skills needed to succeed.
This is where Small Revolution comes in.
We have created a resourceful online learning platform — it has a library of articles and courses that will make you a better reviewer and remote worker.
Begin with our comprehensive SEO copywriting course first. With it, apply SEO techniques to create an authoritative book review website in the niche of your choice.
Then, you may use it to prove your book reviewing skills as you pitch potential employers.