It is time to land a new job! Before that, you should write a resume and a cover letter. Not your favorite thing? Quite possibly. Not many people really enjoy writing their resumes.
But, what has to be done, has to be done! So, get some coffee, free up your afternoon and get cracking. You can start by reading up on some tips about resume writing. Some go a step further and take a course in proper resume writing, so they have an additional skill.
Of course, there is also a shortcut to all this resume writing business – you can simply hire somebody to do it for you. Where to find those kinds of experts?
One of your options is Fiverr.
Fiverr is one of the most famous marketplaces for online services. Different types of freelancers offer their services there. Their areas of expertize are various.
Therefore, it is not difficult to reach out the best resume writers there, check their prices and hire somebody to do your resume writing.
When choosing your resume writing services, you should think about two things.
Firstly, you should check the rating and the reviews that every professional has on their page. The rating goes from one to five stars, one star being the lowest and five stars being the highest grade.
Secondly, check the number of votes and reviews. It is not the same if somebody has the perfect 5.0 score, but that score is based on only two feedbacks, and if somebody has a 4.8 score, but hundreds of reviews.
Obviously, you want a professional that has as many reviews as possible and as high score as possible. Pick several of those professionals and then read up on their reviews.
Negative reviews should be taken with a grain of salt, but if there are issues that repeat across all the negative reviews, you should look out for them.
For example, if a Fiverr professional has 10 negative reviews, but 7 of them mention late delivery, don't hire that professional if you are in a hurry.
Here is a list of Fiverr resume writers with good scores and a lot of reviews.
This professional comes from the UK and specializes in the US, UK, and Australian employment. Her name is Claire and she is a Level 2 Fiverr professional which means she is responsive and maintains the positive review trend for prolonged periods of time.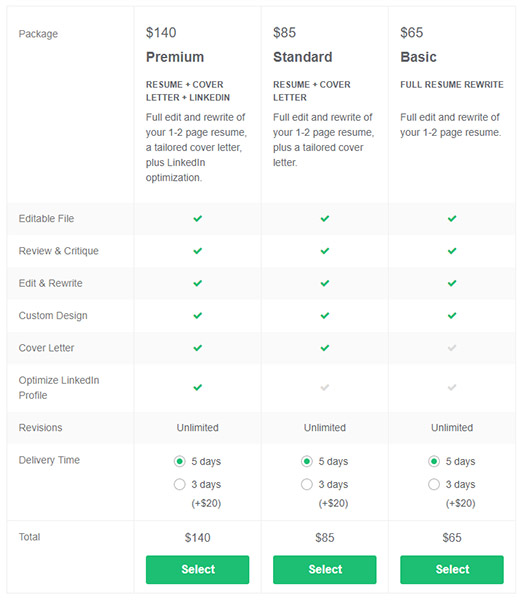 Claire has an average rating of 4.8 based on as many as 3875 reviews. She offers three types of packages and offers an option of 3-day delivery for an additional fee. Also, Claire offers unlimited reviews until the customer is satisfied.
The name of this professional is Sandra Hess and she comes from Nigeria. She has a stellar rating of 4.9 based on 1084 reviews.
What makes her service interesting is the fact that she has a long experience of working as an HR. Also, she offers quite a fast turnaround.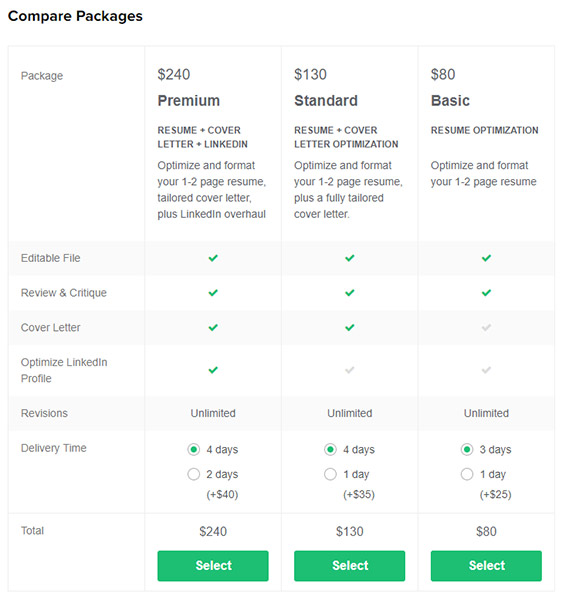 This is another professional that offers unlimited reviews, which is always a perk that should be taken into consideration.
It is important that you are satisfied with the way your resume looks, even if it means that your opinion doesn't match the one of a professional.
This professional from Sri Lanka has a score of 4.9 and over 2880 reviews. She offers to write ATS optimized resumes, which is fairly important when it comes to job hunting.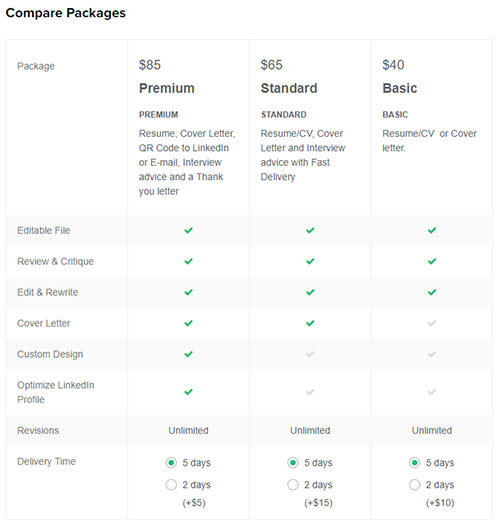 Her turnaround is decent and the fees for a quick delivery are quite low. You will receive an editable file and you can make the most of the unlimited revisions you have at your disposal.
This resume writing professional comes from Pakistan and has a 4.9 score based on almost 2000 reviews. He has over 20 years of experience writing resumes for professionals all over the world. The packages this professional offers are reasonably priced, also.
This is a professional from Pakistan with an average score of 4.9. The number of reviews exceeds 1450. Another thing that recommends this service is a low price for all packages.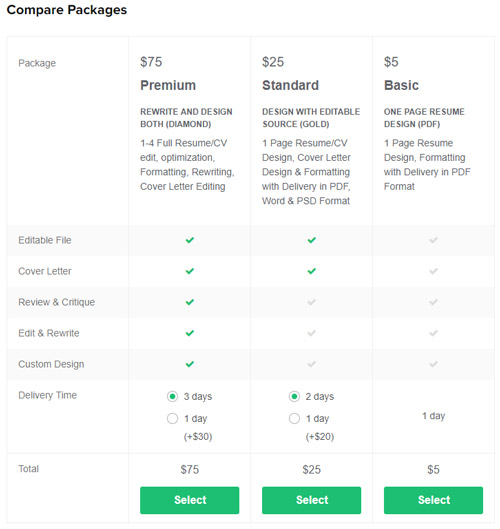 You can see that the turnover time even for the premium package is only 3 days. The basic package is only $5 and it takes only a day to get it done. That's an excellent offer, especially coming from a professional with such good ratings.
This is Jane and she comes from Nigeria. She is a Certified Resume Writer and she has an excellent rating of 4.8 based on 399 reviews. Jane offers unlimited reviews of her work, which is always something to consider.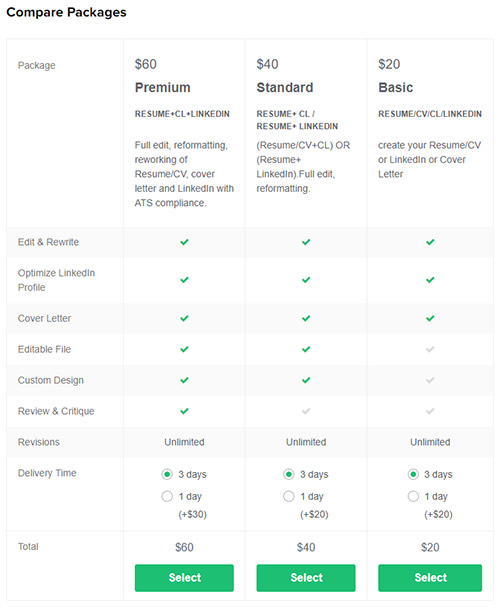 Another perk of using Jane's services is that every package offers a LinkedIn profile creation instead of resume writing.
This is another Nigerian resume writing professional. Based on a little over 380 reviews, he earned a high score of 4.9. Keep in mind that you can get your resume in 3 days, but that you are entitled to only 3 revisions for the price you are paying.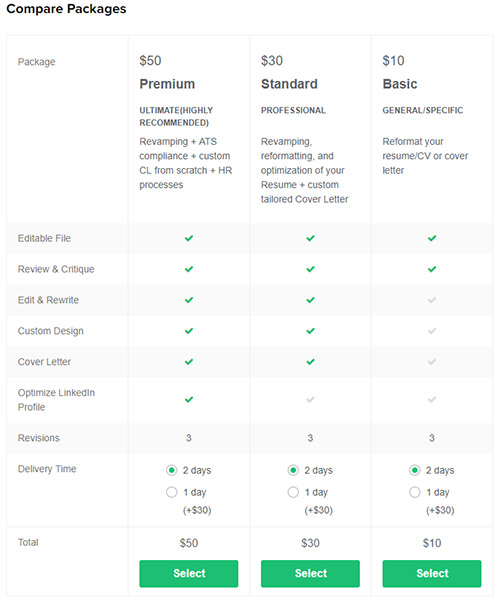 Based on 382 reviews, Rowling Berth reached an average score of 4.9. The delivery is fast. Two days only. However, there are also only two revision options.
On the other hand, the Premium version of the resume comes with unlimited revisions. It also includes an editable resume, while other packages don't include a format that can be edited.
Christabel has 369 reviews. The average score based on all these reviews is 4.9. This high score is encouraging. Other features of this resume writing service also include low prices and fast turnover time. You can get your resume in two days.
Keep in mind that the Premium version of your resume also includes checking it with ATS software. This means that you will ensure that your resume passes the first round of elimination by your recruiters.
Fowler has around 348 reviews. The average score is 4.9, which is remarkable. You will wait 4 days until your resume is done. This can be reduced to one day if you are willing to pay a fee.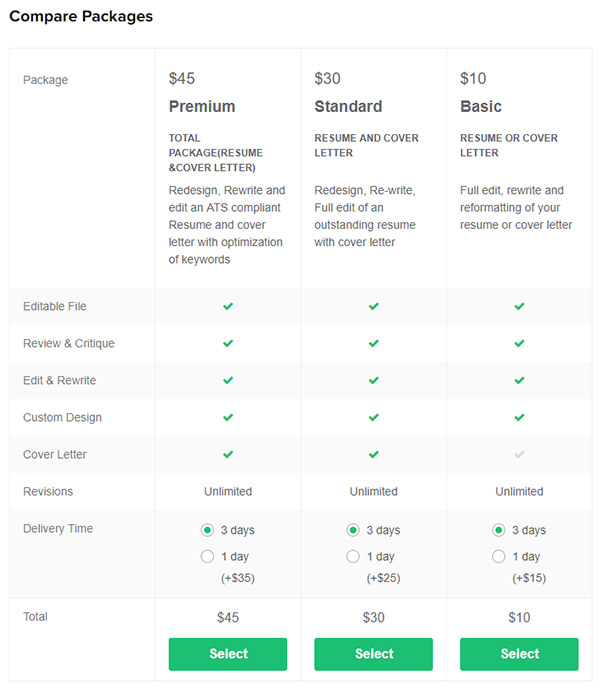 While the basic package includes only a resume, both standard and premium versions also offer a cover letter in addition to your CV.
When hiring Nikky, you will get your resume within a day. If you choose her premium package, you may wait two days, which is still excellent. Over 640 people have reviewed Nikky's services and rated her with a score of 4.9.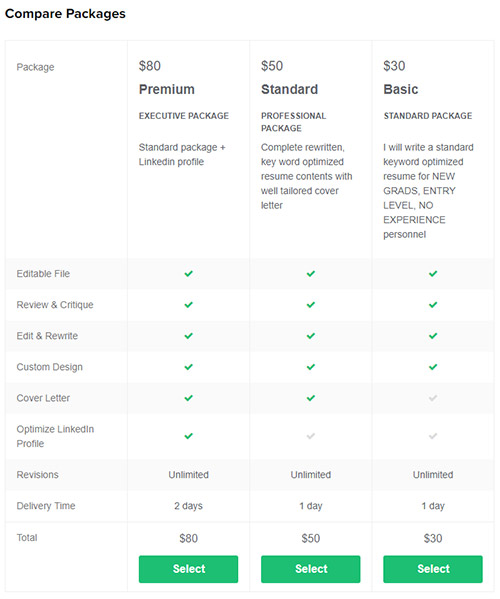 Charlotte has a Master degree in Human Resource Management and a Bachelor degree in Digital and Information Marketing. This education gives her unique insight into resume writing. She has a high score of 4.9 based on more than 550 reviews.
You can see that the turnover time is a bit longer than the other professionals listed here. However, the prices are reasonable and all packages include unlimited revisions.
There are many more professionals on Fiverr that write resumes, but these are the ones that have the best grades and the most reviews.
If you don't feel good about trusting somebody else to write your resume, you can always learn how to do it yourself. Discover the anatomy of a winning resume and create a custom made resume for every job application you make.
Credit:
freepik
by
senivpetro