The aim of this guide is to help store owners create a list of keyword opportunities and analyze trends that would lead you to know what your market demands from your products, and to meet what customers are actually searching for.
If you have a store, it is important to know the demands of your market/customers, what they need and what they are looking for so you'll be able to provide them with the best possible recommendation through the products/services that you are offering. This idea is the same for eCommerce stores, only that it's virtual.
eCommerce store owners also need to analyse market trends, consumer demands and site competitions. Knowing what your market needs is one thing that you need to think about when starting your eCommerce store. This is very important in order to
attract visitors to access your store and convert them to sales,
stand out from the rest of other online stores
as well as to find opportunities to know how to effectively promote your store online.
With the help of online search engines like Google, you'll be able to know what people are typing in to search for products that they want. They search by "keywords". And these keywords will direct them to the store. These keywords will lead your customers to find you. But this is just the bigger picture.
In order to make your store available for potential customers searching for your product/service, we need to conduct an extensive Keyword Data/Trend Research and have an effective keyword list to help us identify what the customers are "actually" looking for. With these information at hand, you'll be able to make your store available for them and provide them with what they really needed. Thus, more sales opportunities for you.
Equipped with these handy tips, you are now able to proofread effectively. Grab your free cheat sheet now!
Step 1: Understand The Keyword Opportunities Lists
We need to create a list of keyword to organize the data that we've gathered from the search engine. We need to look for keywords that are relevant, and not too broad or too general to match our products.
We use Google to search for these keywords that people use to look for products. Then use these information to help us understand what customers are actually looking for and determine opportunities like a new sideline product or a new product feature.
As an example, we didn't know that most of our customers refer to "market gazebos" as "market umbrellas". By working through the keyword research we were able to learn that there was more demand for "market umbrellas". We were able to change category names and use "market umbrellas" language in the store to attract more customers.
We also realised that there was an opportunity to promote "gazebo spare parts" more than we ordinarily would. Initially we offered spare parts as a customer courtesy, but discovered during the keyword research phase that there was far more demand for spare parts than we had thought. This enabled us to then create store pages with far more information about the spare parts and also offer a larger range. The result is that more and more of our sales come from spare parts.
1. Keyword Opportunity List
This list contains the relevant keywords that customers are using to search for products that match yours.
Contain around 10 to 20 keywords that are exactly suited to the store and represent a good opportunity for sales.
Include product names and the best opportunity variations. For example, "Oztrail black gazebo wall" would be used instead of "Oztrail wall" if the former was a much better opportunity.
Never contains generic keywords, unless they are an incredible opportunity.
2. Full Keyword List
Contains hundreds of keywords that are both opportunities and more regular/generic keywords. This would include "gazebo", "gazebos", "umbrellas", "spare parts" as these all have a high number of searches and high competition.
Would not contain keywords for products that are not used by our customers. Eg "permanent gazebos" or "permanent" wouldn't be included.
Contains brand names, competing stores, competing brands, brands and products that we don't sell, as long as they are a sale opportunity. For example, we don't sell "Hercules Gazebos but this keyword is a good opportunity for us to convert customers to OZtrail brand gazebos.
3. Negative Keyword List
This list contains obvious negative keywords, and this is typically used in online advertising channels such as Adwords.
For example, we would include "clothes", "fashion", "wear" and other clothing related keywords to ensure that we are not attracting the wrong audience.
There will be standard list of negative keywords for every campaign such as "free", "sex" etc.
Step 2: Create Starting List Sheet
Go through the store and write down some basic keyword combinations. Ex. Canvas swags, king swag, double swag, etc. Those are core phrases (10 – 30 of them). You will use them as your base for research. You can find some competitors websites and write down keywords you find useful.
Go to Google Trends (https://www.google.com/trends/).
Paste your first basic phrase and click search.
Look for the "Worldwide" option under the Search bar. Limit it to only country that we are interested in (in most cases Australia).

Look for "Related Searches". and copy the terms under "Top" and "Rising" to your Starting List.
Repeat that process for all basic phrases.
Now go to Google search page of the country that we are interested in. In most cases this will be https://www.google.com.au/.
Copy first basic phrase in search box. Make a space and then write "a" and don't click "Enter" or on search button. You will get suggestions that start with your phrase and continues with letter "a". Ex. "gazebo" and "canopy shade". Copy them all to your spreadsheet.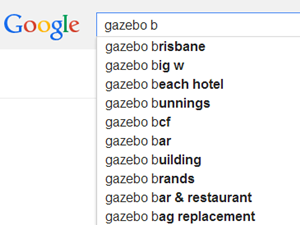 Continue to do this for all letters of the alphabet.
Repeat this process for all basic phrases you have.
If you think that you don't have enough keywords in your Starting List, go to http://ubersuggest.org, select relevant country, copy down first basic phrase and click "Suggest". Click "Select all keywords". On the right side of the screen find button that says "Get" and click on it. You'll get all phrases in pop-up textbox. Select them all (for Windows users it is CTRL+A). Copy them (CTRL+C).
Paste them in your Starting List.

Repeat for all the basic phrases
Step 3. Create Unique List Sheet
Select all phrases from Starting List and copy them to Unique List
Now you need to remove duplicate values. You can find instructions in the video "Keyword Research in Action" by Andrew Youderian that is already on this page. You can also do this in a much simpler way using Microsoft Excel by going to the "Data tab" on the Menu bar and click on "Remove Duplicates" option.
Now you have many phrases that are unique but we still got a lot of negative terms.
Start going through the list. When you're searching for gazebos and you find irrelevant phrase like "tents" or "public liability insurance" cut these phrases and paste them on Column B of the same row. If that negative term is longer than one word, put quotation marks between these words. Ex. tents or "public liability insurance".
When part of a term is relevant and part is not, delete the whole phrase and replace it with the only irrelevant part of that phrase. Ex. if we sell portable gazebos but don't sell permanent gazebos and we have "gazebos permanent structure" phrase on the list, use "permanent" only as your negative term on column B.
Step 4. Create Negative List Sheet
When you finish going through the Unique List sheet, create a new sheet and name it as Negative List.
Cut all phrases from column B in Unique List sheet and paste it in column A in Negative List sheet.
You then need to remove the empty cells on Unique List Sheet. Microsoft Excel has one function that is very convenient in this case. Select the entire columns A. Then go to the Home tab, and click on Find & Select icon, select Go To Special option and choose Blanks.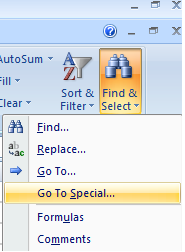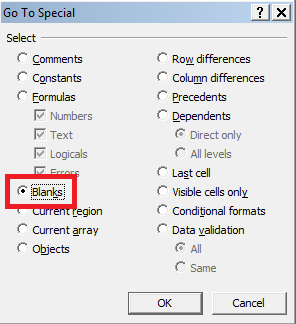 Now only blank cell will be selected. Right click on a blank cell on Unique List sheet Column A, and select Delete option, then select Shift cells up option.
Remove duplicates from column A
Now you got all relevant and unique phrases in your Unique List and all negative keywords in Negative List.
Step 5. Create Final List Sheet
After you have created your initial list of keywords, now is the time to check if which of these have a great demand over the others by checking their Average Monthly Searches in Adwords.
Go to adwords.google.com and log in using a Gmail account or your store's Gmail account.
Click on Tools and click on Keyword Planner.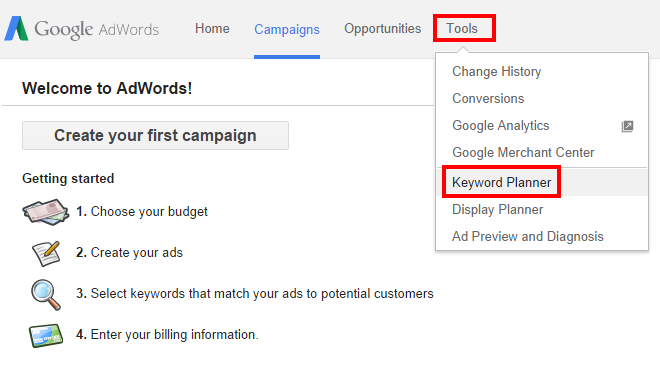 Then select Search for new keyword and ad group ideas.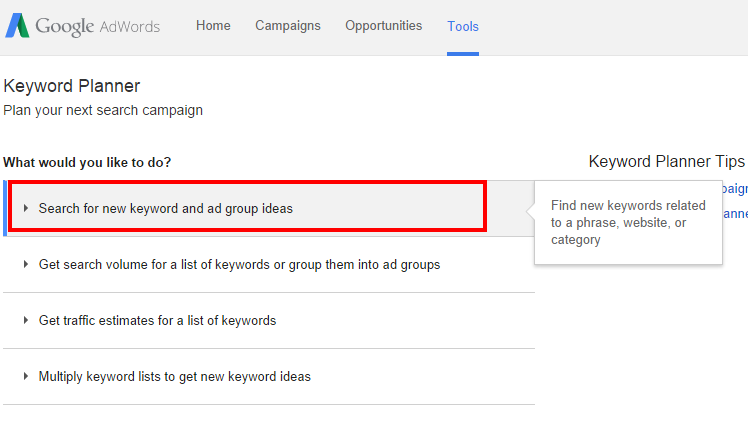 Enter a keyword  that you want to search and click on Get Ideas button.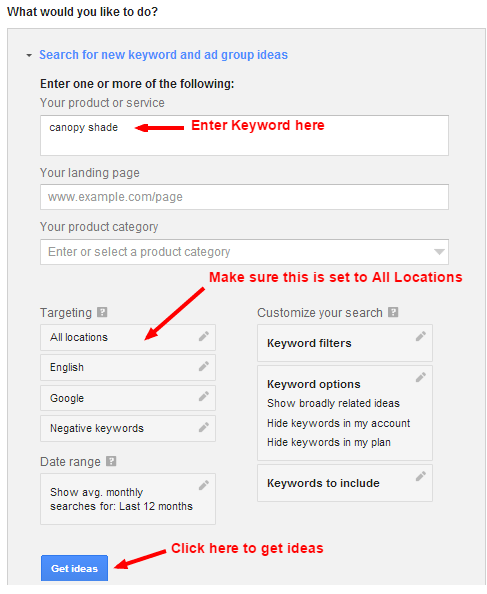 Click on Keyword Ideas and get the Average Monthly Searches for that keyword. Add it to the spreadsheet. You can see if this keyword is popularly used as a search keyword or if it's rarely used based on the average monthly search results.
You can also maximize your search by adding more keywords on the keyword field. Adword will automatically add a comma to each keyword too.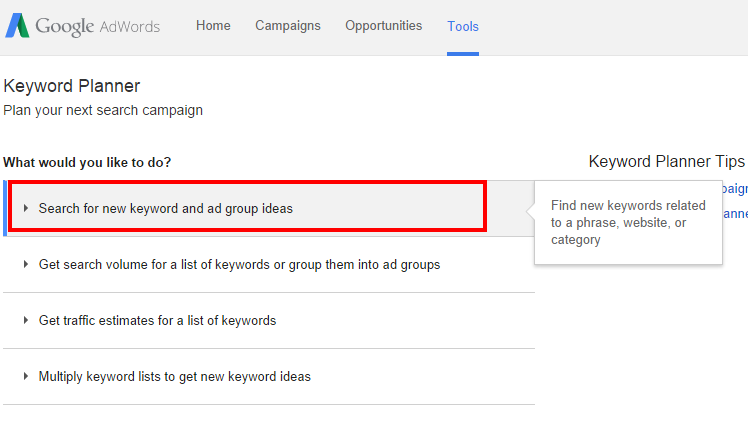 With the average monthly search information, you will know which keyword to retain and which keyword to ignore to come up with your final keyword list.
Step 6: Check Google Trends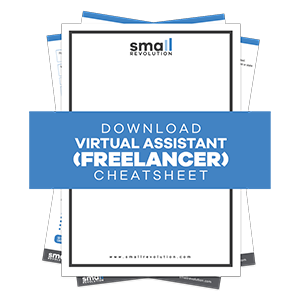 Google Trends is an online keyword research tool that shows how often a keyword or term is searched in relation to the total search-volume in different areas. This is an excellent and versatile tool for Search Engine Optimisation (SEO) that will help you determine if your keywords are being used by people to look for your product/services.
How To Use Google Trends
When accessing Google Trends to do some keyword search, you can set different parameters or filters to narrow down the results to have accurate and specific figures.
Worldwide option lets you search results from different locations, countries or limit it to a specific state only.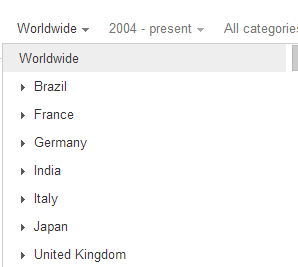 2004-Present option lets you search results with a specified date or time frame.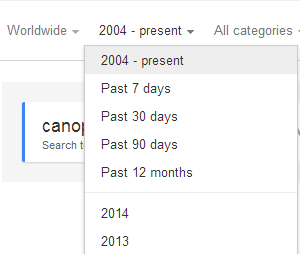 All Categories lets you choose from different categories.
Web Search lets you specify what type of results you wish to find.
You can search for a keyword or term and compare up to 5 search terms or groups at a time with up to 25 search terms in each group. You can use the + sign between your search terms if you want add more than one term in a search.
Google also has Hot Searches and Top Charts options that is updated from time to time. All the information offered in Google Trend are very useful especially when we use these for SEO and to know the demands of potential customers.
Step 7: Conduct A Keyword Research
To complete your keyword research, you can combine the information you gathered from Google Trends with a Keyword Planner. This will be of so much help organising and storing keywords for SEO. Google Trends will give us a comparative interest over time for a potential keyword phrase.It also compares the level of interest among prospective target phrases.
Let's use gazebo spare parts as an example. When does interest in gazebo spare parts peaks? What potentially drives more traffic; the search phrase "gazebo spare parts" or "market umbrella spare parts?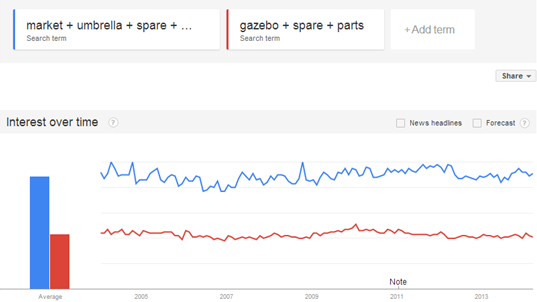 Parameter is set for Australia from 2004 – present. We can see here that Australians are more interested in market umbrella spare parts than gazebo spare parts. Although they're relative, knowing the terms used by potential customers can be an opportunity for effective online marketing.
You can also use the "News Headlines" option to know if certain events might have affected the interest of people in the specified keyword phrases: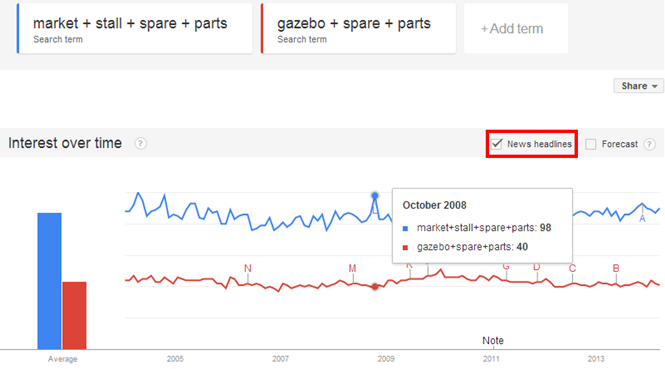 You can use these data in keyword analysis and the market trends. These will be of great help in SEO and online marketing.
Step 8: Use Geo-Targeting
You can also break down the search data by specific regions. It will show you which region are most interested in the search keyword you've used. In the example, Victoria tops the list then followed by New South Wales. Based on these results, it is recognisable that these regions have the strongest potential markets for market spare parts.
When we expand the region, it will reveal that the interest is solely in Melbourne.
These information are valuable to indicate which state or region has the most potential markets as well as a valuable information for keyword research for your eCommerce store.
What Google Trends Tells Us
Google Trends gives us valuable information that we can already draw conclusive ideas just by looking at the charts alone. Knowing which keywords are best used and draws interests to customers, you can use Google Trends to find which features of a product that buyers might be interested in more. These keywords can be used for branding and advertising. Based on these data, should we use Market Umbrellas or Portable Gazebos?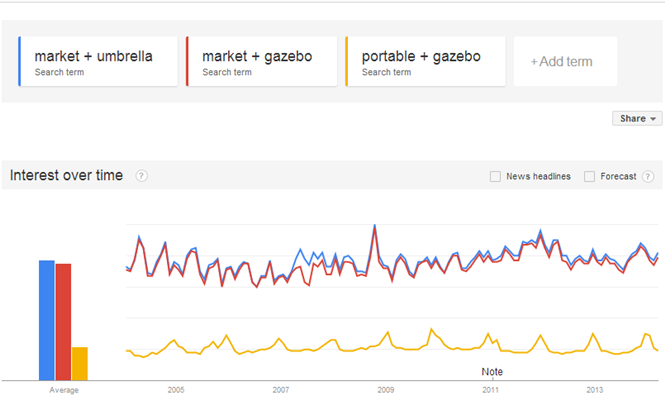 It also gives us relevant data about which demographic group are most interested in such keywords. This makes it easy for us to point possible market locations especially when you're planning to expand. Google Trends can even give us a Forecast option so we can take a glimpse of future marketing ideas. Mastering this tool will surely give you an edge!
Final Checklist
To get opportunites from Keyword Data and Trends, we need to do the following:
Create a keyword opportunity list that includes a Starting List Sheet, Unique List Sheet, Negative List Sheet.
Check Google Trends and use it to conduct a keyword Research, as well as use Geo-targeting option to get conclusive ideas to what customers are interested in a particular product by the use of keywords.
Improve your proofreading skills. Click here to download your free cheat sheet.
Photo courtesy of Freepik