Do you cultivate a deep appreciation for syntax and spelling? Are you a fan of structure and detail-oriented? Do your friends send you important emails to check for grammar errors?
You might be a proofreader without even knowing it.
Proofreader jobs aren't the most lucrative career you'll find online. Still, they have among the best value for money ranges in the realm of web content production.
Whether you're looking for a full-blown career or a remote side hustle, it's a gratifying opportunity to explore.
Join us to discover the top five remote proofreading jobs for newbies.
We've rounded up a list of tried-and-tested remote job opportunities. These positions guarantee fruitful employment to future proofreaders, even without any previous experience.
We'll also run through some frequent questions about this field.
Fiverr.com
Fiverr.com is a fantastic remote job opportunity for absolute remote job rookies. It accepts candidates without any past editing and proofreading experience.
This flexible platform is multifunctional, letting editors and other web content experts sell their know-how to a global customer market. The freelance services marketplace gives you the freedom to work remotely, set your prices, and find clients that match your skillset.
| | |
| --- | --- |
| Experience required | No experience necessary |
| Service types | Proofreading, writing, editing, blog organization |
| Duties & requirements | Accept clients, perform tasks on your own schedule |
| Pay rate | Starting at $5 |
Our Take
This option is excellent because it allows you to upgrade your level, and with it, your rates. Still, novices sometimes find it hard to reach that state of constant work coming in and going out. Keep this one as a side hustle until you get things off the ground.
Gramlee
Gramlee is a copy-editing service platform that provides proofreading services to bloggers, companies, and small business owners. It doesn't have special experience requirements, but a freelance proofreading background helps you get hired.
The company prides itself in its top-quality copy editor team with excellent language skills. A position in the team guarantees projects coming your way, as long as you meet their requirements and deliver quality work on time.
| | |
| --- | --- |
| Experience required | No experience necessary, but it helps your resume stand out |
| Service types | Proofreading, copy editing, dissertation editing, grammar checking |
| Duties & requirements | Finish pieces of up to 3000 words within 24 hours |
| Pay rate | $10 to $18 per hour |
Our Take
This proofreading business is an outstanding opportunity for budding editors who work fast. If you like taking your time or have zero online work experience, it might be better to look elsewhere.
ProofreadingServices.com
ProofreadingServices.com is a proofreading services provider. It manages multiple fields, from academia to businesses, and receives proofreaders with and without experience.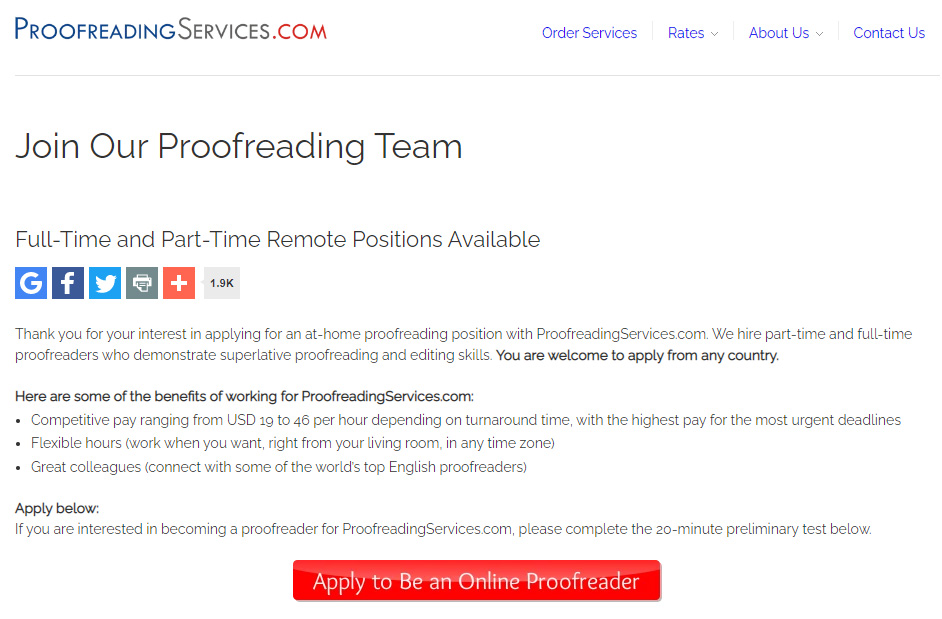 Online proofreading jobs here operate on a part-time and full-time basis. Payment depends on quality and turnaround time. People from over 100 countries may apply, with only a preliminary grammar test standing between you and your next career opportunity.
| | |
| --- | --- |
| Experience required | No experience necessary, only a skill test |
| Service types | Editing and proofreading |
| Duties & requirements | Edit and proofread pieces in your area of expertise |
| Pay rate | Starting at $19 per hour |
Our Take
According to Glassdoor, employees love the variety аnd work opportunities at ProofreadingJobs. It might not be ideal as the only position, though. Not every task offers payments balanced with the time necessary to perform it.
FlexJobs
FlexJobs is a flexible work-from-home portal that offers various work opportunities across the remote jobs spectrum. There's a dedicated section for content correction jobs.

The platform hires people full-time, part-time, and on freelance arrangements. Some tasks require other skills, too, such as content writing and book editing. Prior experience or a bachelor's degree isn't necessary, but it makes well-paying projects easier to find.
| | |
| --- | --- |
| Experience required | No experience necessary, but desirable |
| Service types | Editing, proofreading, writing, translation |
| Duties & requirements | Review, proofread, and make changes to the text; supervise content planning |
| Pay rate | Starting at $10 per hour |
Our Take
With such a setup and scope, FlexJobs is fantastic for aspiring freelancers looking to gain experience in the most popular remote work fields.
Polished Paper
Polished Paper is an editing service that offers business, academic, and book editing assistance to companies worldwide. The company doesn't specify any job background or degree qualifications.
The scope of available services adds a lot of variety to mundane proofreading tasks. The platform offers progress opportunities and Senior Editor positions to their most-valued employees.
| | |
| --- | --- |
| Experience required | No specific university or professional experience specified |
| Service types | Editing and proofreading |
| Duties & requirements | Proofread and edit texts within specified deadlines |
| Pay rate | Starting at $10 per hour |
Our Take
This company is an excellent side hustle for dedicated editors interested in full-time work. It's not ideal as a side hustle, as there's variance between the work required and pay rate among tasks.
Online Proofreading: Frequently Asked Questions
Let's answer some of the common questions we hear about remote jobs.
How to Become a Remote Proofreader?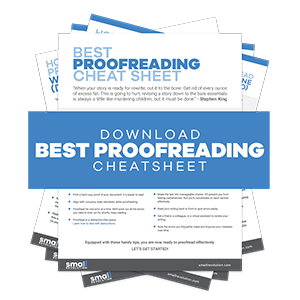 The job requirements for online proofreaders include grammatical accuracy, attention to detail, and formatting skills.
Many online spaces, such as SimplyHired and OneSpace Freelancers, offer similar remote proofreader and freelance writer job opportunities. Be sure to check Glassdoor for real-life employee experiences of legitimacy, quality, and fairness.
Even if a position doesn't require a training course, taking one before the interview process helps you avoid wasting valuable time due to inexperience. We at SmallRevolution have a diverse employee team here to help you develop abilities in all things content production.
Why Become a Remote Proofreader?
Remote proofreading jobs offer various perks for the content editor. You enjoy the freedom of remote work and an extra source of income with a flexible position you organize to suit your lifestyle.
We can't forget the sheer satisfaction of polishing a piece of writing or the opportunity to progress and explore new options.
Also, as a proofreader, you don't need to think about transportation or work attire ever again.
What Qualifications Do I Need?
That depends from company to company. Some demand a master's or bachelor's degree, years of writing experience, or specific training. Other career opportunities are available to absolute beginners with zero existing editing skills.
If you don't have any prior expertise, it's better to start with a blog editing company or another more general field. You'll move on to expert areas as you polish your technique.
What About Proofreaders With Education and Experience?
Not all remote options were made equal. If you have a background in proofreading, editing, or content production and a relevant degree, many more doors open for your resume.
Most proofreading-only agencies have several fields of specialization. They require experts with university education and experience with text production and correction.
Good examples include:
American Journal Experts for academic writing
Cactus Communications for medical writing
WordsRU for business and professional documentation
Start Your Proofreading Career Today
Any remote proofreading opportunity can be the next best thing in your professional life. It's easier than ever to work from home. Many experts already work remotely, cutting out the commute with online workspaces. It's your turn to jump on the bandwagon.
Our educational resources are your ticket for a flagging career. Learn the ins and outs with us and visit these five companies. They stand as ideal starting points for exploring the world of online work.