Editing is an essential tenet of every content creation process. Thus, the pool for editing work is huge and features titles such as remote copy editor, video editor, newsletter editor, research paper editor, and more.
Remote editing is currently creating all the buzz. But if you look keenly, only the best in the game are making big bucks.
So, is there really a chance for beginners? Yes, there is, provided you deliver quality and pay attention to every detail.
The job functions for every one of these remote editor roles are rather standard and involve pointing out errors in text or video content. For text editing, you should correct all grammar, syntax, punctuation, and spelling mistakes, ensuring the copy is readable and accurate.
Now that you know what remote editing entails, we're here to show you where to find editing opportunities without any work experience.
Where to Find Remote Editor Jobs for Beginners
Below are four websites where you can find freelance editing jobs that allow you the freedom to work from anywhere as a beginner.
Proofreading Services
Proofreading Services offers clients combined proofreading and editing services.
As a freelance editor working on integrated editing and proofreading pieces, you look out for:
Typos
Distracting syntax errors
Grammar
Spelling
Punctuation
Sentence structure
Word choice
A content editor at Proofreading Services also rewrites the copy, changing words and sentence structure to ensure good flow and readability.
The site accepts full-time and part-time remote team members with or without experience. They also offer a competitive salary, depending on work turnabout time. The hourly rates range between $19 and $46, with the more urgent content editor jobs paying more.
You must, however, fulfill some requirements, such as completing their preliminary 20-minute proofreading test, and scoring 95% and above to qualify.
Working Nomads
Working Nomads is a unique job board that sends personalized job ads to your inbox. Their system allows you to go on with your digital nomad lifestyle and only take a pause from exploring cities when you get a job alert.
The site collaborates with established companies to provide you with high-quality and reliable job offers.
You can sign up for the newsletter and select how often you would like to get updates, whether daily or weekly.
Customize your job alert further by specifying the job type, position type — part-time or full-time, and keywords.
Clients must pay to have their job posted on the site, and they also specify the job function for each post. Salary, payment method, and roles and responsibilities of an editor vary, depending on the specific clients.
There are very few if any rotten tomato reviews of the job board online, but their social media numbers show a lot of promise on the site. Working Nomads boasts:
18,800 Twitter followers
15,000+ Email Subscribers
120,000 Visits Monthly
Scribbr
Scribbr is a website that specializes in proofreading and editing academic materials, such as:
Admission essays
Research and term papers
Research proposals
Personal statements
Journal articles
Theses
Ph.D. dissertations
Capstone projects
Academic manuscripts
Scribbr only accept applications from jobseekers with an understanding of academic writing concepts and conventions. Hence, they only accept job applications from university degree holders.
Additionally, incoming editors must be native English speakers who have technical grammar knowledge and are familiar with both UK and US English conventions.
The application process begins with completing and passing the Scribbr application quiz, which tests your language prowess. Your CV and a motivation letter back it up.
An editor application consisting of three short editing assignments follows the quiz.
The quality management team: reviews applications, offers valuable feedback, and gives onboarding go ahead.
Here is a screenshot of why you will love to work remotely with Scribbr.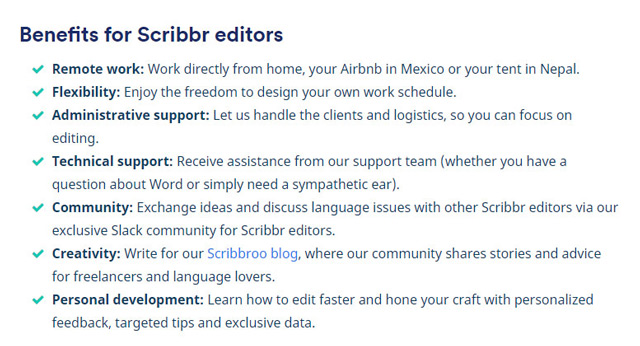 Work continuity with Scribbr depends on three main aspects: your availability, preferred subject fields, and returning clients.
The Benefits of Remote Content Editor Jobs
Remote work comes with many perks, and it's no wonder hundreds of websites are now offering remote work opportunities for freelancers from all over the world. Some of these perks include:
Flexibility: You get the opportunity to be a digital nomad who can work from anywhere in the world. You also decide when you work and the hours you put in.
Improved work-life balance: Remote work allows you to decide your schedule and plan your days conveniently. You can slot in hours for work and stick to those while leaving ample time to take care of your family and engage in other social interactions.
Forget daily commute: Daily commute is exhausting, it makes many employees feel like robots, and is detrimental to their overall wellbeing. When working remotely, you decide where you start and end your day, whether it's your home office, the couch, the cafe around the block, or your hotel room in Hawaii.
Earn a sustainable income: If you put in the work and deliver the best-edited content, you shall not sleep hungry. You can make an equivalent of your current salary or more and be able to take care of your home, personal effects, save, and invest.
Take the Leap and Start Your Remote Editor Career Today
Remote working is worthwhile, mainly because it offers you an opportunity to start where you are and with what you have. You can start the dayfrom any city across the globe, provided you have a computer or tablet and a stable internet connection.
As a beginner, improve your chances of success by reading more on remote editing job responsibilities.
Also, do not shy away from signing up to several websites, as it will increase your chances of landing career opportunities as a freelance editor.
Advertise your services on social media platforms to increase your reach, too.
LinkedIn is a particularly good place to start. You can describe your qualifications, look out for job ads that are in line with remote editing, and create job alerts to be notified whenever an editorial position opens up.
Finally, don't stay at the beginner level for too long. Instead, start by browsing through Small Revolution blogs to help you grow your skill set so you can score better jobs.