The aim of this guide is to help you, as store owners, register your chosen domain name through a reliable registrar carefully and with ease. With different domain registrars available, it is important that you know which one best works for you and which one gives the most favorable price for a domain.
The first step for any business seeking to establish a distinctive online presence is to secure a domain name. A domain name is your physical address on the internet. Typing your unique domain name into a browsers search bar directs visitors to your website and your business – no one else's.
In order to get your own unique domain name, you need to officially register it and in order to do that you're going to have to look into finding a reliable domain registrar.
Grab your free cheat sheet and discover how your learning technique can be applied in your online job.
Step 1: Understand What A Domain Registrar Is
There is no such thing as permanent ownership of a domain name. Domain names are for "rent" and registering your domain names means that – for a period of one or two years – you're the only one using that particular domain.
When the registration period is up, you either have to re-register or someone else can register the name and claim ownership of the domain.
A domain registrar is a private company which is accredited by the Internet Corporation for Assigned Names and Numbers (ICANN) to register domain names. ICCAN is responsible for the management of the global domain system, maintaining a database of all registered domains and ensuring that no two entities have the same domain name.
For a fee, a domain name registrar can help you with two crucial steps in establishing your unique domain name. First, a registrar can help you find a unique domain name. They have access to the entire registry of the ICANN and can help you search for an unused domain. Secondly, the registrar is the processes your registration request and reserves your domain for you at the main register.
Step 2: Register Your Domain With Legitimate Registrars
Private companies that want to offer domain registration services can and should be accredited by ICANN. Legitimate registrars will indicate their accreditation status on their domain name registration agreements or in their terms and conditions.
You can also check your registrar's status in ICANN's directory.
There's a lot of registrar's out there and many offer additional services such as customer service and support of administration tools. Ideally, you are looking for a company that takes customer service seriously as, when the time comes that you might need some help, you want to be able to talk to someone knowledgeable and friendly.
Look into the various legitimate domain registrars and try to choose one that is best for your country and location.
Ideally, you can ask around and get a personal recommendation from someone you know. However, you can always type the name of a registrar into Google and add "review" and "customer support". This should bring you to online reviews about the company.
Here Are Some Examples Of Well Reviewed Domain Registrars:
Namecheap is said to be one of the most affordable domain registrars out there. Not only that but they're known for good customer support and for offering free additional services – such as URL forwarding and email – it all depends on the service package you chose and they offer a variety of flexible package deals.
Gandi's services may be pricier then Namecheap but its "no bullshit" promise about being straightforward in its dealings has won it a lot of fans. Gandi promises not to sell you any additional services you won't need but still offers excellent customer service and gives you freebies for joining.
Name.com is a simple to use domain registration site that is notable for its "extras" in terms of domain name searching. When you do a domain search, it doesn't just tell you if it's available or not but – if it's not – informs you of when the registration is going to expire. Their "Domain Nabber" service allows you to snatch up and reserve a taken domain as soon as it becomes available.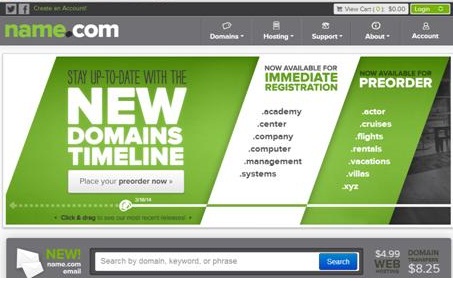 Check out these links to see what other domain registrars are out there – and what "extras" they can offer you:
LifeHacker
DigitalTrends
TopTenReviews
TheTechReviewer
Step 3: Prepare To Pay For Your Domain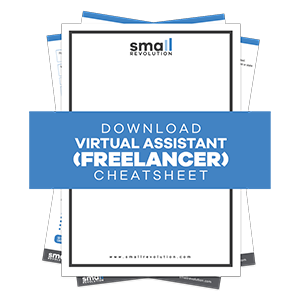 First, you need to understand the retail rate. GoDaddy.com, one of the oldest and biggest registrars out there offers around $9 per year for a basic .com domain.
Meanwhile, NameCheap offers .com domains for $10.29 per year while Gandi offers it for $15.50. Sometimes you'll see a domain that is being sold for far more than $9. Domains can go for something like $2,000 or more!
The most expensive domain ever is VacationRentals.com, which was sold for $35 million in 2007. A highly priced domain is one that people value, usually because it already had visitors to the domain or it is a very generic and easily recognizable word.
For example, in October 2010, the domain sex.com sold for $14 million making it one of the most expensive domain names ever.
If you are a small business, a quality brand name should cost you around $500 to $2,000. A mid-level business could spend $5,000 to $20,000 for a domain, while a larger business could spend over $20,000 to $50,000 for a premium-quality domain.
Whatever budget you end up putting aside for a domain name, in the end, you're more likely to get more than your money's worth for a really good domain name.
A quality domain is a brand and a marketing tool. You plunk down cash once for the benefit of an image and identity that will help you stand out from your competitors. This will stay with you for as long as your domain registration lasts.
Step 4: Be Careful Of Optional Extras
When you've narrowed down your choices and bookmarked a few likely domain registrars, the most important part is to read the fine print. While a lot of registrars may offer enticing freebees, you have to make sure as well that there are no additional costs for services that you don't need or are not willing to pay for.
Here are a few terms to look out for and be wary off when looking through the service contracts of domain registrars:
1. Transfer-out fees. A transfer-out fee is a hidden fee that will be charged to you if you opt to move your domain to another registrar. Not only is this a violation of ICANN policy, but it can cost you 2 to3 times more than your or original registration.
2. Pay as you go. If you agree to pay as you go, you make a multi-year, interest-free loan to the registrar. The registrar will ask you to register your domain with them for a set number of years – say five years– and pay them for it.
However, once they get your money, they pay the registration for your domain for only one year. For the rest of your term, they'll renew your registration annually.
While that may not be a bad thing, some less scrupulous registrars will use it as an excuse to give you poor service. The reasoning being is, if you get fed up and leave, they get to pocket the rest of your registration fee, increasing their bottom line.
3. Whois edit fees and locks. Whois is a publicly accessible database which lists the details of domain registrations. You're supposed to be able to change and edit your own Whois record. However, some registrars may try to charge you an "administration fee" for editing your Whois record. Make sure that your registrar grants you access to your Whois records.
4. Privacy services. Some registrars will try to get you to pay extra for "privacy services", "Whois masking" or "private registration". This basically means that they will put their own info in the Whois record instead of yours. While this is ostensibly to ensure that your details are not public, it's not necessary or advisable.
ICANN recognizes the details given on the domain Whois record as belonging to the legal owner of the domain name. Allowing your registrar to control your Whois record is basically giving away your legal ownership of the domain.
If your concerned about spammers and marketers getting your addresses, fax numbers and email addresses from your Whois record, there is a free service to protect yourself with called MyPrivacy.ca.
5. Registrar-lock. This is not necessarily a bad thing as, if a registrar lock is set, it prevents unauthorized domain transfers. However, much like with control of your Whois account, you have to make sure that you are given the ability to turn the registrar-lock on or off yourself.
6. Domain auth-code. To further guard against unauthorized domain transfers, a domain can have a domain auth-code. You need to input this code before a domain will transfer. While it's not a bad thing to have, once again, make sure that you have control and get the code from your registrar.
Step 5: Check That You Can Get Matching Social Media Accounts
It is no good to register a domain such as prettyflowers.com and then find you can't also use the domain name in your Facebook, Twitter, YouTube, Pinterest or other social media accounts. Ideally, for branding and identity purposes, your domain name and social media accounts should match or be similar.
Before you go ahead and register your domain name, it is a good idea to check the availability of your domain, or some derivative of it in the social medial channels. Here are some examples of free, web-based services that look at the availability of your user name on multiple social media sites. 1.
3. Name Checklist
Go here for even more examples. Keep in mind, even if you can't get your exact domain name, you can try to add a word like "store", "online" or "web" to change it a bit while still remaining easily associable.
Going back to the prettyflowers example, you can have prettyflowers as your domain name and use "prettyflowersstore" for your Facebook and "prettyflowersonline" for your Twitter.
Step 6: Learn How To Register Your Domain
As we've noted before, different registrar's offer different prices and terms of services, they also have different processes for registration. Here are some links to how-to-guides from registrars.
For Hover.com
For Gandi.net
For Enom.com
For GoDaddy.com
Here is a list of some of the top registrars globally.
Final Checklist
To guide you on registering your domain with a legitimate and reliable registrar, make sure to:
First, understand what a domain registrar
And make sure that the registrar that you're going to register to is accredited by Internet Corporation for Assigned Names and Numbers (ICCAN)
Registering your domain name comes with a price, make sure to prepare for payment.
Be careful of optional extras that may mean additional costs.
Check that you can get matching social media accounts with the domain name that you chose.
Each registrar has different prices, terms and registration processes, so make sure you learn how to register before proceeding.
Click here to download your FREE Learning Style cheat sheet.
Photo courtesy of Freepik from rawpixel.com