The aim of this guide is to help you FIND QUALITY DIRECTORIES that you can submit your store to without having to worry about Google penalizing your search engine rankings in the process.
Link building is an integral part of SEO or Search Engine Optimization and has rapidly risen to become one of the most popular strategies for increasing traffic to your site.
But some people don't really know how to do it properly or in fact do it so badly that it actually hurts the rankings of your online store, and this is where the risk lies.
Think of links as streets between different pages on the internet and clicking on one will lead you to a certain page.
Google saw the power of links and in 1997 they created an algorithmic method to determine the importance and popularity of these links.
That algorithmic method is now commonly known as PageRank and it has significantly changed how we view the internet today and this is especially true for business.
Google knew about people using links to exploit the algorithm and so they decided to do something about it. Of course the algorithm itself was not available for public viewing.
But through years of experience and observation, experts have found a way to know how to properly improve PageRank without triggering the wrath of Google.
As you can see from the letter from Google below, this is the communication you definitely don't want to get!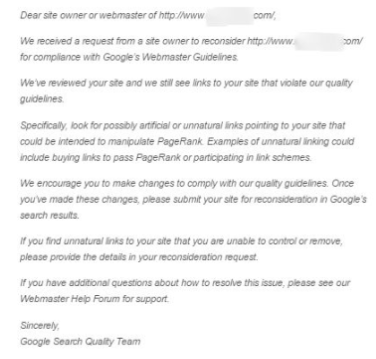 So how, exactly, do you build links safely to not only increase the traffic to your site but also improve your rankings on search engines?
There are many ways, some of which are more sophisticated than others, and they include:
Website directories
Press releases
Guest posting
Product reviews
Job listings
Sponsorships
And many more
These are only a few methods that you can use for link building, but in order to be more efficient, let's take it one step at a time.
This how-to guide will only cover how to find good quality, niche-relevant directory backlinks for your store.
With that out of the way, let's get started shall we?
Step 1: Learn What Web Directories Are And How They Make Money
Many people know something web directories and how they can be beneficial to their business on the internet. But most of them don't really know how directories make money to stay afloat.
Think of directories like the yellow pages of the internet where you can find listings of various businesses and companies. But unlike phonebook yellow pages, directories are more varied and are people can find better sites for more specific niches.
Web directories usually make money either through paid listings where different sites pay them to be listed or through Adsense where they have paid ads on the site directory itself.
Of course some directories also offer free listings which are also a great way to get organic traffic to your site but at the cost of being less prominent on the directory.
Just like yellow pages, a lot of people go to web directories to find and discover online stores, businesses, and websites dedicated to certain niches. And because of this. directories in a sense, help categorize and organize the internet more accurately.
Step 2: Discover The Intricate and Subtle Differences Between Good and Bad Directories
Now that we know how directories make money, it's time to differentiate the good from the bad ones so that you won't get penalized by Google and other search engines.
Using A Few Guidelines with Common Sense To Weed Out The Bad From The Good
Checking and looking at the directory will generally give you an idea if it is good or bad. But here are a couple of guidelines or tell-tale signs that you would want to avoid or use that directory for link building.
Sign 1
Bad: Having a lot or too many advertisements plastered all over the directory and this means it's a bad directory. Bad directories also have advertisements that are not related to the niche.
Good: They have little to no advertisements and usually the ads themselves are relevant to the niche.

Sign 2
Bad: Directories that don't have a good aesthetic design of the site and bad images that don't look good in general.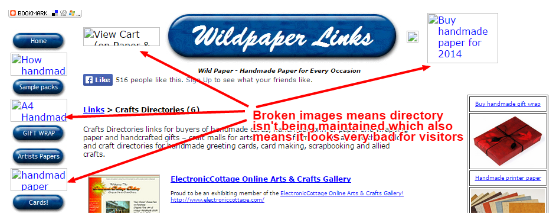 Good: Great looking design which looks very professional and reputable. But good directories also sometimes have bad design or bad images so investigate further.
Sign 3
Bad: Directories that have no blog or out-of-date blogs.
Good: Directories that have up-to-date blogs or have updated them at least once or twice in the past month or so.
Sign 4
Bad: Blatantly talking about linking and link exchange for better page rankings is a very obvious sign of a bad directory. Also check if all the menu or options on the directory obviously want to offer site listings and link collecting.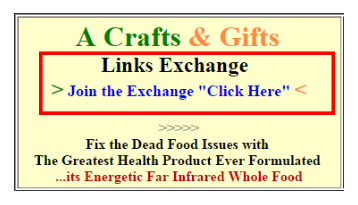 Good: Directories that ask for content sharing instead is a good sign. This means that they aren't only in it for the links to increase their traffic and cash flow. Directories that offer content will get more organic traffic which Google and other search engines like.
Sign 5
Bad: Directories that have little to no unique or interesting content to offer and just offer site listings and such.
Good: Directories that have interesting and valuable content and information to offer visitors and not just link exchange or collection.
Sign 6
Bad: Directories that have the type of businesses listed on the wrong section or category. For example, having pet care related sites listed on the construction category.
Good:
Niche directories will have
correctly listed
niches on the appropriate categories.
Step 3: Download Our Directory Spreadsheet To Record Potential Niche Directories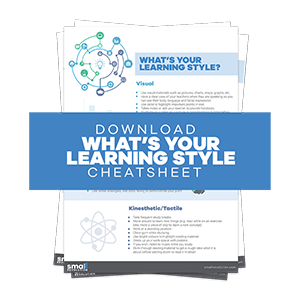 The first step to link building through directories is to find quality, reliable and trustworthy directories.
At this stage we won't be determining if they are good or bad for now, but instead just collect as many as you can and record them.
So copy our template spreadsheet and use it for the upcoming steps.
Step 4: Go to Google.com and type in "[Your Niche] directory"
This search will look something like "paper crafts directory" as seen below.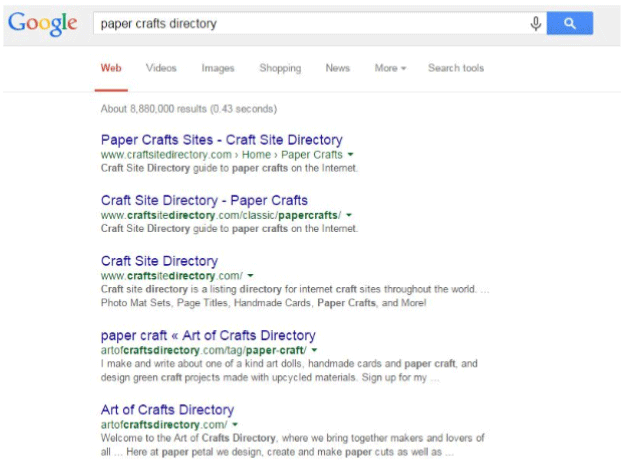 Visit the websites and copy the domains of the directories you have found and record them on the spreadsheet.
Also take note of the region of the directories since they may or may not let you submit your site if you're not from that geographic region.
Step 5: Find More Directories For Your Niche By Searching For Listings
Search for niche lists by typing in Google.com "[Your Niche] Listings/Lists", which will look something like "paper crafts lists" or "paper crafts listings", as shown below.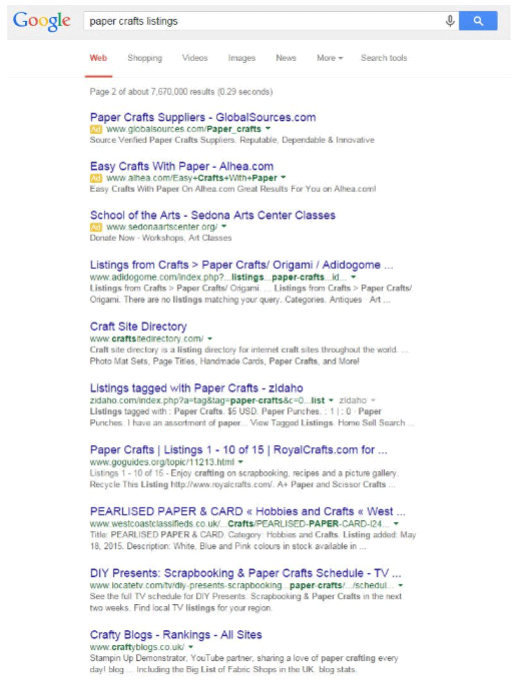 NOTE: If your niche is more specific, it will take some time to find actual web directories and listings that you can submit your site.
Step 6: Use Online Tools To Broaden Your Research
You can use WebStatsDomain when you find a known niche directory to find suggestions for similar sites as shown below.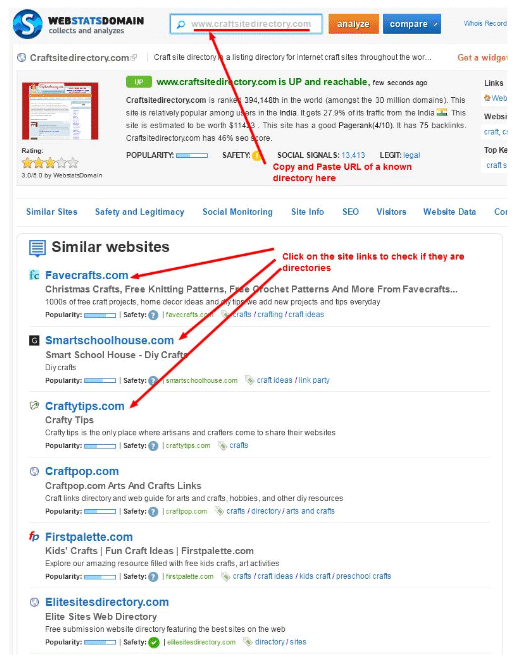 After confirming that the similar sites are directories which have the category of your niche, you can record them on your spreadsheet.
Step 7: Use Advanced Search Operators To Find More Directories
You can get better results when you use advanced search operators on your Google search like:
allinurl
allintitle
allintext
To use these advanced search operators, simply type in, "allinurl:[your niche] directory", as shown in the example below.
Record the directories you have found using this method to your spreadsheet.
Step 8: Double Check For Duplicate Entries In Your Spreadsheet
Once you have finished using all the methods mentioned in the previous steps, check if there are any duplicate entries in your spreadsheet and prune them since you might submit your site again and will be marked as spam by the directories themselves.

Step 9: Use Ahrefs To Get More Details And Confirm The Directories Are Actually Good
So you have finally narrowed down your list of directories that MIGHT be good for your site to be submitted.
But just to make sure that the directory you choose is actually good you should use Ahrefs to get a better look at the data and statistics of the directory.
Go to https://ahrefs.com on your browser and click on the "Register Free Account" button at the top right corner of the site, as shown below.

For now you will be registering as a free user since we will just be using Ahrefs to check for directories you have acquired.
Once you've done that, login and type or paste the URL of the directory you want to check on the site explorer bar and then click the search link button.

You will be displayed a variety of information and data regarding the directory
Then you should use the following factors from Ahrefs to get an idea if the directory is good or bad for link building:
Global Ranking
Domain Rating
URL Rating
Backlinks and Referral statistics
The graphs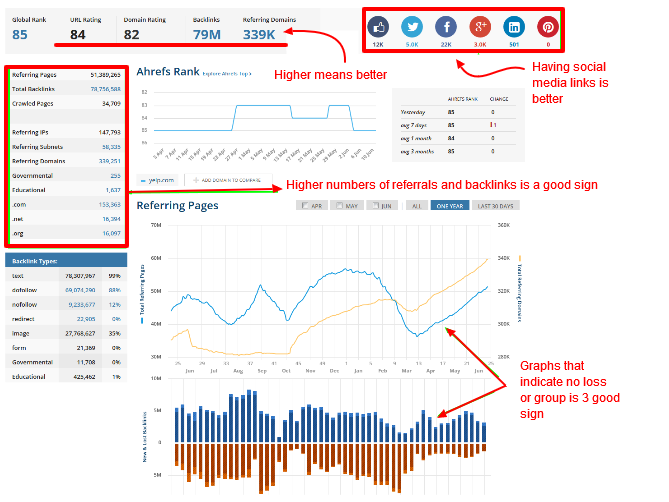 Now compare this to a bad directory Ahrefs result as seen below.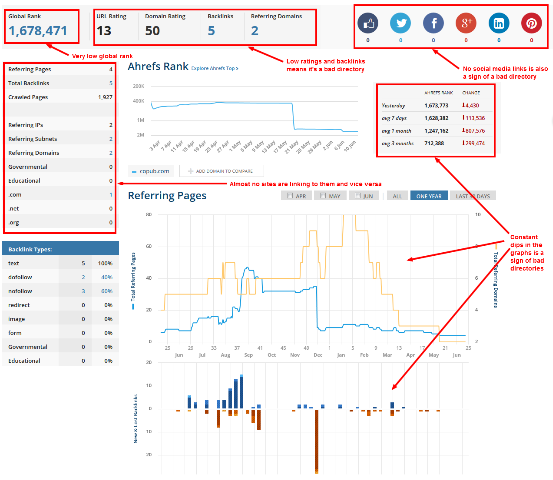 Mark and highlight the directories that look bad upon closer inspection using Ahrefs as to be ignored as shown below.
Step 10: Submitting Your Store To The Directories
Once you've marked and narrowed down all the directories that you think are good, open your spreadsheet and we will be starting the process of adding your site to the directories.
Directories usually have a "Submit Link" button somewhere on their site and you will click that to be forwarded to the submission form page, as shown below.

On the submission form page, they will usually have either have a free or paid option.
In this guide we will use the free option for now.
Next thing to do is filling up the necessary fields and the required ones by the directories such as
Title of the link
URL
Category
Description
Owner name
Owner email
Meta keywords
And so on.
Fill up the description field because a good description has a higher chance for visitors to click it.

Most of the good directories usually have a spam captcha to deter general spam links and bots from spamming directories with their sites, as shown below.
So fill that in with the code and then tick the submission rules agreement or something along those lines and you've successfully submitted your site to the directory and will have to wait for the approval.
Make sure to mark the directory on your spreadsheet as "Submitted" so as not to send duplicated or multiple links to them. Also write down the date it was submitted so that you have a reference when checking for the approval of your listing.

Some directories also require you to sign up for an account, so make sure to record the username and password on the spreadsheet so you can have easy access to the login details.
The approval of the directory submission would usually be approved around 24 hours to 7 days, so check your email regularly and also check the directory as well.
Step 11: Add A "Supported By" Page If Directories Ask For Link Exchange
Some directories will be asking you to link back to them and this can be very beneficial for both parties and will give your site more authority and reputable in the niche as well.
This step SHOULD be done before submitting to a directory if they ask for a link exchange or reciprocal link URL from your site.
First you need to create a "Supported By" page on your store.
Next is to find their link exchange page where you see a raw HTML code with simple text descriptions and some directories also give out banner images for you as well, as seen below.
Some directories may not have a prepared text description for you to copy and paste to your "Supported by Page".
So it is also a good idea to make your own short and sweet description if the directory doesn't supply you with one on their link exchange page so that you will give your visitors an idea of what the directories you have linked are all about.
Before you submit your site to the directory, copy and paste the link of your "Supported By" page (http://example.com/about-us/supportedby)
submission form as shown on the examples below.
Once you have completed your "Supported By" Page, then you can finally submit your site to the directory and the page will look like this:
Final Checklist
Now before you go ahead and submit your site to directories here is a final checklist of things you need to double check so that you don't make any mistakes and get penalized by Google and other search engines as well as the directories themselves.
Use the many methods listed above to search for directories related to your niche. It can be hard for more specific niches but try using methods like advanced search operators on Google search or WebStatsDomain for more results.
The guidelines with common sense is a good way to determine the good from the bad directories, but don't forget to use Ahrefs to get more insight of the directories and confirm that they are really good.
Some directories require you to link back to them. This is a simple task for you or your webmaster to do, so don't skip out on any directories that request you to do them
Always remember to mark the directories on your spreadsheet as either "Ignored" or "Submitted" once you have started on the process of narrowing down the list of directories and successfully submitted your site to them to avoid any confusion and duplicate submissions.
Last but not least is to wait patiently for your submission to be approved and always to check your email and the directories regularly.
Photo by Freepik / CC BY