You have an upcoming online tutor interview but have no idea what to anticipate. You're nervous.
That's normal since you don't know which questions the interviewer will ask.
Explaining why you're the ideal candidate for the job is tough, but you can secure the online tutor job you want with adequate preparation.
We've compiled a list of common online tutor interview questions to prepare you for that critical day.
Whether you've attended online interviews before or it's your first time, knowing the answers to these questions can make all the difference. It increases your chances of emerging victorious in your online tutor interview.
Here are the six most common online tutor interview questions:
What do you do to ensure student participation in an online environment?
What strategies do you use to support different learning styles?
What support would you give to a struggling student in your online class?
What are your strategies to ensure equal participation in online discussions?
What makes you the ideal candidate for this position?
Why would you want to work with us?
We find out the answers below.
Question #1: What Do You Do to Ensure Student Participation in an Online Environment?
This common question pops up in most online tutor interviews.
With this question, the interviewer intends to determine what strategy you use to spark enthusiasm among learners towards the class. What methods do you use to encourage your learners to stay on?
When responding to this question, give scenarios of how you motivate and engage your students during an online class.
It's critical to keep students engaged, especially in a digital environment. That way, you'll help them comprehend the course material and make academic progress.
Let the interviewer know that learners aren't equal, and every one of them has different capabilities.
Stress on the need to encourage them to participate in their learning since it impacts their overall grades significantly.
Question #2: What Strategies Do You Use to Support Different Learning Styles?
This question reveals to the interviewer how you consider your students' various backgrounds and learning styles.
Demonstrate to the interviewer the various tactics you use to accommodate students in all learning styles in an online setting.
Tell them how you enjoy coming up with innovative ways to vary your classes, activities, and assessments, so all learners feel included.
Mention how you use student interest surveys focused on learning styles and preferences to know your students' needs.
Question #3: What Support Would You Give to a Struggling Student in Your Online Class?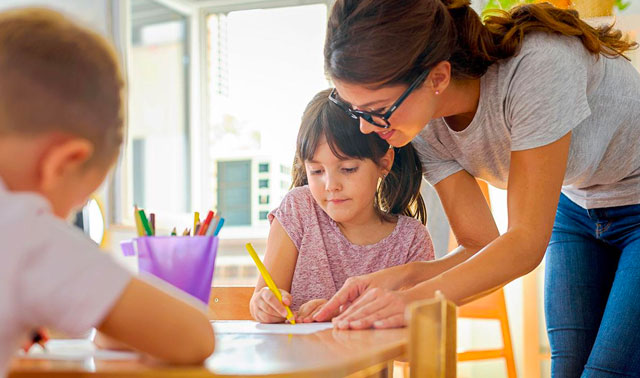 Students may encounter obstacles when learning new topics.
Many interviewers ask the above question to evaluate how you support and guide individuals experiencing difficulties with their coursework.
When responding to this question, use examples from your own experience to show how you make sure learners get the help they need when they face problems.
Explain to the interviewer how you encourage students to take advantage of one-on-one sessions.
Let them know that you can schedule time to meet with learners experiencing difficulties understanding course material and sessions.
Describe how you spend ten minutes at the start of each session answering questions regarding the previous day's lesson and reviewing complex topics.
Inform the interviewer that you're always accessible to assist your students via email and in-class communication channels.
Question #4: What Are Your Strategies to Ensure Equal Participation in Online Discussions?
The interviewer is probably aware that getting all students to participate in an online class can be difficult.
They're interested in learning how you can encourage full class participation.
When responding to this question, ensure you emphasize your abilities to control class discussions and how you get learners to participate, so no one dominates the conversation.
Let the interviewer know that you first set expectations for students when conducting class discussions on relevant themes or current events as a moderator. Explain how you then invite learners to offer suggestions on how the debate should go.
Inform the interviewers that you offer students equal time to contribute ideas and raise concerns during active class discussions.
Take a look at this photo of a tutor giving students an equal opportunity in a discussion: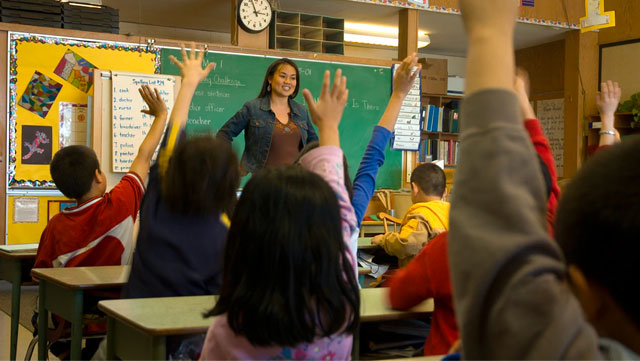 Question #5: What Makes You the Ideal Candidate for This Position?
This question is common in any type of interview.
Here, the interviewer wants to know why you're a better applicant than the rest of the interviewees.
They want to determine whether you know what they're looking for in a candidate and that you can do the job if hired.
One of the objectives of an interview is to see whether you're a good fit for the role and the company.
You also need to consider whether the role fits what you're looking for in your career journey.
When responding to this question, sell yourself to the hiring team and persuade them you're a standout prospect. Underline your distinct abilities. Mention any capabilities you have that make you the strongest contender.
Some job descriptions mention the company's expectations of the ideal candidate. However, if they aren't, look at occupations of similar skill levels to determine what employers are looking for.
Another approach is to demonstrate to the company that your previous accomplishments qualify you for the position. Give specific examples of your achievements relevant to the job you're being interviewed for.
Question #6: Why Would You Want to Work With Us?
Interviewers love to ask this question to determine if you make a good match for the organization. Would you be an excellent addition to their current staff?
Employees committed to the firm's mission and values are more productive and remain longer at the company. The recruiting manager attempts to determine whether that person is you.
Before the interview, ensure:
You've done your homework on the company
Your beliefs are aligned with the company's goals
You're enthusiastic about working there
The recruiting manager won't hire someone simply interested in making money. Learn everything you can about the organization before the interview.
Create a response that highlights how your ambitions align with the organization's principles. For example, if the company promotes community service, mention your volunteer work and how you want to be a part of a team that helps others. Always connect your response to your personal experience.
Additional Tips for a Successful Online Tutor Interview
With the right skills and experience in tutoring, online tutor interview questions shouldn't worry you. In addition to familiarizing yourself with the above questions, the tips below can help you emerge victorious in your online tutor interview:
Watch your body language. Sit up straight and smile during the interview to show your self-confidence. While listening, nod to signal that you're paying attention. Maintain eye contact while holding the camera at eye level.
Prepare your interview space. For your online tutor interview, choose a quiet, well-lit location. Find a blank background—such as an empty wall—to sit in front of if possible and keep you as the focus point.
Pay close attention to the interviewer. If you're unsure what the question is about, ask for clarification or repeat it in your terms. Concentrate on the topic at hand.
Put your phone in another room or turn it off. Turning off your phone for a half-hour will ensure you aren't distracted.
Always arrive on time. Get ready for the interview 10 to 15 minutes before the scheduled time. Interviewers often prepare in advance, and so should you.
Check your grammar. Employers are looking for applicants who can communicate effectively. Accuracy overrides grammatical fluency, even if it means taking your time and correcting yourself.
In addition to the above tips, the video below shows how to ace an interview:
Ace Your Skills for Your Next Online Tutor Interview
Ace your skills in readiness for your next online tutor interview with Small Revolution.
We're a community, an online learning platform, an article library, and a bookshop all rolled into one.
We offer certification courses if you want to improve your online earning potential.
Thea, one of our graduates, had this to say about us:
…I have now been hired by FilterBuy and will be starting to work very soon. I am very excited…

Thea
Visit the Small Revolution blogs today for more online work insights and career guidelines.
Frequently Asked Questions
What is the procedure for applying for the Small Revolution scholarship?
Fill out the registration form. Include your name, email address, and answers to the questions. Visit the Small Revolution Scholarship page for details.
Can the Small Revolution Scholarship assist me to learn quickly and get a job sooner?
Yes. Our mission is to assist people to develop the skills, knowledge, and attitude needed to work effectively online. Your chances of landing a job sooner depend on your motivation to clear the course and class performance.
How much does an online tutor earn?
According to Preply, here's a summary of what online tutors earn:
| | |
| --- | --- |
| Discipline | Hourly Rate in US Dollars |
| Business | 29.13 |
| Latin | 30.72 |
| Danish | 30.33 |
| Music | 24.97 |
| German | 24.48 |
Share on Facebook: