Whether you're a college student working as a part-time social media manager or an established graphic designer, you'll need to edit your photos to represent your idea or brand.
But how do you conveniently learn photo editing skills? By taking a GIMP course on virtual learning platforms like Udemy and Skillshare, which offer flexibility and convenience.
GIMP (GNU Image Manipulation Program) is the go-to photo editing software for graphic designers and photographers alike because:
It's easy to use
It's free software
It has many editing tools
It's beginner-friendly
Today you'll learn how to produce high-quality images with these 5 online GIMP courses that'll cement your branding and help build more credibility for your business.
1: Learn GIMP (Skillshare)
Created by accomplished visual artist and illustrator Brendon Schumacker, Learn GIMP is a beginner-friendly course that includes valuable insights on design creation, illustration, and photo editing.
Throughout the 6.5 hours long course, Brendon takes you through different course modules focusing on how to:
Install the GIMP software
Adjust color in your images
Navigate using hotkeys
Set up your work environment
Use the most common GIMP tools
The step-by-step tutorials are expounded through practical projects like drawing cartoons or illustrations, creating designs, and manipulating many photos.Overall, Learn GIMP is an excellent course for beginners. It's hosted on Skillshare, which offers more than 42,000 courses and free trial access for new users.
2: GIMP Essential Training (LinkedIn Learning)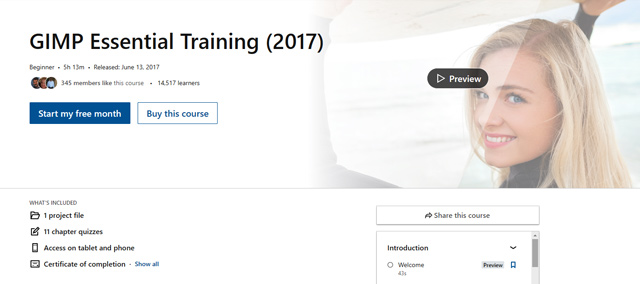 GIMP Essential Training is a beginner-friendly course that teaches you to edit photos effectively.
The LinkedIn Learning 5-hour course is divided into chapters, each carrying detailed explanations on GIMP tools and techniques.
The course tutor, Mike Rankin, is a professional instructor at LinkedIn and editor-in-chief of InDesign magazine (and 2 other design companies). In other words, he has massive experience in the design industry.
He covers these diverse topics to help you boost your photo editing skills:
Working on document templates
Retouching images
Using paint tools, masks, and filters
Printing images from GIMP
The course comes with practical class projects, downloadable resources, and a certificate of completion.
Expert Tip: If you're an aspiring logo designer or illustrator, this course is an excellent stepping stone that helps you learn techniques and design aspects like layer masks and selection.
3: GIMP 2.10 Masterclass: From Beginner to Pro Photo Editing (Udemy)
Whether you're a beginner or an experienced GIMP user, the GIMP 2.10 Masterclass has valuable lessons for you.
Michael Davies, a professional photographer with 10+ years of experience using GIMP, takes you through the basics all the way to more complex image retouching and photo editing techniques.
As the owner of Davies Media Design, which provides services and training on using GIMP, Michael knows his way around the industry, and this class portrays that.
It's no wonder that the 37-hour master class is considered one of Udemy's best sellers, with over 10,000 enrolled students.
Once you enroll for the course, you gain full lifetime access to:
8 modules
250+ lectures
70 downloadable resources
Quizzes and assignments
Some of the topics to expect from this fastest-growing GIMP course on Udemy include scaling and cropping, in-depth editing, lighting effects, and selection tools.
The best part? You'll receive a certificate of completion after finishing the course.
4: Drawing with GIMP 2.10 (Skillshare)
Most people assume that GIMP is only used for editing photos, a concept far from the truth.
Besides being an excellent photo editor, the software is a great tool for graphic design and illustration. So you can also use it for these two purposes.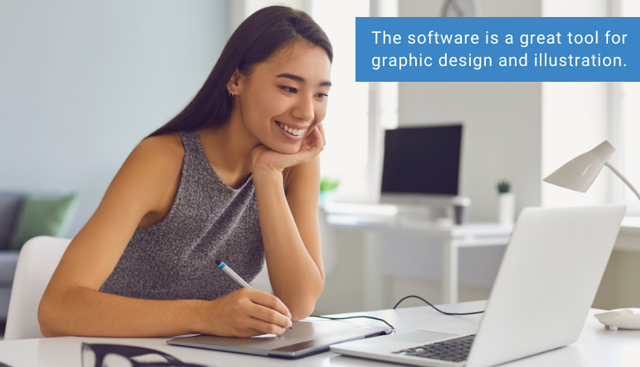 Related: How To Write A Basic Logo Design Brief For Graphic Designers
In this value-packed 1-hour class, graphic designer and illustrator Gaia Marfurt takes you through the major components of creating illustrations on GIMP, including colors, distortions, and other editing elements.
Drawing with GIMP 2.10 is dedicated to both beginners and Gaia's former students who've completed their previous class (GIMP 2.8).
With great reviews and insights from Gaia's graduates on Skillshare, this class is worth the investment.
Joanna, a past student, says this about the top-rated tutor's class:
A brilliantly informative class…Gaia shows you step by step how to create your offset pattern. Invaluable!

Joanna Pass
5: GIMP 2.10 Made Easy for Beginners. Learn GIMP from a pro! (Udemy)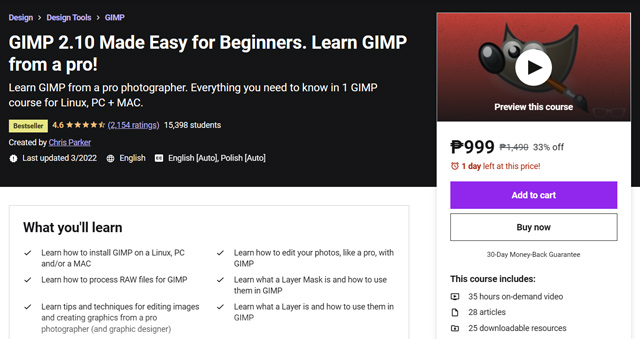 With over 30 years of experience in graphic design, professional photography, and image editing, Chris Parker provides priceless insights on every aspect of GIMP in this unique course.
GIMP 2.10 Made Easy for Beginners caters to every GIMP learner, guiding them through all they need to know about the software.
Chris takes you through what GIMP's latest version entails for designers and introduces the new tools. He divides the course into two sections: Basic and Advanced, both covering practical aspects of GIMP.
While the basic level caters for beginners, the advanced level targets designers with a little knowledge on GIMP.
Throughout the 35-hour course, you get to learn about critical GIMP editing tools and techniques such as:
Photo manipulation
Using RAW files
Editing with brushes and palettes
Enrolling in this course gets you access to 28 articles and 25 downloadable resources for offline learning. You'll also find live assignments, which help you gain practical knowledge on GIMP.
Overall, GIMP 2.10 Made Easy for Beginners is an excellent course to boost your photo editing skills from beginner to advanced levels through a GIMP pro's perspective.
Enroll For Online GIMP Classes at Skillshare
Skillshare is an online learning platform with courses and specializations taught by experts in different fields like business, art, graphic design, photography, and music.
For a small monthly fee, you get access to over 42,000 self-paced classes, and you can watch and complete the lessons and assignments at your convenient time.
In the following table, we compare 3 more GIMP courses available on Skillshare:
| | | |
| --- | --- | --- |
| GIMP Course | Description | Course Link |
| Learn How To Use GIMP To Edit Your Photos Like a Pro | The 9 lesson course covers basics of GIMP, from installation to the 7 selection tools | Click here |
| GIMP for Beginners 11: Photo Manipulation, Enhancement and Correction | Learn how to manipulate photos, remove blemishes, add effects, and remove red eye on your images | Click here |
| Simple Image Editing Using GIMP | The entry level course teaches you how to edit images using basic GIMP tools | Click here |
Enroll today to access these and many more GIMP courses on Skillshare. Even better, the learning platform offers a 30-day free trial on premium membership, letting you have a glimpse of the classes before committing financially.
Share on Facebook: