Your best friend walks over to your desk. There's a familiar grin on her face.
You know what she wants—another review of her assignment.
You usually tease her, but you actually enjoy being her proofreader.
You love tweaking words and punctuation until every detail on the page is sparkling.
You long to turn this hobby into a source of income. You've scouted for editing jobs, but the market is competitive. Plus, you have no work experience.
Don't toss the idea aside yet.
Online editing jobs are multiplying daily. Many organizations are now adopting the content marketing strategy. This means they can barely operate without a writer and an editor. They need your assistance!
And some of these companies will look past your level of experience and focus on your editing skills.
Science Editing for Cactus
Do you have a background in the sciences? A Master's, Ph.D. or Bachelor's degree in one or more of these fields would qualify:
Engineering
Medicine and surgery
Physical sciences
Healthcare
Material or life sciences
Psychology
If you're educated in any of these fields, consider working as an editor for Cactus. No experience required.
An Overview of Cactus and Their Requirements for Editing Jobs
Cactus Global is an Indian organization that solves science-based problems. They do this by developing innovative products and services.
Wondering what the company needs an editor for? They need editors for Cactus Communications, a branch of the organization that handles research and publications.
From time to time, they have openings for editors. Prior experience is usually optional. Ace their pre-assessment tests and interview, and it's welcome on board for you.
Cactus is more interested in your English proficiency and eye for detail. These are two qualities they test for during the assessments and interviews.
You can work as a full-time editor, a freelancer, or a contractual editor.
Yes, you can work from home. Even some full-time editing positions allow you to work remotely.
Asides from quality checkers for journals and research papers, copy editors are also welcome.
How Much Can I Earn From Cactus' Online Editing Jobs?
According to Indeed, an editor at Cactus can earn as much as $4,000 per month.
This is one of the highest-paying editing jobs online.
If you work consistently, you can also receive a bonus: 20% of your current income.
What's It Like Working for Cactus?
The table below summarizes some editors' experiences working at Cactus:
| | |
| --- | --- |
| Yay | Nay |
| Work hours are flexible | Pay depends on the number of words, not the complexity of the work |
| Relevant training, courses, and materials | The writings are usually technical: editors must be deeply rooted in the sciences |
| Maximum team support | Editing gigs aren't always available |
| For most editor positions you can work from home | No diverse subject areas to cover; science only |
Cactus is a better-than-average place to start your editing career. You'll be able to challenge yourself and build your portfolio for future proofreading jobs.
All-Round Proofreading for ProofreadingServices.com
Blogs, dissertations, film manuscripts, you name it. You can edit a wide range of topics and categories for ProofreadingServices.com (PSC).
This company welcomes entry-level, intermediate, and professional editors.
An Overview of PSC and its Requirements for Editing Jobs Online
PSC offers electronic editing services to businesses, universities, and individuals. They're always looking for skilled editors to join the team.
Entry-level editors handle basic proofreading, while professionals take in-depth editing jobs.
So what does your work as an entry-level proofreader entail? As the company puts it, you'll erase "embarrassing errors" from documents. You'll look out for:
Grammatical errors
Flow of sentences
Typos
Tense errors
Structural consistency
Punctuation errors, etc.
To join PSC, you need to score 95% or above on their preliminary test.
Once you're on the team, it helps to be seasoned with popular writing styles (ACA, AP, APA, etc). This is because you'll receive editing opportunities in various subjects, categories, and styles.
How Much Can I Earn From ProofreadingServices.com?
You can earn between $19 and $46 (USD) per hour in this position. This is better than what most editing jobs online are paying.
How do they determine your pay? Project prices depend on their turnaround time. If the task is urgent, you'll get paid a higher sum per hour. And vice-versa.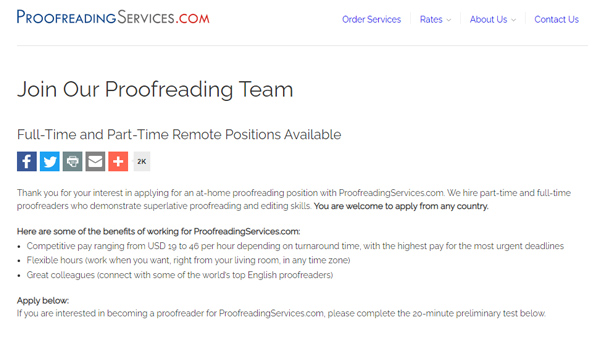 What's It Like Working for PSC?
The table below summarizes a few editors' experiences at PSC:
| | |
| --- | --- |
| Yay | Nay |
| Work hours are highly flexible | Articles written by non-native English speakers may be difficult to edit |
| Training is tailored to each editor's learning process | Editors must be skilled in various writing styles, and in citing references |
| Maximum team support | Pay depends on turnaround time, not the complexity of the work |
| Diversification: you can be a copy editor, content editor or even book reviewer at different times | The pay is average |
| Learn about cultures and educational systems/writing styles | No financial benefits asides the regular pay |
PSC is professional, organized and welcoming. It's also an award-winning organization.
Build Your Editing Skills
With thousands applying for online editing jobs, you should stand out.
How do you achieve this?
Gather enough knowledge to ace tests and interviews
Be confident in your work
In the proofreading business, having no experience doesn't mean you're less considerable.
Inexperienced freelancers are in demand. Whether you're considered or not will depend on how you position yourself. Present your values, knowledge, and minor achievements confidently.
This begins with continuous learning. Enrol in an eCommerce and SEO course on Small Revolution.
Not only can you work from home, you can learn from home too.