So you've completed your assignments and done some extra reading. You have even caught up on social media, yet, you're still wide awake.
Sure, there are times when your school schedule can be overwhelming. Other times, you find yourself idle, watching videos of dancing cats.
Why not use that spare time to earn some extra cash? Or even better – learn a new skill?
We have all seen online job ads and currently, most of these are freelance jobs.
But what happens if you're not a freelancer? Does this mean you cannot work online?
Absolutely not! There are jobs you can do part-time while still focusing on your academics.
Setting a routine will also help you stay on track and be able to juggle both school and work.
Let's get started, shall we? Check out these remote jobs…
Education-Based Online Jobs
Not everyone can be a teacher. But if you have a solid grasp of a certain subject, education-based jobs could be an option for you.
Advancements in technology make it easy to communicate with students. And the good news? You only need to be available for a few hours each day.
Keep reading and see how education is creating online jobs for students.
1. Online Tutoring
Online tutors use technology to provide guidance and supplemental lessons to students. The common methods of communication include face-to-face video conferencing and voice conversations.
Tutoring does not always require any special teaching certificates. Many of your students will be prepping for exams and tests.
All they need is guidance on topics they don't fully understand. This is especially true for subjects like English, maths and the sciences.
The process begins when you register with an online tutoring company. After registration, create a profile with your information, credentials and tutoring preferences.
Make sure you have the correct equipment. These include headphones, speaker and a digital writing pad and pen if necessary.
Things Online Tutors Do
Encourage critical thinking in students
Use their available resources to communicate
Make the learning sessions fun
Change their techniques according to student's learning style
Instill a sense of confidence in the student
Promptly assess homework and give feedback
Align their lessons with classroom-based teaching
Be willing to learn and engage students
Apart from supplementing school subjects, you can focus only on teaching English. You can target this expanding market in Asia by tutoring pre-adolescent children.
Potential earnings: $10.50 – $60 per hour.
Get started: Take a look at this list of 15 websites offering online tutoring jobs.
2. Create an Online Course
If you have a valuable skill, why not put that information to good use and make some money?
You might be studying a technical skill that you have mastered and can teach to others. Or your life experiences and talents give you the ability to create content around a topic.
Topics can range from photo editing to cooking comfort food. The first step is choosing a topic that is in demand and will attract students.
Some questions to ask yourself are:
Are people talking about your topic?
Do people have unanswered questions about your topic?
Is there a gap in the market?
Is your idea different yet relevant to the market?
Your course needs to include clearly stated learning outcomes. This helps students see the benefit of taking your course.
Will they be able to demonstrate a new skill? Will they gain knowledge? These are questions that need to be answered before promoting your course.
Creating, recording and editing the course content will take the most time and effort. Include credible research to back up your personal experiences. This will make the outcomes tangible, actionable and worth paying for.
Decide on a mode of delivery such as video, audio, text and online activities. The format should be easy to understand and convey the learning outcomes succinctly.
An important step before creating a full fee-paying course is to launch a pilot course.
By selling a small part of your course, you can test the waters and see if there is a paying market for your course idea.
Set your pricing according to the price of your full course. Use this formula to determine possible pricing for a pilot course.
Full course price multiplied by the percentage of content in the pilot course = pilot course price.
For example, let's say you plan on charging $500 for a complete course. Your pilot is 20% of the content material, then a reasonable fee would be $100.
Potential earnings: From $200 per month. This is the average for first-time teachers and usually increases with time.
Get started: See how to create your course on Skillshare. Other sites for creating courses include Teachable & Udemy.
Sell Products Online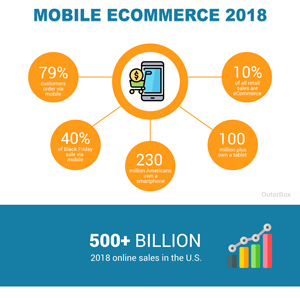 E-commerce businesses make millions advertising and delivering goods across the world. You can become part of this supply chain just by sourcing your own goods.
This job allows you to own a shop, without the process of creating and managing an online store.
3. Resell Products on Amazon
If you have an eye for bargains, reselling items is made easy with Amazon's Fulfillment by Amazon program. The program lets you 'own' a store on the site where you advertise products and resell them at a profit.
You simply buy inexpensive goods and ship them to Amazon's fulfillment centers.
When the client buys a product from your site, Amazon ships the goods and you get paid. You make money by placing a mark-up on the original price of the item.
Potential earnings: What you earn is dependent on the price of your products & sales per month.
Get started: Take a look at this instructional video on how to use FBA.
4. Sell Printables on Etsy
You don't need to be a graphic designer to create printables. Just find a niche market and create a design that will attract customers.
Printables are simply pieces of artwork that are downloaded to be printed at a fee.
Popular printables include party ideas, meal plans, checklists, financial trackers and calendars.
Once you create your products, you list them on Etsy for a fee of $0.20 each. Canva is an easy-to-use online tool for beginners. Adobe Photoshop and Illustrator are great for seasoned users.
The best thing about this online job is that once you create a product, all you need to do is refine the descriptions to earn passive income.
Potential earnings: $500 – $1,000 per month. This depends on the attention your product attracts and sales per month.
Get started: Etsy would be the most obvious place to start for information before you dive in. Check out their advice page for help.
5. Create an Online Store With Drop Shipping
E-commerce has gained a lot of hype with people making a lot of money with online stores. However, they take a long time to create and you may spend hours managing it to be successful.
An easier route is by creating an online shop where you sell third-party products. You can make a profit without ever seeing or shipping the goods.
Customers buy items from your website or eBay, pay you and it is shipped from the drop shipper to the buyer.
The difference between what you charge the customers and what the drop shipping company charges you becomes your profit.
It may sound complex but this infographic makes it easy to understand.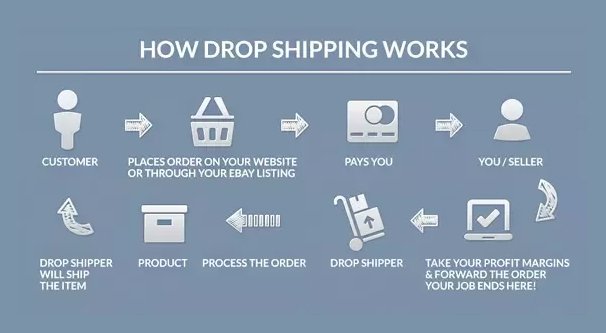 Potential earnings: Earnings range from $100 – $300 per month for a new business.
Get started: AliDropship offers dropshipping stores and guides on all things dropshipping.
Online Jobs Without an Investment
Unless you are sitting on a nest of cash, or your parents are willing to help, there are times when you have no money to invest in starting an online gig.
Relax. These jobs pay you for doing what you probably do best as a student. Thinking and responding. Read on…
6. Complete Online Surveys
Brands are always in need of customer feedback. Lucky for you, one of the most popular ways to get feedback is via online surveys.
As a student, you can share your opinions via your phone or computer and get paid either in cash or gift cards.
All you need to do is answer questions on a range of topics such as product appeal and brand recognition.
Often companies will send you free samples for a trial study. In return, you give them your opinion on the product they are marketing.
Potential earnings: $1 – $6.50 per hour depending on the surveyor and length of the survey.
Get started: This list will help you decide where to start with online surveys.
7. Participate in Research Studies
Research institutions and universities often need people to give feedback on their studies.
Such organizations look for individuals to participate in online studies and their aim is to gain feedback to use in their behavioral analysis.
These studies are usually more complex than online surveys. They may include one-on-one discussions via phone or online.
Some may even need you to go to the research facilities and take part in a focus group.
There are numerous websites offering research-based online jobs for students. If you fit the specified demographic, you're good to go.
Research studies do not take much time and are perfect if you have a few free hours per day to answer questions.
Potential earnings: Earnings depend on the:
Institution you work for.
Type of study you choose.
Amount of time involved.
Payments generally range from $10 – $100 for quick surveys and up to $500 for interviews.
Get started: This guide is a great starting point for an overview of the range of paying research studies.
8. Test Apps and Websites
User testing pays you to give your opinion about various websites and applications.
Website owners aim to create sites that are aesthetically pleasing and easy to navigate. This is where you come in.
Testing tools need you to give feedback as you navigate the website via desktop, mobile or tablet.
You record your impressions of the site and give advice on possible improvements.
You will need recording equipment on your device to deliver audible feedback.
The testing will take around 15 – 20 minutes making it one of the easiest online jobs for students.
Potential earnings: $10 – $60 per test.
Get started: User Testing is a well-known company that will pay you for testing websites.
This video from Userfeel is a valuable tool that gives an example of what you are expected to do.
9. Search Engine Evaluator
These Google jobs are also known as WebSearch Evaluators, Social Media Evaluators, and Search Reviewers.
SEE's evaluate search engine results for quality and relevance. The ratings you provide are then used to determine the accuracy of the search results.
SME's do the same thing, only for social media adverts.
As a potential evaluator, you need to go through an application process, followed by a qualification test based on search quality evaluator guidelines. You will need to read and understand the guidelines to pass the test and upon approval, you can find positions as a tester, rater, or curator.
There are some basic requirements for this online job for students such as:
Fluency in English
Ability to work a minimum of 10 hours per week
Research skills
Potential earnings: $12 – $15 per hour depending on the company you choose.
Get started: Two top companies specializing in this field are Appen and Lionbridge. Take a look at their requirements to see if this is a suitable part-time job for you.
Learn How To Make More Money Online
These jobs are fairly easy and with some effort and dedication, they are available for you to grab as you please.
Undertake something that is difficult; it will do you good. Unless you try to do something beyond what you have already mastered, you will never grow." — Ronald E. Osborn
However, if you want to move up a level, explore the field of freelancing which is both challenging and rewarding.
Small Revolution offers online courses that may be the catalyst in your search for more rewarding online jobs. You may even be able to move from working a part-time job to developing an online career. 
Remember, schooling is not confined to a classroom.