Online courses have exploded in popularity and sheer volume of content available. This also means that it can be a nightmare trying to figure out which online course is the best fit.
That's why, today, we want to share our curated list of online sales training courses designed to help you master the art of selling and prepare yourself for your dream sales job.
The online sales training courses we discuss below will be invaluable to those who want to:
Master sales techniques that will make you highly marketable
Learn a principled, logical approach to negotiation that's more effective
Refresh core sales skills, such as cold calling, communication, and negotiation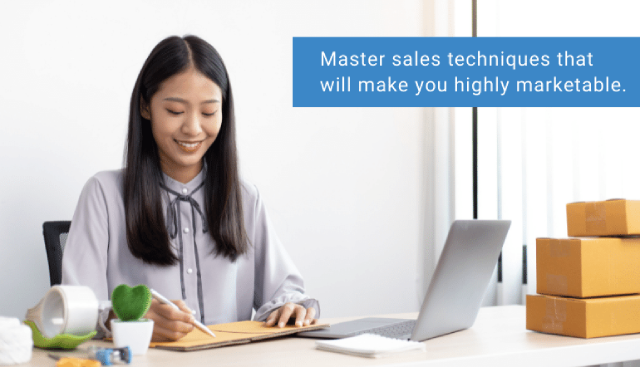 1: Sales Training for High-Performing Teams Specialization
Starting on a high note, the Sales Training for High-Performing Teams Specialization is a series of four related courses designed to help you master the art of selling for your sales job or to level up your sales team.
The entire specialization takes 47 hours to complete, which translates to three months at the suggested pace of four hours per week. That said, you can complete it faster if you devote more hours weekly.
It gets better—you can do all four courses in succession or pick ‌the ones that fill your knowledge gaps and match your professional level.
You may be wondering what this four-course specialization entails:
This first sales training course covers the essential skill set for a successful sales career for you or the sales team you train and manage.
You'll learn sales job-search tips, inbound sales methodology, understanding buyer context, and personalized selling.
Course 2: Sales Training: Techniques for a Human-Centric Sales Process
In the second course, you'll do a thorough analysis of sales strategy, focused on helping your prospects rather than being sales-y. You'll also learn how to communicate, negotiate, and close high-quality prospects.
Course 3: Sales Training: Sales Team Management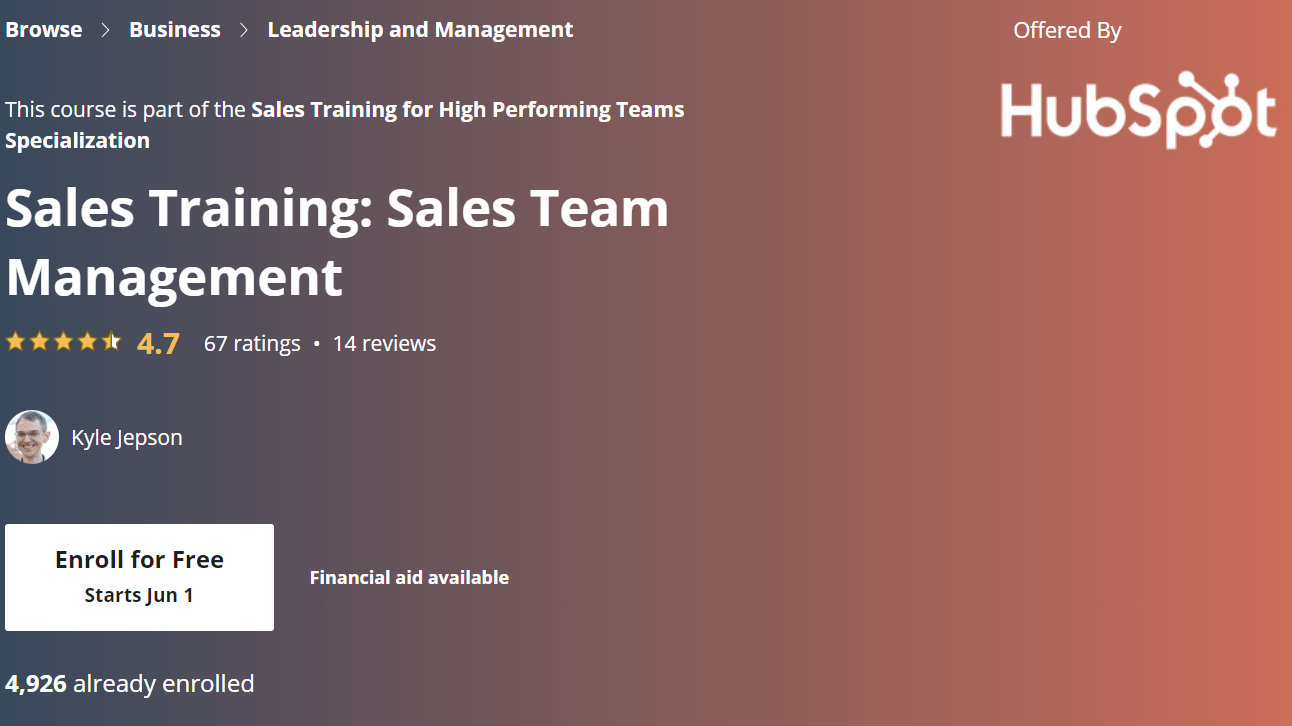 The third installment focuses on identifying target markets and building processes and systems for hiring, onboarding, training, coaching, and scaling your sales team; it tackles sales training from a managerial perspective.
Course 4: Sales Training: Inbound Business Strategy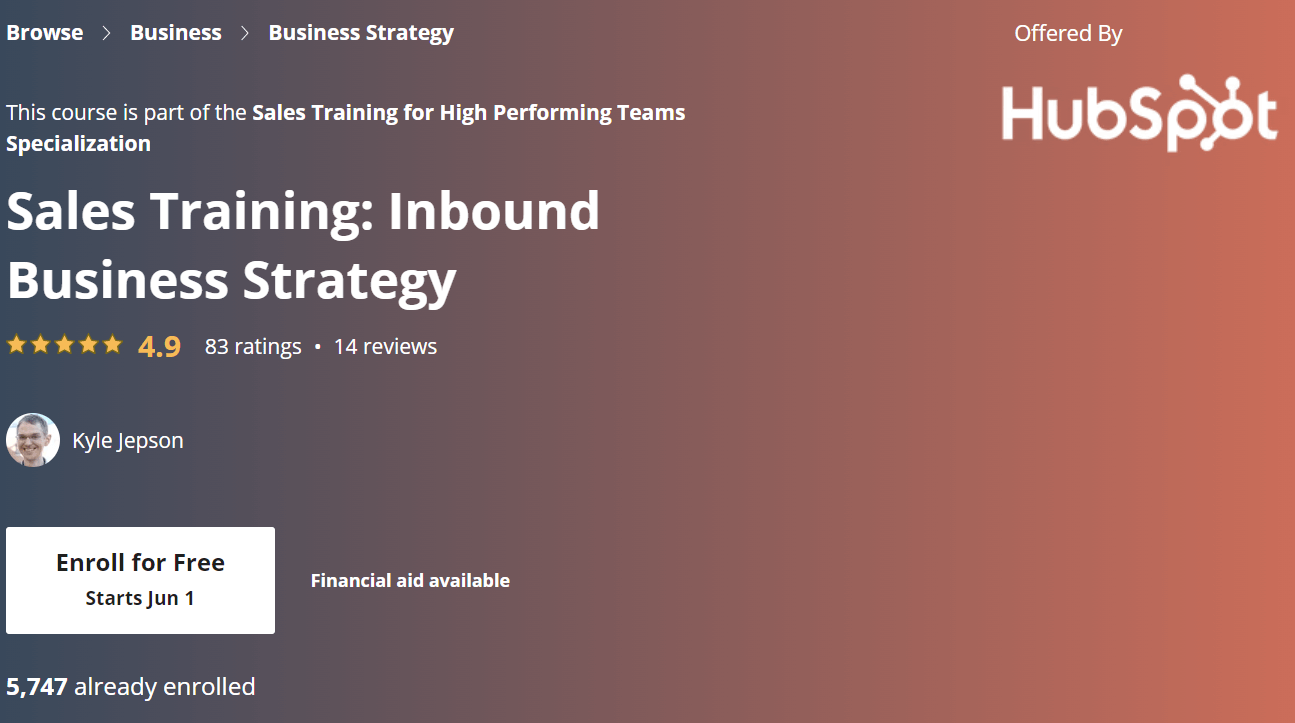 Finally, the last course breaks down the entire process of inbound marketing, sales, services, and sustaining sales momentum through cultivating client relationships. As a bonus, you'll get tips from eight HubSpot top executives.
Why Take This Sales Training Specialization?
This gem of a sales course bundle is worth it because:
It's offered by HubSpot Academy on the Coursera platform. HubSpot Academy is a market leader in sales and marketing education built on HubSpot's industry experience. Similarly, Coursera is one of the most respected open online course platforms.
The graded courses and peer discussions enable you to benchmark your understanding and real-world application of the sales training.
It's deliberately targeted toward the job market for beginners and industry professionals to master the art of selling and land their dream sales job or promotion.
You get a certificate upon completion which you can share on LinkedIn and showcase your commitment to growth.
The specialization is flexible, allowing you to study the parts that interest you or take all four courses consecutively, or in whichever order.
The best part about Coursera's model is that if you need to do more digging into the courses before committing, you can audit the courses for free, meaning you don't pay the monthly subscription. It's a great way to discover the online sales training that best suits your needs. However, you'll not get graded or receive a certificate.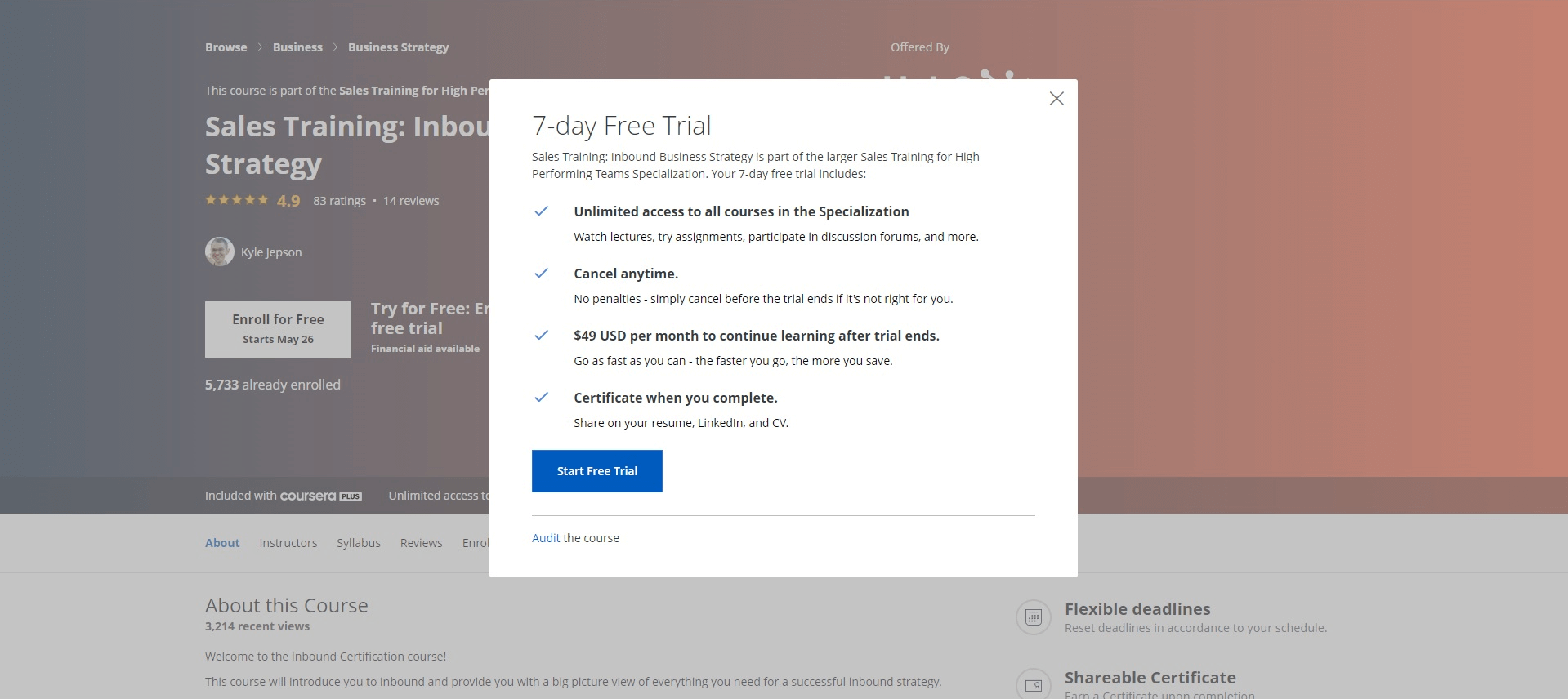 With a total enrollment of 48,000 learners across all four courses and a rating of 4.7 out of 5 stars, you'll be ahead of the game with this sales training course.
Here's Marcelo's experience of the course:
Outstanding… The resources they shared with me are going to be key for my current position

Marcelo E M N ⭐⭐⭐⭐⭐
2: Introduction to Negotiation: A Strategic Playbook for Becoming a Principled and Persuasive Negotiator (Coursera)
We began with a four-course heavyweight, and we'll top it with this negotiation course offered by Yale School of Management on Coursera—Introduction to Negotiation: A Strategic Playbook for Becoming a Principled and Persuasive Negotiator.
This course on negotiation is essential because you need both ethics and the art of persuasion in order to master the art of selling.
The instructor, Professor Barry Nalebuff, advised the NBA in their negotiations with the National Basketball Players Association— among his many other achievements. This is the epitome of real-world experience.
What's not to love about this course rated 4.9 out of 5 stars?
Let's break down what you can expect to learn from the course:
How to create a fair negotiation framework that satisfies you and your clients
How to apply your negotiation framework through case studies and peer activities
What role gender differences play in negotiation
How you can apply game theory to excel in sales negotiation
Here's a taste of the insights you can expect from Prof. Nalebuff.
You can complete the four modules of the 32-hour course in a month, taking a week to complete each 3–5 hour module.
Why Take This Sales Negotiation Course?
Prof. Barry Nalebuff's course takes a strong mathematical approach (game theory) to negotiation, which will benefit your sales training in several ways.
You will learn how to:
Streamline your sales negotiations, enabling you to agree with your prospects sooner while maintaining clarity with your interests.
Offer a fair advantage to your clients and negotiate transparently, thus keeping more client relationships.
We also love that Yale School of Management is offering this course in partnership with Coursera, making it a high-caliber course and certificate.
If you'd like to try out the course first before signing on for the certificate, you can also audit the course for free.
Learners have found enormous value in Prof. Nalebuff's course:
Very enlightening course… Learned a lot from the case studies. Highly recommend for improvement in the workplace and personal life!

Razan L ⭐⭐⭐⭐⭐
Expert Tip: Online course platforms like edX and Coursera, offering high-quality courses in partnership with well-respected institutions, usually have an option to audit a course for free. It's an excellent way to gain the skills you need when on a budget.
3: Cold Calling: The First Seven Seconds (LinkedIn Learning)
Picture your next interview. The hiring manager says, "Sell the product to me." What do you do?
Remember, there are no first impression do-overs.
That's why this Cold Calling: The First Seven Seconds course is essential. Rated 4.7 out of 5 stars, it will help you refresh the core skills needed for cold selling, making a good first impression, and starting your client relationship on the best foot.
Why Take This Cold Calling Course?
Often, the simplest skills require frequent refreshing to maintain your competitive edge.
Therefore, this short but sweet course refreshes:
Striking the right tone
Fostering a confident, unapologetic mindset
Delivering your pitch with transparency and respect
Balancing interest in the prospect vs. interest in your pitch
If you're new to LinkedIn Learning, you can get this course and many others free with your free trial.
Here's the experience of one learner at the sales management level:
Great course on cold calling and handling the basics. Great for all levels, helps refresh and sharpen your skills.

Robert Costomiris ⭐⭐⭐⭐⭐
Level up Your Skills With an Online Sales Training Course
You can choose to let time grow your skills, or you can diversify your skill set through sales training.
In the table below, we break down the salary progression you could achieve in your sales career path.
| | |
| --- | --- |
| Sales Careers | Average Annual Salary |
| Sales Development Rep | $53,865 |
| Account Manager | $75,265 |
| Account Executive | $82,677 |
| Sales Engineer | $122,202 |
| Director of Sales | $144,587 |
| Regional Sales Manager | $108,600 |
| VP of Sales | $194,337 |
If you're ready to diversify your skill set and learn to sell your products better, or to sell your skills to grow your career, sign up for a sales training course on LinkedIn Learning. The platform offers the best combination of affordability, high-quality, job-relevant content from experienced experts.
Share on Facebook: