Do you want to submit your list of ten obscure facts to Listverse, a site that pays writers $100 per article?
Writers interested in Listverse mostly fall into these two categories:
They can't get enough of Listverse's existing eerie content and want to contribute with their own list of 10 unusual facts
They see an opportunity to get themselves on the map as a writer and earn extra cash while doing so.
Writers whose submissions get accepted usually fall into both categories. They understand the site, they enjoy reading Listverse content themselves, and as such they have a great grasp of what it might be missing.
Do you have a chance of getting your list accepted as a new writer? What else do you need to know?
What should you write about? Do only horror topics stand a chance?
Do you simply write a list of 10 obscure facts, send it in, and get paid—is it that easy?
Answers to these questions can help you increase your chances of writing a successful list for Listverse.
Fact 1: Listverse Is Open to Inexperienced Writers
You can submit work to Listverse even if you have little to no writing experience. Giving writers a chance is Listverse's way of giving back to readers who support their work:
Listverse was built on the efforts of readers just like you. Readers who didn't have any experience as writers but decided to put a list together and send it in." — Listverse
For Listverse, it's more important that you meet these qualifications:
You live in the USA, UK, South Africa, Ireland, Canada, Australia, or New Zealand—they want submissions from native English writers
You have a PayPal account—other ways of payment aren't possible
Your list has to meet Listverse's high standards and comply with the Listverse Author's Guide
The table below highlights the most important criteria to keep in mind to ensure your article adheres to the Author's Guide.
Topic
Writing Style
Facts

The subject is unique—they want to read new secrets, mysteries, and surprising facts about the world
The list is not about taboo topics—profanity, illegal advice
There's a twist or surprise

Writing matches the style of other published articles—informative and unusual
Written as a Top 10 list
Simple writing that scores high in programs that check for readability such as WebFX—aim at 11-year-old or below

Facts in the article are supported by reliable sources
Facts are new—do a search to make sure your ideas haven't already been written about on the site
Your topic has to be new, your writing style polished, and any facts you include must be supported by an authoritative source.
Expert Tip: Read articles published on Listverse to get a sense of what kind of lists they accept. That'll help you match their style and write a Listverse article that is suitable for the website.
Fact 2: Lists That Aren't Horror Also Have a Chance
Aim at lesser-known facts that aren't necessarily real-life horrors and mysteries if you're having a hard time coming up with new topics on obscure, scary, and bizarre occurrences. All editors want is something new and intriguing.
True, when you think about Listverse, uplifting or wholesome content is not exactly what comes to mind. But if you look through their site, you'll see that not all of their lists are scary or straight-up shocking.
Listverse has been around since 2009, and it can be difficult to come up with new, unexplored topics.
If you've read their guidelines, you might have noticed some contradictions. For example, their website currently has dedicated categories to themes they suggest you shouldn't write about, like sports.
Following the Author's Guide is key to getting your list accepted in terms of writing-style, but it hasn't been updated since 2019.
Meanwhile, things have changed on their site. They've added new categories and now publish articles that still match their style, but cover broader topics.
For example, they've even published lists of 10 uplifting stories: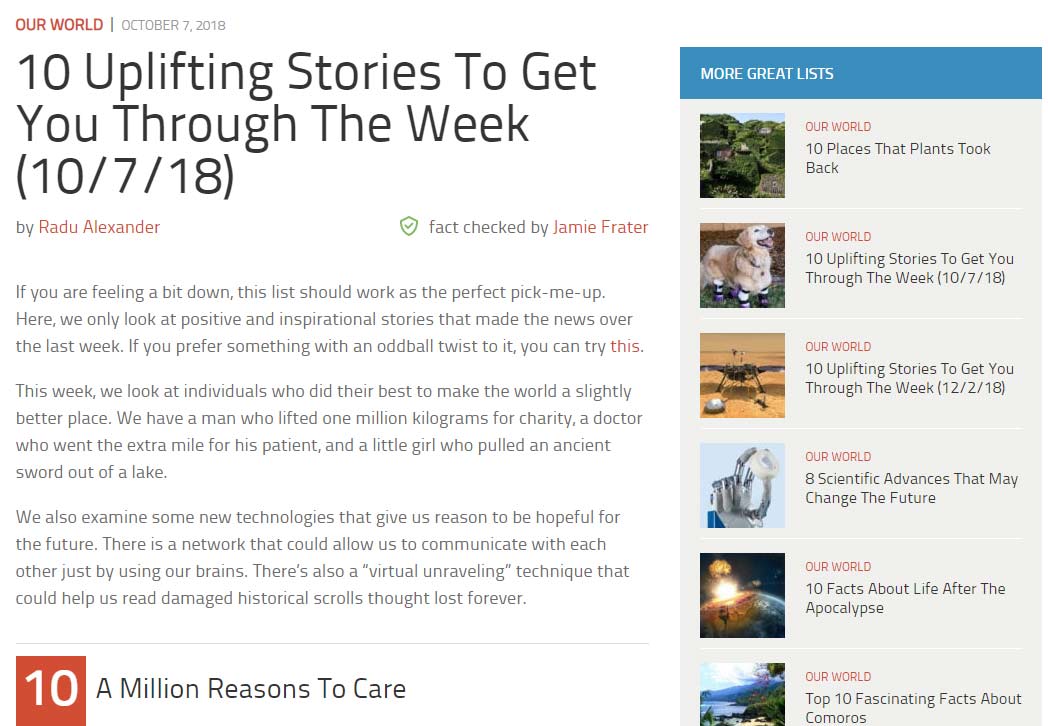 Another example of a recent article that isn't horror:
They even highlight this article as a successful example in their Author's Guide: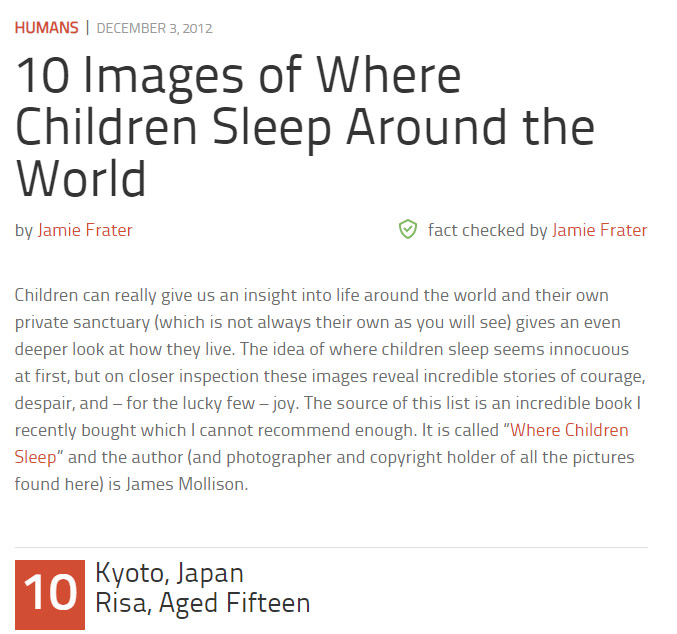 If done right, unexpected topics could give you a competitive edge and the editor's approval. Such articles are a pleasant change of pace because they offer Listverse's audiences a break from their regular gruesome content.
However, the main reason we associate Listverse with horror, unsolved mysteries, and bone-chilling stories is that most readers visit Listverse to read this sort of content.
Here are their most popular categories:
Mystery—unsolved cases, unexplained occurrences, unique mysteries
History—lesser-known historical topics
Secrets—governments secrets, secret codes, anything common people aren't supposed to know
Facts or misconceptions—disprove something that everyone thinks is true
The dark side of man—facts about strange experiments or serial killers
Fact 3: Editors Can Reject Your List
Editors have the right to not accept your article. You'll get a rejection email if they conclude that the list you sent doesn't match their standards or if they feel that the topic is out of place for the website.
Common reasons Listverse rejects articles:
It needs a lot of editing on their part—avoid this by submitting clean writing that has been checked for typos and grammar issues
The topic has been overdone—don't even think about sending them an article about the Bermuda Triangle or Loch Ness Monster, be original instead
Plagiarism—they will check your text with Copyscape and ban you if they notice the information has been copied from elsewhere
The Listverse Author's Guide and submission site are very detailed because after a decade of publishing, they know what they want.
As such, follow their strict guidelines to a tee to increase your chances of getting accepted. They tell you exactly how and what to write about.Start with these tips before writing, and read their Author's Guide:
Keep in mind that Listverse is a competitive site as well. Even if you submit an article that is edited, well written, and original, there's no guarantee your article will be accepted.
Don't get discouraged if some of your lists don't make the cut. They get a lot of great submissions and always encourage writers to try again.
Writing for Listverse Is Not Easy Money, but It's Rewarding
Writing for Listverse is competitive, and not every list idea you submit will get accepted. Still, it's a good place to start if you're just beginning your writing career. You'll have a piece published under your name that will reach millions of Listverse fans and you'll get paid for it.
Increase your chances of acceptance by:
Getting yourself familiar with the Author's Guide
Understanding the type of content they publish
Knowing their audience and what makes them thick
Choosing an original topic to write about
The articles that get accepted take a lot of work—it takes thorough research, writing, and editing to make a piece that is free of errors and effortless to read.
Do you want to learn how to write for the web effortlessly, too? Read more about building your writing career to get started.