LinkedIn is brimming with work from home job opportunities. And if you still don't understand the value this platform can provide, you've landed on the right page.
As Lindy Alexander, an award-winning writer, shares:
I'm sure it goes without saying but LinkedIn is free advertising for you and your business, and even better, unlike Instagram, Facebook or Twitter, people are on the platform to do business.
Out of 675 million people using LinkedIn every month, many of them are searching for copywriters.
But how do you get commissioned for high paying freelance copywriting jobs on Linkedin?
Relax, you don't have to be a top-drawer writer. But, let's face it, you can't close a lucrative deal on LinkedIn if you're lacking relevant experience.
You need to have a few solid projects under your belt to land a gainful gig at a third party job website like LinkedIn. Or you can start by attaching credentials that prove your expertise.
Those can all set you apart as a contender for a well-paying job.
So, buckle up! Get ready for some insider information on how to find high-paying remote copywriting jobs on LinkedIn.
1. Optimize Your LinkedIn Profile
Want to know how to make some big money copywriting on LinkedIn? First, look for ways to stand out among the sea of other copywriters on the platform.
Start by giving a little TLC to your LinkedIn profile.
Headhunters and prospective clients don't care for generic, bland profiles.
So, here are a few tricks on how to make the most of your LinkedIn profile.
Optimize Your Profile Image
Just like the eyes are the windows to a soul, your LinkedIn profile image is a window to your brand identity.
Recruiters are more likely to reach out if they're able to put a name to a face.
The small hassle of uploading your image to LinkedIn can result in up to 9x more connection requests. It's simple and it works, what are you waiting for?
Add a Cover Photo
Your cover photo is the first thing people see when they land on your LinkedIn page. Make the best of it and use an image that's a good representation of who you are and what you do.
Polish up Your Profile Headline
What good is your LinkedIn profile if your prospective clients never see your page? Optimizing your profile headline can help with your profile visibility.
It's all about planting the right keywords into your profile headline.
Steer clear of the general keyword terms. You want to get as specific as possible. Instead of using "freelance writer", go for specific, niche keywords, such as:
Web content writer
SEO writer
B2B content writer
Social media content specialist
Populate Your Media Section With Sample Work
If anything will prompt a client to hire you, including a portfolio into your profile will. It's what sells your work best.
Handpick the best samples of your work. This will act as a show-and-tell of your skill-set and expertise. It's also a great representation of your potential contribution to a client's business.
Create a Stellar Summary
If you had only 200 characters to spread your message to the world, what would it be? Well, you'd sure want to think twice before committing to your tagline.
It's the same story with your LinkedIn summary section. It's valuable real estate that you have to handle with care.
You've only got a little over 200 characters to pitch yourself, so be careful what you say. Think of it as your 30-second elevator pitch.
Here's how to write your summary so you stand out as a candidate for high-paying freelance writing jobs:
Use specific language to speak about your services. Include anything that can increase credibility to your LinkedIn profile. Add your industry, include client testimonials, your website or blog, and a CTA.
Include keywords that people usually use to search for professionals in your niche. Don't get too poetic with your descriptions. Opt for specific phrases such as "Freelance health, travel and lifestyle writer".
LinkedIn has increased the visibility of visuals in the summary section. Use this to your advantage. Include any images that can help you come across as presentable and professional.
Reach Out for Professional Endorsements and Recommendations
Recommendation from your connections on LinkedIn makes you appealing to prospective clients.
So, remember to make this effort in your networking strategy. Reach out to your former colleagues and employers and ask for recommendations.
Make it a routine to browse your connections ever so often and endorse people you've worked with. Many will return the favor.
2. Set Up Your LinkedIn Networking Strategy
All your LinkedIn networking efforts will come unstuck if you don't have a viable strategy behind it. It's like trying to thread a needle in complete darkness.
Know your agenda before you start boosting your LinkedIn profile. Finding freelance copywriting jobs is tricky enough on its own. So, don't sabotage yourself with a sloppy start.
First of all, know who you're targeting. Content managers and website owners are the first prospects that pop to mind. But you might want to make your search more granular. So, consider connecting with business leaders, managers, freelance bloggers, and writers as well.
Use LinkedIn's in-built search function to whittle your search down to specific job roles you're hunting for.
Once you've got yourself a decent list of connections, follow these steps when reaching out:
Send letters of introduction.
Comment on your connections' posts.
Keep any new company launches on your radar.
3. Look for Decision Makers
If you want adequate compensation for your copywriter services, go for decision-makers. Sustainable, healthy companies will be able to offer you a handsome freelance copywriter rate.
Go straight for people who are in charge of commissioning content to writers. Make a list of high-quality leads that consists of chief marketing officers, heads of communications and brand managers.
Remember to narrow down your search when going after high-paying clients. Search for CMOs that operate in your niche industry.
To illustrate, here's our list of CMOs employed in the food industry.
4. Release Posts on LinkedIn Publisher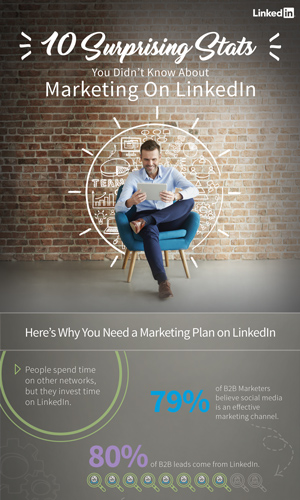 94% of B2B marketers use LinkedIn to distribute content and this isn't just for random testing. They do it for a reason. The fact that 80% of leads come from LinkedIn explains everything. So, you might want to catch the wave while the platform's on the rise.
Publishing on LinkedIn might get you a copywriting gig faster than anything else. It:
Enhances your visibility to prospects.
Showcases your skill and expertise.
Helps you establish high-quality connections.
Publishing examples of your work also helps expand your network, since LinkedIn posts are visible to anyone who's searching for your niche topic.
To illustrate, here's a list of articles Satya Nadella, a CEO at Microsoft, has posted on his profile.
If your blog posts catch their attention, people might reach out to work with you. And if upgrading their blog is in the pipeline, you're in luck.
Here are a few simple steps to follow before getting down to work:
Publish niche articles that talk to your target audience.
If you want to narrow down and keep one company on target, feature them in one of your articles. This improves your chances that they'll get back to you and offer you a contract.
Republish blog posts already published on your website. Include your site URL so the folks over at LinkedIn pick up that it's a republication.
5. Cold Pitch the Prospective Clients
If you want LinkedIn to be your continuing source of business, approach your connections elegantly.
Steer clear of generic copy-paste pitches.
Remember, don't go straight for the sell. Instead, craft a cold pitch that looks something like this:
Understand the brand you're pitching to. Do your homework by exploring their target market and type of content they're publishing.
Send an invitation to connect. Introduce yourself and all the qualities that you bring to the table. How can you contribute to the client's ROI? Draw on your previous work experiences to show how you've solved a specific problem for a client.
Send follow-up messages. Keep the conversation ongoing once you've delivered your first pitch. Find subtle ways to interact. Share their content or leave comments on their posts.
Ready to Land Your First High-Paying Copywriting Job on LinkedIn?
Your prospects for landing a high-paying copywriting job increase with the surging growth pace of the gig economy. Being in the right place at the right time is the key to success.
That said, if building a LinkedIn profile is in your plans, now's the right time to do it.
Knowing how to navigate the platform puts you one step ahead of the crowd. You are able to land flexible jobs and foster relationships with high profile clients.
Now's the best time to act.
Small Revolution offers training that brings you closer to a well-paying copywriting job.
Enroll today and gain the expertise that will get you a competitive salary.