Good books are a priority for every business seeking to reach new heights of success, as it gives you a clear picture of your company's present financial situation. As a business owner, you can make strategic decisions based on income and revenue goals if you keep bookkeeping records.
Learning bookkeeping skills can even assist you in organizing your own household's finances or securing a job as a virtual bookkeeper.
That said, bookkeeping can be challenging with no training. To handle any financial data, you'll need to have in-depth knowledge on the subject.
The technical knowledge you'll need to learn includes:
The systems of bookkeeping
How to record entries in bookkeeping
How to generate financial statements
How to reconcile bank records
How to handle accounting software
These 4 simplified courses will get you started as an entry-level bookkeeper and teach you some of these technical skills. They can also help further advance your own skills.
1: Professional Bookkeeping: Introduction to Bookkeeping (edX)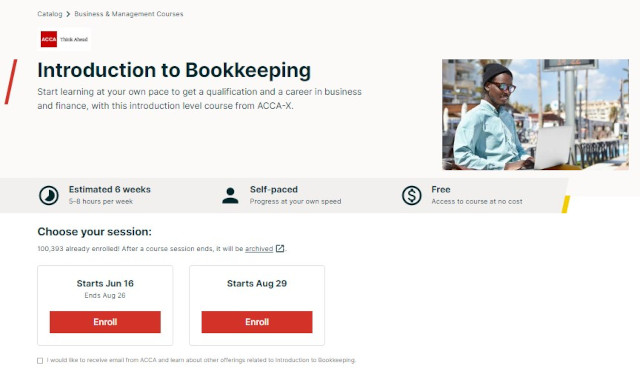 One of the most crucial aspects of bookkeeping for a business is recording financial transactions. This includes recording transactions such as sales orders, vendor invoices, payroll, expenses and liabilities incurred.
As a bookkeeper, you'll need to record these transactions to be translated and presented in a financial statement.
The Introduction to Bookkeeping course from edX is a comprehensive course for aspiring bookkeepers and accountants that arms you with the fundamentals of recording transactions.
The instructors of the course—Isobel Wroath, James Patrick, and Krutika Adatia—are specialists in financing and accounting from the Association of Chartered Certified Accountants (ACCA), which is a globally recognized professional body for accountants.
The course does not include any certification. However, the skills taught in the course will help you prepare for an ACCA exam if you want ACCA certification.
The course is 6 weeks long, with an average of 7 hours of learning per week. It is hosted on edX, which enables users to learn on their own schedule. The table below highlights some lessons you'll learn from the course and how you can apply them.
Lesson
Application
Types of business transactions

Record cash and credit purchases
Learn which business documents accompany an order
Understand what assets, liabilities and capital are

Double-entry system

Learn how to make debit and credit entries
Understand which entries to make as T-accounts
Account for receivables and payables

Payroll

Calculate gross wages for employees
Account for payroll costs
Understand an employer's responsibilities for taxes, state benefit contributions and other deductions

Bank reconciliation

Compare balances on bank statement
Determine reasons for differences in bank statement and ledger account
Handle bank reconciliation on accounting software
2: Beginner Bookkeeping: How to Handle Your Finances (Skillshare)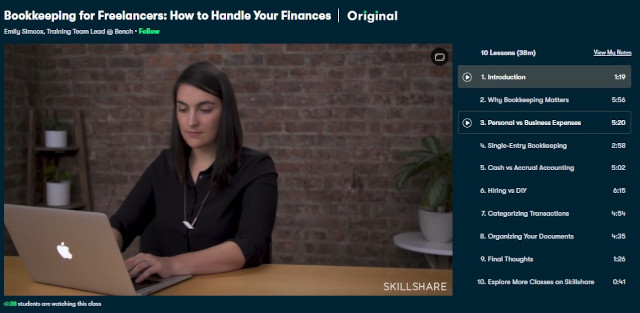 This course debunks the myth that you have to be a math genius to efficiently organize your finances.
The class from Skillshare deconstructs bookkeeping, giving you the tools you'll need to take control of your finances.
The course instructor, Emily Simcox, is a coach with the bookkeeping firm, Bench. Emily has over five years of practical experience in accounting, which is reflected in her high-quality training.
The class duration is 38 minutes, and it's divided into 10 lessons. The learning modules allow students to learn at their own pace, so you won't miss anything if you're a slow learner.
The course is primarily intended for freelancers and small business owners, yet it is also useful for those looking to upscale their careers.
Some topics covered in this course are:
Personal vs. business expenses
Single-entry bookkeeping
Cash vs. accrual accounting
Identification of transactions
Organization of documents
These lessons will teach you how to select the best bookkeeping system for your business, categorize and track expenses, and keep track of your business costs.
The course puts a strong emphasis on organizational skills, which are required of a bookkeeper.
It is by far one of the best online bookkeeping courses available, as shown by the over 8,000 students enrolled. You can take this course for free with a 1-month trial on Skillshare.
3: Basic Bookkeeping: 12 Simple Steps to Get Started With Your Bookkeeping (Skillshare)
Michelle Cornish will walk you through a step-by-step guide to bookkeeping in this course. Cornish is a former accountant with over 20 years of expertise as a CPA who uses her skills to educate students using real-life scenarios.
The course is available on Skillshare and has brief lessons with a hands-on class project. The project involves choosing an accounting software and doing each of the 12 steps taught by Cornish.
Some steps in the course include:
How to pick an accounting software
A guide to understanding tax deductions
How to record income and expenses
How to maintain your documentation
How to reconcile your accounts
You'll discover why you need to open a separate business account for your business. You will also identify what transactions you should record and how regularly you should do bookkeeping.
This 25-minute course has actionable steps in its 17 lessons to help you, as a beginner, get started with bookkeeping for your small business. Try Skillshare with a free 1-month trial and learn this course.
4: Accounting Foundations: Bookkeeping (LinkedIn Learning)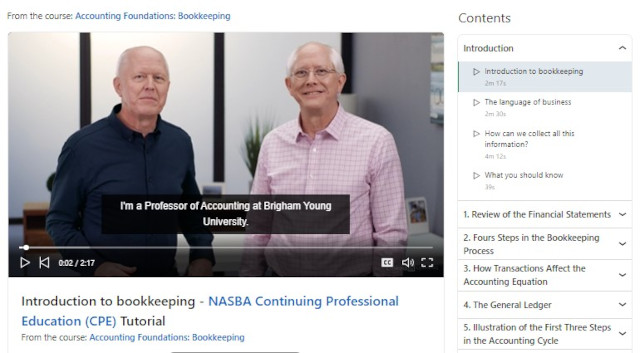 Accounting foundations is your course of choice if you want to start a career in bookkeeping and accounting. It is also helpful for those already in the field looking to refresh their skills.
The instructors of the course are two distinguished accounting professors at Brigham Young University (BYU).
James Stice, PhD, has taught at the School of Accountancy at BYU since 1988, where he has been recognized for his teaching excellence. 
His colleague in the course, Earl K. Stice, is the PricewaterhouseCoopers Professor of Accounting in the School of Management at the BYU Marriott. Both hold a Master's and Bachelor's degree in accounting.
Some modules the professors expound on are:
How to review financial statements — this topic teaches all about the main financial statements, such as the balance sheet, cash flow statement, and income statement. You will learn how to prepare each of these statements.
How to analyze transactions — this topic teaches you how transactions affect the accounting equation. By the end of this module, you'll be able to record transactions as debit or credit entries and record inventory in a journal entry.
An Illustration of the accounting cycle — this topic uses real-life examples to show you the first three steps in the accounting cycle. You will begin by looking over your transactions, then compute your account balances and finally prepare a financial report.
The course has five chapter quizzes and an exam to help you polish your skills. Upon completion and passing the exam, you will get a certificate which you can show off on your LinkedIn profile.
Over 150,000 students who have completed this course loved it. Here's what one had to say:
A very good approach to teaching bookkeeping. The instructors are very engaging and easy to understand.

Patricia Rhodes
This course is not free, but you can take advantage of LinkedIn Learning's 30-day free trial and unlock this and other 14,000+ resources with no payment.
Plain Sail Through Bookkeeping With Skillshare
Bookkeeping doesn't have to be difficult. Taking a free course will teach you all the basics of bookkeeping and enable you to keep accurate records for your business.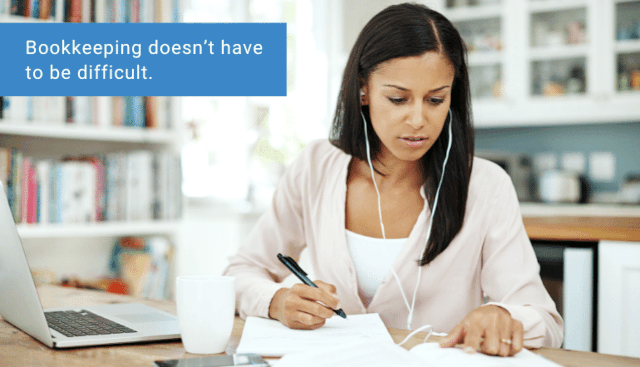 With better organized records, you don't have to stress over looming tax deadlines or determining your sales revenue. You'll also be able to budget and map out financial goals with well-kept books.
The greatest perk to learning online is that you can study at your own pace. You can also pick a course that suits your needs, be it learning the basics or honing your skills. There is no limit to expanding knowledge, so why not take up a new course for free?
Sign up to Skillshare and gain access to 60+ bookkeeping courses absolutely free for a 1-month trial period.
Share on Facebook: