The deadline is fast approaching, and for the life of you, you can't seem to wrap your head around the client's brief.
You've gone through the instructions many times. Only to emerge more befuddled each time. Triggering off bouts of procrastination.
You can't afford to drop the project because it comes with a generous payday.
Don't despair if this scenario characterizes most of your freelance career. It's part of the grind, and you can surmount the challenges if you tweak your approach.
Attempting to tackle a complex project in its entirety only begets frustration and fuels procrastination.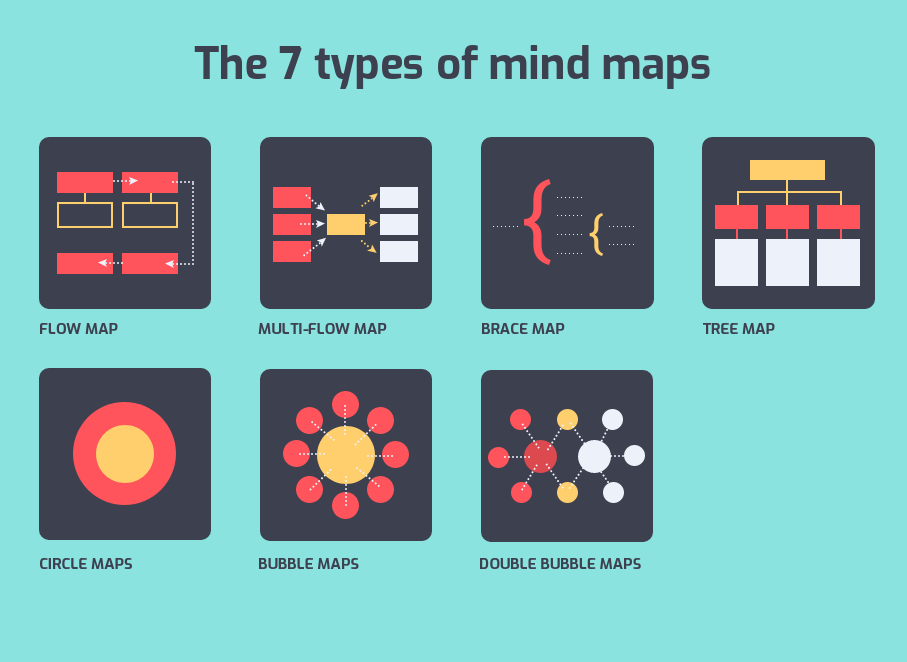 Breaking a massive project into fun-sized bits is the way to go. It helps you overcome distractions and grow your productivity when working from home.
Tapping the power of mind maps and mind mapping tools can help you out of this tricky situation.
Now you can leverage the power of visual thinking whenever you need it.
Here are five of our top picks for mind mapping apps for iPhones and iPads.
MindNode 6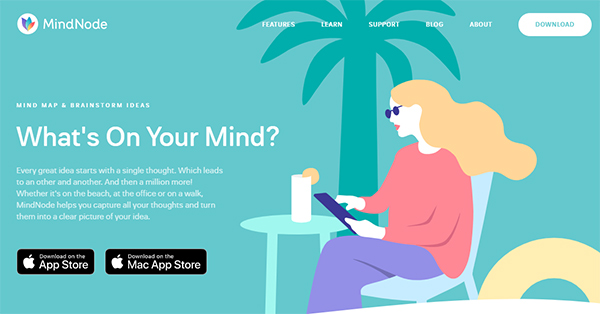 MindNode 6 will not only let you connect your thoughts but also keep them in perfect sync. It affords you the clarity to make headway when tackling a daunting project.
Capture your thoughts and ideas using words, links, tasks and images. You can even create annotated notes and keep them handy for easy retrieval.
With MindNode 6, you're aren't restricted to boring text-based mind maps. Your eyes won't glaze over when working on a project.
It's only beautiful and expressive documents from here on out. The kind that grabs your attention and improves your productivity.
A diverse sticker library lets you build colorful and appealing mind maps.
Working on a large mind map with lots of connections? No problem. Turn on the Focus Mode and reduce the distraction.
This mode fades out the rest of the mind map and lets you focus on the part you're working on. You can also hide all the connecting lines for a cleaner working canvas.
This is extremely helpful when working on large and complex projects for clients.
As a freelancer your work speaks for you. By employing the service of MindNode6 you can ensure you will always be putting your most organized ideas forward to your clients.
Does adding a personal touch to your projects boost your motivation and productivity? Great! MindNode 6 lets you create custom mind maps that suit your unique style. It's the perfect tool for visual learners.
Want to get some work done before turning in for the night? No problem. The Dark Mode eliminates the harmful blue light. You can get the job done without sacrificing your beauty sleep.
Mind Node 6 does all the heavy lifting when creating mind maps. You only need to collect your thoughts and ideas into a list, and then paste it into the tool. The app will create beautiful, customizable mind maps at the click of a button.
MindNode 6 offers a 14-day trial on both the $2.49 monthly plan and the $19.99 yearly subscription.
Mindly
Mindly understands that you have a lot of plans, ideas, and projects swirling around in your head at the same time. And it knows the frustrations you face trying to piece them together into workable solutions. That's why it's here to help you curate your thoughts in a fun and enjoyable fashion!
When working on a new or complex topic, you need a tool to let you capture, organize, and store your ideas. Mindly fits the bill to a tee and lets you breeze through the research phase.
You can make quick work of any project and present your ideas in a visually appealing format. When you're paid per project, finishing work quickly, without skimping on quality, increases your profit margins.
Using the power of association, Mindly lets you present ideas in their purest form. No more sacrificing details or clarity.
Mindly complements your natural thought process to let you fire from all cylinders. Your brain isn't wired to follow a linear fashion. Instead, it makes connections between pieces of information.
This app lets you capture ideas as they pop into the mind while allowing you to trace their association. Later, you can flesh out each idea with supporting files and images.
Since the app doesn't force you to adjust the way you think, each brainstorming session is fun and fruitful. Once you're done, you can export your mind maps as pdf files, text, and more.
With Mindly, you can focus on the current item until you've exhausted all the options. This keeps you from getting overwhelmed while working on a sizable mind map.
Mindly is the perfect companion when learning new skills and knowledge. It makes for a fun learning experience as you build subject matter expertise.
Summarize entire chapters, books, and long-form articles and turn them into bite-sized mind maps to aid memory and retention. Get more from online courses by using mind maps to study and synthesize information.
Mindly offers a free trial with limited features, but you can upgrade to Mindly Plus with a one-time payment of $6.99. Mac OS X users can unlock all functions with a one-time fee of $29.99.
MindMeister
Brainstorming and idea management, note-taking, time management, and project planning are all part of the freelancer lifestyle. Mastering these skills boosts your productivity, placing you a cut above of your peers.
MindMeister understands too well that working from home is a tricky undertaking. It's on hand to help you with all your tasks.
Now you can go about these crucial tasks with a creative twist. No more lengthy and unproductive brainstorming sessions. MindMeister sees to it that you don't grapple with floating or unstructured information.
The app provides you with a dynamic space to put down the information in a structured manner.
It lets you break complex projects into fun-sized bits. You get to create visual mind maps for each of the steps without losing sight of the bigger picture. After working on the steps, you can then piece them together.
In the end, you'll have a mind map that offers insights into the whole project at a glance.
Start by dumping your thoughts and knowledge on a subject to know where you stand. Then organize ideas into colorful information clusters. That lets you identify gaps and unexplored ideas.
MindMeister's user-friendly interface makes it easy to shuffle the information around. You can even re-cluster ideas as needed. You can add icons, images, and play around with colors and text styles to give your mind maps a beautiful finish.
MindMeister also comes with project management and team collaboration capabilities. That makes it an asset when working in a team environment. Now you can fill your brainstorming and project management needs using the same tool.
The web-based app provides a dynamic, shared working environment. Team members can brainstorm and share ideas in real-time.
MindMeister offers a limited free trial, a $4.99/month personal plan, an $8.25/user/month Pro plan, and $12.49/user/month Business plan.
Mind Vector
The ability to visually express and organize abstract concepts and ideas is invaluable. Especially when tackling a challenging project.
That's where Mind Vector comes in to save the day.
The mind mapping app simplifies complex stories and concepts. It provides you with a virtual space to dump the ideas swirling around in your head.
Mind Vector comes jam-packed with customizable templates and features. You now have a limitless ability to create appealing mind maps.
But that's not all. This web-based solution lets you breeze through problem-solving, brainstorming, and decision-making sessions. With its three main visualizers, Mind Vector doubles as a visual thinking tool. Brain dump your ideas and watch them come alive in full color.
Unlike other apps, Mind Vector lets you work with Augmented Reality.
The tool lets you create 3D mind maps thanks to its integration with Microsoft Hololens. Immersive 3D maps are fun to create and allow you to present your ideas in visual masterpieces.
Mind Vector is online-based, letting you access and edit your files from anywhere. You only need an iOS device with an internet connection, and you're good to go.
You can share the complete maps with clients and team members by exporting them as images and CVS files.
Mind Vector offers a limited free plan, but you can unlock all features with a $9.99 one-time payment. Enterprise users need to contact the company for a quotation.
iThoughts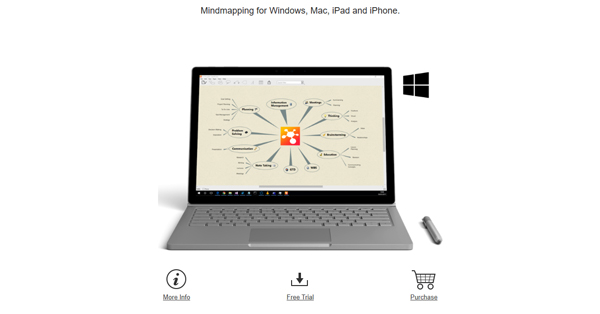 iThoughts is a product from a company whose name is derived from a Judo term that means break free. This mind mapping app is on a mission to free up your thoughts.
It lends itself to brain dumps, the first step in letting your ideas flourish.
Now you have a safe space to curate and develop ideas, thoughts, and strategies. Even the impressions floating around in your head.
iThoughts lets you break free from the cumbersome traditional bulleted outlines. A sure way to supercharge your creative process.
This mind mapping app is the perfect tool when looking to test your subject mastery. It supercharges your ability to tackle complicated projects or learn new subjects. You get to map your progress in colorful detail.
The easy to use interface lends itself to an information dump. No more getting overwhelmed by information overload.
Re-order and re-organize your ideas and see how to fit the big picture or accommodate new information.
A bird's eye view perspective on the entire project lets you know where you stand.
The app features rich texts so you can create eye-catching mind maps. Giving plenty of options when highlighting important points.
Add links, documents, and other media to your mind maps for an extra zing.
By simplifying the research process, iThought is an indispensable tool for freelancers tackling new topics.
It'll skyrocket your productivity levels and build subject mastery. You can add information, notes, images, and links to your mind map on a rolling basis. That means you'll never lose any of your research material.
iThought is available for the Apple Store for $11.99.
Never Compromise Your Productivity as a Freelancer
Mind mapping tools are but a small fraction of the tools you'll need, but they'll help you mold yourself into a highly successful freelancer.
As a one-person operation, you can't afford to ignore any aspect of your freelance business. From bookkeeping to cold pitching to email management, you need to handle it all. You must do it efficiently but with a professional flair.
Fortunately, you have your pick from some of the best online freelancing tools. These tools will put you in charge of your freelance career and skyrocket you to success.
Not ready to use mind maps in your online career? Get started today with Small Revolution and create your own virtual workplace.