If you're an active LinkedIn user, you know it's not just a social media platform to connect with others; it's also an all-encompassing tool for business success and personal growth.
The LinkedIn Learning platform offers thousands of leadership, project management, and personal development courses. that are accessible online and taught by experts with tremendous experience.
With so many courses on LinkedIn Learning, it can be hard to know where to start or choose your perfect match. So, to simplify things, we've selected some of the best LinkedIn Learning courses to supercharge your career success:

Delivering an Authentic Elevator Pitch by Tatiana Kolovou
Learning Personal Branding by Chelsea Krost
Writing a Cover Letter by Jenny Foss
Mastering Common Interview Questions by Valerie Sutton
1: Delivering an Authentic Elevator Pitch by Tatiana Kolovou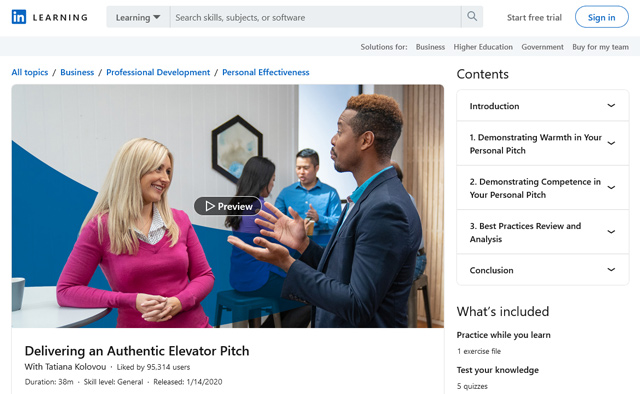 Learning how to craft captivating elevator pitches will help you to communicate your value proposition effectively.
If you're running a business, you'll have to pitch your idea to someone at some point.
Whether it's to a potential investor, an inquisitive neighbor, or the bank loan specialist who's holding your livelihood in her hands, the way you describe your business will make a huge difference in whether or not you obtain their support.
Luckily, LinkedIn Learning has just the course for you to sharpen your self-branding skills.
Instructor Tatiana Kolovou walks you through the five critical elements of a compelling pitch and gives you a chance to practice with different scenarios. You'll also learn how to use your pitch as a tool for self-discovery and create a career plan that suits your passion.
The table below outlines the course sections:
Lesson
Course Segments
Introduction

Making a powerful first impression
Example of a good and better personal pitch

Demonstrating Warmth in Your Personal Pitch

Warmth in your pitch delivery verbals
Warmth in your pitch delivery nonverbals
Demonstrating warmth in action

Demonstrating Competence in Your Personal Pitch

Competence in your delivery verbals
Competence in your pitch delivery nonverbals
Demonstrating competence in action

Best Practices Review and Analysis

Student with a face-to-face pitch example
Young professional with a pitching example in a virtual setting
Seasoned professional with a phone personal pitch example

Conclusion

Practice your elevator pitch
The course has a one-month free trial that you can sign up for and take advantage of to learn how to perfect your personal pitch.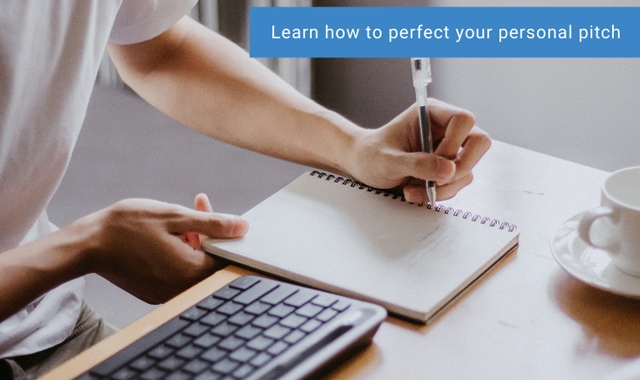 2: Learning Personal Branding by Chelsea Krost
Personal branding is a great way to attract attention, build your career, and grow your business.
It can also help you discover the right professional path, whether that means finding a job you love or turning your skills into a successful business.
This course is designed to help you identify what makes you unique and leverage it to build a powerful brand image that reflects your personal and professional goals.
Instructor Chelsea Krost shares what it takes to build a powerful brand with a competitive edge in the market. She covers the fundamentals of creating a brand, including defining the audience, setting realistic goals, and building a consistent identity across various marketing channels.
She then digs deeper into using LinkedIn for personal branding, as well as other social media platforms, such as Facebook, Twitter, Instagram, and Pinterest for your best interest.
You can try the course for one month and once you finish the course, you'll receive a certificate of completion.
3: Writing a Cover Letter by Jenny Foss
While your resume records your professional history and skills, your cover letter must reflect your personality and work ethic. Writing effective cover letters is essential in today's more competitive job market.
A study by ResumeLab shows that 83% of decision-makers agree that an exceptionally written cover letter can help you secure an interview even if your resume is not outstanding.
Whether you're looking for your first job or transitioning to a new career, this course will teach you how to write effective cover letters from beginning to end. You'll learn how to create the best possible first impression with an engaging and convincing cover letter that will get the attention of potential employers.
Instructor Jenny Foss takes you through:
Understanding your cover letter audience and what hiring managers look for in a cover letter
Definitive steps to creating a winning cover letter that will impress your recruiters
Best structure for a great cover letter
The steps to follow for your cover letter to reach the right person
Expert Tip: The course is best suited for individuals who are looking to sharpen their cover letter writing skills and impress the decision-makers of an organization.
4: Mastering Common Interview Questions by Valerie Sutton
This is one of the most popular courses on LinkedIn Learning, with an impressive rating of 4.7 by 4,722 learners—it's a must for anyone preparing for an interview.
Bibek Khatiwada, a graphic designer and one of the students had this to say:
Great for those like me who have never faced an interview before.

Bibek Khatiwada
Career coach Valerie Sutton shows you how to answer common interview questions in a way that sets you apart from other candidates. She discusses the points you should include in your responses to build positive stories and lure the interviewer into hiring you.
Furthermore, this course is aimed at helping you feel confident in an interview situation so that you can effectively communicate your value proposition and passion.
Polish Your Career Skills With Affordable LinkedIn Career Courses
When it comes to career skills, you can't go wrong with LinkedIn.
LinkedIn Learning offers a wide selection of career development courses that are easy to follow, and have a good range of hands-on applications for you to try out what you've learned.
The insight you'll gain from these courses will go a long way towards helping you reach your career goals. If you're just getting started with LinkedIn Learning, or if you've been using the Skill Library for some time now and want to expand your resume course collection, these courses are the ideal place to start.
Share on Facebook: