The aim of this guide is to help store owners write a refund policy by understanding the elements they can include and by using refund policy generators. Customizing your own refund policy to fit the nature of your store is still advisable.
Sometimes when customers are not satisfied with the product or service they received – either because of low quality or the product failed to work as expected – they return them and ask for a refund.
Returns may either be converted to refund or exchange. This may not be a good thing for store owners, but do take note that it's best to deal with refunds positively. It can affect your relationship with your customers, and it has the potential to make or break your store's success.
In dealing with refunds, you need to create a policy that you and your team can follow in order to properly accommodate customers' refund concerns.
What Is A Refund Policy
A refund policy is synonymous with return policy, and it is a set of guidelines that store owners can follow when dealing with returns and refunds for returned products. This includes how and when a customer can claim a refund within a specific time frame.
Most customers are interested in a store's return policy because they want to be assured that in case the products they purchase fail them, returning them won't be a hassle. This greatly affects their purchasing decisions as well.
It is important to create a clear, concise, fair, and appealing refund policy because it can:
Improve customer service and experience. When an unsatisfied customer comes back to return what he purchased and asks for a refund, this gives him a negative view of your store. You can win customers back by providing a fair and friendly refund or exchange.

Note that they'll be able to value your effort in going that extra mile on customer service.
Attract and keep customers. A well-written and fair refund policy can be used as a marketing strategy to give customers a sense of security and that the products are of high quality and will work as expected.

e.g. including a "Money Back Guarantee" within the refund policy
Set customer expectations. A clear refund policy can set customer expectations on certain circumstances such as when and how they can claim a refund.

e.g. specifically stating the number of days for the money back guarantee: "30-Day Money Back Guarantee"

If, unfortunately, the product they purchased failed after the 30-day period, as sad as it is, most customers will be able to understand that they can no longer claim refunds as it is clearly stated on the Refund Policy that Money Back Guarantee is only good for 30 days.
Win customers' trust. A refund policy also provides assurance that the products they'll get from you are in good condition, and it will give them the idea that it's safe to return the product in case they're not satisfied with it or if it's damaged.
What Makes An Effective And Customer-Friendly Refund Policy?
In making your own refund policy, it is essential to state what your customers might want to know beforehand to assure them that they are buying from a secure and credible e-store. This will also help reduce the time you'll spend on refunds, address customer issues/concerns, and improve sales.
Once you've created your own refund policy, it is best to have it checked by an attorney in order to ensure that it adheres to local and/or federal laws.
The following are essential elements you can include in your e-store's refund policy:
1: State What Your Customers Can Return
Depending on where you live and what the law states, you need to know the product types or categories that are not accepted for returns. You can acquire a list of such products from your local government prior to creating a refund policy for your own e-store.
Stores selling perishable goods; customised products; non-resalable goods due to poor handling/conditions or for health considerations; and goods without tags/receipts/invoices/packaging may not be able to include these products in their refund policy.
Check with your local government regarding the legal documents governing returns and refunds in order to accurately state what your customers can and cannot return.
2: List the Expected Refund Amount
Ensure to list down the expected refund amount of the product to be returned. Taxes can be refunded, but shipping fees are usually not included in the refund. Stocking fees, if charged to the customer, should be included in the policy.
Provide customers the calculation you use, so they'll be able to calculate the exact amount they'll receive.
3: Specify the Return Period
Consider the following key factors to help you define a specific return period:
the limited number of days that your payment processor/s store credit card information – if you don't know about this, you won't be able to refund customers
order delivery time
shipping time
Indicate the start of the return period:
Is it the day the customer purchased the product?
Is it the day the product is shipped?
Is it the day the customer received the product?
Include the required activity that must be completed before the return period ends:
Should customers just ship the return?
Should you receive the physical product first?
Specify the number of days it will take for you to process the refund and ensure customers are regularly updated with their return status.
4: List the Address for Returns
List the complete address for product returns and make sure to include the department.
To be sure that customers ship the returns to the right location, include a return slip which customers can tape on the product's packaging.
Make sure to specify who shoulders the postage fee. If customers are to pay for postage, it's possible they'll choose a cheaper shipping service which is often unreliable.
What you can do is insure products with tracking services, regardless of who's paying the postage fee.
5: Clearly State if You Accept or Do Not Accept Exchanges
If you accept exchanges, specify if the product/s can be exchanged with other items or store credit. Specify the process, how long it takes, and what fees/charges are included.
If you do not accept exchanges, make sure it is stated clearly on the refund policy.
6: State Special Circumstances
If you run sales, it is often assumed that products cannot be returned. But this truly depends on the store, so it's best to explicitly state if there's an applicable return/refund policy for sales.
Whether you mention the products on sale are "as is", "buy one get one", "all sales are final", and others, clearly state that these products will not be accepted back for refunds.
To protect your eCommerce business against losses due to "past dues", it's best to enforce a strict refund policy. However, if you don't want to dissuade customers from buying, make sure to let them know what will happen exactly if products are returned past the return period – e.g. offer discounted refund or store credit, etc.
7: Include a Clause for Discretionary Updates/Changes to the Policy
This clause allows you to make reasonable updates to your store's refund policy at your discretion based on your customers' shopping routines.
Make Your Own Store's Refund Policy Using Any Of These Refund Policy Generators
You can choose among these two refund policy generators to help you get started. But, make sure to personalise your refund policy to suit the nature of your store and to include important contents mentioned above.

TermsFeed lets you create a refund policy in just five simple steps by providing your store's information, as well as other details that you want to include on the policy. It will also display a generated refund policy with HTML tabs, so you can easily transfer it to WordPress or other platforms.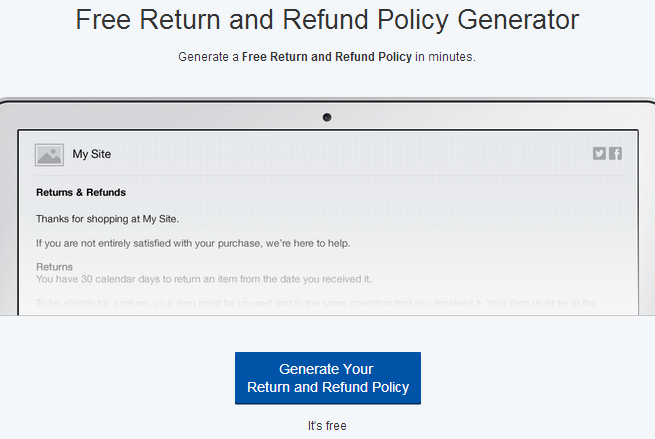 On the site, click on the Generate Your Return and Refund Policy button
Enter your site information
Enter your company location
Provide Return details depending on the nature of your store
Enter your email address to where the Refund Policy will be sent
You'll now have a generic Returns Policy available for your store. With HTML tags for easier transfer

With just one step, you can create your very own refund policy, terms of service and privacy policy at the same time through eCommerce University's Policy Generator.
However, these are generic policies and are subject to revision and updates. You can use and edit them to suit your store's needs.
Learn From Others
Here's a list of refund policy samples from very good eCommerce stores. Check and learn from them, and see which part/s of their refund policies is/are applicable to your store.
Zappos provide a very generous refund policy to customers as they allow 365-day limit to return or exchange the products bought from them, provided that the item is in good condition and in the original box/packaging.
One notable thing is that the shipping is free for both orders and returns. It is so appealing to customers because they can order several items and send them all back if nothing suits them.
Customers can also process a Self Service Return for a full refund.

Macy's has one of the most loved return policies that allow customers to return an item and get a refund within a 180-day period. However, shipping for online purchases is not refundable, but they allow items to be returned to the store without any cost.
Processing refunds and returns can also be made directly online by following these instructions
Amazon may not have the best refund policy that customers love, but it provides a very detailed and comprehensive refund policy. They also provide different conditions as to how customers can process and claim refunds depending on the payment method they used.
You can check out their detailed refund information here.
Final Checklist
Understand what a refund policy is
Learn the elements that make an effective and customer-friendly refund policy
Create your own refund policy using refund policy generators
Customise your generic refund policy that will suit your e-store
Learn from well-known eCommerce stores' refund policies
See what part/s of their refund policies is/are applicable to your e-store