The aim of this guide is to teach you, step-by-step, how to use Buffer to automate your social media posting to help enhance your social media presence and increase your following.
With a myriad of social media tools these days, it can be a lot easier to update current followers and create new ones. One of the features you should look for is automation because it simplifies the process and makes your (or your social media manager's) life easier.
One of the tools that provide ease in automation is Buffer. This social media tool is great for scheduling and publishing updates at specific times.
You can connect your Twitter, Facebook, LinkedIn, app.net, and Google+ Page to Buffer. The free account lets you update one of each social media accounts with up to ten scheduled updates at a time.
The pro account is priced at $10 per month and it allows a maximum of six social media accounts and up to 50 scheduled updates. If you wish to have unlimited social media accounts and scheduled updates, you may want to check Buffer's premium account for $99 per month.
You need to know this guide because if you have a growing following on any or all of the social networks that Buffer supports, you'll need its key features to keep your followers updated regularly. You'll appreciate the automated updates that Buffer offers because it speeds up and eases your social media marketing tasks.
Scheduling your updates for Facebook, Twitter, LinkedIn, and Google+ shouldn't be a hassle and a burden. In fact, social media marketing is an additional channel which can boost lead generation that can possibly convert into paying customers.
Using a tool such as Buffer in your social media marketing activities is a way to quicken the process minus the hassles.
We've organized the steps according to three main stages:
Create a Buffer Account
Connect your Social Media Accounts to Buffer
and Schedule Updates
Grab your free cheat sheet and discover how your learning technique can be applied in your online job.
Step 1: Sign In To Buffer
To create a Buffer account, go to BufferApp to sign in. You sign in via email or you can use your Twitter, Facebook, or LinkedIn account to sign in if you don't want an additional username and password to remember.
Option 1: Sign in using any of the social media accounts – Twitter, Facebook or LinkedIn.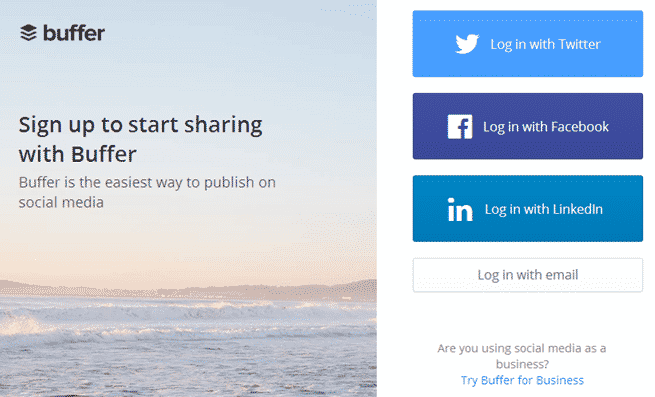 Option 2: Sign in using email.
Step 2: Connect Your Social Media Accounts
On the next page, you'll see your account's dashboard where you can connect your social media account to Buffer. As mentioned earlier, you can connect Twitter, Facebook, LinkedIn, app.net, and Google+ page.
Just select the social media account you'd like to connect. You will be taken to the official websites where you'll be asked to authorize the connection.
Below are the authorization screens you'll encounter when you connect any of the social media networks and app.net:
If you have an account on app.net, you'll be asked to log in to authorize Buffer. If you don't have an account yet, you need to sign up using Facebook.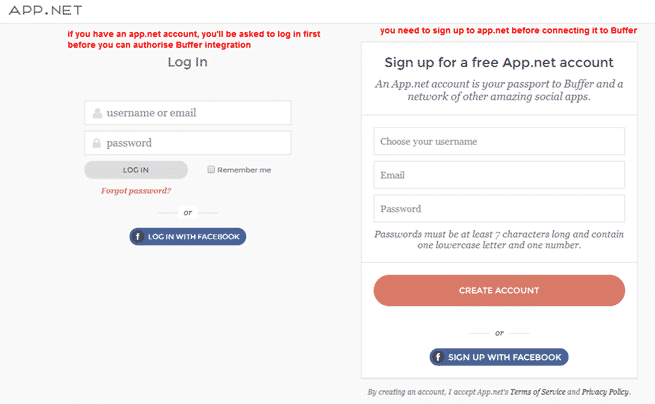 Authorization of Buffer is a lot faster if you are logged in to your social accounts. Our screen captures for LinkedIn and Twitter show that you need to log in first in order to authorize Buffer integration.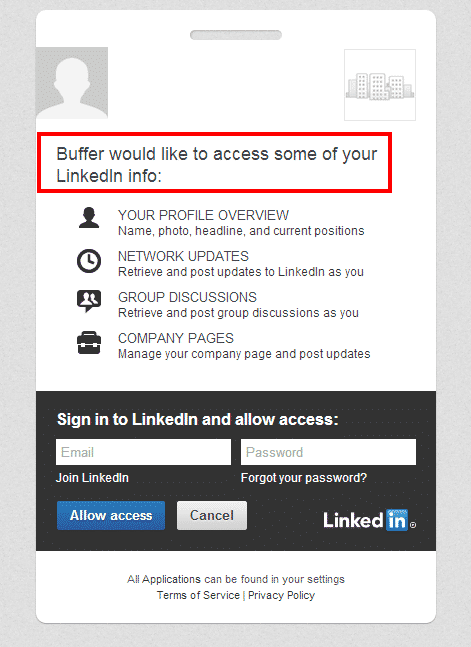 Upon logging in, you'll see another screen that asks you to authorize the connection.
For Google+ and Facebook, if you are already logged in, Buffer will show these screens asking you to authorize the connection. It will also tell you what it would like to access on the specific social media account.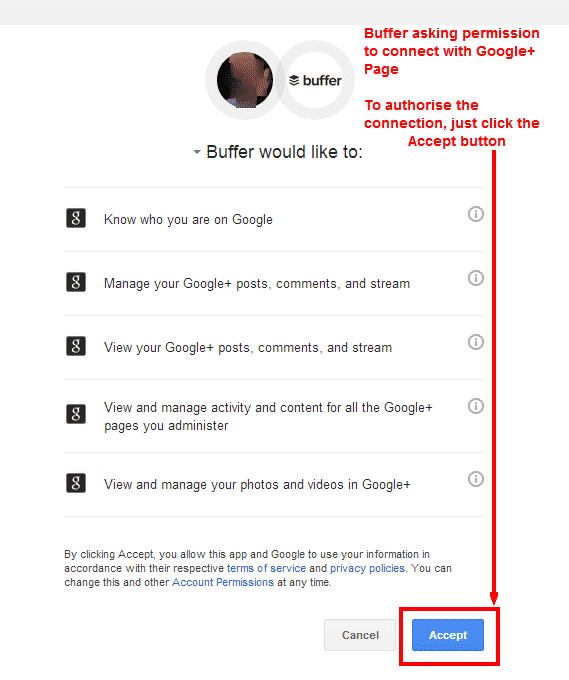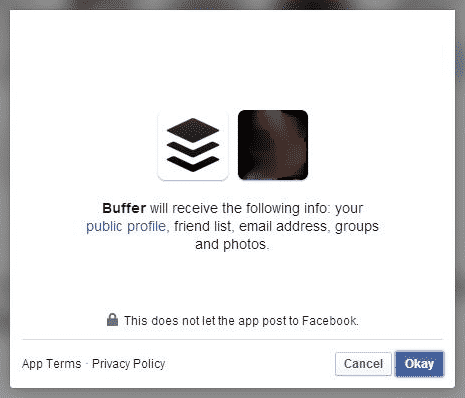 You just have to click a button to complete the authorization. Once you have authorized Buffer to connect with your social media accounts, any update you'll schedule on a specific date and time will be posted automatically.
Step 3: Set Up Your Updating Schedule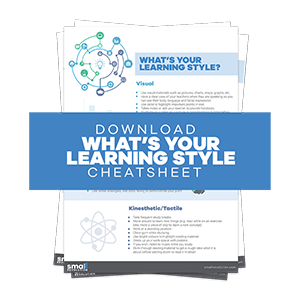 Buffer's main feature is the ability to set an updating schedule that's unique to each of your social media account that's connected to Buffer.
You can create one or more buffering patterns for various days within a week. This allows you to have multiple updates from Monday to Friday, and a few weekend updates if you wish to keep your fans/followers updated throughout the entire week.
1. First, you need to choose the social media account you'd want to set up a schedule for.
On the screenshot below, we chose Small Revolution Twitter account.
2. Next is to set your time zone.
3. Choose the days in a week by clicking on the specific days (Monday to Sunday; their corresponding buttons will turn blue when selected).
4. Choose the time you prefer to update.
5. Click "Add Posting Time once you're decided with the day/s and time.
6. If you want multiple updates within the week on various times, just click New Posting Schedule" and follow steps (3) to (5).
Click here to download your FREE Learning Style cheat sheet.
Step 4: Add An Update
Scheduling an update is quite easy using Buffer. Once you have connected all of your social media accounts, it will automatically include their respective icons.
All you need to do is write a short update on the box that says "What do you want to share?"

When you click on this box, it will automatically show you your social media icons where you want to post the update.
There's no limit to the number of characters you can share to your Google+ page, Facebook, and LinkedIn. However, adding or choosing solely your Twitter account/s limits the number of characters you can share to just 140.
Step 5: Add Your Update To Queue
Basically, when you have set your schedule, your option is to "Share Next". Buffer will automatically schedule your update on the next available day and time based on your posting schedule.
But if you want a customized day and time, you may do so by choosing "Schedule Post". You will see a calendar and timer which you can set a specific day and time you'd like the update to be posted.
Click "Schedule" once you have set a customized schedule.
Step 6: Use Buffer Tips And Tricks
1. Install Buffer button on your browser to easily add relevant articles directly from another website onto your queue.
Clicking on the Buffer browser button will let you update your social media account/s with the link to the website you are currently browsing.
2. Use Buffer anywhere with Apps, Extras and Extensions.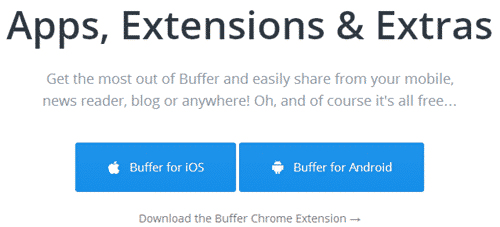 Apart from the browser button, Buffer offers a variety of extras, apps, and extensions which allow you to use Buffer on all sorts of places on the web, and via mobile devices. Installing any of these will make it convenient for you to add updates.
3. Buffer your re-tweets.
You can schedule your re-tweets using Buffer especially if you have blog posts that have been shared by some of your followers. Re-scheduling re-tweets is one way to ensure that you don't flood your followers' feeds.
On Twitter, open the tweet you'd like to re-tweet by clicking on the Buffer button.
4. Review and learn from Buffer analytics.
Use your Buffer analytics to:
see top tweets – e.g. number of re-tweets, favorites, and clicks
identify posts/updates for re-buffer or re-tweet or re-share
Buffer analytics can also be used via apps or website, so you can check your data anywhere.
5. Re-buffer best posts/updates.
A successful post or update is worthy of re-buffering, so it can be read by other followers who have missed it the first time. And if you gained new followers, this post will be seen by fresh eyes.
On your Buffer analytics, you will see which post/update gets lots of likes, re-tweets, +1s, clicks, etc. depending on the social media account. Check each of your social media accounts to see top posts/updates and make sure to re-buffer them for new and current followers.
6. Check and use "Content Suggestions" in your roster of scheduled posts.
If you feel like you're running out of posts/updates to share to your followers, check the Content Suggestions panel to see if there's anything worth sharing. These are automatically generated by Buffer, so be sure to check the ones you like for their relevance and usefulness to your followers.
You will also find content suggestions with photos, so it's good practice to always check the suggestions prior to sharing them.
7. Buffer images.
When you've already installed a browser extension, it is easier to share an image with your followers. You can see a "Share Image" button at the lower, right-hand side of the image while browsing the post on a website.
Another way to buffer images is to right-click an image and click "Buffer this image".
The best part of all is you can use these tips and tricks on both free and paid Buffer accounts.
For more tips, check these Hidden Buffer Hacks.
Final Checklist
The ability to automate your social media postings is a great help to your already busy workweek. Having to utilize a day or two in a week to ensure that posts are scheduled regularly on various social accounts will help you ease the week's tasks and organize and manage other important activities you need to accomplish for your e-store. With the help of Buffer and its numerous features, you can be sure that your followers will get updates regularly even when you're sound asleep.
Create a Buffer account.
Connect your social media accounts.
Choose from Free or Paid account options (for unlimited accounts and posts).
Set-up your updating schedule.
Schedule your post/update by queuing it appropriately.
Learn and use various Buffer tips and tricks.
Click here to download your FREE Learning Style cheat sheet.
Photo by Tracy Le Blanc