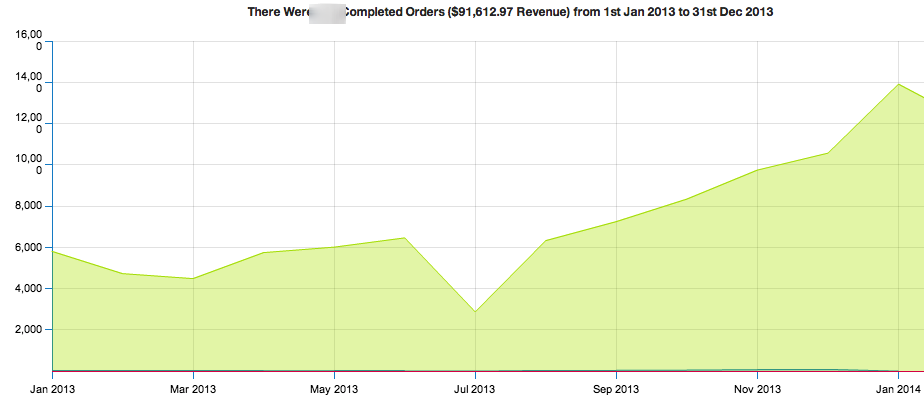 When we began building our own eCommerce stores there was no single, comprehensive resource to turn to that would help us achieve a good profit on low costs.
So … we created Small Revolution. 
Over the course of 2 years we assembled processes and guidelines for our team to learn from and build each store.
As a result we turned over $91,612.97 last year in a strange little niche.
The Ultimate eCommerce Guide
Small Revolution offers you a comprehensive step-by-step blueprint that gives you up-to-date and relevant information about starting and running an eCommerce store.
This blueprint is not a collection of theories, but practical and results-driven step-by-step guides and processes which we have tried, tested and used to achieve success in our own eCommerce business.
Members have access to the full set of step-by-step instructions for a low monthly cost.
So, how can we help you?
180+ Chapters in the Ultimate eCommerce Guide – we outline and teach you how to start, maintain and grow your eCommerce business. The best part is that this collection grows because we constantly add and update it with new and fresh information all the time. You can make use of all of these, or choose the ones that best fit your eCommerce business model.
eCommerce Knowledge Base Template – we help you to organize the processes and guides in order to come up with a linearly developed and systematized eCommerce store procedures. You can use the knowledge base template and plug in all the necessary processes and guides which you can then share with your team.
All The Tools We Use – All successful eCommerce stores need digital tools in order to operate with maximum effectiveness and efficiency. These are the same digital tools that we use in running our own eCommerce stores – from project management tools, time-keeping and scheduling tools and more. Small Revolution is your gateway to accessing these tools and how to use them in your eCommerce business for optimum results.
Who should join Small Revolution?
eCommerce Beginners
Small Revolution is an easy to use step-by-step library that takes your hand and walks you through the different processes of building your dream eCommerce store – from the very first step of finding the right market for your products and services, to building a team or workforce, and up to making your first sale. The how-to guides are created specifically for people with beginner-level English skills (if you are working with offshore freelancers) and no previous eCommerce experience.
Seasoned eCommerce Owners
Even the most experienced eCommerce business owner encounters a myriad of problems that concerns their business; more often than not, these problems can cause the demise of an eCommerce business if not addressed quickly and properly.
Small Revolution's collection of in-depth guides and processes contain some of the most informative and helpful resources that addresses majority of the needs, questions, and dilemmas that eCommerce business owners face – helping you to get your business back on track.
Remote, Untrained Employees
A successful eCommerce businessperson is always backed up by an effective and efficient team of web developers, designers, content writers and more. More often than not, it is these people who have the answers to the issues that your eCommerce business is facing.
Small Revolution helps to bring out the best in your employees. With our comprehensive articles, guides and tools, Small Revolution can help to skill-up your workforce to ensure that they continue working with optimum productivity.
Small Revolution is your very own training and operations manual, helping to make sure that your employees – both trained and inexperienced – are provided with consistent and accurate information about how procedures should be completed even if you're not always around. This gives them the independence and security to work on their own.
Suffice to say that having access to the Small Revolution Knowledge Base gives you the chance to better manage your remote or "invisible" team.
Get started, and join us today.