You can do anything – but not everything

David Allen
In more ways than one, hiring a virtual assistant (VA) can enhance your business. An enhanced business means better decisions and more profitability.
David Allen may not have said the above quote with entrepreneurs in mind. But the shoe fits in this case.
A growing small business has different stages, and some of them can be very time-intensive.
Entrepreneurs who achieve business success tend to do two things quite well:
Create strategic business objectives.
Utilize available resources tactfully.
A growing business is bound to have an increased workload. But it may not be the right time to hire new employees.
This is where a VA steps in.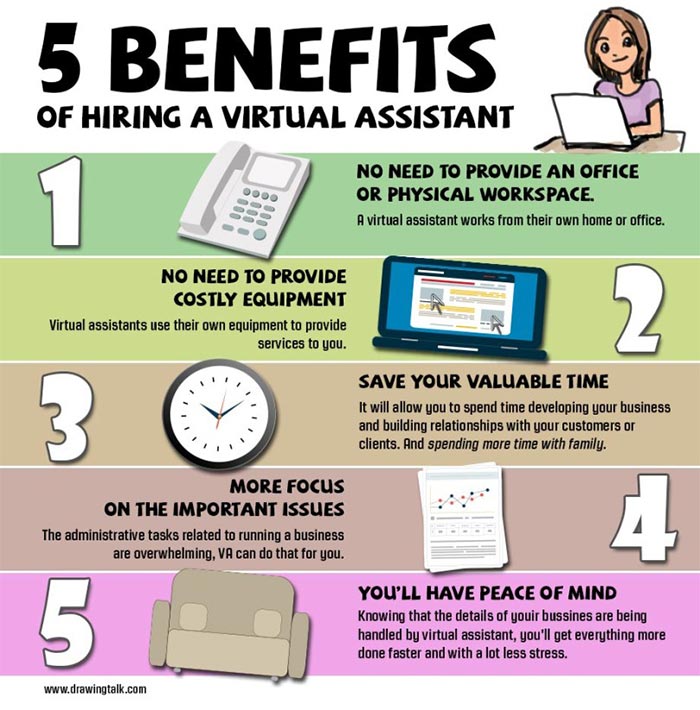 Why Do You Need a Virtual Assistant?
As an entrepreneur running a small business, you need a VA so you can focus on high-value activities.
These include product planning, product development, and organizational strategy.
There are business perks to using a VA. They are independent professionals, which means that they focus on delivering quality projects. A good VA is both skilled and flexible.
They render administrative, technical and creative business support services. All of these tasks happen remotely.
Some other reasons that justify hiring a VA for your small business include:
Cost-saving: In most cases, in-house staff cost more than their salaries. Besides recruitment and training costs, you have to cover insurance and health benefits. With a virtual assistant, you will simply pay for work done hourly or on an agreed flat free.
Time-saving: By engaging a VA, you cut out the time spent putting out an ad for a new employee. This includes receiving and sorting applications, and continuous interviews.

The VA can also help you manage your inhouse employees better. While they do the heavy lifting you can delegate simpler, time-consuming tasks to the VA.
Delegation: You may be experiencing an influx of new projects. Simple chores, paperwork, follow up calls and other administrative duties could complicate things. A temporary VA will help you avoid getting overwhelmed.
Minimal workplace conflict: With varied personalities conflicts are bound to arise. Remote working simplifies the workplace. A VA employee will be less involved in office politics or instances of tardiness.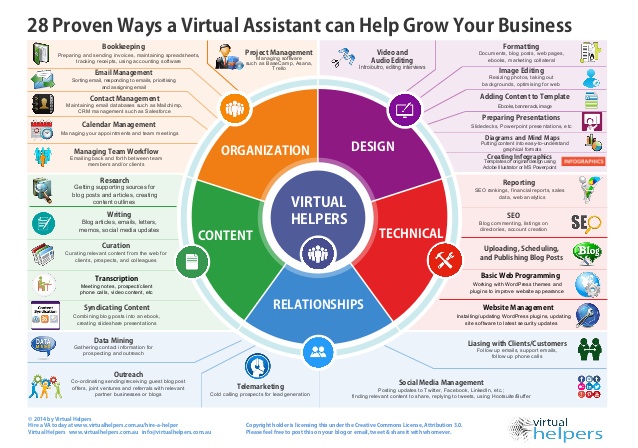 How Hiring a Virtual Assistant Can Improve Your Business
Strategic Partnership
In today's world, a VA is more than an extra pair of hands.
Most VA's are self-employed too. They realize the need to scale up different aspects of their expertise as business owners.
This makes them highly adaptable. They tend to be knowledgeable in various fields. These include sales, marketing, basic graphic design, accounting, and bookkeeping.
Like you, the self-employed VA wants to grow their enterprise.
They will, therefore, perform beyond expectations to maintain their business relationships. This shared interest creates an opportunity for strategic partnering.
As partners, you can share information and ideas on different business aspects. For example:
Website content curation
Social media strategy
Copywriting
Product development
Branding and advertising
Human resource management
New technologies for your business
When you collaborate with a qualified VA, the likelihood of taking your business to the next level is high.
This is because both parties are aligned with a common and profitable goal. Business success is your joint motivation.
Streamlined Business Processes
As mentioned earlier, the main reason why you should hire a virtual assistant is to delegate.
While some administrative tasks may seem unimportant, they can affect your business processes.
For instance, one missed email could result in losing a critical client. One missed payment could result in loss of utilities. A missed follow up call could dampen your credibility in the eyes of a prospective partner.
Some non-essential but necessary tasks the VA can take off your hands include:
Comprehensive market research
Business analysis and reporting
Email management
Appointment bookings
Social media management
Administrative tasks
HR duties including payroll management
Call management
Calendar organization
CRM updates
Social media management
Bookkeeping
Most people can manage the above skills, but time is the problem.
As a business owner, your available time is best spent on key business functions. These functions relate to creating more revenue for your business.
Leveraging In-Demand Specialization
Virtual assistants don't need to be boxed into a "basic" secretarial role.
The evolution of the internet means you can now access skilled professionals from all over the world.
You can now access a wide range of technical and specialized services at scaled-down costs.
This means that you only need to engage specific services when your business is in need of them.
Today, there are virtual assistants who can perform many in-demand services including:
Business negotiation
Blogging
Search engine optimization
Digital marketing
Web development
Catalog management
Keyword research
Audio and legal transcription
Instant Access to The Best Talent
The virtual world breaks down barriers and brings world-class talent right to your doorstep.
There is no need to worry about geographical logistics.
Your VA will most likely spend a considerable amount of time in discussion with you. As a result, they will understand your business model.
This understanding will translate to the quality of work they do for you.
The best part of hiring a VA is getting someone with knowledge and skills in fields such as:
Software development
Communication
Creative writing
Learning and development
Design
Project management
Cybersecurity
Law
At the start of your VA search, you may be looking for a simple administrative assistant.
But keep in mind that you may end up finding people with the above skills at comparatively low costs.
In time your VA could turn into a critical employee who just happens to work remotely.
Grow Your Business with a VA
Virtual Assistants can be an asset to any company.
The most important thing to note is the value of finding the right VA for your specific needs.
With a little patience, you can find a virtual assistant who will join forces with you. And help you build a successful enterprise.
With the right hiring process in place, you can find a virtual assistant that gives your business a much-needed edge.
A VA will bring in value to your business without chipping away at your bottom line.
The best part about hiring a VA is the potential of finding exceptional talent at a marginal cost.
Whatever your business requirements are, a virtual assistant should be able to:
Increase your productivity.
Streamline your business processes.
Provide valuable business ideas.
Point you towards key industry trends.
Bear in mind that most VAs are exceptional in specific niches.
This means you might hire someone who is a master in their respective field.
Maximize your operational success by hiring a qualified VA today.