Pinterest VA is a smart career choice these days. There are several reasons why you might want to choose it as your niche. Firstly, there is an increasing demand for Pinterest VAs since Pinterest has been re-discovered as a valuable source of traffic.
Secondly, becoming a skilled Pinterest VA doesn't take too much time. Of course, you need to invest some time to become truly good. After all, that is the entire point, isn't it? Becoming an expert VA within a lucrative niche.
Get this:
Becoming a virtual assistant is a great idea if you want to start an online career. A good virtual assistant needs to have a specific set of hard and soft skills. It is obvious that you should be tech savvy and that you have a good understanding of the online job market.
Employers will usually require you to have some experience working in the Microsoft Office Suite or a similar environment or some of the CRM systems. Besides those, a good VA needs to have a strong set of transferable skills:
Communication skills
Multi-tasking
Great organizational skills
"Can-do" attitude
Quick learning abilities
These are the basics, really. If you have all of these, you can be an excellent VA. However, a million others can too. You need something to make you stand out from the crowd.
Don't be a generalist VA. Choose a niche and become a specialist!
Therefore, we're are here to help you become an expert Pinterest VA.
So, let's start from the beginning. What is Pinterest anyway?
What is Pinterest?
Most people would answer "social network" and most people would be wrong! While you have a profile on Pinterest and you make your own collection of pins, it is actually a visual search engine.
Yes. A search engine. Just like Google is a comprehensive search engine, Pinterest is a visual one. You can think of Pinterest as of a catalog for all sorts of interests: recipes, DIY, wedding ideas, interior design and much more.
More precisely, you can search for anything whatsoever, and your search will yield results consisting of images. Every small business can offer something to the general public in terms of knowledge or inspiration.
People use Pinterest to learn something, as well as to get inspired. For example, an eCommerce store that sells jewelry could have a Pinterest account that showcases different fashion styles and instructions on how to accessorize.
Another example would be an eCommerce store that sells tools. Their Pinterest account can be packed with useful tutorials about how to build a deck, fix a washing machine, change a tire and similar projects.
Such pins would bring a lot of traffic to the eCommerce store and consequently increase their revenue. That is why Pinterest is becoming more and more interesting to website owners.
There is a lot of potential for online traffic. Consequently, that's why eCommerce business owners, as well as other website owners, would be glad to hire an expert Pinterest VA.
Here are the steps to becoming a Pinterest VA:
Pinterest VA Step #1 – Learn Pinterest Basics
Naturally, learning the basics is the best place to start. Before you do anything else, make your own, private Pinterest account and try to figure out how things work. Here are several important keywords when it comes to Pinterest to get you started:
Profile – This part is what makes people mistake Pinterest for a social network. When you want to sign up for Pinterest, you are actually creating your profile. You use a profile name, an image for your profile and everything else that goes with it.
Once you have your profile, you can create pins, group them into boards, interact with other pinners and browse the content.
Pin – This is the content format you use for sharing on Pinterest. It consists of an image, title, description and a link to the original source of the content. The link is not necessary, but it is most likely there.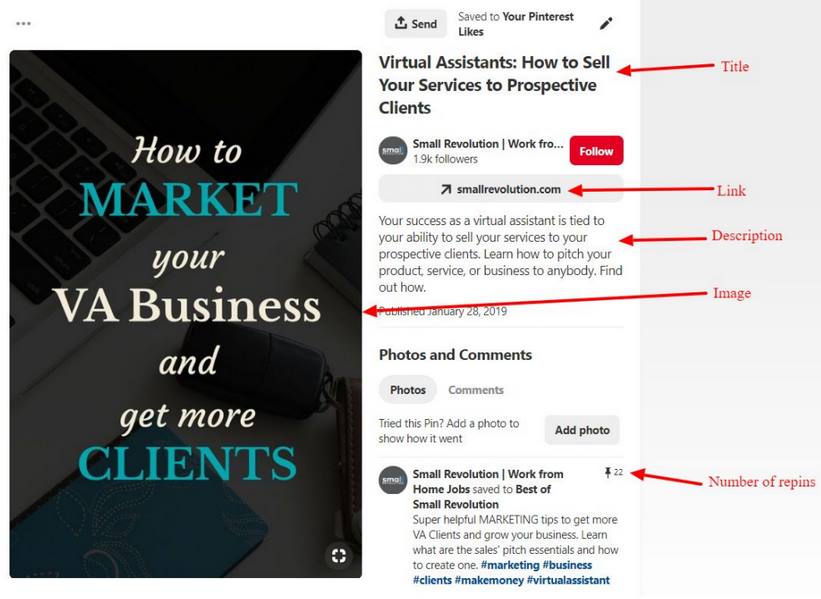 Board – This is a collection of pins that you create to group them. They are usually all on the same topic. You can even create sections of boards to organize them better. One of the important aspects of boards is that you can invite people to collaborate on them.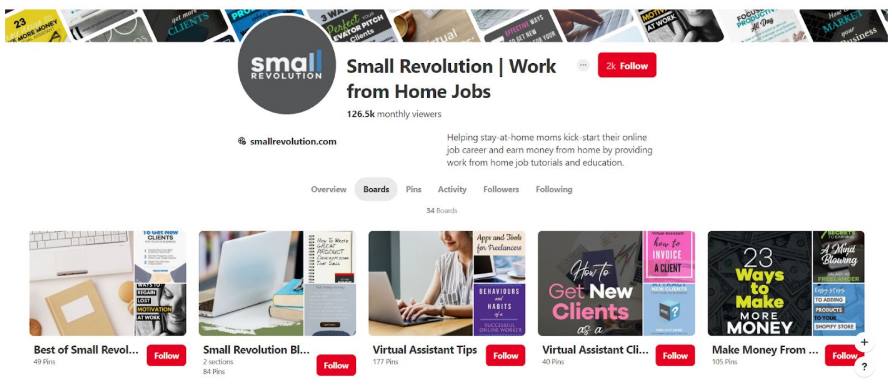 Home feed – When you create it and make a couple of searches, you will see that, even when you are not browsing Pinterest, it shows you 'suggested' pins. That is your smart feed. Pinterest uses it to offer you more relevant content based on the searches you have already made.
So, the next thing you need to do is to figure out how to create great pins that people want to save and follow you, for more. If that happens, Pinterest figures out you must be relevant to the topic you are pinning about and then it will offer your pins in its smart feed.
Pinterest VA Step #2 – Learn How to Make Engaging Pins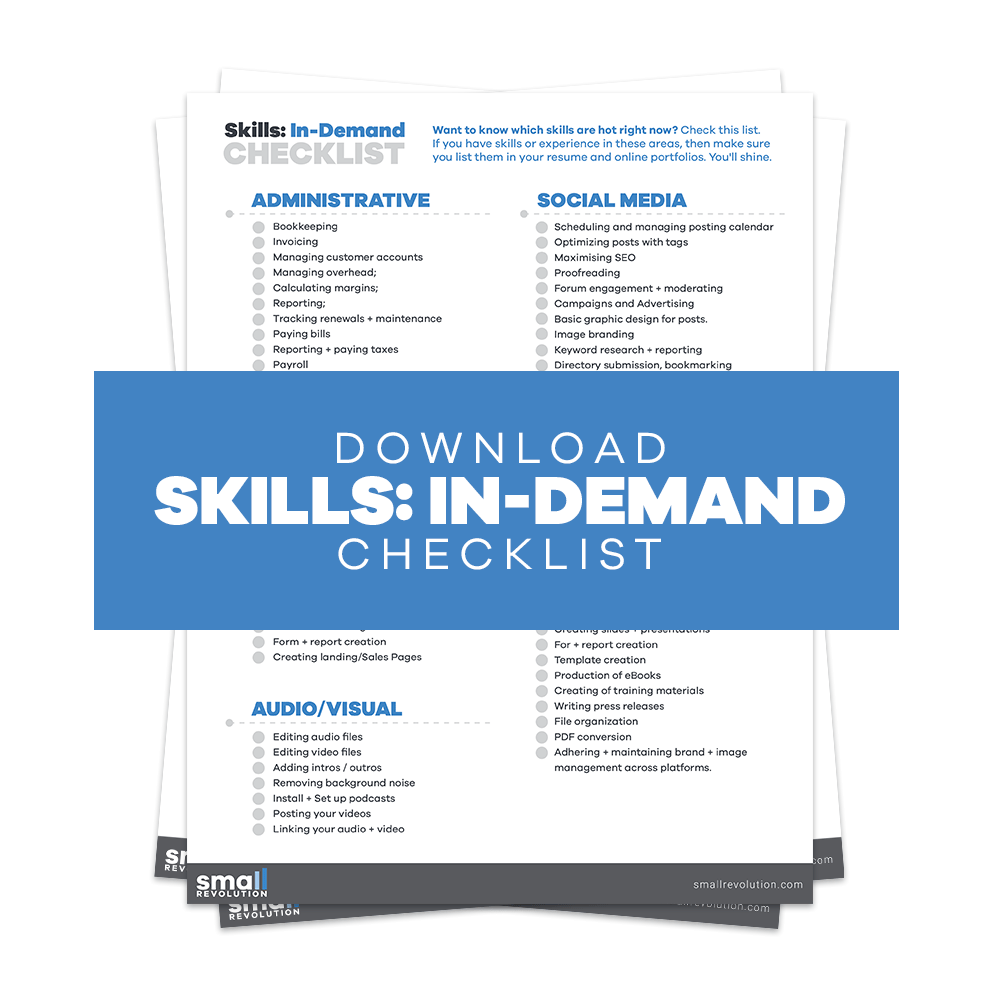 This topic alone could be an entire article of its own. Creating pins is not that difficult, but there are some rules that you can follow to make it more engaging and appealing for people.
Here are some tips for making pins:
Mind the dimensions – the most recommended pin format is 1000 x 1500 pixels. Actually, as long as you keep the ratio of 2:3, you'll be fine.
Choose an amazing photo – people love cheerful photos that sparkle positive emotions. Also, it is always best if your photo illustrates what your pin is about. Your photo should give your pin some context.
Always use an overlay for your text – The text should be short and informative. Usually, if this is a pin that should lead to your blog post, the title of the article will be enough.
Stay consistent with your brand – The pin should contain your brand colors, your logo, and your website.
Pinterest VA Step #3 – Master all the Best Tools
Ever heard of an amazing chef with a bad knife. How about a great doctor with poor diagnostic tools? It's possible, but those professionals can only do so much. That's why you need great tools to be an expert Pinterest virtual assistant.
Here are some of them:
Free image sources – Always make sure that the images you use are your own or free to use. You don't want to participate in copyright infringement. Free image sources are Pixabay, Freepik, Unsplash, Pexels and the like.
Image editing tools – Creating a nice pin and adding text to your image is much easier if you use a good image editing software. Canva is one of those editors that many people use.
Analytics tools – There are several differences between a good Pinterest VA and an excellent Pinterest VA. One of the differences is the ability to track the effects of your pins and analyze their impact. Look into Tailwind for this function.
Pinterest VA Step #4 – Become the Master of Pinterest Boards
Your Pinterest boards can have different contributors. This means that you can create a board and put some pins in it, but also invite people to share their pins on it, as well. The pins they add will be visible to everybody who has followed that board.
Why is this important to you? Well, you need to find the way to get your pins onto boards that have high-traffic.
This is the case with the boards of famous pinners that have thousands of followers.
If you manage to get approval to place some of your pins on that board, your traffic will bloom.
But how to do that?
You need two things – you need amazing pins and you need hours of outreach. To get onto such boards you need to get permission and the only way to get it is to ask.
This is time-consuming, but important, all the same. Be ready to get a lot of rejections and don't be discouraged when you don't even receive a reply. You will have to hone your outreach methods to get successful.
This is just the tip of the iceberg when it comes to Pinterest strategies and techniques. There is so much more to learn to become a true pro-Pinterest VA.
A lot of that knowledge is available to your on the Internet, but it takes a long time to weed out the relevant information from the fluff.
Moreover, if you don't have enough knowledge on the topic, sometimes you won't even be able to pick the good sources from the bad.
But luckily for you, you don't need to, because we've already done that for you. Go to the Small Revolution website and enroll in the awesome Pinterest VA course.
We curated the best and the most relevant sources from all over the Internet and packed them into bite-sized lessons. You just need our course and a bit of practice and you'll be good to go!
Shareable Images
Photo by Viktor Hanacek / CC BY