You've probably figured it out.
Udemy is the place to go for free courses that help you turn your passions and interests into full-fledged careers.
You've browsed through their huge collection and now you're looking for free courses on a specific subject.
Well, here are two effective methods you can use: search filtering and coupons. As we go over them, you'll also learn:
Why you need multiple search filters
Why free Udemy coupons are hard to find
The best places to look for free Udemy coupons
Method 1: Apply Search Filters to Udemy
Search filters are excellent sorting tools. They'll spare you the torture of manually going through Udemy's entire course list to find free courses.
They are applicable to all topics from creative fields such as photography and music production to more technical areas like cyber security.
In the following steps, we'll show you how to apply search filters to find free courses under web development (our sample topic).
Step 1: Navigate to Udemy's Homepage
Udemy's homepage will appear as the first listing on Google's results page for Udemy.

Step 2: Search for Your Desired Topic
Find your desired topic by keying it into the search box or scrolling through the categories section on the left.
In this instance, we keyed in web development.
Step 3: Apply Search Filters for Free Courses
Your unfiltered search will yield paid and free courses, among other customizable options such as different course ratings and levels (beginner to expert).
To apply filters:
Scroll down slightly and click on the icon labeled filter.
Select the price menu.
Check the box marked free.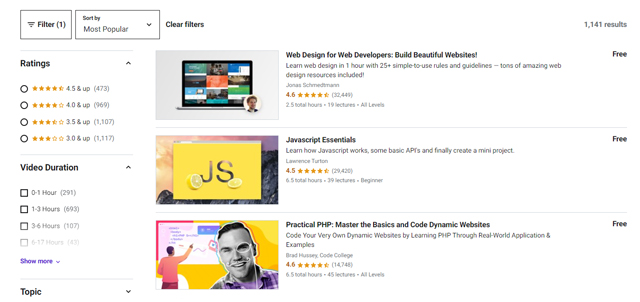 Using price as your only filter will help you find free courses, however, depending on your specific topic, you'll still have to choose from a long list of free courses, which is ineffective.
For instance, our example topic yielded 1,140 free web development courses. This is a wide range to choose from, so we added to our filters to narrow it down.
In this case, we included filters for the highest-rated, intermediate-level courses, which narrowed our searches to 51 free web development courses.
Use more filter options to refine your search. For instance:
Language to find local instructors and content for better comprehension
Video duration to help you create a more workable schedule
Subtitles to help you find more accessible content
Method 2: Free Coupons
Coupons are effective at finding free Udemy courses (100% off). However, they are limited and time-sensitive so you'll need to act fast to use them.
For instance, an instructor can create up to three coupons per course each month, and— depending on the type of coupon—they'll start to expire after five days. Meanwhile, the longest-running coupons expire after 31 days.
The following table highlights the types of free Udemy coupons and their expiration dates.
| | | |
| --- | --- | --- |
| Type | Description | Expiration Date |
| Open coupons | Allow up to 1000 students to enroll in a course for free | 5 days after activation or after 1000 redemptions; whichever comes first |
| Targeted coupons | Allow up to 100 students from targeted advertising channels to enroll in a course for free | 31 days after activation or after 100 redemptions; whichever comes first |
Source: Udemy
Where to Find Free Coupons
Visit your instructor's social media channels or subscribe to their mailing lists to find free coupons.
Udemy allows its instructors to send coupons exclusively via promotional emails and social media channels, and not on the platform itself. This is to keep their learners engaged and focused on the coursework.
Once students enter a course, they expect a safe learning environment where they will not be sold to.

Udemy Rules and Guidelines
Also, turn on promotional email notifications from Udemy via your account settings. From time to time, you'll receive email alerts on sitewide sales and coupons.
How to Subscribe to the Instructor's Email List
Open your instructor's profile on Udemy and find out whether they have a website link listed.
Visit the website and find where to join the email list or newsletters subscriptions.
Using our example topic, web development, here's our instructor's profile that includes a website link.
Subscribing to an instructor's mailing list keeps you updated on ongoing promotions. In some cases, such as targeted coupons, subscriptions automatically link you to promotional codes to save time.
Find the Instructor's Social Media Channels
As in the previous example, check out the instructor's Udemy profile for links to their social pages.
Here's another instructor profile that includes links to their Twitter and LinkedIn.
How to Apply Udemy Coupons
Now that you know where to find Udemy coupons, how do you redeem them?
Head over to your desired course's landing page.
Scroll down slightly and click on the Apply Coupon button, which appears below the Buy Now icon.



Source: Udemy

A drop-down menu will appear, prompting you to enter your coupon code. Input the code and click apply.

Successful applications will appear under the Enter Coupon option as such:

Source: Udemy
Have You Considered Udemy's Paid Courses?
Udemy's paid courses are designed to offer a more wholesome learning experience.
This experience involves more features and benefits than the free courses. These include:
A certificate upon completion
Direct messaging to instructors
Q&A sessions
Longer instruction videos
Enroll in a paid course today and access the full benefits of Udemy's comprehensive learning experience.
Thanks a ton to Udemy. When I reviewed and compiled what I have learned, it's amazing for the money invested!

Vivek
Frequently Asked Questions
Should I search for free Udemy coupons on discount websites?
No.
Most discount websites advertise free Udemy coupons but instead direct you to outdated links where the featured course is now paid. This is because discount websites will earn a commission if you buy the course.
Should I message a course instructor directly for free Udemy coupons?
No, instructors are less likely to respond to direct messages asking for free coupons.
This is because most instructors want to be compensated for the effort and time that goes into creating high-quality courses.
Can a free Udemy course expire?
No, there are no expiration dates for courses once you gain access.
Even after completing a course, you will still have access to it, provided your account remains in good standing and Udemy is still licensed to the course.
Share on Facebook: