Work-from-home jobs are becoming more and more common. Companies, realizing the benefits of having remote workers, are allowing more of their employees to work from home. There are many free work-at-home jobs that you could apply for.
A study by Stanford University found that employees who work at home had a 13% performance increase. The same study found that the employees that work from home had a higher level of job satisfaction. This proves that work at home jobs can be a win-win situation.
There are a number of remote jobs that are free for you to start. We will highlight five of them:
Virtual assistant
Data entry specialist
Freelance writer
Customer service specialist
Transcriptionist
Not only do you get to do legitimate work-from-home for free, with no startup fees, but you also control your work environment. This allows you to decide whether you want full-time or part-time work.
The search to find these remote jobs may also seem like a challenge. Along with highlighting the best free home-based jobs, we will also direct you to websites where legitimate work can be found.
Be bold. Take that first step in a career path with a home-based job with endless possibilities and lots of room for growth.
1. Virtual Assistant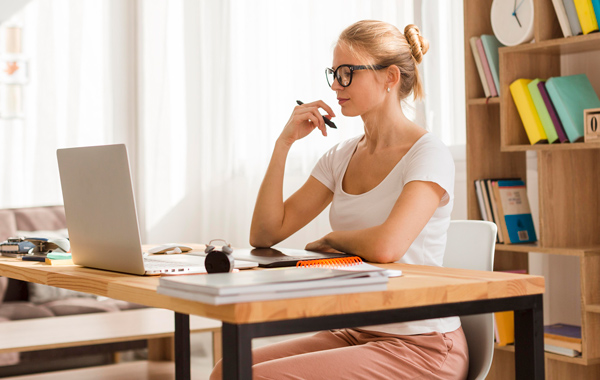 Becoming a virtual assistant is completely free. All you need is your computer and an internet connection. There are a number of things a virtual assistant can do to support a business or an entrepreneur.
Your job could include managing calendars, making travel arrangements, answering phones, personal tasks. All of which can be done at home. It all depends on what work your employer needs.
A virtual assistant can make significant contributions to an organization, all while doing legitimate work at home. You will need to be organized, efficient, and thorough to balance the tasks and do a good job.
How much you make as a virtual assistant depends on your level of expertise. According to ZipRecruiter, the national average is $67,115 per year, making it one of the best-paying work-at-home jobs.
Courses from Small Revolution, that you can do at home, will help you become more efficient and proficient with essential internet basics. Building this expertise can significantly increase how much money you are able to make and how many more work-at-home jobs you can apply for.
2. Data Entry Specialist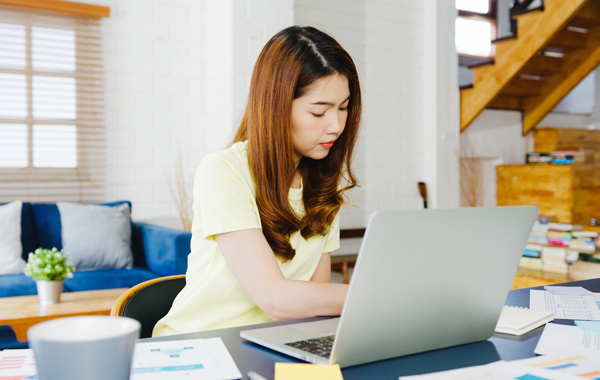 Data entry jobswhich would be free require you to have a computer at home to enter information into a database or a documentation platform. Many industries need data entry services, making this an excellent work-at-home job.
A lot of employers hire at the entry-level for this position. This gives you the opportunity to learn on the job and grow as your skills improve as a home-based data entry specialist.
You can choose to work full-time or part-time depending on how much work you are able to take on, or on how much money you are looking to make.
According to ZipRecruiter the national average pay per year for remote data entry positions is $52,258.
3. Freelance Writer
There are a lot of opportunities in the writing business for those who want work-from-home jobs. Freelance writing is essentially being paid to create content.
You can do this at home on your own time and on the days that work for you, writing blog posts and content for websites such as copywriting, articles, and social media marketing.
Writing is a skill built over time. If you are able to do some writing every day, not only will your writing skills significantly improve, but you will also be able to increase your writing fee.
You can take courses at home that can significantly improve your skills.
An example would be learning how to blog for eCommerce with Small Revolution, helping businesses build their brands with creative content. 
How much freelance writers make depends on a number of things. Rates and experience are related. The more you write, the more experience you gain, the better paid you will become.
According to ZipRecruiter, you can make on average $30 per hour.
Work on your writing skills, and be daring and courageous in looking for those writing jobs. The pay-off will be worth it in the long run.
4. Customer Service Specialist
Virtual customer service jobs are fantastic work-from-home jobs. Many companies are hiring people who can provide these services virtually, creating multiple opportunities for legitimate work-at-home jobs.
There are a number of responsibilities that you may have working in customer service; addressing customers' concerns; answering phones; responding to emails and call center jobs among many others.
Organizations like Amazon hire for positions like these for people who want work-at-home jobs. Amazon hires thousands of virtual home-based workers.
According to ZipRecruiter, the average pay for this position is $23,018 per year.
There are many resources online to help you get started. A good place to start is Small Revolution. They offer a course called Live Chat for Customer Service. This course will teach you how to provide stellar customer service which will significantly help you do the job well. 
5. Transcription Jobs
With your laptop and internet, and no significant startup fees, many want to work a remote transcriptionist.
This work-at-home job entails listening to recorded or live audio files and converting what you hear into text format. You work at your own pace and on your own schedule.
As you improve at transcribing, you increase your earning potential. According to ZipRecruiter, the average pay for this position is $58,441 per year.
There are many opportunities to grow and find legitimate work in this field. The medical and legal professions often require the services of a transcriptionist. This creates a significant number of opportunities to find remote jobs.
It may sound daunting to try to transcribe audio from these fields but don't let that hold you back from the job. Whether you decide to do it part-time or full-time, you will be able to earn a good amount of money.
Finding Work-From-Home Jobs
Many people are concerned about finding scam-free remote jobs. You certainly don't want to feel unsure about the legitimacy of a work-at-home job. It is important to find trustworthy websites that post remote work.
Some reliable job boards to find work-at-home jobs include:
The free resources to help you work from home are endless and content is always being added. Over time you will become more efficient at finding work-at-home jobs.
It takes courage to put yourself out there, especially when you are questioning whether you have the right experience to make good money from these work-at-home jobs. But it's that same courage and perseverance that will land you your first gig. And from there you can grow.
You can become more efficient at finding and securing work-at-home jobs. Keep going till you secure your first job.
Go ahead and get started. An amazing career, with the flexibility to work at home, awaits you.
Photo by Freepik / CC BY