Some entrepreneurs get into the game pretty late. Others turn their ideas into profits while still in kindergarten.
Richard Branson started his first business at only 11 years old by breeding and selling birds to kids in his school. He went on to try his hands on many ventures before building his billion-dollar empire, Virgin Group.
Like others before them, these inspiring young entrepreneurs are breaking the ceiling and starting businesses early. 
Moziah Bridges, Founder of Mo's Bows
As a child, Moziah "Mo" Bridges loved dressing up and looking dapper. And when he couldn't find bow ties that fit his style, he set out to make his own.
With the help of his mother and seamstress grandmother, Moziah started Mo's Bows at nine years old.
Now 20 years old, Moziah's business has grown from a family affair in his grandma's kitchen to a renowned fashion line with colorful, handmade bow ties, neckties, pocket squares, and other apparel.
Mo's most notable achievements include:
Appearances on major TV shows, including ABC's Shark Tank—where he secured mentorship from Daymond John
Featured twice in Times Magazine's "30 Most Influential Teens" and Fortune's "18 under 18" most innovative teens
Invited to the inaugural White House Demo day where he gifted former president Obama with a special "Obama Blue" bow tie
Secured a deal with the NBA to custom-make neckties and bow ties for all the teams
Sponsors summer camps for Memphis children through his charity Go Mo! Summer Camp Scholarship Fund
Moziah credits his success to his mother, who supports and helps him run the business. His mentor, Daymond John, has also been instrumental in advising and helping him secure business deals.
Mikaila Ulmer, Founder of Me & the Bees Lemonades
What would you do if a bee stung you?
You'd probably just treat the sting and move on.
But when inquisitive four-year-old Mikaila Ulmer was stung twice in one week, she became intrigued with bees. She found out that honey bees were endangered and sought to find a way to save them.
Her research birthed the brilliant idea of adding honey to her great grandma's special lemonade recipe to sell at kid's business events. This way, she could donate proceeds to help protect honey bees.
Now 15 years old, Mikaila's simple lemonade stand has grown tenfold into a booming business called Me & the Bees Lemonade.
The brand comes in five flavors and is stocked in over a thousand stores countrywide, including Whole Foods Market and The Fresh Market outlets.
Most importantly, Mikaila has kept her pledge to protect honey bees by donating to research organizations and leading awareness campaigns through her Healthy Hive Foundation.
Her advice to budding entrepreneurs is captured in her book, Be Fearless: Dream Like a Kid;
Dream big, and not only dream big, but also dream like a kid. When a kid has a dream and they want it to come true, they will do whatever it takes to do so."
Maddie Rae, Founder of Maddie Rae's Slime Making
Kids love slime. The squishy, gooey, and messy mixture is oddly satisfying and fun to play with.
Eleven-year-old Maddie Rae was no different. She was obsessed with making slime, so when she couldn't find glue in stores, she started making her own. This is how her first product, Maddie Rae's Slime Glue, was born.
Today, the fifteen-year-old is an Instagram slime-making sensation and has grown her brand to produce more slime-making ingredients.
Her company, Maddie Rae's Slime Making, stocks:
Slime Glue
Slime Containers
Slime Coloring
Slime Charms
Slime Accessories
In 2017, Maddie made a massive slime weighing over 13,000 pounds and was featured in the Guinness Book of World Records.
She continues to excite slime lovers worldwide by holding popular meet-ups, contests, and giveaways through the Maddie Rae Slime Bash.
Cory Nieves, Founder of Mr. Cory's Cookies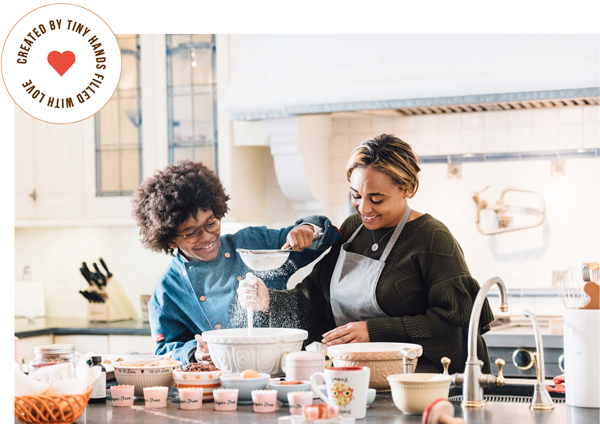 Cory Nieves has always been a big dreamer. Back in 2010, the then six-year-old kindergartener wanted to buy his mother a car so he wouldn't have to take the bus to school.
With a goal in mind and his mother's help, Cory began selling hot chocolate and lemonade to raise money. They later learned and perfected the art of making delicious chocolate chip cookies. The homemade treats were a hit, and Mr. Cory's Cookies was born.
Today, the teen millionaire's cookies grace the shelves of leading stores, including Williams-Sonoma, Whole Foods, and Macy's.
He's also been featured in several media outlets, such as ABC News, CBS This Morning, and CNBC's The Profit.
Meet the mom-son duo spreading love one cookie at a time:
Alina Morse, Founder of Zolli Candy
For most kids, mouth-watering candy is irresistible.
Yet, the sweetness comes with a price—expensive trips to the dentist, with painful tooth cavities being the most common.
Needless to say, most parents restrict their kids from eating too many sweets.
So when seven-year-old Alina Morse couldn't have candy, she came up with a terrific idea to make sugar-free lollipops.
With the help of her dad, she founded Zolli Candy in 2014 and produced the first Zollipops—healthy, delicious candy that kids could enjoy guilt-free.
Today, the fifteen-year-old entrepreneur has grown her sweet dream into a multi-million dollar company. Her online store has an impressive 14,000+ five-star reviews from satisfied customers.
Alina is also committed to educating children on oral health through her Million Smiles Initiative. She aims to donate 2 million Zollipops to elementary kids in the US.
Help your Kid Start an Online Business with Small Revolution
One thing successful kid entrepreneurs have in common is the unwavering support of their parents.
With so many opportunities to be explored online, you can give your child a head start by steering them towards viable business ideas.
At Small Revolution, we have tons of resources to help parents discover and nurture their kids' business ideas into flourishing ventures.
You'll find: