Note to freelancers: don't give up on that healthy work from home lunch just yet. We know it's a tough world out there and you're up to your eyeballs in work.
So we understand that your fridge probably has leftover pasta salad, soy sauce and an (expired?) can of black beans.
Besides, you'd rather spend time learning marketable online skills than taking a trip to the grocery store. That's perfectly legit and we get it until we don't.
The problem is, living off chips, salsa, and cheese crackers are exactly what makes your productivity suffer. And as a food expert once said:
A low nutrient density lunch that spikes blood sugar is a recipe for a crappy work afternoon.
Nothing beats healthy, nutritious, homemade food. But if cooking mid-day is next to impossible for you, there are other ways to get your hands on at least one wholesome meal daily.
Choose recipes that are easy to throw together. Make your workweek lunches in a batch ahead of time or plan out a few cooking nights where you try out one new lunch recipe.
Experiment. Next time you're in the store, grab kalamata olives and sour cream. Turn your space into a test kitchen. Pair a rice bowl with turkey sausage or black beans and see what you come up with.
Get fancy, prepare a side dish. You have more time, right?
With the right lunch recipes, it doesn't have to take ages! And in the words of Taylor Swift,
"Welcome to New York… (your kitchen),
it's been waiting for you.
Welcome to New York.
Welcome to New York."
If nothing else, preparing a meal for the following day gives you the perfect excuse to stop working and move away from that desk.
Below are 53 quick meals that'll help you break unhealthy eating habits. And boost both your health and your online freelance career.
How Did We Pick Our Lunch Recipes?
We've shortlisted only those meals that are:
1. Easy to Make
In short, lunch recipes we've featured on this list are downright simple to make. We made your time saving our priority. And for recipes that you do require some more meal prepping we've got a few clever tricks for you.
What you need is a little bit of organization and simple, hands-on ways of preparing your mid-day meals:
Make super-quick lunches the night before.
Pick a day of your choice and make portioned, ready-to-go lunches in batch.
Use leftovers and pre-batch a full set of ingredients and then improvise your lunches through the week. Mix the prepared veggies, proteins, and carbs to throw together delicious salads, tacos, and soups.
Take ready-made supermarket items such as canned beans, fresh eggs, pre-made grains, and pre-washed salad ingredients to make that mid-week lunch a breeze.
2. Healthy and Decently Tasty
We made sure that our homemade lunch ideas are quick, healthy, and nutritious. But also reasonably tasty. Remember healthy and tasty don't have to be mutually exclusive.
Whether you have a taste for more exotic food or you're more of a gourmet person (pasta salad drizzled in olive oil anyone?), you're bound to find your favorite in this list.
And once you start experimenting with some of our recipes, you'll have good reason to look forward to that midday meal.
3. Easy on the Wallet
We handpicked only those meals that are within a reasonable price range. So, no fancy ingredients there.
Meal prepping your food at home basically comes down to improving your health and saving some money.
With living costs steadily rising, people are increasingly resorting to eating in. A recent study discloses that 93% of millennials spend four nights a week dining in.
Now, let's dive right into the lunch ideas. Have fun exploring!
Feel free to jump to whichever lunch category gets your attention first.
Table of Contents
Healthy Salad Work from Home Lunch Ideas
What should I eat for lunch at home? If this is a default question popping up in your head each day at midday, our immediate answer is a salad.
Salads have been the hottest food trend for a while now and that's fantastic.
They can help you remain healthy while freelancing from home.
A diet rich in vegetables and fruits can lower blood pressure, reduce risk of heart disease and stroke, prevent some types of cancer, lower risk of eye and digestive problems, and have a positive effect upon blood sugar which can help keep appetite in check.
Harvard School of Public Health, The Nutrition Source
And give us the benefit of the doubt, salads can make your taste buds happy too. Plus, the energy-boosting nutrients will make you feel better and make your workweek more fulfilling.
They make for an excellent fast weeknight dish. Alternatively, there are a bunch of fridge-friendly salads you can prepare ahead, put them in airtight containers, and store in the fridge for a few days.
Bulk up on fresh salad ingredients like eggs, chicken, veggies, and fresh herbs and you're all set. Let's go through an array of options, shall we?
If you're concerned about feeling full, you should give this one a chance. It abounds in protein and healthy fat from avocado and rotisserie chicken which makes this a hearty meal.
Food experts at Self.com recommend boosting your salads with 25 grams of protein and 1 to 1 1/2 ounces of fatty foods at the least. And don't forget to add up some flavor with your favorite homemade dressing.
Up for a full-flavored homemade taco salad? This trendy mason jar dish is just the ticket for you. It's also a great choice if you're after a filling, well-balanced meal.
A variety of colorful veggies will make you fall in love with this salad at first sight. Soft chicken and peanut dressing will make you love it at the first bite as well.
It's as simple as sauteing the chicken, chopping some veggies, and drizzling them with the yummy peanut butter sauce.
This salad is loaded up with super healthy veggies and quinoa. A perfect fit for you if you want a plant-based protein option.
Quinoa is a great alternative to animal-based protein. This plate of exciting veggies (and some olive oil) is all a person needs for a wholesome meal.
This egg-based salad is fine-tuned to make for a healthy and sumptuous lunch meal. Eat it as it is or toss it in a whole grain bun. With some improvisation, it won't ever bore you. And it also makes an easy side dish for other larger meals.
Did you read that right? No, it's not buffalo chicken salad but buffalo chickpea salad. Want a lighter lunch that's super easy to make? This is the perfect meal for you. It's crunchy, tasty, and vegetarian-friendly.
This super healthy salad makes for an exciting, nutrient-rich meal. Buy pre-chopped sprouts, slice the cheese and apples and toss in the rest of ingredients together. You're good to go!
If your stomach is insatiate after a chicken veggie salad, there's still hope for you. This steak-based salad will likely fill that belly up.
Avocado, arugula and cherry tomato are a match made in heaven. And we bet you'll love the sound of it when we tell you to put your steak asparagus and onion on grill.
When you're up to your neck in work and can pinch 10 minutes tops for food, grab this chorizo and tomato recipe.
It's stupid-simple to make. Just fry the chorizo and chop onions, tomato, and bell pepper. Chorizo is full of flavor so we're sure you'll be satisfied with this one.
Clueless about what to do with those leftover cooked grain? We have a recipe that will help you take your mind off this pestering problem.
This recipe will also take care of those neglected veggies languishing in the vegetable drawer. This way you'll have an option that houses loads of nutrients and caters to your mood on a given day. Awesome, right?
Have a taste for edamame? Here's an option that's perfect for you. And it's a breeze to make.
Frozen beans and corn will be ready within minutes. Simply half the cherries, crush the feta and add in a squeeze of lemon. As you may imagine, feta gives it a rich, savory taste.
Lentils are a low-calorie, protein-packed pulse rich in iron and folates. Other ingredients include pepper, shallots, and goat cheese that make this a comforting, hearty meal.
Strawberries in a salad? Why not? This may catch you by surprise, but the taste of fruits such as strawberry and peach will blend nicely with greens. And pecans will give this one a crunch.
In the mood for a really scrumptious meal?
You'll have to trade in a little bit more of your valuable time while working from home. But the final result will be equally as valuable. Vitamin-packed superfoods will kickstart your afternoon focus like nothing else.
Grilled chicken and veggies get your taste buds tingling? If this holds true, this is the best option for you. Black beans, tortilla chips, and mouth-watering BBQ sauce give this salad an interesting twist.
Casserole and Slow Cooker Ideas for Lunch at Home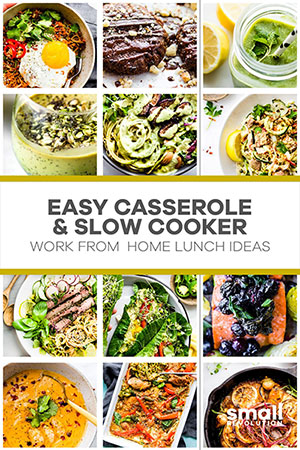 Standing at the cooker keeping an eye on the saucepan is not exactly your thing? No prob! Toss those beans and sausage into the oven for a delicious casserole. Or bye a slow cooker, throw some edibles in, and keep on Netflix binging.
An amusing thought, you may think to yourself. And it is.
Most digital timer slow cookers have a 24-hour cycle. Sounds like long enough time for you to duck out and go about your super important Sunday business, right?
This handy appliance can take your meal prepping to an entirely new level. What you get is a wonderfully tasty soup, stew, and chili with almost zero effort.
And when you don't want meal prepping to take up too much of your time, pick the meals that take little pre-preparation. Then simply throw all the ingredients together and that's about all the fuss you'll get.
Now, let us walk you through some scrumptious casserole and slow cooker recipes.
When your day is full, this 6-step casserole recipe is here to come to the rescue! Zucchini and cheese is a killer combination and here it's no exception.
Saute onions and zucchini and add to the egg mixture. Pour over frozen crescent roll dough, shove it in the oven, and el presto!
Nostalgic for some real home cooking? Get this crockpot meal ready. It's easy to make a dish so you can safely plan it for a weeknight meal prep.
All you need is a good slow cooker, some chicken, corn, jalapeno, and tomatoes. And some chili powder naturally.
A hack for this recipe: swap heavy cream for cream-style corn for the soup base.
This slow-cooker dish is perfect for those days when you're craving a more satisfying and lunch-like meal. Beef chuck, carrots, and celery mixed in with the barley sure make for a satisfying, indulgent lunch.
Adzuki beans are rich in fiber, manganese, and protein. They cook well with chorizo sausages and that's why this meal holds plenty of promise.
The dish is loaded up with a variety of veggies which makes this casserole a well-rounded meal.
Another golden chance for sausage lovers. Once you plop the ingredients in the slow cooker, you can forget about your kitchen business altogether until it's time to sink your teeth in the result.
And the result is comforting and pleasing to the palate.
This savory dish is plain easy to make. Skeptical about meatless pots? Let this vegetarian quinoa sit in the slow cooker for 5 hours so it can prove you wrong.
Oregano, basil, and parmesan give this healthy and gluten-free meal a Mediterranean edge.
It's good to have few hacks up your sleeve come springtime. This veggie-packed minestrone soup might be just the ticket for you. Spring onions, asparagus, and butter beans is all a man needs on a warm summer day.
Lasagna is your all-time favorite food but you also have a waistline to worry about. Don't sweat it, skinny spinach lasagna comes to the rescue.
This recipe features lower-fat cheeses like ricotta and Mozzarella and pairs them with thick layers of marinara sauce, spinach, and lasagna noodles.
Another cheese treat! Keep it going, why not. Brussels sprouts bitterish taste blends perfectly with bacon and cheese flavors. So, we're cheering for this dish. And we're serious.
Want a filling, tasty BUT also a guilt-free meal? This Buffalo Chicken Bowl recipe will meet your expectations.
Cook your chicken in hot Buffalo sauce and garlic. Finish-off a 6-hour shift while this hearty meal is simmering. Assemble chicken with beans and drizzle with Greek yogurt dressing. Simple, right?
Luscious cheesy chile mixture, cheddar-jack cheese, and tortilla chips make this chicken enchilada casserole taste out of this world. And it's also relatively easy to make.
Ten-minute prep work, anyone? Guess you'll find this useful on a busy weeknight.
If beef is your go-to, you're going to love this slow cooker beef yumminess for another reason too. The broccoli makes this low-carb meal packed with vitamins. And the beef soaks up the float in the slow cooker! Do we need to stress that out?
Running thin with the dinner on a weekday? No reason to stress out. Pop a quick-made sandwich into your mouth that night and make a tomato lentil soup for lunch.
Fibre and protein-packed lentils will keep you full for longer. So, there's your hack for the day!
Sandwich Ideas for Lunch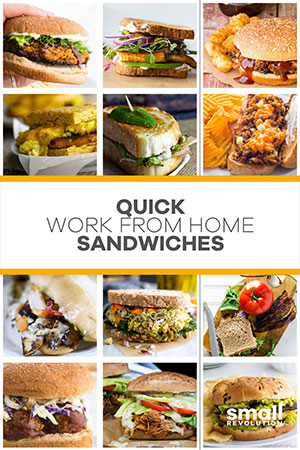 When you need something a little less time-consuming, settle on simple sandwich recipes. They're ideal for an easy weeknight dish and can be improvised when you just need to shove something into your mouth.
It's downright simple. Browse through our sandwich recipes, jot down random ingredients, and load up your fridge for an emergency.
Because it will happen. You'll have a rough week and the last thing on your mind will be to cook something for the week ahead.
Having ingredients at hand, you can leave it for the last minute and set aside a chunk of time to put your lunch together. It's a perfect way to get up from the desk and stretch your legs as well, right?
Now, let's get down to some easy sandwich ideas.
Since you kickstarted your freelance career there's been nothing more elaborate on your menu than sandwiches?
Hack your way out of having to eat one and the same thing by jazzing up your menu with some exciting sandwich recipes. Start with this hummus veggie avocado deliciousness.
Simplify your lunching by putting together this 3-ingredient sandwich. Talking about easy lunch ideas for busy working people. There are times when you just can't bear the thought of eating another traditional meal.
The minimal fuss the recipe requires and the belly-filling whole grains and almond butter will help you sail through your freelancing day.
After you try this guilt-free light chicken sandwich you may abandon your favorite mayo sandwich for good. Feeling skeptical? Why not try then?
Greek yogurt, garlic, chicken and grapes blend amazingly well and create a stand-out taste
All this recipe is asking from you is a wee bit of baking (5 minutes only!), spreading, and arranging. It will be ready within minutes!
The powerful cranberry chutney, mustard, ham, and arugula combination will get you to savor every bite.
This stand-out sandwich comes to you smack dab from Starbucks. And if spinach and feta is your favorite combination this wrap will be right up your street.
When the taste of feta kicks in after the heavenly flavor of stir-fried cherry tomatoes that's when the feast begins!
We shouldn't forget to mention that egg whites will round this recipe off with enough protein to keep you going.
This recipe will probably top your vegetarian sandwich recipe range for its plentiful array of veggies.
Bulk up on peppers, broccoli, and artichokes. This will help you whip up this sandwich in no time. And provolone cheese will make your taste buds dance.
Complementary Mediterranean tastes of avocado, tomato, basil, and mozzarella come together to create a real flavor bomb.
Whip up this creamy toast when in a rush and put it in the fridge for a bit. It only takes a few simple steps.
For those with sugar addiction, this crunchy apple granola sandwich is bound to satiate your cravings. The peanut butter and flour tortillas will make this wrap filling enough.
A veggie-packed wrap makes for a perfect way to reach your daily vegetable requirement.
And this is the perfect one for you when you want something tasty and filling. The tangy taste of goat cheese will make this wrap super-flavorful.
Up for a low carb tortilla? This hummus-based wrap will fill you up with a heavenly mixture of beans, corn, avocado, and tomato.
Store-bought roasted turkey and mashed peas make this a perfect protein-packed lunch. Red onion rings and pungent pesto will take this sandwich to another level. And did we mention it will take less than 10 minutes to prepare?
Are you a taco devotee? Then you shouldn't miss out on this tuna, avocado, reddish fusion. A dash of jalapeno pepper and cilantro leaves will get the best out of a tuna sandwich.
On the lookout for a filling meat alternative? Try these super-flavorful veggie burgers. They'll do you a HUGE favor if you've been trying to bring your cholesterol levels down.
Bulk up on a few turkey servings on a lazy Sunday and treat yourself with a week's worth of salads and sandwiches. Take a kaiser roll, sliced bread, or a corn wrap and plop in slices of apple and cheese. Easy, right?
Other Easy Work from Home Lunch Ideas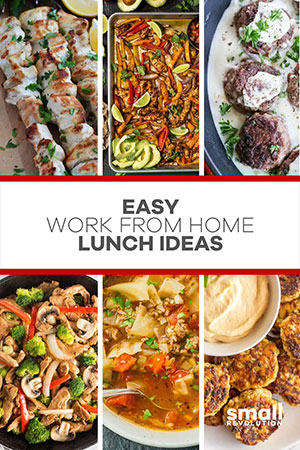 Looking for some more quick lunches? It's always good to have an abundance of go-to sources to avoid getting bored.
You can always go back to this list to update your workweek menu. Once you get your feet wet, you're going to love it.
Healthier food choices will make you feel better. And knowing you're staying on top of your working and meal prep schedule will add up to this blast.
Now, check out some more easy lunch ideas for work-from-home freelancers.
This comforting soup swaps traditional noodles with veggie noodle alternative. Get store-bought spiralized zucchini to make your life easier.
This satiating soup is chock-full of veggies and chicken. A great way to go low-carb and boost your metabolism.
Once done with the meal prep, there's no need for packing. Just drop the soup in the fridge and pull it out when the hunger kicks in. That's what makes working from home so awesome! Among other cool perks.
These beef roll-ups make for one super-quick meal prep. It will take up only 10 minutes of your precious time.
All you need to do to make this meal work is chopping some veggies. And you need a deft hand for rolling the ham package up. You do that and call it a day.
This stir-fry will take your tastebuds for a spin. Let asparagus rest in ginger and garlic, then you drizzle the meat-asparagus fantasy with soy sauce at the cooking finale. Get a feast for your taste buds.
This easy make-ahead lunch is wholesome and filling. After a 10 -minute preparation, you get one flavorful treat. All due to the combination of grains, beans, and perfectly blended herbs.
Not a fan of cauliflower? This is a great way to trick yourself into eating this vegetable. It's also a great way to consume the recommended amount of veggie servings.
You won't regret it since smoky taste paprika and gouda will do wonders when it comes to taste.
Have Mexican fast-food cravings? Instead of ordering in, throw together your own nutrient-dense, low-calorie alternative. If you have some pre-cooked chicken breast at hand, it won't take you more than 10 minutes for this burrito bowl.
These flavorful, spicy meatballs are perfect for a workweek meal prep. A little bit of preparation is involved, but they require less than 30 minutes to prep and they're also super-satisfying.
Searching for a yummy healthful lunch meal? Here's an idea for you. This salmon, noodle, and veggie Buddha Bowl will give you something to look forward to.
Skeptical about a smoothie for your midday meal? Try an experiment. Down a superfood, nutrient-dense smoothie straight from the fridge and reserve your evening for something more complicated.
Make mini frittatas in bulk and nibble on them for the next couple of days. Plan for a few extra servings to let yourself forget about meal prepping for some time. Mozzarella and chorizo give this simple meal a kick.
How about including them in your next meal prep round?
Make your own shrimp stir-fry instead of heading to the fast-food restaurant. You'll save money and get a healthier dish. This blend of flavors pairs wonderfully with a flavorful rice bowl.
Make It Count!
So, there you have it. Your 53 work from home lunch ideas. Now you've got plenty of great food alternatives to unhealthy snack foods.
Keep referring back to this list so you could update your weekly menu from time to time. Transitioning from snack foods to the real deal won't come without a price. But you can take baby steps, make every effort count.
With a little organization, you'll be on your way to achieving your nutrition goals in no time.
And it's all worth it. Eating homemade, nutrient-rich food can help you supercharge your productivity while you're out there getting ahead at your online career.
So, what are you waiting for?
Shareable Image