Listverse is all about feeding the explorer's mind with what they term " the most fascinating and rare gems of human knowledge."
Or…
Helping you as a writer (regardless of your experience) earn $100 per list article you submit, as long as it gets accepted.
Whatever reason takes you there, Listverse guarantees you'll leave their website smarter, having read, learned, and had fun in the process.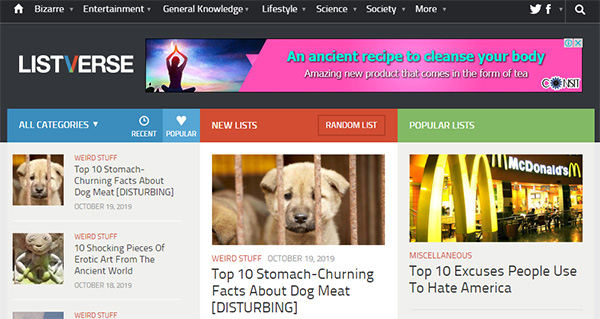 Let's take a closer look at Listverse, check out what they expect from you as a writer, and if it is worth you writing for them.
Ready? Let's jump right in!
Listverse Reach
It is best that we first understand Listverse's reach.
But before that, we must mention that their website contains numerous articles with catchy headlines and captivating content. You could easily end up spending 30 minutes or more on Listverse, just consuming their content.
Going by their statistics above, they seem to be doing well: Listverse boasts over 8 million readers whom they claim to serve with over 30 million pages of content per month. (They publish at least three articles per day.)
Talking of 30 million content pages a month…that definitely involves a lot of writing.
And that's where you come in and save the day.
How? By writing for them! In return, they will pay you $100 per listicle.
But how do you go about writing and submitting a list article that gets accepted by the Listverse editors? Keep reading to find out.
Quick Overview of Listverse
In order for you to be able to work from home for Listverse and earn $100, you have to take a closer look at their website.
But before we go into the details, here's why you need to pay closer attention to their website:
To be conversant with the type of content they typically publish
To learn their writing tone
To know the trending topics
To learn what they seem to avoid
Luckily, we went ahead and did a quick scan on the Listverse website and noticed a few interesting things we'll gladly share with you.
The Headline
Firstly, each of their headlines is magnetic. Simply put, the headline is captivating enough that you can't help but click on it.
Another observation is that all their articles are in a list format and with no less than 10 items.
Here's what we're talking about:
See what we're talking about?
The Content
Another notable thing is that the content on Listverse is unusual and interesting. There's nothing 'boring,' such as a list of animals, sports, the latest technology, or self-help.
Quick pointers on their content include:
The content is popular
The content is unique
The content is simple to read
That's what you need to keep in mind if you want to earn money with Listverse.
But what can you write about? Read on.
What Topics Can You Write About for Listverse?
Listverse is keen to receive listicles in the following categories:
Bizarre: creepy, mysterious, weird stuff
Entertainment: gaming, movies & TV, music, pop culture, arts
General knowledge: books, facts, history, misconceptions
Lifestyle: food, health, sport, travel
Science: animals, humans, our world, space, technology
Society: crime, politics, religion
Now that you have an idea of what to write on Listverse, let's dig deeper into their writing guidelines.
Remember, it's important you follow their writing guidelines to a tee. Otherwise, your article may get rejected.
And that means you will have wasted your time and energy. And that's not good.
How to Write and Get Paid by Listverse
Firstly, you don't need to be an experienced writer. According to Listverse, you just need the ability to put a list together.
In other words, you can easily earn $100 for submitting a list article that passes the scrutiny of their editors (even if you are a total newbie).
Plus, Listverse is not region-specific. They are open to publishing your list regardless of your location.
But there's a catch:
Your English must be equal to that of a native speaker
Your list must have a witty sense of humor
You have a love for unusual and interesting things
Fair enough?
Now, let's highlight their writing guidelines so that you are able to pitch what they actually need.
A Simple Summary of Listverse's Writing Guidelines
Please note that we publish original articles. We do not post infographics, slideshows, or "re-blogged" content.

Listverse
Here's what you have to do to impress the Listverse editors and have them give your article a nod for publishing.
Write in perfect English (like a native speaker). This is the chief reason they turn down most articles.
The minimum word count for your list should be 1000 words.
Write a good quality article in the list form. Something interesting and unusual, seasoned with a good sense of humor.
Write on any topic that interests you, but write lists that look at something normal in a bizarre way. Popular niches on their site include mysteries, secrets, facts or misconceptions, history, and the dark side of man.
Link your article to reputable sources to help Listverse confirm the authenticity of your claims.
The listicle should contain a minimum of 10 items.
The list should contain a minimum of 1 or 2 paragraphs per item on the list.
Your list should be original. Don't copy or plagiarise. Use Copyscape to check your work. Don't write what has already been written on Listverse. If your list lacks novelty (i.e. it's not fresh and original), it will get rejected.
Don't include pictures and videos in your article. They will do it for you. Just concentrate on the text.
Make sure you carefully read Listverse's author's guide. And only submit a listicle that meets their criteria. That's the only sure-fire way to avoid your work being turned down – and you feeling wasted.
Note: Questions about writing lists can be sent to Listverse's junior editor Colin Jenkins. colin@listverse.com
Now that you have written your killer listicle, what's next?
How to Submit Your List to Listverse
Before you hit the submit button, there are a few things you need to double check.
Read each sentence loudly in the opposite direction. This will help you pick spelling and grammar mistakes that you may have missed.
Run your article through a spelling and grammar tool such as Grammarly.
Check your headline again. Is it catchy? If not, incorporate power words into your headline. Make it dramatic.
Now you are ready to submit your article. Send your list article to Listverse.
And keep your fingers crossed.
How Does Listverse Pay You?
We cannot accept lists from writers who do not have a PayPal account; this is non-negotiable. If PayPal doesn't support your country, please don't request alternative methods of payment.

Listverse
You've definitely put in a lot of effort to get to the payment stage.
If Listverse editors like your article, they'll pay you $100.
They only pay via PayPal. So, if you don't have an account with PayPal, you need to create a PayPal account. It's easy and free to join.
On the other hand, if they don't like your article, Listverse will let you know. Better still, you can use their feedback to improve your article and then give it another try.
Listverse doesn't negotiate rejection. Listverse's decision is final.
Bonus:
Listverse will give you a free mention (otherwise known as a by-line) for your Twitter account, blog, or book that you would like to promote.
Note: Inquiries about list payments should be directed to Jamie Frater. jfrater@listverse.com. He is the founder and editor-in-chief at Listverse.
Conclusion
Listverse is a good website to make some extra income. The fact that they'll pay you $100 per article accepted is impressive if you are looking to earn some money on the side.
Go on. Give it a try, and let us know what your experience with Listverse was like.